We absolutely love living in the Peak District with all the outdoor adventures and stunning family walks on our doorstep. I hope that we never take this for granted. But for those families who live in towns and cities who want to cram as much outdoor adventure into a weekend as possible, Alpkit's Big Shakeout Festival is a must.
TraveLynn Family were offered a family day pass to this adventure-loving festival in return for an honest review.
What is the Big Shakeout Festival?
This is a small, family-friendly festival, set in the grounds of Thornbridge Hall in the heart of the Peak District National Park. Days are filled with active outdoor pursuits (climbing, bushcraft, kayaking, biking) whilst evenings are spent dancing to live music or huddled around a campfire watching adventure films or listening to inspiring speakers. This is a not-for-profit event with all profits going to the Alpkit Foundation. Amazingly, the Foundation has given over £100,000 to 300+ projects worldwide, helping people to overcome barriers to getting outdoors and doing something adventurous.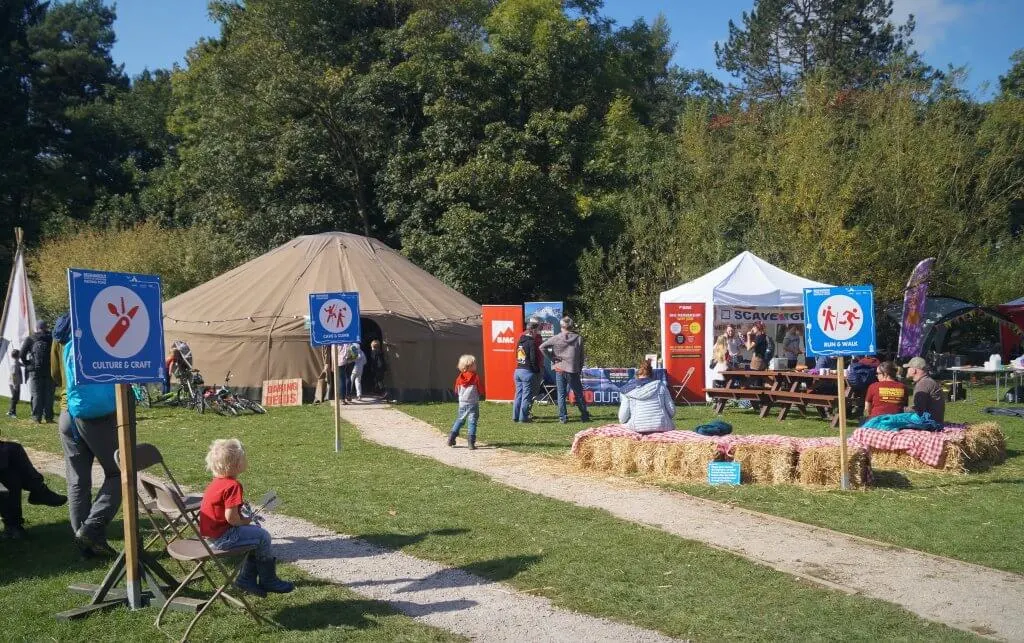 Can we pop along for the day?
Tickets are only sold for a full weekend (Friday to Sunday), which is a shame as I know many families (particularly those living locally) who would like to just pop along for the day. The festival is held right at the end of September and this year the nights were bitterly cold (we woke to frost on the grass!), and we decided that it was too cold to sleep in our tent with the little ones (especially as our home is just around the corner). As an exception, we were offered a day pass to review.
However, this festival sells out every year and, as they are at capacity, this is unlikely change. So grab your alpine camping gear and embrace the adventure! Although if you would like a bit more comfort, book in to a pre-erected teepee or the lodge bunkhouse (these sell out very quickly).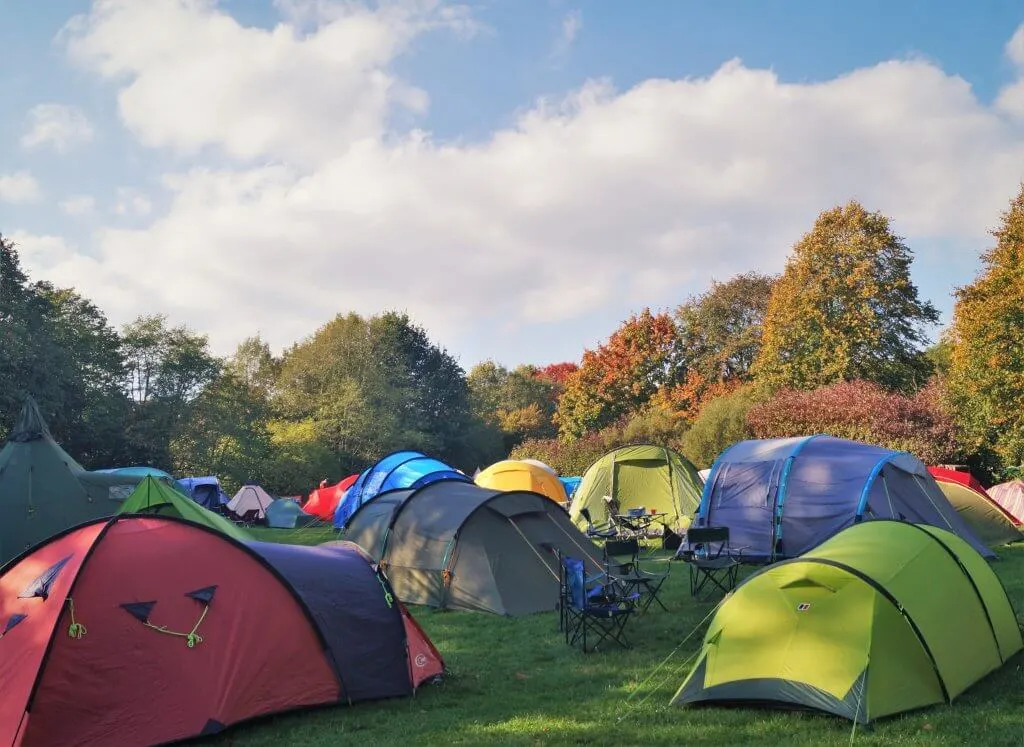 How much does a weekend ticket cost?
For 2018, a weekend pass cost £65 per adult, children aged 12-16 were £25, and children under 11 were free.
Outdoor pursuit activities are booked through the School Of Adventure and are mostly at an additional cost.
You have to pay for all the activities?
Not at all. The site sits next to the Monsal Trail, perfect for a bike ride, and there are a handful of activities on offer at the stalls, including a craft tent and a self-guided woodland bug-hunt. All the evening entertainment is also free (music, lectures and films) and you should also take advantage of the fantastic hill walking around the site.
What adventure activities are there for kids?
My boys love their outdoor adventures, but unfortunately due to insurance purposes there was only one activity they could participate in (booked at an additional price through the School of Adventure). This was the BSO Mini Adventurer (suitable for ages 4-8) and my boys were aged 3 and 4 at the time.
Despite being too little to reach some of the ropes, my boys were in their element with this ropes and balance course and absolutely loved it. Their instructor, Ian, was very enthusiastic and I loved how he encouraged the ten boys in the group to work together as a team. The highlight was entering the subterranean world of The Molehole; a purpose built, underground, tunnel network to navigate with a head torch and new friends.
For older children aged 6 and above, there are lots more activities, and even more for those aged 8 and above, including axe throwing, binerflon (shooting with nerf guns), a bat safari, adrenaline rush (swinging through trees) and bushcraft skills, to mention a few.
Is is worth visiting with young kids?
If you come just for the activities, there isn't really enough on offer for children under 5 for a full weekend. Yes, there are craft activities, biking on the Monsal trail, bug hunts in the woods, and campfires in the evening, but these activities aren't unique to this festival and can be done any weekend camping in the Peaks. However, as kids under 11 are free, you can embrace it as a fun camping weekend with a little added extra. It's also a great opportunity for parents to try some outdoor pursuits if mum and dad are happy to play tag.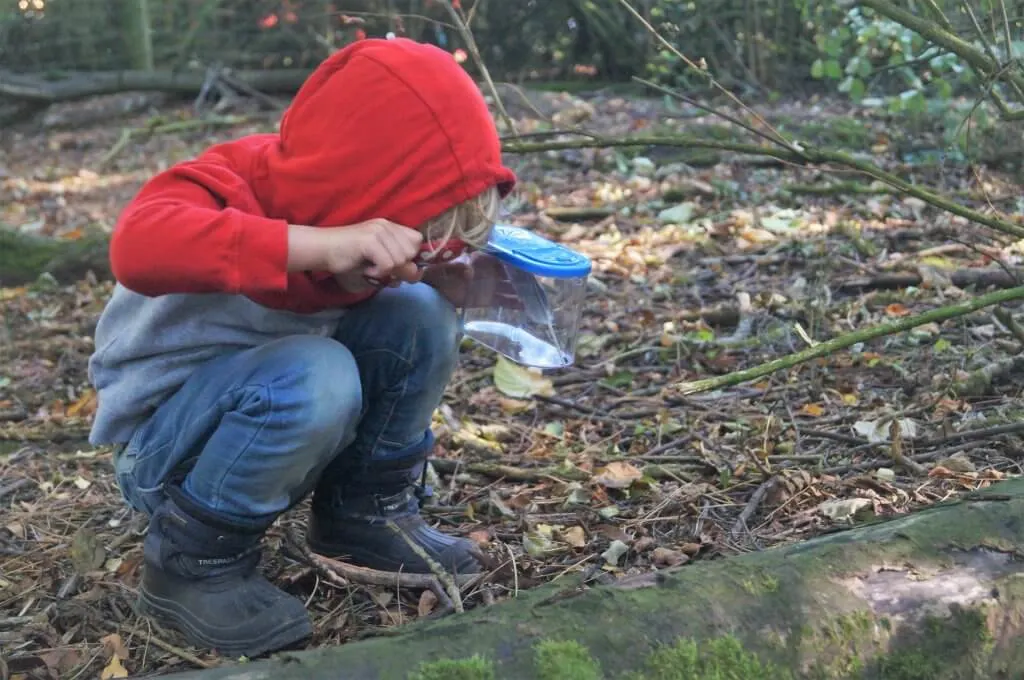 Chatting to other parents, it seems that 8 is the magic age and there are families that have returned year in year out and their kids get so much out of it. We will definitely be back when our boys are older!
Do we need to bring food?
As with almost all festivals across the UK, food is overpriced and we suggest bringing your own. We only had lunch in the 'Alpkitchen'; boiled pasta with no sauce (was supposed to be a pasta bake), lettuce, tomato and coleslaw (a little disappointing for £6 per person). However, I'm reliably informed that there was pizza on offer at a food stall which was very tasty. We perhaps picked unwisely.
At registration, ensure you pick up your free Big Shakeout Mug to make the most of free tea and coffee all weekend. In the evening, head to the Foundation Bar, conveniently adjacent to the main stage, to sample local beers.
---
Have you been to Alpkit's Big Shakeout Festival with kids? I'd love to hear your thoughts!
You may also like to read:
Short walks for young kids in the Peak District
Finding family adventure in the UK
Just So Festival 2018: REVIEWED