The Asia Interviews is a series of guest posts where fellow family travel bloggers talk about their best destination in Asia for family travel. TraveLynn Family hasn't been everywhere, and I love hearing about the adventures of other families in Asia and being able to share them with you.
Rosalind from Research Roam Repeat chats about visiting Ninh Binh with kids. It's an absolute must do for a family trip to Vietnam!
Vietnam is currently a hot destination for family travel. But you don't hear of many families visiting the dusty town of Ninh Binh. Sometimes it is finding the perfect accommodation that makes a place for you. In this case, Rosalind and her family found the most wonderful homestay that made the whole family feel extremely welcome. And the free bike hire with child seats sounds like a massive bonus to me! I'll let Rosalind tell you more…
1. Tell us a bit about yourselves. Where are you from and how often do you travel as a family? How old are your children?
We are a family of 4, living and working in London, UK. My husband and I are both academics working in the field of global health. As the name suggests, this involves a fair bit of travel, usually to low- and middle-income countries seeing as that is where most of our research projects are based. I hate to leave my girls (age 2 and 5) behind so, where possible, we like to take them with us when we travel for work. Unfortunately that has got a lot harder since our eldest (5) started school. Our biggest family adventure to date was when we moved to India for a year for my PhD fieldwork. We also like to travel both near and far during the school holidays.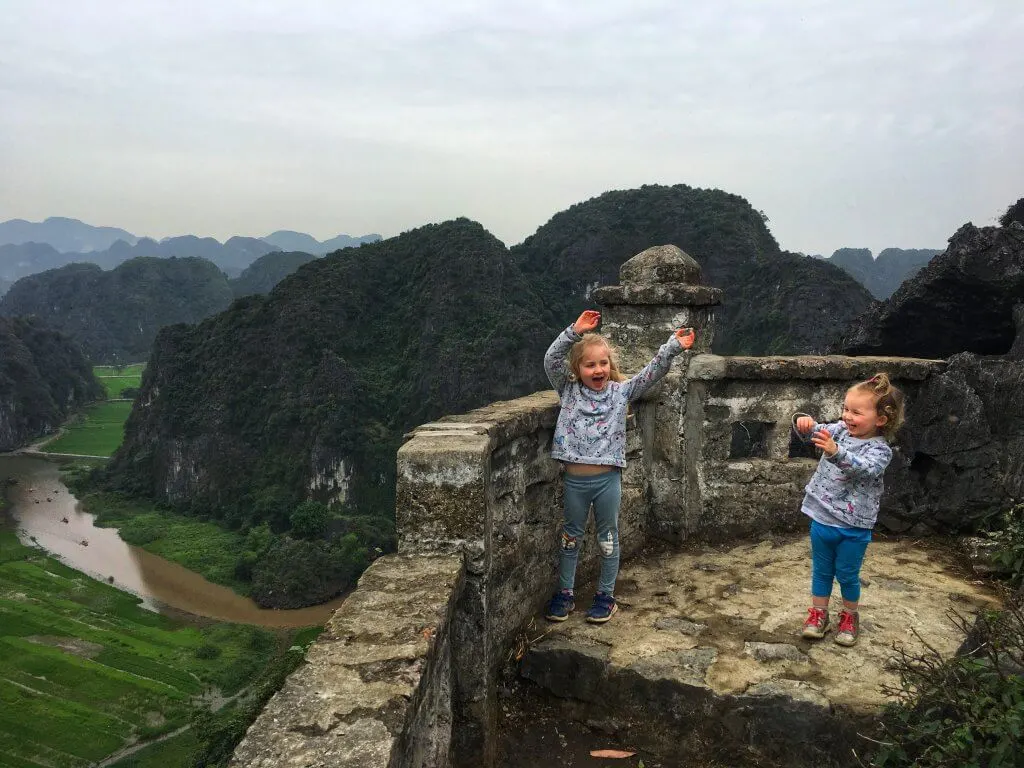 2. How many times have you travelled to Asia and why do you love travelling there?
Between us we have travelled to various parts of Asia for work, including Cambodia, Bangladesh, India, Singapore, Thailand, and Russia. Since having kids we have been back and forth to India too many times to count! And most recently, we enjoyed a fantastic family holiday in Vietnam to celebrate finishing my PhD!
3. Why is Ninh Binh your favourite destination?
The scenery in Ninh Binh just blew me away. It was the part of our itinerary that we were most unsure about. The rest of our trip included Hanoi, Sapa, and Hoi An. We didn't fancy making the journey to see Ha Long Bay- controversial considering it's the country's main attraction. My youngest is so high energy and wild that I didn't fancy spending 24 hours on a boat with her trying to hurl herself off the edge! So instead we wanted to explore a lesser visited part of the country and came across Ninh Binh. When we got off the train and arrived in the town itself we were fast regretting our decision! There is not much to see except a dusty town. We took a taxi to our homestay and soon started to realise the beauty of the area.
4. What were your top 3 things to do in Ninh Binh with kids?
1) Just cycling around, taking in daily life in the countryside
2) Climbing to the pagoda at the top of Mua caves
3) A boat trip- either Tam coc, Trang an, or Van long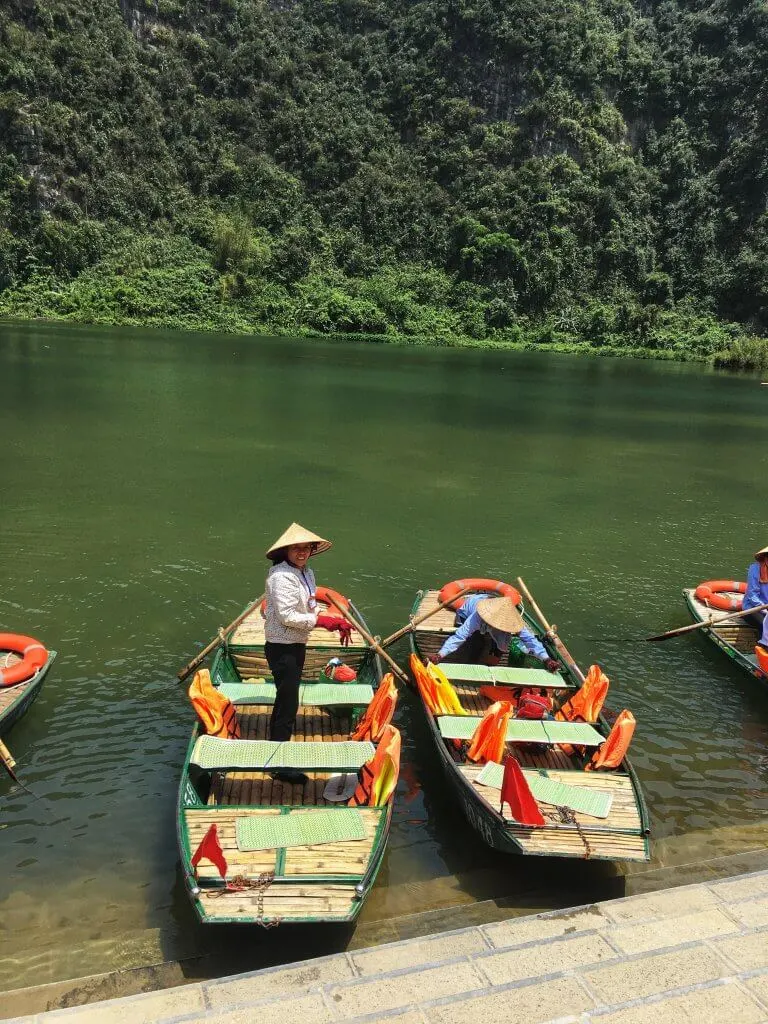 5. Where did you stay and do you recommend it?
We stayed at Ninh Binh Panorama Homestay and this is what made our trip so special. My jaw literally dropped as our taxi turned off the road to start to 1.5km bumpy path up to the 6 shacks. Our local taxi driver was even frantically taking pictures on his phone- which I think says a lot! The ladies who run this place are so kind and welcoming. My daughter also really enjoyed playing with the daughter of one of the owners. Our little shack had 2 large doubles (perfect for a family) and the view from our balcony of dreams was second to none. Nothing quite like beers on the balcony in a hammock whilst the little one naps. This is currently my favourite accommodation in the world!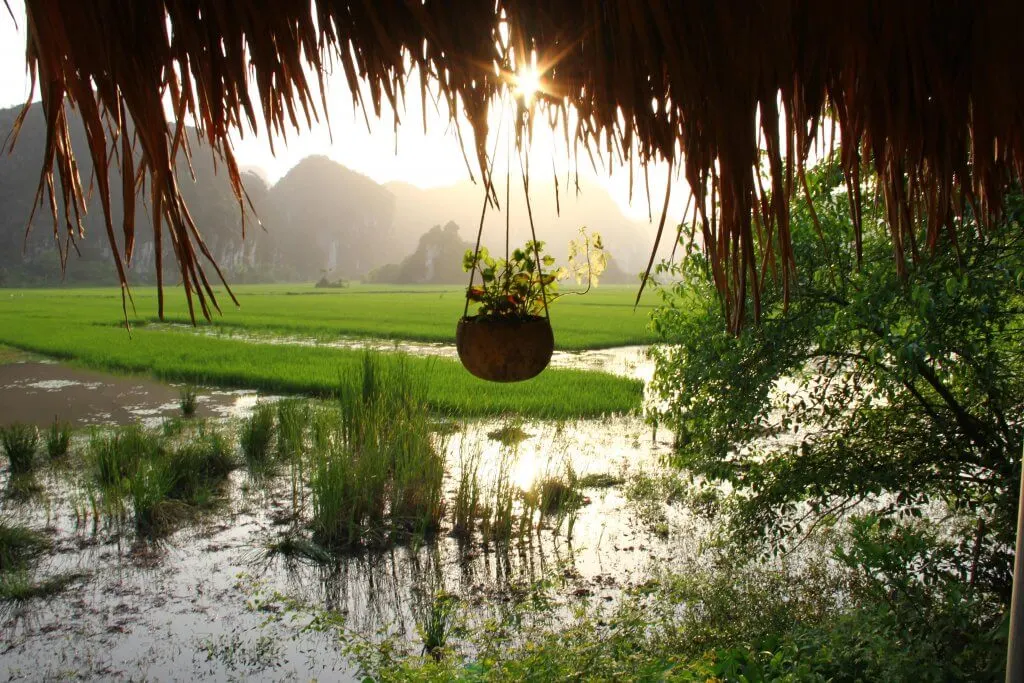 6. What did the kids eat?
My eldest was all about 'noodles with beef' and my youngest pretty much lived off white fish and watermelon! Fresh juices with every meal were also a hit.
7. How did you get around Ninh Binh with kids?
The homestay had complimentary bicycles (complete with child seats). These were perfect for both girls. We cycled everywhere and this really made the trip what it was. Winding down back alleys, taking it all in, and the kids LOVED this mode of transport.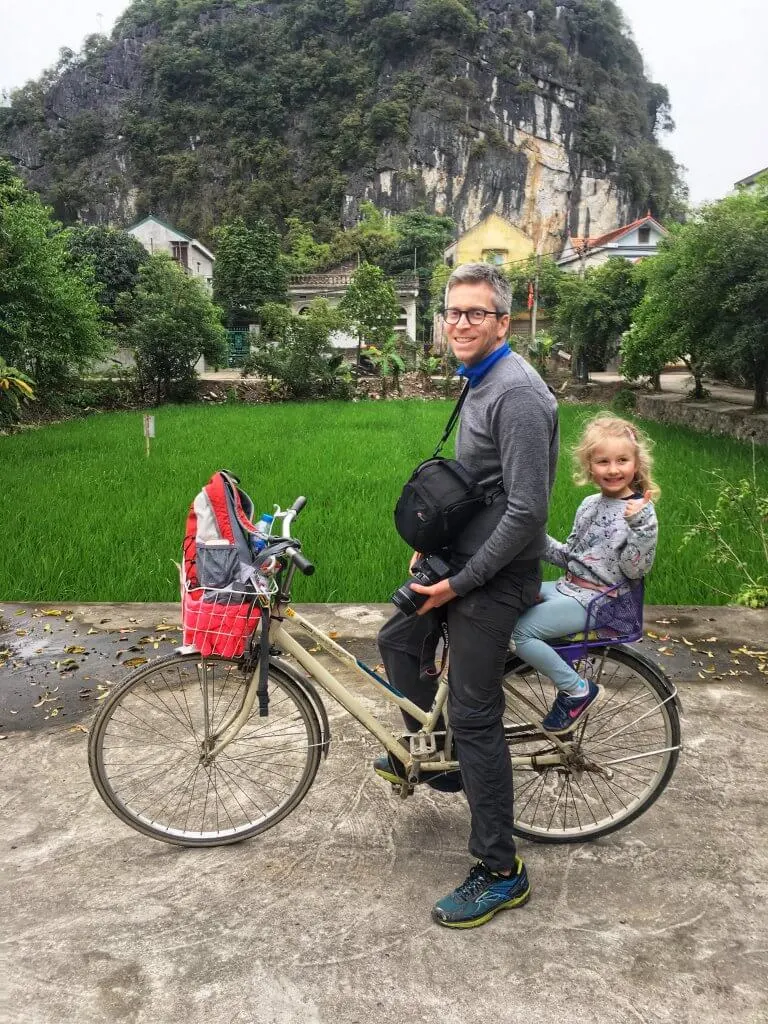 8. What is your top tip for travelling to Ninh Binh with kids?
Make sure to get out of the town- nothing to see here. And secondly, exploring by bicycle is a must!
9. What item could you not have done without in Ninh Binh?
I keep banging on about the bicycles but without these the trip would have had a completely different vibe. They gave us the freedom to explore at our own pace, on our own time frame.
10. Where are you off to next?
A little closer to home- we are headed to explore Ireland's Wild Atlantic Way in a camper van next week!
---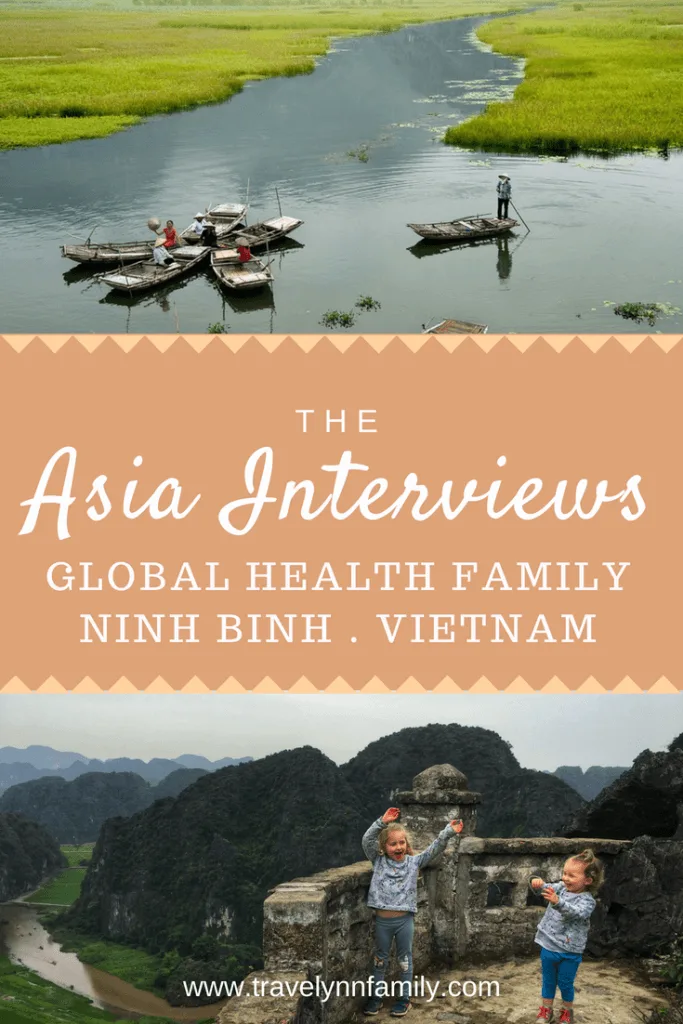 You may also like to read:
THE ASIA INTERVIEWS – Thrifty Family Travels chats about PHU QUOC with kids
Best beaches in Thailand with kids
Ten day Thailand itinerary with young kids and no internal flights or overnight trains