The Asia Interviews is a series of guest posts where fellow family travel bloggers talk about their best destination in Asia for family travel. TraveLynn Family hasn't been everywhere, and I love hearing about the adventures of other families in Asia and being able to share them with you.
UPDATE: We (TraveLynn Family) have since visited Koh Rong Sanloem as part of our 10 weeks backpacking Southeast Asia. The island has changed a little since Kylie and her family visited, and you can read our updated guide to visiting Koh Rong Sanloem with kids here.
Kylie from Our Overseas Adventures chats about visiting Koh Rong Sanloem with kids; a stunning beach in Cambodia...
A place where there are no roads and numerous modes of transport are required to get there. A place barely touched by tourism and where the WiFi is patchy. A place that's said to be like Thailand's beaches 30 years ago. Sound too good to be true? Well Kylie let's us in to her little gem of a secret for travelling Cambodia with kids…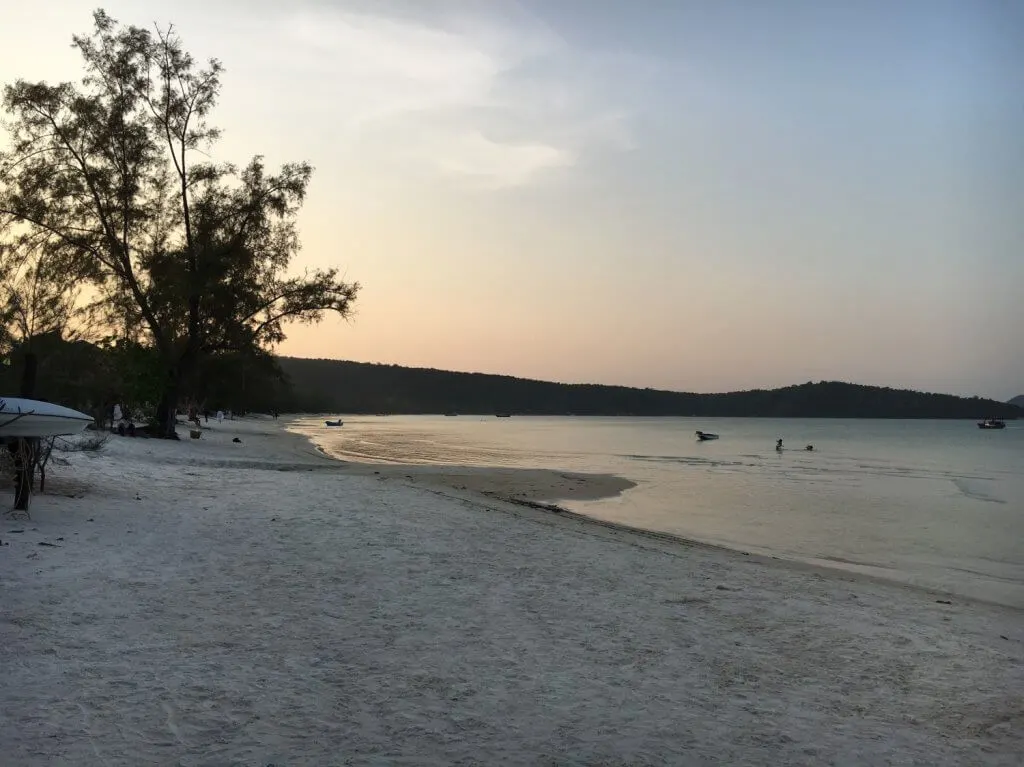 1. Tell us a bit about yourselves. Where are you from and how often do you travel as a family? How old are your children?
We're the Gibbon family from New Zealand and we travel as much as possible with our 6 and 7 year old kids. This year they'll visit their 30th different country and they now have the travel bug as much as we do! Our biggest trip to date was an eight month trip in 2016 through SE Asia, Europe and the Middle East.
2. How many times have you travelled to Asia and why do you love travelling there?
To be honest I've lost count of how many times we've travelled to Asia! We've been to a few different Asian countries before kids and Thailand was the first overseas destination we travelled to with our then toddler. We love travelling in Asia because of the fabulous food, incredible culture and history, beautiful beaches and the really reasonable prices! But most of all it's the wonderful people of this region that draws us back. They're so friendly, kind, genuine and they absolutely love kids.
3. Why is Koh Rong Sanloem your favourite destination?
Koh Rong Sanloem is what everyone says Thailand was like thirty years ago before all the tourists came, and it really feels like it. It's a small island with beautiful powder white sand beaches and best of all no roads or cars – no noisy scooters! The water is very safe for kids and it's the perfect place to just chill out and relax. The internet is a bit patchy – which is a good thing. It means you have no choice but to enjoy the downtime!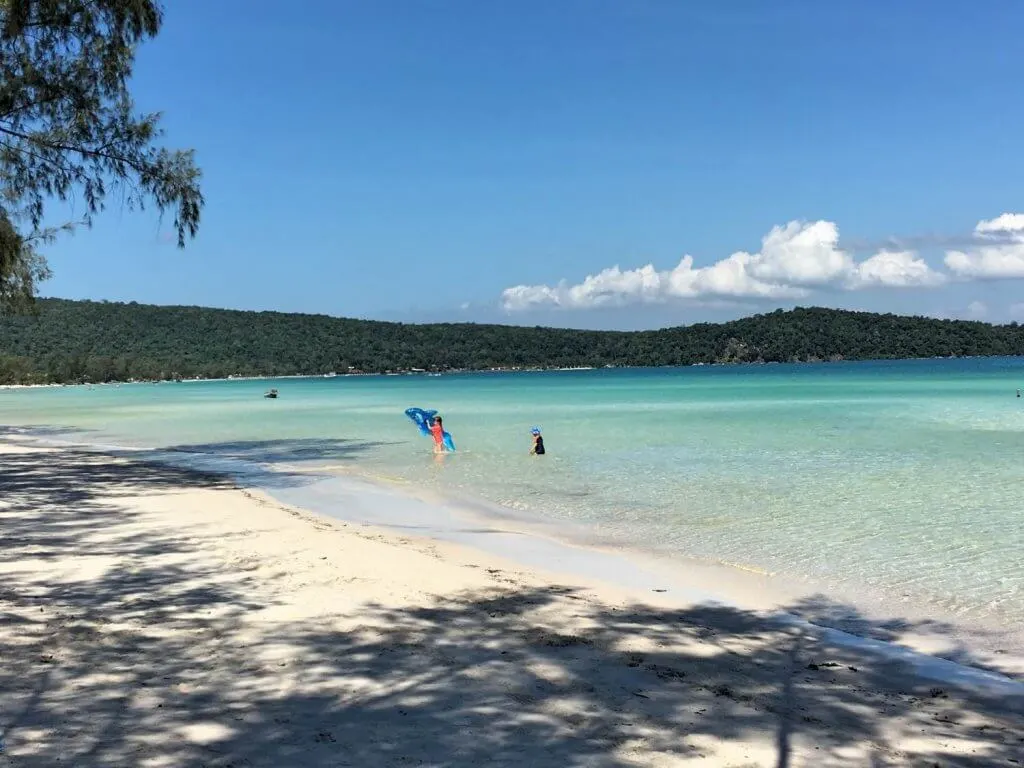 4. What were your top 3 things to do in Koh Rong Sanloem with kids?
Our favourite thing to do was walk through a short-track in the jungle to the other side of the island from where we were staying. The kids loved spotting the monkeys and birds in the trees, it was a real novelty for them. The beach on the other side is known as Lazy Beach, and it's perfect for swimming if it's windy on the Saracen Bay side of Koh Rong Sanloem.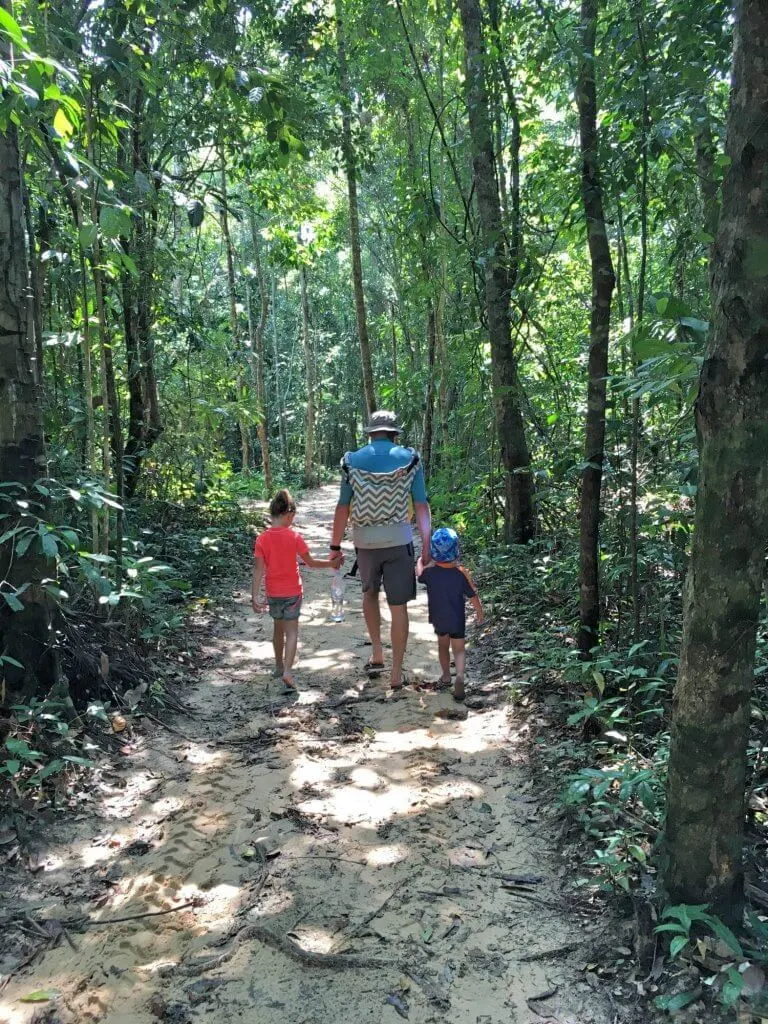 We also enjoyed running races up and down the beach and literally spent from dawn til dusk running in and out of the water and making sandcastles.
The odd time that beach life got too much, we would pop to The One Resort which had a play area for kids with various toys which you're welcome to use if you buy a drink or food there.
5. Where did you stay in Koh Rong Sanloem with kids and do you recommend it?
We stayed at Secret Paradise Resort and really enjoyed it. It features five bungalows situated right on the beachfront and it has the best restaurant on the island. We spent the whole week barefoot – the main restaurant is very relaxed and encourages you to ditch your shoes!
The bungalows are really only suited for families with younger kids as the fold out bed that our kids shared was very small! (they were three and five at the time)
6. What did the kids eat?
The breakfast at Secret Paradise Resort was amazing – our kids loved the fresh fruit, freshly squeezed juices, pancakes and eggs. The breakfasts were so huge that we'd often just snack during the day instead of eating lunch, then have an early dinner. The kids mostly ate pasta, fried rice, spring rolls, fresh coconuts, fish and occasionally a try of Mum or Dad's curry!
7. How did you get around Koh Rong Sanloem with kids?
Getting to Koh Rong Sanloem involved taking a public bus to Sihanoukville, a tuk-tuk to the port, then a 45 minute fast-ferry ride to Koh Rong Sanloem, then a small further speed boat ride to the resort! Not the easiest place to get to, but that's why it's still a bit of an off-the-beaten track paradise. The kids thought it was a great adventure.
Once we were on the island we walked everywhere because there's no roads. For a slightly longer walk we put the kids in our baby carrier but everything is very close together.
8. What is your top tip for travelling to Koh Rong Sanloem with kids?
Bring lots of sunscreen and snacks! We were getting a bit low on both and there's only a couple of little stores on the island. The sunscreen was very expensive and looked a bit ancient! The snacks were also a bit dubious looking.
9. What item could you not have done without in Koh Rong Sanloem?
Definitely bring a torch with you to Koh Rong Sanloem, as it gets very dark at night. With no streetlights or cars, you need the torch to find your way back to your accommodation post-dinner.
10. Where are you off to next?
We're taking a short break to Fiji this week! And in June we're heading back to Europe to try cruising for the first time, followed by some Greek Island hopping.
---
Read more about Our Overseas Adventures on their website. You can also follow on Facebook and Instagram.
You may also like to read:
Best beaches in Thailand for kids
Favourite family beaches in Sri Lanka
Agonda beach, Goa, with kids