AD | This is a paid promotion in partnership with Visit Northumberland. As always, these are all my own words and opinions.
Whilst Northumberland is renowned for its castles and incredible beaches, if you venture inland and northwards to the Scottish border, the landscape becomes even wilder and more remote. Here you will find Kielder Water and Forest Park, home to England's largest forest and the biggest man-made lake in Northern Europe.
With so many outdoor activities on offer (cycling, segways, boating, archery, pond-dipping, to name a few), Kielder Water and Forest Park is the perfect destination for wild-at-heart kids who thrive in nature. Plus, you may want to pack the telescope as this is a dark skies zone; snuggled around the campfire, the starry sky is magical on a clear night.
Kielder Forest Campsite
We stayed two nights in our Mazda Bongo camper at Landal Kielder Waterside for October half term, 2021. This was right at the end of the season. Do note that the campsite closes for the winter period, reopening again in March.
On arrival to the camping area, there is no official reception or 'check in'. You will have pre-booked either a 'partial lakeview' or 'woodland' camping pitch. So just select a pitch in the area you have booked into. Any problems, you can call reception, which is open 24/7.
There is almost no lakeview at the 'partial lakeview' camping area, and it's quite exposed. So it's really not worth paying extra to camp here for the view. However, the advantages of camping here is that you are close to the washblock, and the pitches are flat.
We chose to camp in the woodland area, sheltered by the towering trees and evoking the wilder spirit. Our boys (aged 6 and 7) loved playing in the woodland, which was handy whilst we set up our pitch. Although be warned that it is a very long walk to the washblock from here, and not all pitches are flat.
All pitches have EHU, whether you are in the 'partial lakeview' or 'woodland' camping areas.
We especially loved the evenings camping here. The stars through the tree openings were incredible on a clear night, and off-the-ground campfires are allowed (although bring your own logs and kindling as there is nowhere to purchase them onsite).
Camping not your thing?
There are a range of lodges nestled sympathetically amongst the woodland. We noticed that some even had hot tubs!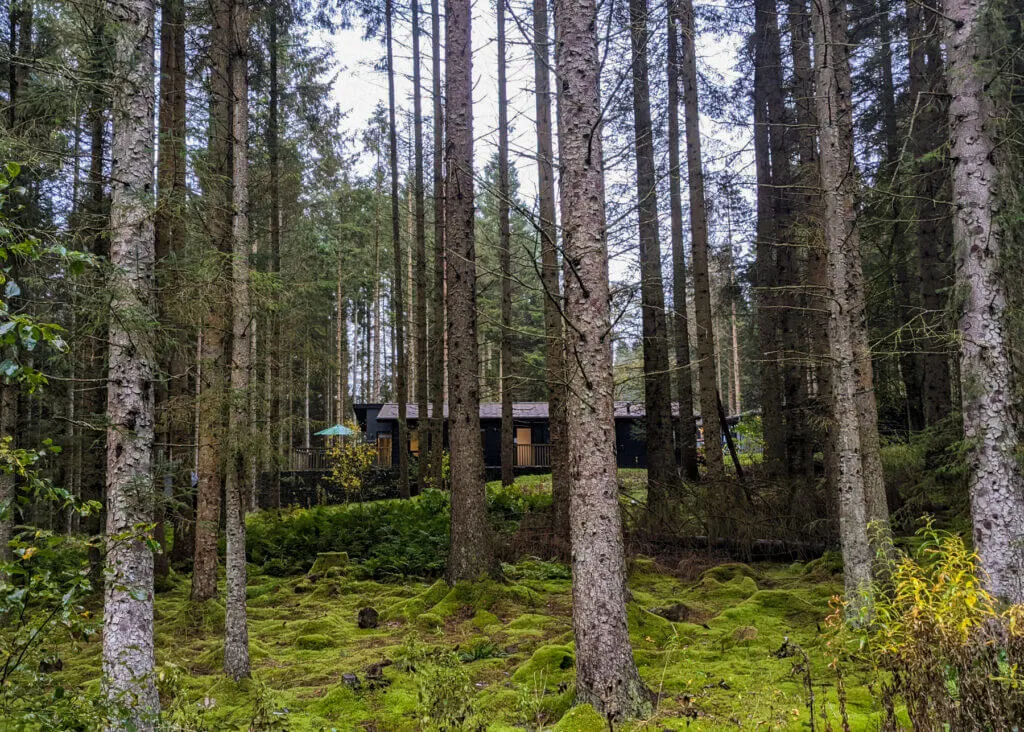 Things to do at Kielder Water and Forest Park
You really could spend a full week at Kielder. We managed to cram a lot into our 1.5 days, but we only skimmed the surface for all there is to do.
The activities we did were:
Mini Segways: There are segway tours around the lake. However these are for ages 12+. For younger kids, try the Mini Segways (a much smaller version of the segways) around a go-karting track.
Little Archers: A 45 minute, indoor archery lesson for ages 3-7.
Boating: Hire a powered boat for 1 hour out on the lake.
Pond-dipping: A 30 minute session at the small pond, trying to identify the wriggly creatures that live there.
Swimming: There is a small heated swimming pool onsite with limited numbers (about two families per session). Sessions need to be pre-booked and last 45 minutes.
The boating was brilliant fun! The boys even got to drive it themselves and seeing the forest from the perspective of the lake was beautiful. But if you asked what the boys' favourite activity was, hands down it was the mini sgeways; let's just say that they picked this up a lot quicker than their parents!
Other activities at Kielder Water and Forest Park include:
Cycling – there are cycle tracks around the lake and bike hire available onsite.
Kielder Observatory (this was fully booked for our visit)
Birds of Prey – see flying demonstrations, interact with the birds and learn about them from an expert.
Walking trials – including a little squirrel hideout to investigate and sculptures.
Check out the Kielder Waterside website for more ideas!
There are also a couple of playgrounds around the site to head to between activities.
Eating at Kielder Water and Forest Park
We mostly self-catered for our visit to Kielder. Make sure you stock up on food before your arrival, as the onsite shop is limited.
For our last night we dined at the onsite The Forest Bar & Kitchen. Right on the lakeshore, it's a stunning setting, and the service was fantastic; families are very much made to feel welcome. It was pizzas all round for the Lynn family, and our empty plates showed how much we loved them. There's also a separate kids menu. Make sure you leave room for the delicious deserts!
It's bookings only at The Forest Bar & Kitchen. I had to book a table weeks in advance, and there were only a couple of sittings available when I did. You can only book when you get a code from Landal Kielder Waterside with your accommodation booking.
After dinner, it was really lovely going down to the lakeshore to play; the only light was the moon, and no one was around. We absolutely loved the remote feeling!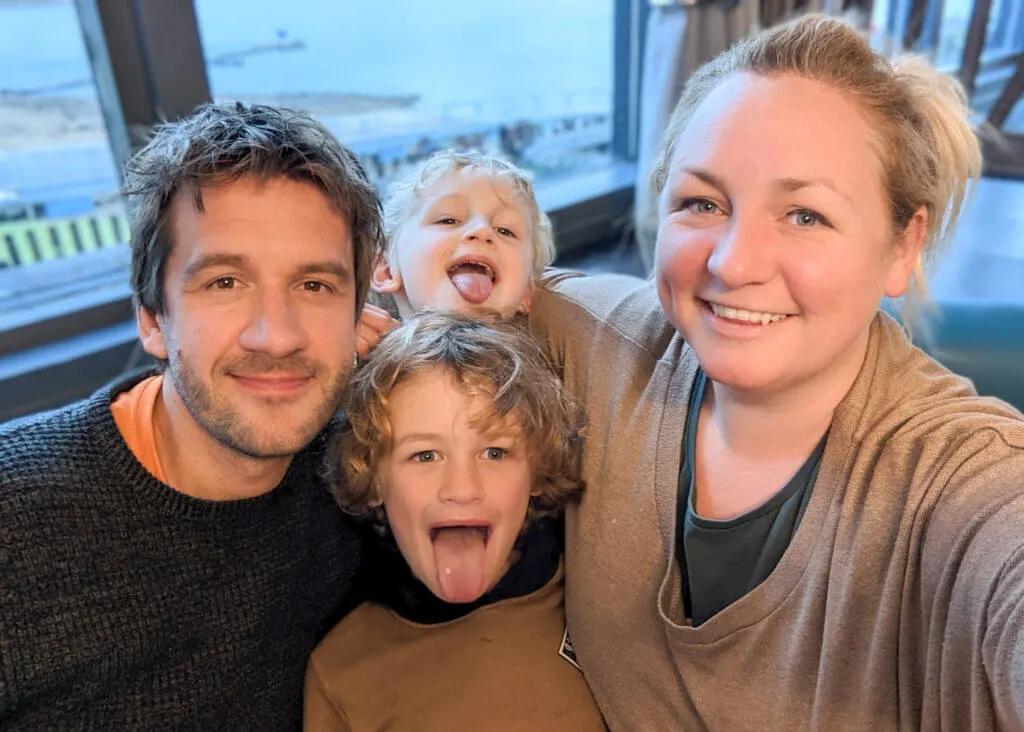 Top tips for Kielder Water and Forest Park
Signage is very poor around the site. Pick up a site map from reception (the shop in the main area) on arrival. On our first visit to the 'main area', where the restaurant, reception and most activities are located, we walked along the road, not realising there was actually a more direct and traffic-free footpath.
Make note of all the meeting points for the various activities before you arrive to them.
Expect four seasons in one day and dress accordingly. Pack the waterproofs and always have them handy.
Pre-book everything.
If you plan to self-cater, stock up on food before your visit to Kielder as there the shop is limited.
Bring a torch as the paths aren't well lit at night.
Bring your own logs and kindling for campfires.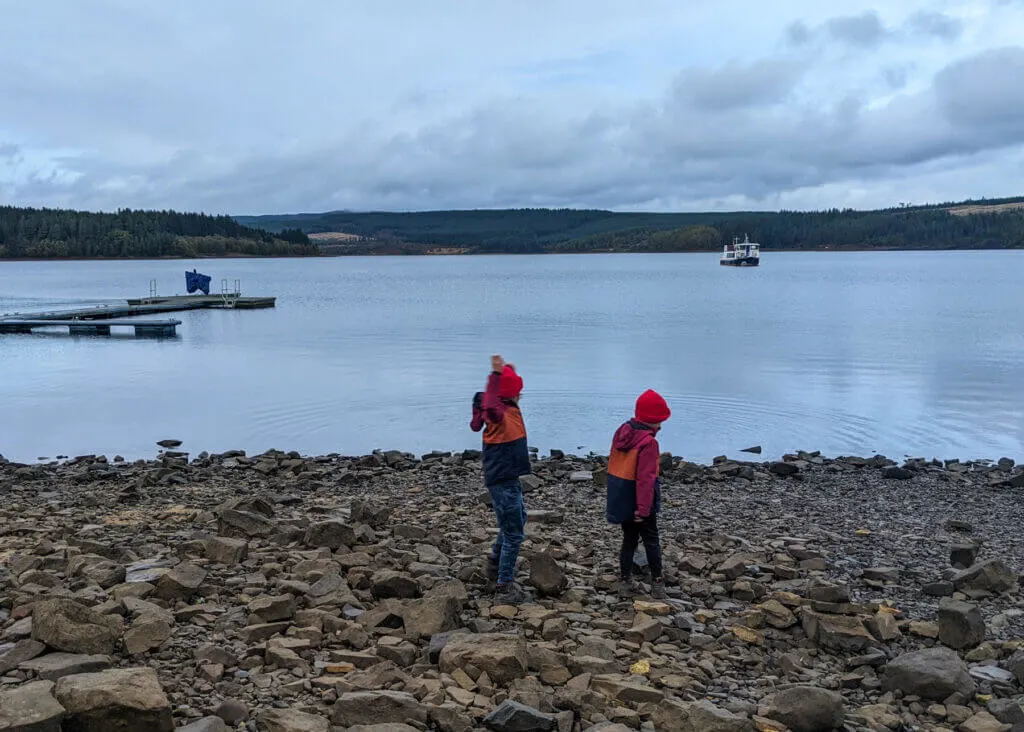 Final thoughts on our visit to Kielder
What a beautifully wild and remote corner of England Kielder is. We absolutely loved our stay here. A fantastic start to our one week Northumberland road trip, and a perfect balance to the castles and beaches we experienced over subsequent days. We really could have done with a couple of extra nights here though, as there is so much we just didn't get time to do.
By far, my favourite family activity was the powered boats on the lake. The boys loved having a go driving, and I loved the scenery; the different perspective on the forest was beautiful. For the boys, however, they loved the mini segways. They were such pros at it and picked it up so quickly; much better than their parents!
How to book you visit to Kielder
Head over to the Kielder Waterside website to book your camping pitch and all activities.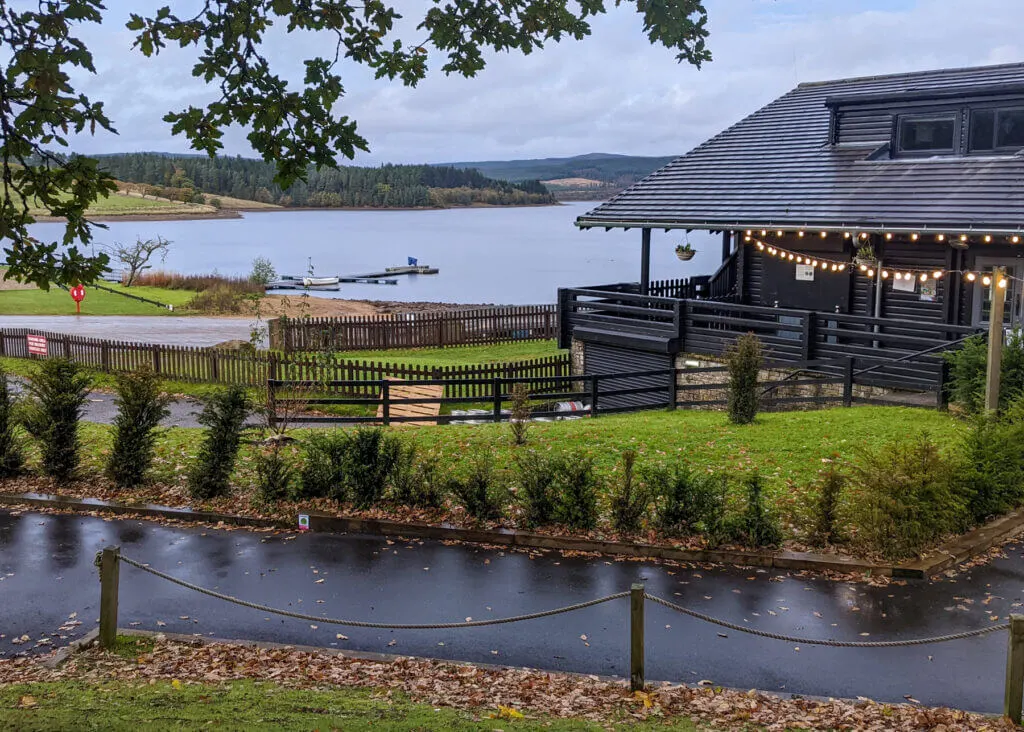 ---
You may also like to read:
All about our Mazda Bongo 4×4 camper
Our Bongo packing list
Best family campsites in France