Are you looking for the best childrens walking boots? We love getting outdoors and hiking as a family. From the short Peak District walks, such as the Dovedale walk and Stanage Edge walk on our doorstep to more challenging multi day treks, such as the 5 day trek to Poon Hill in Nepal's Himalayas. Our boys are now 4 and 5 years old and they can easily manage 10 km hikes, which I think is pretty good going, especially for our youngest. Plus, their hiking stamina has also proved helpful for our European city breaks.
Disclaimer: This is an honest review from an Mum who loves to keep the whinges at bay when hiking with her young boys. This post contains affiliate links for purchasing childrens walking boots. Should you click to purchase, this is at no extra cost to you, although I receive a small commission
.
Check out our top tips for hiking with kids to keep the whinges at bay.
They are good little hikers and I put this down to the fact that we go hiking every weekend possible, LOTS of snacks, and GOOD children's walking boots. Wellies are great for splashing in puddles, and trainers are fine for playing in the garden, but if you want to get some distance under those little legs, you need to ensure they have a quality pair of hiking boots that fit well and support their feet, without breaking the bank.
Are you looking for boys hiking boots or girls hiking boots? I've done a lot of research into the best kid's walking boots, so I thought I would share my findings with you. And remember, a good pair of kids hiking boots is not just for walking in the hills, they are our footwear of choice when we're travelling to colder destinations like Iceland and Nepal, and also for our European city breaks.
Click here to skip the research and see our vote for the best children's hiking boots.
Comparison chart of children's walking boots
There are lots of childrens walking boots out on the market, but I've focused on those that have sizes available for younger kids. So there are a couple of options here for toddler hiking boots.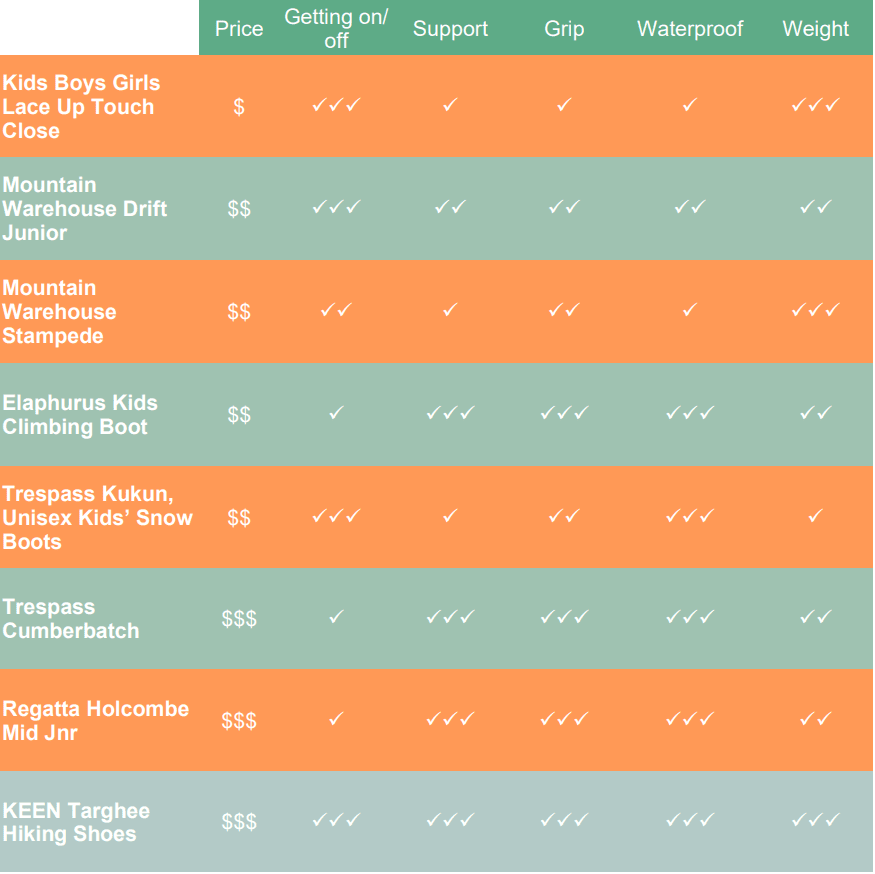 Things to consider when buying children's walking boots
Price
Kids' feet grow so quickly, right? I generally avoid spending too much on children's shoes and clothing, and the same goes for children's hiking boots. However, we don't want them to fall apart at the seams. When we go hiking with our boys, we rarely walk from A to B without finding a puddle to jump in or rocks to climb. These walking boots need to be up to the challenge and hopefully last a year, or more. It's a balance right?
Ease of putting on and taking off
I always say that the hardest part of hiking with kids, especially when it's cold, is getting them dressed and out of the front door. Boots need to be easy to get on and off, and ideally without a complicated lace system. Plus, you don't want to be re-tying laces a zillion times on your hike. Make sure the laces are simple to fasten.
Do the provide enough support?
Unlike adult hiking boots that need to be worn in, you want to ensure that your kid's hiking boots are robust and offer enough support right out of the box. Young ankles and arches need to be well cushioned and protected, and there should be good shock absorption throughout the shoe, to cope with uneven terrain.
Do they provide enough grip?
My boys are always running off down hills on our hikes, so ensure the hiking shoe has a good tread pattern to prevent slipping and sliding at speed. Admittedly someone is guaranteed to fall over at some point on our walks, but a good tread will limit this (and hopefully the tears).
Are they waterproof?
As soon as little feet get wet, they get cold, and the whinges commence. Time to head back home. If your walks are going to take you through wet grass, mud, streams and puddles, you need to ensure feet stay dry. To make their walking boots extra waterproof, cover them with a waterproof spray (like this one).
Weight
You don't want anything too heavy to weigh down and tire legs. Whilst many adults (including myself) opt for leather walking boots in cold/wet weather, this is not suitable for young children.
Size
I found it very difficult to find children's hiking boots that came in sizes smaller than a UK size 9. There are only a couple that I have found and therefore, size availability may be your strongest buying factor.
The 7 best children's walking boots
1. Kids Boys Girls Lace Up Touch Close – $
no longer in production
This is your bargain buy and good option for smaller feet as sizes start from UK 6 child. A black boot, with a choice of fluorescent green or pink highlights, and easy to fasten. If your kids aren't yet doing walks longer than a kilometre or two, this is a good option. But they are unlikely to last the distance if walking every weekend.
2. Mountain Warehouse Drift Junior Kids Boots – $$
Click here to check price and availability

It's difficult to get good quality kids hiking boots in small sizes, yet these start from a UK size 6 child, and you can purchase them in purple or dark blue. Laces are stretchy with a Velcro fasten, so they are easy to put on and get off, and potentially means that your little ones could get their own boots on. These are also watertight to keep feet dry and great value. A fantastic year-round walking boot for smaller feet.
3. Mountain Warehouse Stampede Kids Walking Shoes – $$
Click here to check price and availability
I generally prefer a hiking boot with ankle support. However, this means they take up more room in your backpack when travelling. This shoe is a good alternative, designed more like a trainer, but still providing some support to the ankle with padding on the tongue and behind the ankle. It also has a very good tread on the sole for added stability and grip. A lighter style of walking shoe, ideal for warmer months, trekking in a tropical climate like Thailand, or an arid climate like Namibia. Only available in size UK 10 child and up.
4. Elaphurus Kids Climbing Boot Hiking Shoes – $$
Click here to check price and availability
With a nice range of colours available, this hiking boot has excellent grip and heel support (heel height is 3cm), and also has the easy laces and Velcro fastening. These are a fantastic option for winter walks in the ice and snow as the lining is furry to keep feet warm and there's a flip down steel claw on the sole to provide extra grip! I wish we had bought these for our family trip to Iceland. May be a bit too warm for the summer months though. Only available in UK size 11 child and up.
5. Trespass Kukun, Unisex Kids' Snow Boots – $$
Click here to check price and availability
This is the hiking boot we purchased Arthur for our Poon Hill trek in the Himalayas. Whilst not technically a children's walking boot, it offers good support and grip for hiking, but with the added benefit of being like a welly – totally waterproof and easy to get on and off (there's also a zip on the side). This is a good option if you're looking for a hiking boot that's easy to get on and off.
6. Trespass Cumberbatch, Unisex Kids' High Rise Hiking Boots – $$$
Click here to check price and availability
Starting from a UK size 10 child, these children's hiking boots from Trespass are built for some serious hiking year-round. They offer good support and whilst waterproof, are still breathable due to tres-tex membrane technology (sounds fancy and I've no idea what this actually means! But seems to do the job). Although they are on the pricey side, you can often get them at discount on Amazon. Only downside is the laces are a bit tricky for little fingers and seem to undo a lot of the time.
7. Regatta Holcombe Mid Jnr, Unisex Kids' High Rise Hiking Boots – $$$
Click here to check price and availability
These are the hiking boots my boys had last year and were originally my top choice. They have a range of colours on offer and are often on sale on Amazon. They fitted perfectly, straight out of the box, and have kept my boys feet comfortable and dry. The smallest size you can get them in is a UK size 9 child.
I did find them a little tricky to get on as they are a firm fit, and the laces weren't very practical; they kept coming undone and Arthur's snapped after 8 months of use.
8. KEEN Targhee Waterproof Hiking Boots – $$$
Click here to check price and availability (sizes UK CHILD 7 to 12)
Click here to check price and availability (sizes UK CHILD 13 to 6)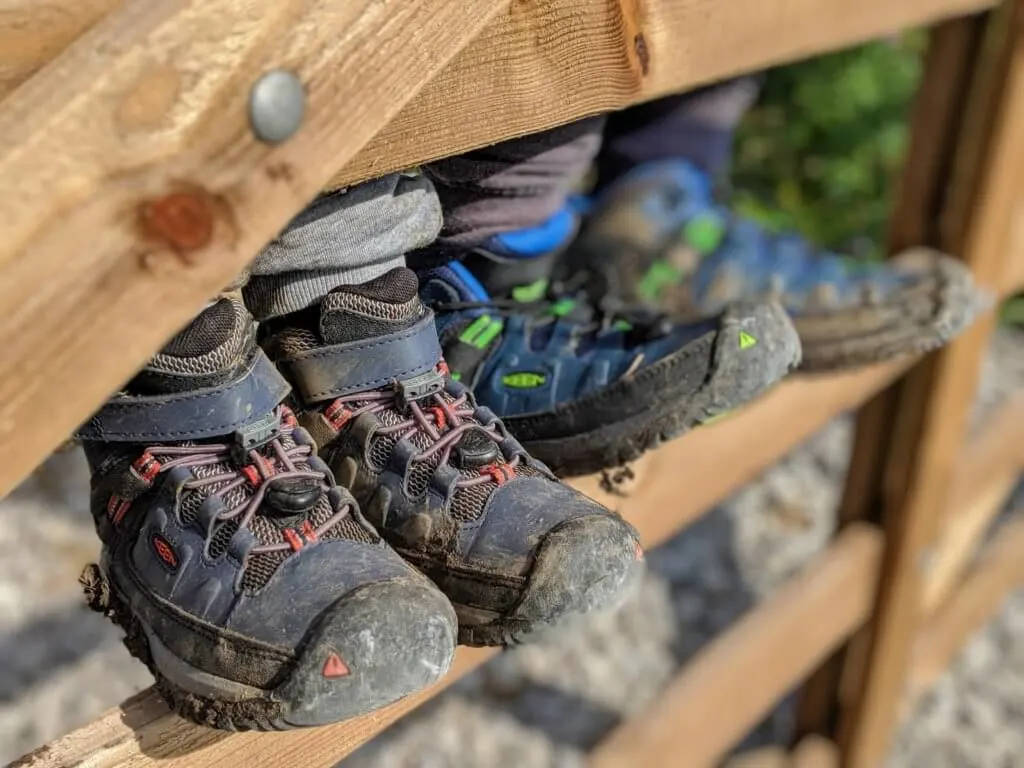 Although they are on the pricier side for kids hiking boots, they are VERY good quality and the only hiking boots I've reviewed that gets three ticks in all the boxes. I particularly love how they are easy to get on and off with strong elastic laces that don't need to be tied, and the reinforced rubber toe protects from scuffing when climbing.
Both boys seemed very comfortable walking in them straight away. The sole provides excellent grip and they are waterproof for walking through long wet grass (though don't go wading in streams if you want to keep feet completely dry). There is also Cleansport NXT™ for natural odour control. I have no idea what this is exactly, but with boys' active feet, this can only be a good thing.
Check out our review of Keen Hiking boots for all the family.
My verdict for the best children's walking boots
My top recommendation is easily the KEEN Targhee Waterproof Hiking Boot as these are the only childrens walking boot that receives three ticks in each column for me. They also start from a UK size 7 and therefore suitable for smaller feet. The only downside is that they are a little on the pricey side. But if you're looking to do lots of hiking, city breaks and travel with your kids, they will definitely be worth the money. I'll update this post again next year to let you know if they stood the test of time.
---
You may also like to read:
Africa packing list: the ultimate packing list for overlanding Africa
What to pack for Iceland in October
Short walks for young kids in the Peak District