After a few days on a self-drive safari around Kruger National Park, it was time to continue our Africa overland adventures by crossing the border into Mozambique at the the Komatipoort border post, Ressano Garcia. Despite its pristine tropical beaches and distinct Portuguese history, it's a country that seems to be off the radar for so many travellers, many deterred by stories of corrupt police and bad road conditions.
Compared to our recent experiences of Indian bureaucracy (we lived in Bangalore for a year), crossing the Mozambique border at Komatipoort was relatively straightforward and the entire process took us less than 1.5 hours. Our main difficulty was keeping the boys entertained whilst us parents completed forms.
For all your questions answered about our overland travels through sub-Saharan Africa in a Land Rover, check out our post… READ – Africa with kids FAQ: all you need to about our overlanding family adventures
You may also want to check out our ULTIMATE Africa packing list for overlanding Africa with kids.
Where we stayed in Komatipoort
We are overlanding in a Land Rover Defender with roof tents, so we stayed at Komatipoort Caravan Park. We pitched up right next to the playground (which was perfect for our two young boys) and there is also a swimming pool with slide (although the cleanliness of the pool was questionable). Nearby there is a petrol station and supermarket to stock up. Bring fresh water with you as there is non available on site.
Pick up a Drive Moz sticker
Unfortunately, Mozambique is known for corrupt police targeting tourists for bribes. A fantastic Facebook Group called Drive Moz has been established as a support network for any issues driving through the country. You can also use this group to check road conditions if venturing off the main roads. DO NOT bribe officials as you are only adding to the problem. Stick to the rules (speed limits, wear a seat-belt etc.) and use your travel nous. If you are pulled over, a smile and polite attitude go a long way. If you are being fined for an offence, ensure you are given a slip and check any evidence.
Pick up a Drive Moz sticker from the Sansol Garage in Komatipoort for R50. If anything, this will deter corrupt police and show that you are part of the Drive Moz support group. It's worked so far for us and we're yet to be pulled over (touch wood).
Steps for crossing Komatipoort border post
Exiting South Africa
The border opens at 6am. We suggest getting there early. We turned up at 7:30am and there were no queues.
As you approach the border, overtake the long line of lorries and trucks in the left hand lane. Otherwise you're in for a VERY long wait.
An official will pass you a white slip detailing your car registration number and number of passengers. KEEP HOLD OF THIS. You will get this stamped at the border and this will prove you have taken the right steps to continue into Mozambique.
Follow signs to Departures and park outside the South African customs building. Leave your car, lock up and walk in.
Join the first queue to get your white slip stamped.
Walk along to the next queue to get your passport stamped. Adults will have their photo and fingerprints taken.
Get back into you car and drive to the Mozambique border. Stopping to pass your stamped white slip to a border official.
Entering Mozambique
There will be lots of people offering to assist you, trying to sell you road safety items and just generally getting in your way. Ignore anyone that isn't dressed in official uniform and doesn't have ID. Just ensure you collect another white slip and then proceed straight to Step 2.
Park up right outside the immigration building, lock your car and walk in.
If you need to purchase a visa, go straight to the desk on the right. Complete a form for each family member. Photos and fingerprints will be taken for all family members. Prices at time of writing were US$50pp (including children). You can also pay in South African Rand and Mozambique Metical. They will stamp your passport at this stage to save you joining another queue.
If you already have a visa or don't require one, join the queue straight ahead for passport checks.
Walk to the desk on the left and collect a form. This includes details of your car and driving license, so ensure you have this information to hand.
Return to the desk you collected this form from and get it stamped.
Leave the immigration building and walk across the road to PURCHASE YOUR THIRD PARTY INSURANCE. There are a row of stores all with identical prices. Ensure you purchase from one with prices displayed on the wall.
You're done! Get back in your car and drive into Mozambique, handing in your stamped white slip to an official.
Money
If you need to get some Mozambique Metical, there is a Barclays ATM right next to the Mozambique immigration building. Do not exchange money anywhere else at immigration.
Road rules in Mozambique
Drivers are required to carry TWO reflective red warning triangles and to use them in the event of a breakdown. You must also have with you a fluorescent vest with reflective strips. These fluorescent vests must be warn when repairing a vehicle on the road, at the scene of an accident or when loading/unloading fallen cargo. Sellers at the border will inform you that you also need a fire extinguisher. At the time of writing, this is not required by law.
Driving from Komatipoort to Maputo
If you are driving to Maputo, there is a new shopping mall on N14 as you enter Matola. We stopped here to pick up a SIM for our phone (we used Vodacom) and stock up on food. There is even a soft play area for the little ones!
We had initially planned to stay with an expat family in central Maputo, who kindly invited us to stay with them. But on realising our Land Rover Defender with roof tents may draw unwanted attention whilst parked overnight on the street, we decided to push on through to Praia Do Bilene.
It was a long day to get to Bilene. We arrived at the border at 7:30am and were parked up with our tents up by 4:30pm at Palmeiras Campsite. But, our efforts were rewarded with this…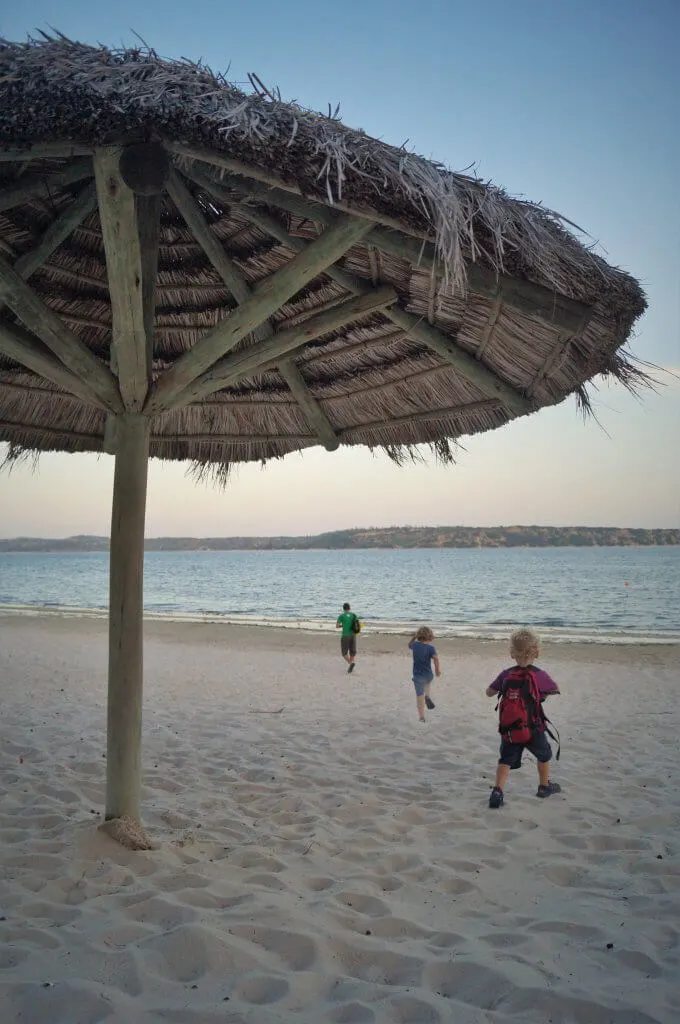 READ: Mozambique overland itinerary
---
Disclaimer: All information is correct as of 21st March 2018. Prices and processes may change.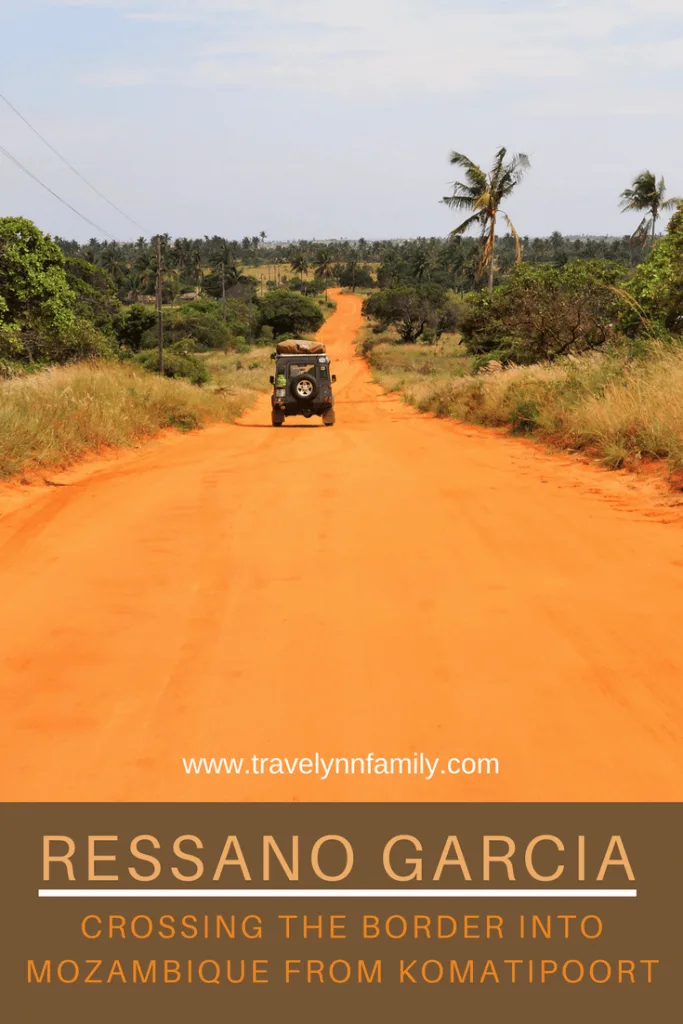 You may also like to read:
Southern Sands Ecolodge and the Beginning
Medical kit list for families travelling Africa
Self drive Africa overland with kids: everything you need to know