When I first started out at a family travel blogger back in 2017, I found that connecting with other bloggers in my niche was a fantastic way to gain knowledge and grow my audience.
An obvious way to do this was via Instagram and Facebook. I would search for family travel accounts and start engaging with them by commenting and sharing.
However, I found the best way to connect with established bloggers was by joining a link up. This is where a blogger publishes a blog post on their website and then invites other bloggers to add a link to one of their blog posts. You then read and comment on each others blog posts, and share them across social media platforms.
I absolutely loved sharing travel ideas and chatting travel on these platforms. So much so, I joined Leona from Wandermust Family in regularly hosting the Fearless Family Travel Linky for two years. We ran this in partnership with Lonely Planet Kids and the #fearlessfamtrav linky quickly became one of the top family travel blogger link ups in the world, with a wonderful community of family travellers.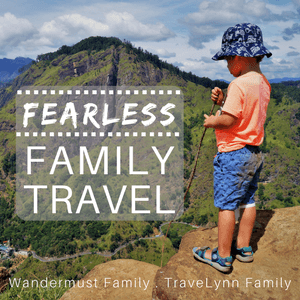 Through these link ups, I found my 'tribe' and have learnt so much from these other family travel bloggers with regards maintaining a website and growing a blog. However, if you want to earn money from a blog, you don't need other bloggers reading your content, your need to ensure your blog posts rank high on Google searches. So in time as my blog grew into a business and became a regular income, I stepped away from the link ups to focus on building good content. Because there are only so many hours in the day, right?
To anyone starting out as a family travel blogger, I would still urge you to join link ups. They really are a fantastic way to get in to the family travel blogger community, gain knowledge and build foundations. Due to coronavirus, all link ups are on hold. But once the world is ready for travel again, I'm sure the link ups will start up again.
Favourite blog posts from the Fearless Family Travel link up
As part of the #fearlessfamtrav link up, we would feature our favourites in a round up post. Here are all of the blog posts that were top picks whilst I co-hosted:
10 Tips For Visiting Santorini With Kids (Wander Mum)
10 days Israel and Jordan adventure holidays (Zenbabytravel)
Family-friendly things to do in Taroko National Park with Kids (World for a Girl)
How to plan a trip to Arizona (Jetlag & Mayhem)
Washington, DC With Kids: 5 Things to Know Before You Go (Where the Wild Kids Wander)
21 Fantastic Family Travel Destinations with Kids Under Five (World for a Girl)
Visiting Hawaii on a budget (The Family Voyage)
35 of the Best Day Trips From Munich for Kids (A Bavarian Sojurn)
A Trip To The Smoky Mountains (Jetlag & Mayhem)
The Most Affordable Way to Visit Santa in Lapland (Battle Mum)
Top 10 Things To Do In Stavanger, Norway (Go Live Young)
Most unusual places to eat in the world with kids (Passports and Adventures)
Hanoi with a toddler (World for a Girl)
5 reasons why you need to visit St Ives (Side Street Style)
Campervan budget for a USA family road trip (Adventure & Sunshine)
Roman Room with a View (Catherine's Cultural Wednesdays)
Following in the footsteps of Vikings:Exploring Viking sites in Iceland (Kids and Compass)
Kerala Itinerary and Highlights (5 Lost Together)
5 Tips For A Galapagos Islands Trip With Kids (Families Go)
Tips for visiting DisneyLand Paris (Passports and Adventures)
Top 15 things to do in Singapore with kids (5 Lost Together)
Alhambra and Generalife, Granada (Topsy Turvy Tribe)
Bilbao With Kids – 2 Days Of Fun! (My Lifelong Holiday)