My finger hesitated over the 'confirm' button. Didn't Michael Palin christen the island 'Lanzagrotty'? Supposedly the island of sunburnt beer bellies, English fry ups, and soulless resorts? Is it possible to get off the beaten track in Lanzarote? There must be more to this island…
Disclaimer: We were invited to stay in the Eco Yurt Royale at Finca de Arrieta for two weeks complimentary in return for this honest review and social media coverage. As always, these are all my own words and opinions. Furthermore, this post contains affiliate links. Should you click to purchase, it is at no extra cost to you, but I receive a small commission towards the running of this blog.
Flights were SO cheap – £130 return for just Ezra and I at the end of January (I wanted to do a little one-on-one trip before he started school) and the weather was certainly going to be warmer than our home in the UK's Peak District. Surely this entire Spanish Canary island hasn't completely been overrun my mass tourism?
I was determined to find something a little different. Something that would suit our sense of adventure. So I was absolutely over the moon when Michelle, the founder of Lanzarote Retreats, offered to host Ezra and I for a couple of weeks in their luxury Eco Yurt Royale at Finca de Arrieta in return for this review.
Yes – a YURT! Now that's definitely something I could get on board with. I immediately accepted her kind offer. A quick check of Finca de Arrieta on Tripadvisor confirmed that I had indeed made the right decision. Glamping in Lanzarote sounded perfect.
Check out our Lanzarote Retreats review video:
Location
Family-run Finca de Arrieta is an enclave of yurts, just outside the sleepy village of Arietta, in the North of Lanzarote. The North offers the most panoramic views and unspoilt towns of the island, as well as some beautiful secluded beaches. I was genuinely surprised. All my preconceived ideas of the island flew out of the window after a couple of road trips around the area. There is a wild nature to the barren landscape here, punctuated by the crumbling white-washed buildings of quaint towns and villages, which almost have a Moroccan feel to them. It's really very beautiful, and not a high rise in sight!
Yurt life
There are a range of yurts on offer at Finca de Arrieta to suit all budgets and group sizes, as well as a couple of quirky lodges like the Eco Surf Shack and Eco Cabin. Each accommodation is unique and private from its neighbour, yet a sense of belonging radiates through this eco-conscious community, firmly established with Monday's Paella Night.
We stayed in the beautifully designed Eco Yurt Royale, a spacious 83m² Mongolian yurt. There are two super king-size beds and two single beds, which can be separated into bedrooms with curtains. Red felt material encases the wooden beams and lattice frame, and statement hardwood Mongolian and Balinese furniture, provide a luxury, but homely feel. A Buddha sits underneath the central skylight, which can be opened in warmer months for ventilation and stargazing. In the cooler winter months, it feels very cosy and extra blankets and hot water bottles are provided (not that we needed them).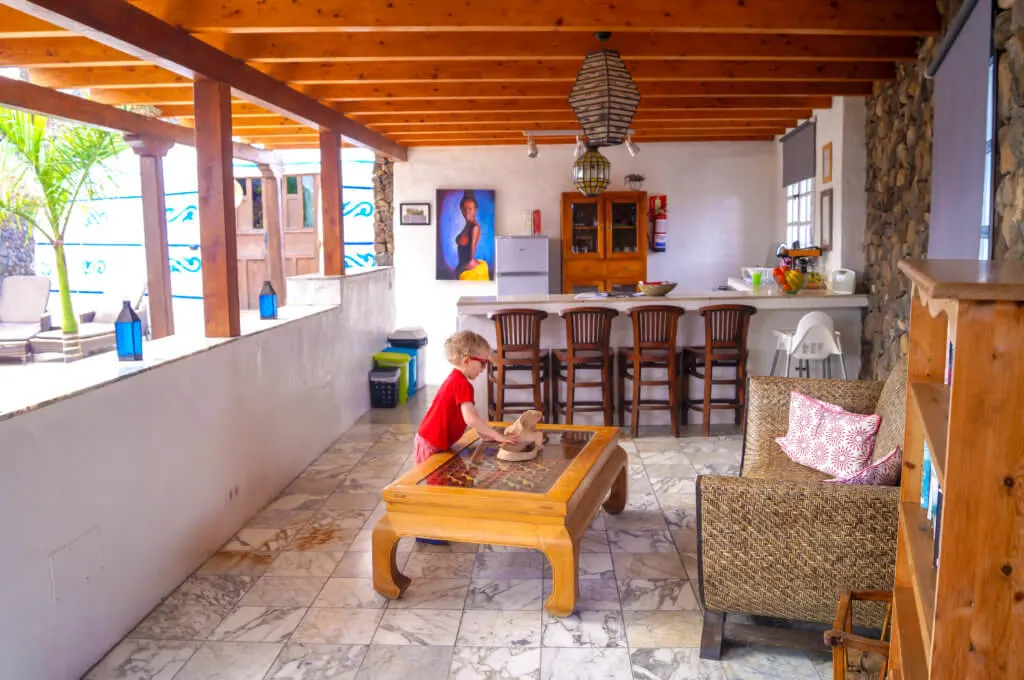 Once you step outside of the yurt you enter a central courtyard leading to a covered kitchen, an indulgent outside bath and gazebo, and an elevated bamboo dining area, and bathroom. This area is all open, so you can cook in the kitchen, whilst the kids play in the courtyard, and someone else sits reading on the gazebo, or even has a bath (there are curtains!)
Eco-conscious
Finca de Arrieta is leading the way in sustainable tourism for the Canaries, and quite possibly, Spain. The eco-resort has been built using locally sourced materials, and is entirely off-grid. Power is generated from the the abundance of wind and solar energy, and water is pumped from a well under the Eco Tower, which then runs through a desalinator. Guests are encouraged to separate their waste for recycling, feed any food waste to the on-site chickens, donkeys and rabbits, and to collect water from the shower when waiting for it to warm up and reuse washing up water to hydrate the plants.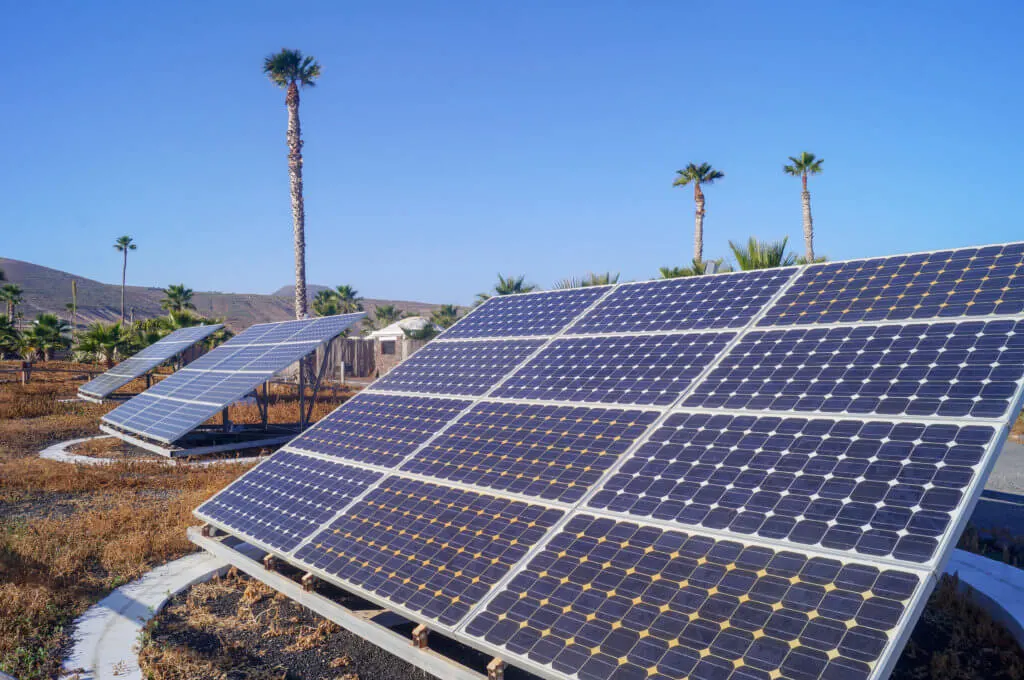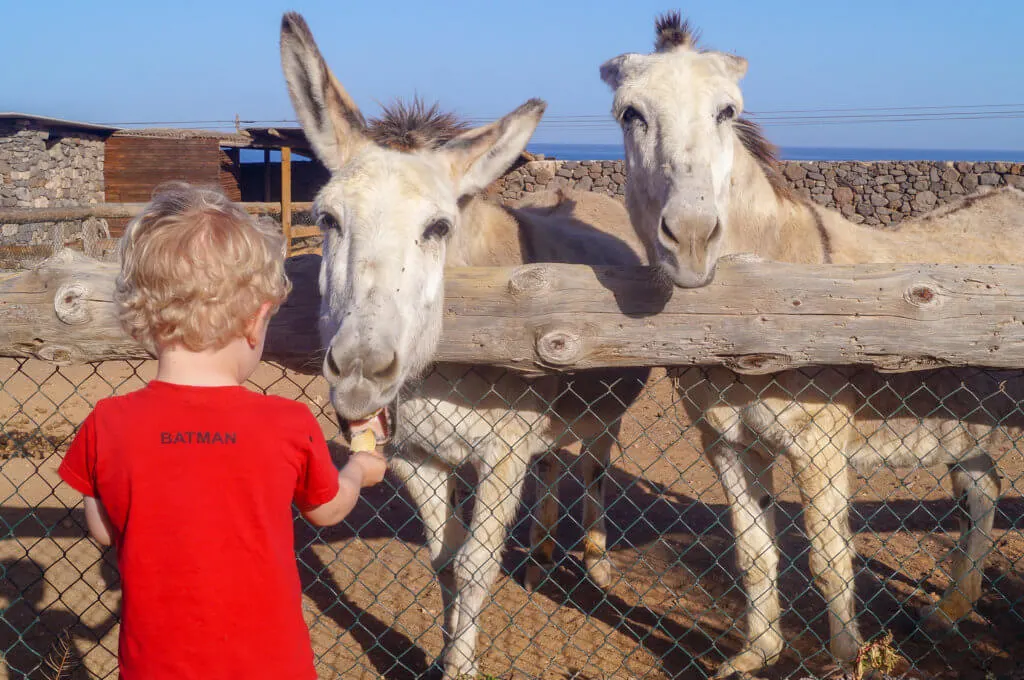 For families
There has obviously been a lot of thought in to welcoming families to Finca de Arrieta. From the plastic plates and cutlery, the highchairs, potty and baby bath in every accommodation, to the solar-heated kids' pool and playground (with huge trampoline), the toy box in the common area, and the pile of buckets and spades to borrow for the beach. There are even a range of car seats to hire and push chairs to borrow, to save parents bringing these items from home. Plus, there are chickens, donkeys and bunnies to meet! It really is a wonderful environment for families, especially those with young children.
Children will also love planting their own cactus in the cactus garden. This is offered free to all guests. A little something to leave behind and perhaps return to one day down the line.
And make sure you book in to Kids' Yoga on a Friday and the Kids' Movie Night on a Sunday!
Self-catering
Each accommodation has a private kitchen with cooker and large fridge/freezer. There is a small supermarket in the local town of Arrieta, as well as the convenience store next to the petrol station. However, on our first day, I drove the 25 minutes to Mercadona in Arrecife (click here for location), a large supermarket, to do a big shop for the fortnight ahead.
There is no restaurant on-site, although you can order in the meal of the day in advance, and a breakfast box to be delivered. If you find yourself short though, you will be able to find something in the small honesty shop. There are even jars of pre-prepared ingredients for baking muffins!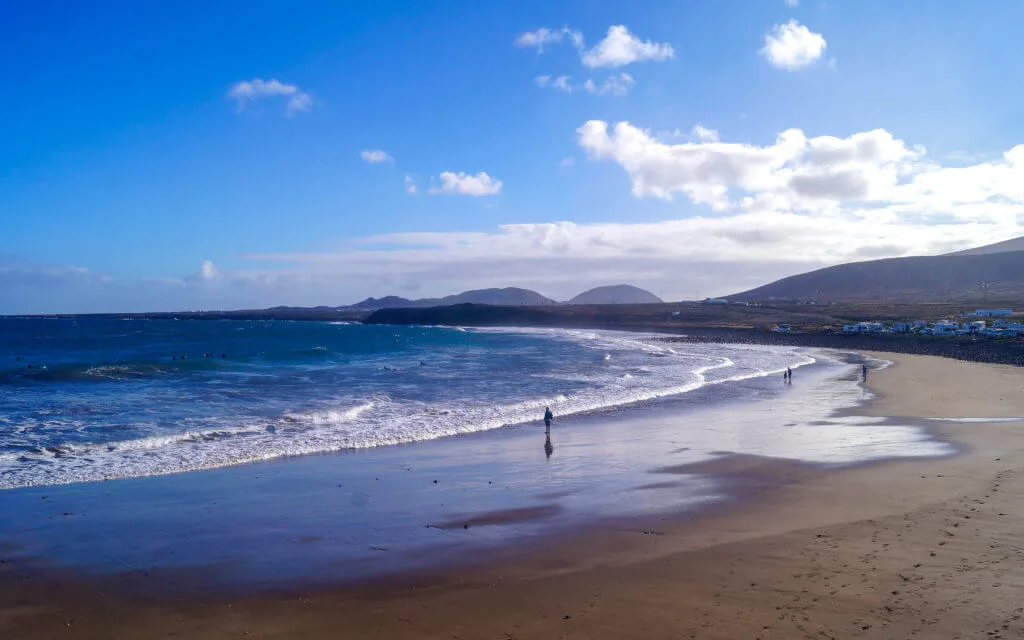 From the resort, a 300 metre pathway leads you to sandy Playa de la Garita, with a low-key beach bar, tapas restaurant and playground. Try the mojitos from the camper. Delicious. Further into the town, you'll find a few more restaurants overlooking the sea. There are some great seafood options if you like your fish flapping fresh, although as a vegetarian, I found the menus rather limiting.
Activities
Aside from kids' yoga, and kids' Movie Night, as mentioned before, there are also adult yoga and pilates classes.
Should you wish to book a tour, hire bikes, or book ferry tickets, chat to Renata at the info desk. She's there every morning from 10 to 3 and has a fantastic knowledge of the island if you're after something a bit different.
Nearby
Finca de Arrieta is in a great location for many of Lanzarote's sites. Although do remember that this is a small island (it only takes one hour to drive from the northernmost town of Orzola to the southenmost town of Playa Blanca), so everywhere is in reasonable reach for a day trip. It's just a 5 minutes drive to The Catus Garden, 8 minutes to the caves of Jameos del Agua and Cueva De Los Verdes, and 10 and 15 minutes to the picturesque villages of Haria and Teguise respectively.
Getting around Lanzarote
A courtesy hybrid car is provided for guests staying in the luxury accommodation, including Eco Yurt Royale. A car is essential for getting around the island, as the public transport is very limited. You could of course opt for tour buses, but we always prefer the independence of our own wheels. Driving around the island is very easy. Download offline Google Maps before you arrive so you can use it's navigation. Although the main sights are all very well sign posted. Parking is never a problem, unless it's a town's market day.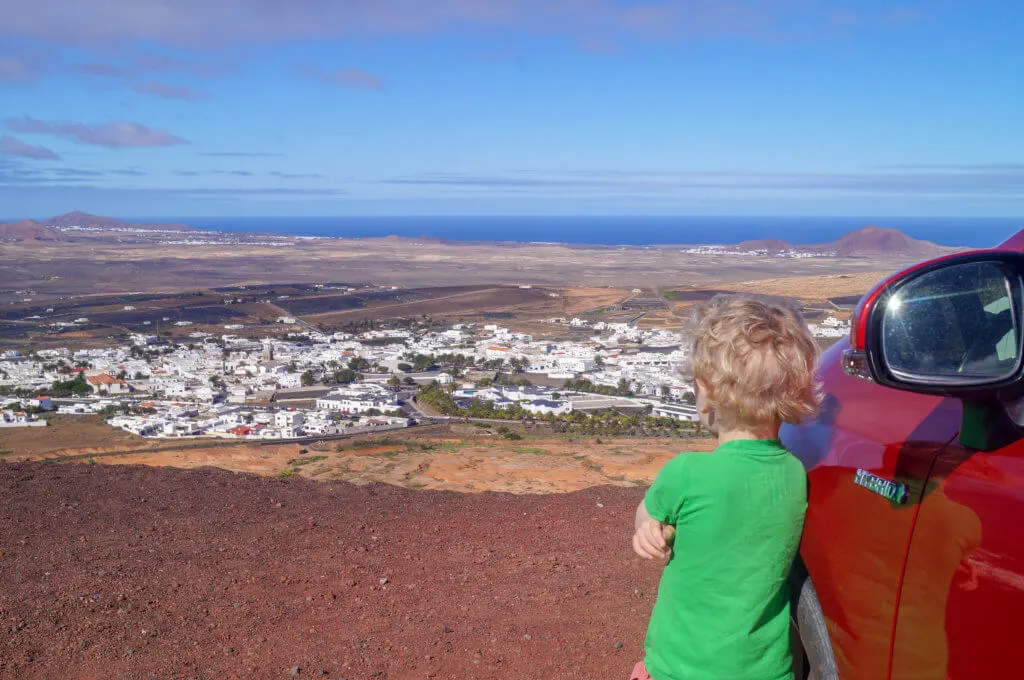 When to go Lanzarote
We visited at the end of January / beginning of February. Temperatures hovered between 18 and 21 degrees Celcius, and dropped to 14 at night. Some days offered four seasons in one, so wear layers and take a light jacket should you be caught in drizzle, and you will still need suncream for those warmer days. The pool, although heated, did feel rather chilly. However, my three year old was absolutely fine in a wetsuit. Same with the sea. July and August are the hottest months of the year with temperatures reaching 38°C, combined with frequent windy days.
A dip in the pool in February. Tip: pack a wetsuit for kids and they'll be totally fine as it is heated.
Though with sunshine all year round, the peak periods are Easter, July, August and December.
Final thoughts on our Lanzarote Retreats review
If you're a family who love getting off the beaten track, crave wild open landscapes, and like things a little bit different, I cannot recommend glamping in Lanzarote enough. Finca de Arrieta was a wonderful base for our two weeks of adventures, and I was extremely impressed at how much thought has gone in to welcoming families and making life easier for parents. Plus, the location is perfect. Nearby Arrieta has retained its local charm and the surrounding landscape is wild and stunning. Just ensure you book ahead for school holiday dates as the secret is out on this very special place.
---
Looking for another eco resort in Europe? READ: Best family eco resorts and accommodations in Europe
You may also like to read:
Lisbon with kids: a winter city break
Best Châteaux to visit in the Loire with kids
35 alternative European city breaks for families