Lined with canals boasting both heritage and world leading architecture, Hamburg, Germany's second largest city and biggest port, is a fascinating European city to explore. With echos of its maritime history everywhere you can spend your days wondering the harbour and Speicherstadt district, and dining in funky restaurants and bars of the vibrant neighbourhoods. But if you're looking for things to do in Hamburg with kids, it'll more likely to be a chocolate museum and the largest miniature railway in the world that will pique interest!
Disclaimer: Our visit to Hamburg was hosted by Hamburg Marketing who provided complimentary accommodation, transport and activities. As always, these are all my own words. Also, this post contains affiliate links. Should you click on a link to purchase, it is at no extra cost to you, but I get a small commission that goes towards the running of this blog.
We enjoyed a family trip to Hamburg during our February half term family travels in Germany. Our boys were 4 and 6 years old at the time. Unfortunately the weather wasn't all that great (Hamburg is on the same latitude of Manchester, UK), but that really didn't matter as there is so much to do in Hamburg with kids on a rainy day!
In all honesty, I wish we'd allowed more time to explore Hamburg. We had two nights, which equated to an afternoon, full day, and morning. But as this was at the end of an eight day trip exploring three German cities back to back, including Cologne and Hannover, we had run out of steam. Just a reminder to not cram in too much with travelling with young kids! I would recommend three full days for a family trip to Hamburg. Although check out this 48 hours in Hamburg itinerary from our friends over at Mini Travellers.
Here are our top things to do in Hamburg with kids!
1. Visit Miniatur Wunderland
This is the largest miniature railway in the world and one of Germany's most popular attractions. Walk around the intricate exhibits of transports across the globe, and be wowed at the craftsmanship and detail to bring these miniature worlds to life.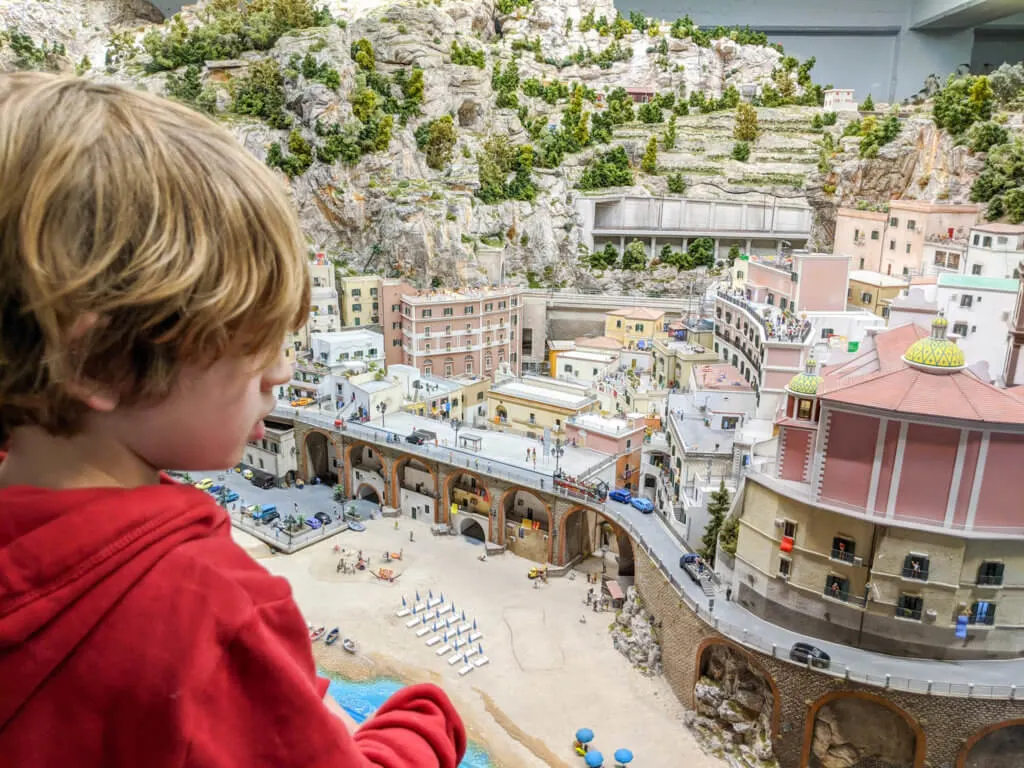 There are little buttons to press that bring small areas to life, making it interactive for little ones. But the most impressive section is the model airport. We even got to see a miniature Starship Enerprise take off!
Allow a couple of hours to walk around all the exhibits. We recommend booking tickets in advance and arriving early to avoid queues. Check their website for up to date opening times and ticket prices.
2. Chocolate tasting at Chocoversum
Lots of yummy chocolate tasting happens on this tour! And yes, it is a tour. Don't get caught out like we did and think you can rock up any time and walk around. You have to book into a specific tour, lasting 1.5 hours. Most of the tours are in German, but they do run English speaking tours. Your best bet is to book online.
The tour is fantastic though! It's a good balance between being educational and being interactive to keep little ones engaged. The multiple chocolate tasting opportunities help a lot with keeping kids focused.
First you learn about the cocoa beans; how they grow, where they come from, and how they're made into chocolate. Then everyone gets to make their own chocolate bar, before being shown the process of making the actual chocolate. And did I mention there was lots of tasting along the way?
Our boys were on a total sugar high by the end. You've been warned. But it's an absolute must for visiting Hamburg with kids.
3. Get snap happy around Speicherstadt
This is the most picturesque area of Hamburg and you will need your camera at the ready. Located to the East of the harbour, Speicherstadt is the old warehouse district, built into the Elbe river between 1883 and the late 1920s on thousands of oak poles as a free economic zone in Hamburg's port. It's neo-gothic red-brick architecture makes for an interesting contrast to the modern steel-and-glass constructions of neighbouring Hafen City.
Now protected as a World Heritage Site, many of the warehouses of Speicherstadt have been turned into apartments, although some are still used for storage.
Speicherstadt makes for a lovely stroll between the Minatur Wunderland and Chocoversum.
4. Ride the escalators of Elbphilharmonie
The impressive glass structure of Elbphilharmonie stands proudly overlooking Hamburg harbour and can be seen for miles around. It accommodates two concert halls, a hotel and residential apartments.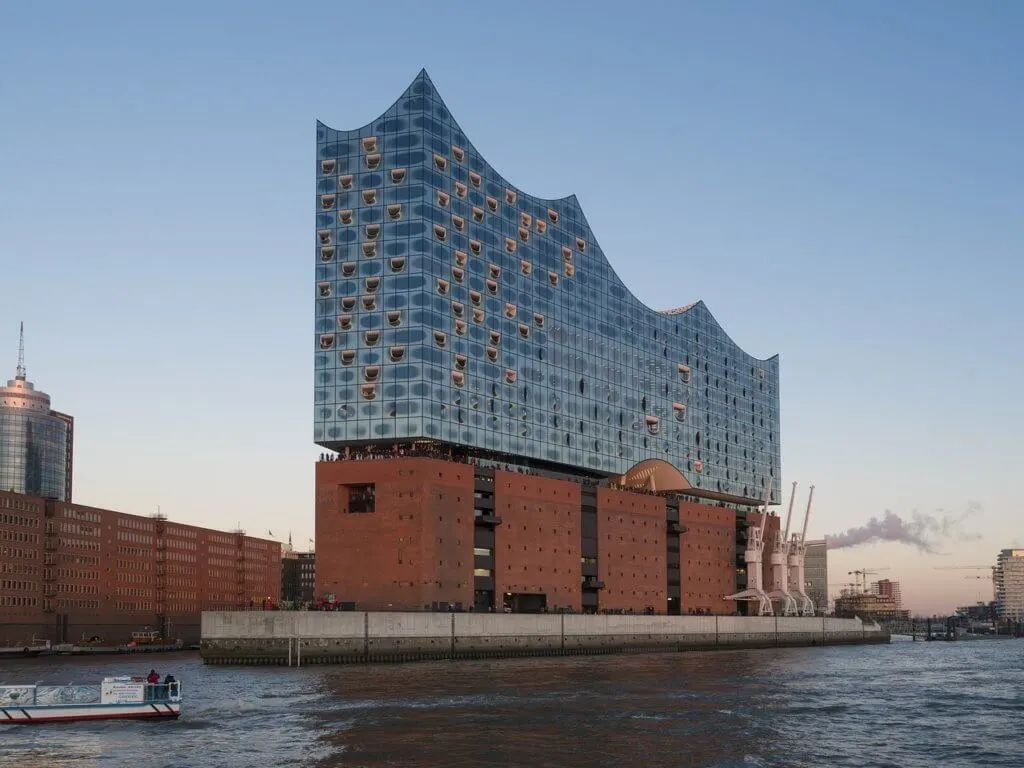 A third of the way up, a viewing area that encircles the building is accessible to all and totally free. To limit numbers you do have to obtain a ticket either from the entrance, or you can book them in advance for €2 per ticket. We did have advance tickets, but there was no queue whatsoever when we arrived. Click here if you are interested in booking a guided tour of Elbphilharmonie.
Whilst the views are impressive, it was actually the curved escalator that impressed our boys the most! Designed in the shape of an arch, it gives the impression that it's never-ending, and is the longest escalator in Europe. A separate escalator then leads visitors up to the viewing platform. Once past the entrance, you can ride the escalators up and down again as many times as you want, although I'll leave that up to you whether you share this information with your kids this or not.
5. Play and wander at Park Fiction
This quirky and modern public square set back from the harbour is a perfect spot for a sundowner on a summers evening, under a fake palm tree. Or more likely for parents with young kids, a good place to have a sit whilst the kids have a run around.
6. Cruise along the harbour
Take to the water on a local ferry and discover a Hamburg from a different perspective. The most popular ferry line is No. 62 towards Finkenwerder island from Landungsbrücken Brücke 3 (click here for location) as the 30-minute trip takes you along the most important waterfront sights. Disembark at Övelgönne to explore the Elbstrand beach (see below).
Alternatively, book onto a harbour boat trip on a traditional Barkasse (former dockworkers ferry). Guided tours are operated from the piers at Landungsbrücken and take you to the industrial docks, Speicherstadt, and past Elbphilharmonie. Although do note the English tours only run from April through to October.
During the summer months on Outer Alster Lake you can even head out on the waters on a canoe or SUP!
7. Enjoy a bus tour
As with all major cities in Europe there is a city bus tour. These are always a good way to get your bearings to a new city. Although we tend to use them as a break from walking when little legs get tired and an opportunity to see the city from a different perspective. Click here to book your one day hop-on-hop off bus.
8. Hit the beach at Elbstrand
Yes, there is a beach in Hamburg! Click here for location.
Whilst this beach won't win any best beaches awards and not really conducive for a dip, this 200 metre stretch of sand on the banks of the Elbe is a fab place to play in the sand and build castles. And sometimes it just feels nice to get out of the city!
You can get there on the bus or metro, but the most enjoyable way is on the ferry to Övelgönne from Landungsbrücken, then walking the last 15 minutes along the river.
9. Picnic at Planten un Blomen
Planten un Blomen is an inner city park with beautifully landscaped gardens, luscious lawns for a picnic, and also has a good sandy playground here. There's also an ice-skating and roller-skating rink, depending on the seasons, as well as events help throughout the year.
10. Get spooked at Hamburg Dungeon
A 90-minute journey through over 600 years of horrific Hamburg history told by actors (similar to London Dungeon). Meet gloomy characters from Hamburg's gruesome past, such as the judge of the Holy Inquisition or the headless pirate Klaus Störtebeker.
The minimum age is 10, so we didn't visit with our boys. But it does sound like some fabulously gruesome fun for old kids! Book tickets online.
How to get around Hamburg with kids
Hamburg is a very walkable city, but if little legs are tired or you need to get somewhere quickly, there is a good and reliable public transport system. We found Google Maps a great way of working out the best way to get around Hamburg on public transport. Locations and timings were accurate.
All buses, trains and harbour ferries can be used free of charge with the Hamburg Card and all the important sights in and around Hamburg can be reached through the well-connected network of the HVV.
Train is easily the best way to get around the city. The U-Bahn (four lines) and S-Bahn (six lines) trains are easy to work out; maps of the system are found on all city maps and inside the stations.
If you have older kids, you may want to consider hiring bikes. Whilst some hostels and hotels offer free bike hire, you can rent bikes with StadtRad Hamburg, which operates from U-Bahn and S-Bahn stations and other key points across the city (there are 120 places in total across the city!) The first 30 minutes are free of charge, after that your trip will cost €0,08 per minute or €12 per day. Hamburg is a very cycle-friendly city, with many wide avenues and bicycle lanes, as well as parks. Just download the app, log in, and be on your way! Bikes are allowed free of charge aboard S-/U-Bahn trains and buses outside peak hours (6am to 9am and 4pm to 6pm) and on ferries any time.
Getting to and from Hamburg airport to city Centre
The S1 S-Bahn connects the airport directly with the city centre. The journey takes 25 minutes and costs €3.30, although this journey is included with the Hamburg CARD. Taxis cost €20 to €30 and take around 30 minutes, longer during peak hour.
Where to stay in Hamburg with kids
We had a fantastic stay at the Mercure Hamburg City in the Junior Suite equipped with a double bed and a built-in sleeping sofa where the boys slept. There is also a flat screen TV, free WiFi, a private bathroom, a wardrobe with a built-in safe, a fridge and tea and coffee making facilities. We loved the funky maritime design and modern feel, and especially loved the expansive city views. Check out our review here.
Mercure Hamburg City is a good mid-range option. If you're looking for something slightly more budget, check out:
Best time to visit Hamburg with children
As with almost all European cities, Hamburg gets flooded with tourists in the summer months of July and August and accommodation prices rocket. However, this is the time for urban beach bars and festivals (such as atonale, Kultursommer, and the city's Christopher Street Day parade). It's also a great time of year to enjoy a canoe to explore the city's lakes and canals. November and December is also a popular time for visiting the Christmas Markets!
We visited for February half term, and although the days were on the chilly side, the city felt free from an abundance of tourists and all the activities were open. However, if you want to enjoy some warmth in your days, but avoid some of the crowds, May and October and probably the best months to visit.
---
You may also like to read:
Visiting Hannover with kids
Top 10 things to do in Cologne with kids
The best ALTERNATIVE European city breaks with kids