If you're looking for a folding car seat, a collapsible car seat, or just the perfect travel car seat, then read on. The Hifold (from Mifold) is a gamechanger for travelling and campervanning families as it's so compact!
When it comes to travelling in our Mazda Bongo, I am obsessed with collapsible camping gear for saving space. You name it, we've got it in a collapsible version; table, chairs, kettle, washing up bowl, drainer, colander, storage baskets, lanterns, hairbrush… oh and a fruit bowl and sofa… I'm sure there's more! I suppose you could say our Bongo camper itself is collapsible with it's AFT (the roof top) going up and down.
Disclaimer: This post contains affiliate links. If you click to purchase, it is at no additional cost to you, and I receive a small commission.
With everything that packs into the Bongo, I ensure it takes up as little space as possible and has it's own place. For someone who is naturally untidy, when it comes to the Bongo I am militantly meticulous!
But the items that take up the most space, yet are an absolute essential, are the boys' car seats. The amount of space they take over is frustrating. When pitched up, we would store them in the driver's seat, losing a valuable and handy storage area; and somehow I would always end up honking the horn when putting them into place, much to the confusion of nearby campers. I know some campervan families take a small pop up tent to store them in, but that's just another item you need to find space for, and when we're all packed up and on the road, I like to keep the main Bongo area in front of the passenger seats and fridge as clear as possible for impromptu stops.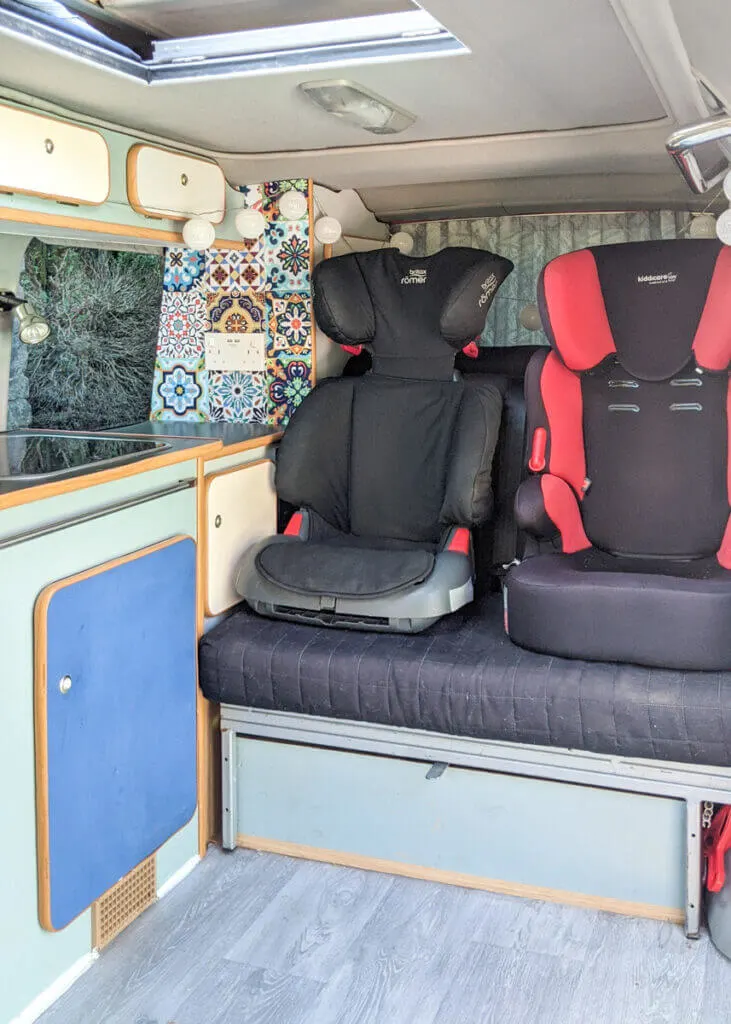 So when I saw the Hifold folding car seat on Otis and Us' Instagram, I knew this was a total game changer, and had to get them for the boys.
How easy does it open out and pack away?
When the two Hifolds first arrived I spent about ten minutes following the instructions, step by step, for how to open them out and then fold them away again. The instructions are very clear, but you really do need to follow them to work out how to use the various buttons, as isn't obvious just by looking at the Hifold.
Once it is extended you can also change the size in 4 areas – the bottom, the middle, the head rest, and also the back (to make it taller or shorter). This means you will always be able to find the perfect fit for your child, and the hifold will continue to fit them as they grow. In fact, there are 243 individual settings!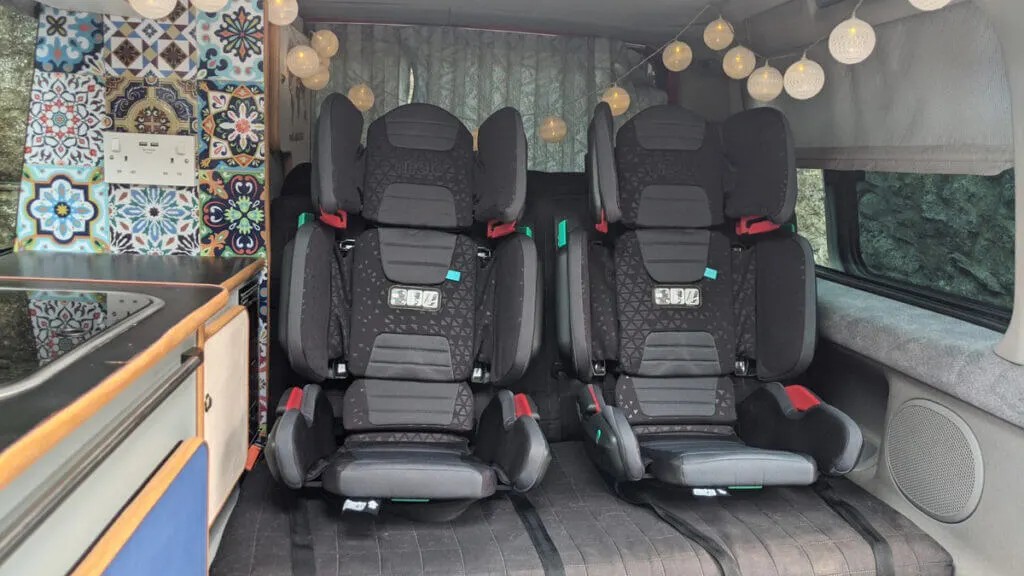 And for those parents that ideally need to fit three car seats along the back of the car, the Hifold is a narrow car seat designed to fit 3-in-a-row in the majority of cars. Although for fellow bongonauts with a side conversion, this isn't possible anyway as there are only two seats in the back.
After opening out and packing away the first one, I tried it out on the second Hifold and it took me a matter of seconds to get it up, and also to get it packed away again. It really is very easy.
The Hifold also comes with a strap and bag for carrying around or storage. The weight of the Hifold is 10 lbs. 2 oz, which is lighter than what Ezra weighed when he was born (yes, he was a BIG baby, but my point is that it is very light considering it's a folding car seat).
How does it fit in place and is it safe?
The Hifold is designed for use exclusively in cars that have a lap and shoulder belt seat belt system. There are fixed loops to feed the seat belt through to ensure it sits correctly.
For information on safety, please refer to the Mifold website.
What age can use the Hifold?
The Hifold is for kids aged 4 to 12, weighing between 15-45kg, and up to 150cm tall.
Is a folding car seat comfortable?
We've just got back from a camping weekend in Wales. It was a four hour drive from our home in the Peak District and the boys said they were super comfy.
However, I did notice that it moves around a fair bit when the boys were being wriggly. But for kids who fall asleep in the car, it will still support them nicely.
Next week we'll be off on our summer travels and the Hifold will really be put to the test! I'll report back after the summer.
Storing the Hifold in the Bongo
When the Hifold car seat is folded down, it measures 25 x 34.4 x 34.4 cm (9.8 x 13.5 x 13.5 inch). In some campers, you will probably be able to fit the Hifolds in the the cupboards. However, the doors to the cupboards in our Bongo aren't quite big enough.
So we now store the car seats in footwell on the driver's side; freeing up a big storage area for when we're pitched up.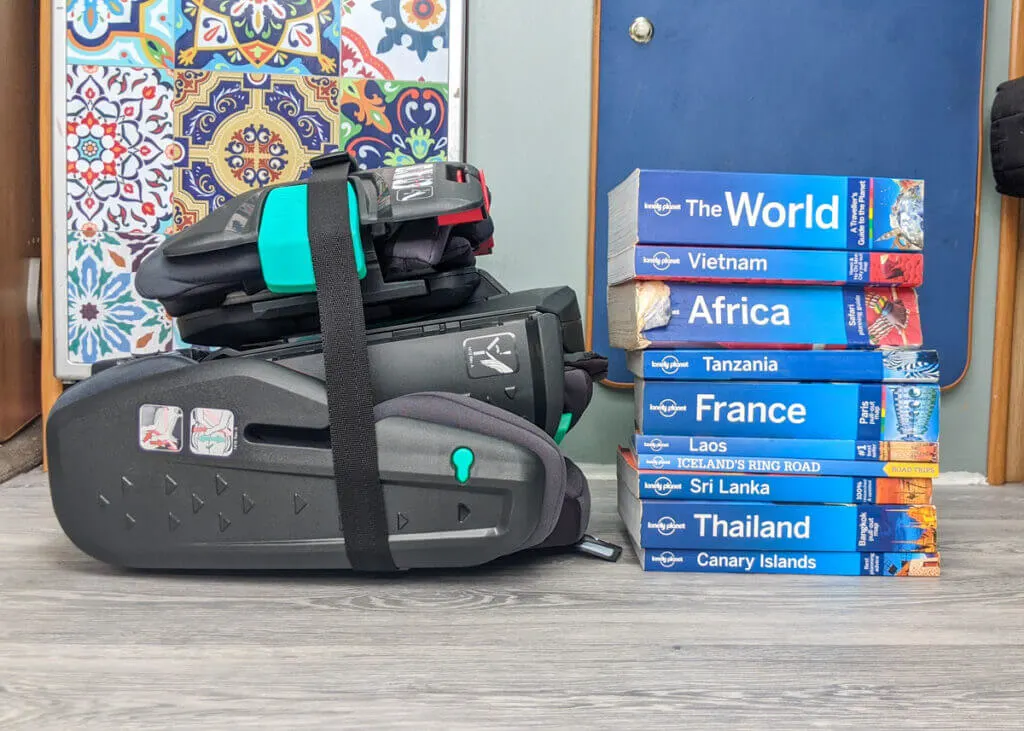 Where can I buy the Hifold and how much is it?
Head over to the Mifold website to purchase. Current retail price is £155.
However, you can also purchase through Amazon and the current price is slight cheaper at £143.30.
Final thoughts for the Hifold review
For saving space in our Mazda Bongo camper, the Hifold is a total gamechanger. Whilst the boys are old enough to just have a booster seat (such as the mifold Comfort that we use for backpacking), we prefer a car seat with a head rest as the passenger seat they sit on doesn't have one. Plus it's so easy to put up and put down again; it really is a matter of seconds (just make sure you read the instructions first).
At £155 it is rather expensive. But as a family we travel a lot in our Bongo, so we will get a lot of use out of it. Moreover, this is the perfect travel car seat for flying to a different country and then renting a car. I wish we'd had this for our Morocco and Iceland road trips, as the Hifold is small enough to take as carry on!
For any campervan family this folding car seat is an absolute must have item.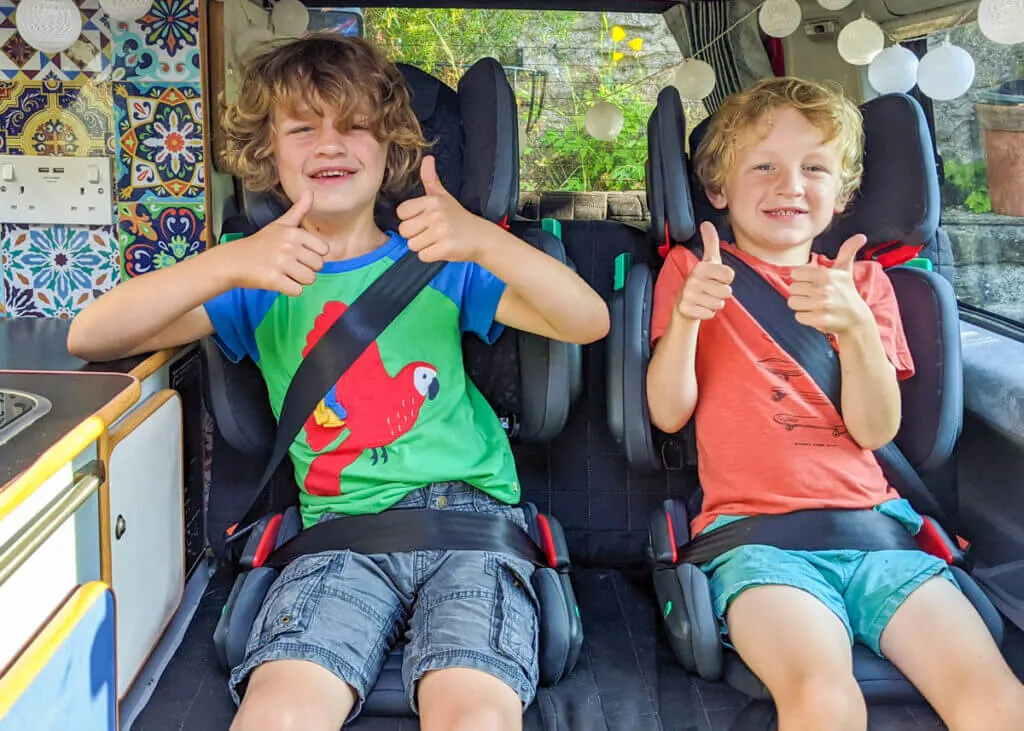 ---
You may also want to read:
Top tips for an easy and long lasting Bongo life
Our Mazda Bongo interior renovations
Our Bongo packing list for family camping