"I could walk for one hundred days in these hiking boots!" exclaimed Arthur (age 5) as we set off on our weekend hike in the Peak District; all wearing our new Keen walking boots to review. We love getting out into the great outdoors as a family. If you're hoping to get some walking distances from your little ones, wellies just won't do. They need sturdy walking boots that support their feet, are comfortable and waterproof.
This post was updated September 2020. All shoes mentioned in this post were gifted in exchange for this honest review and coverage on my social media. This post also contains affiliate links. Should you click to purchase, it is at no additional cost to you, but I relieve a small commission.
Good kids hiking boots are one of our top tips for keeping the whinges at bay when hiking with young kids, and if you have read my best kids hiking boots post, you know that I put the KEEN hiking boots at number one.
Why do we love KEENs? Well the boys' first pair lasted a good year. The only reason they didn't last longer, was because they're feet had grown (I'll be keeping hold of Arthur's for his younger brother as they're still in good condition). But when they had outgrown them, we of course had to get them another pair of KEENS.
And we do A LOT of hiking. The boys' wear their KEEN hiking boots almost every weekend; from hiking up Kinder Scout or an easy-going Ladybower Reservoir walk to our European city breaks. They have excellent grip, keep their feet comfortable and dry, and help maximise distance from those little feet.
Us parents are still wearing our KEEN hiking boots too. We obviously don't expect to outgrow ours, but they're are in such good condition after over a year of hiking in them!
Kids' Targhee Waterproof Hiking Boots review
Click here to view on the Keen website (sizes UK CHILD 7 to 12)
Click here to view on the Keen website (sizes UK CHILD 13 to 6)
Although they are on the pricier side for kids hiking boots, they are VERY good quality. I particularly love how they are easy to get on and off with strong elastic laces that don't need to be tied, and the reinforced rubber toe protects from scuffing when climbing.
Both boys seemed very comfortable walking in them straight away. The sole provides excellent grip and they are waterproof for walking through long wet grass (though don't go wading in streams if you want to keep feet completely dry). There is also Cleansport NXT™ for natural odour control. I have no idea what this is exactly, but with boys' active feet, this can only be a good thing.
Kids' Targhee Sport Vent Hiking Trainers
Click here to view on the Keen website (sizes UK CHILD 7 to 12)
Click here to view on the Keen website (sizes UK CHILD 13 to 6)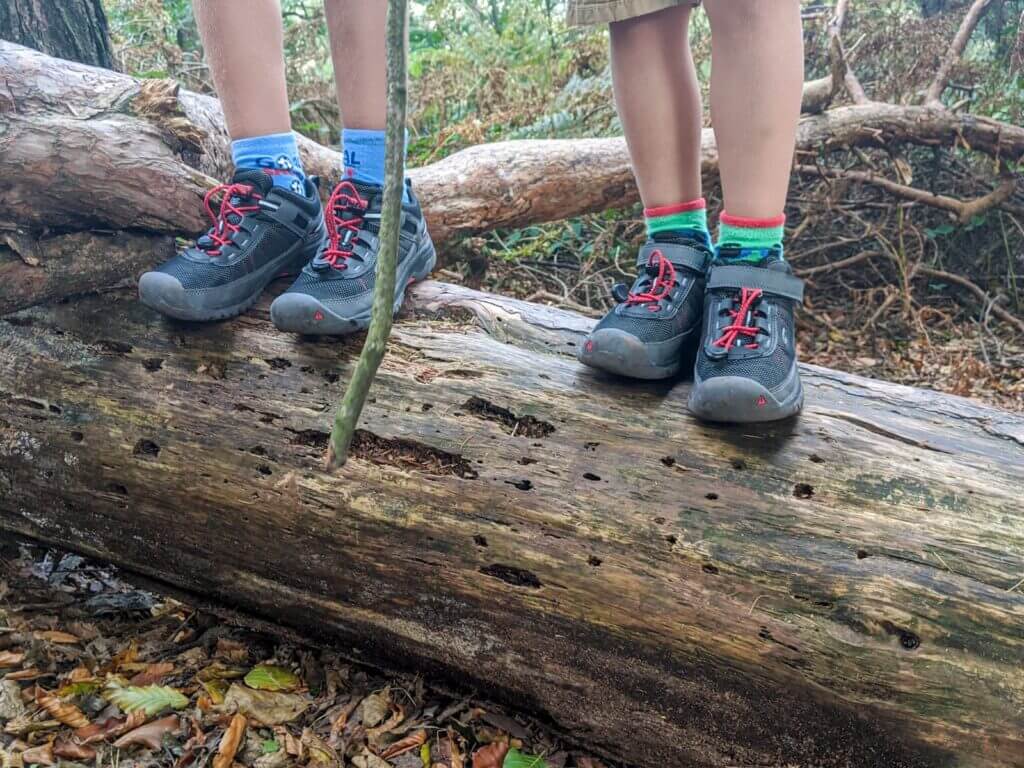 If you're looking for something a little lighter and suitable year round, the hiking trainer may be be an idea. This is a breathable hiking sneaker with cushioned support for all-terrain traction. However, the trainer isn't as waterproof and doesn't provide the ankle support.
These are the ones our boys are currently wearing and they are very happy in them. I'll report back in a year to let you know if they lasted the distance.
Men's Venture mid Leather Waterproof hiking boots review
Click here to view on the Keen website.
Jay found these hiking boots to be very comfortable with good support. They didn't feel like they needed to be worn in at all, and felt lightweight despite being leather. Although he remarked that the laces felt a little short.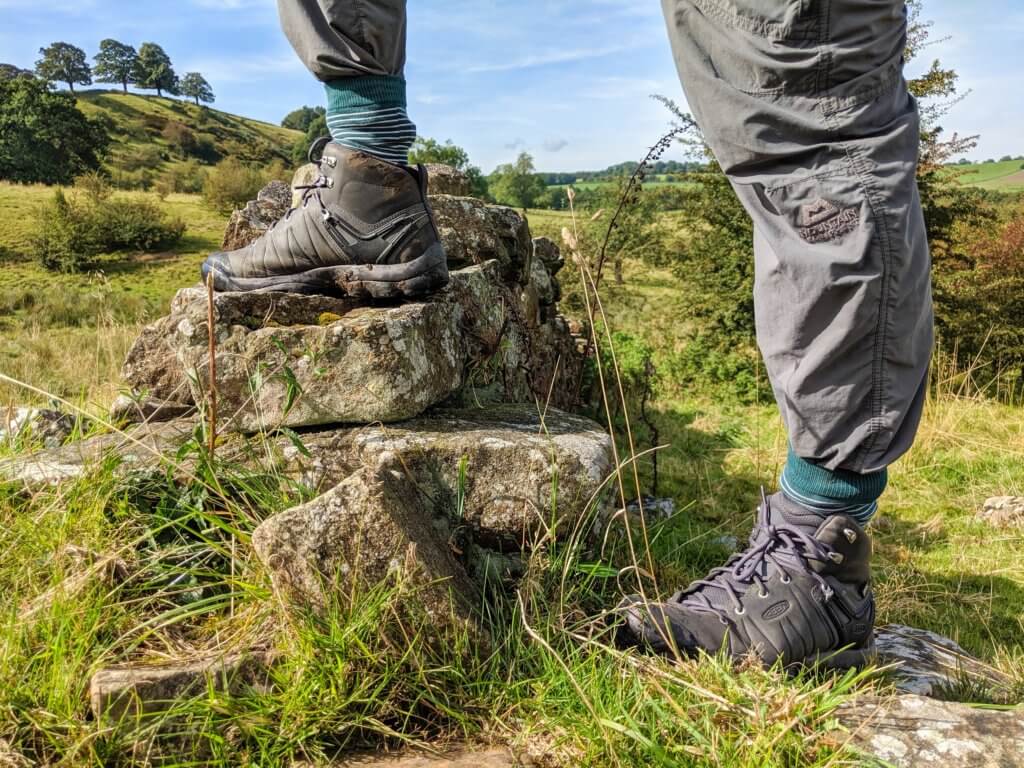 This hiking boot comes in half sizes, which is handy, and you can trust the sizing online.
Women's Karraig Waterproof Hiking Boots review
Click here to view on the Keen website.
This is a very technical and robust boot, and although not really necessary for 10 km family walks, it's a good purchase if you plan to do longer, multi-day treks over rough terrain.
I was relieved to find online that they do half sizes. However, what I didn't read properly was that this boot is coming up half a size small for some people. I initially ordered a size 6.5, but had to change to a size 7. If you wear thick walking socks, I would definitely order a half size up.
I also found the laces to be rather tight initially and I had to play around with them to get a comfortable fit. But once I had this sorted, I can confirm that they are a VERY comfortable fit. I like how there's a locking mechanism for the laces around the ankle, so they don't slip.
I've also been hiking in them without the kids, meaning I've been able to walk at a normal pace and cover some distance. I do feel they needed a little wearing in, but they provide excellent support on rough terrain and I'm very happy with them. And a two years on, I absolutely LOVE them!
KEEN trainers for kids
If you're looking for something much lighter for the kids over the warmer months, there are of course the KEEN sandals (read our review here, in a nutshell we love them too!) But if you're just after an every day trainer for PE classes, sports clubs, and weekend play that will last, the KEEN trainers are also brilliant.
YOUNGER KIDS' CHANDLER CNX TRAINERS (size 7 to 12) – photo on left
OLDER KIDS' CHANDLER CNX TRAINERS (size 13 to 6) – photo on right
Streamlined, flexible and light, this trainer has excellent tread and I really like the non-marking rubber outsole which covers the toe area. Quick-dry mesh material makes it breathable, and the easy lacing system keeps it secure and makes it easy for the boys to get their trainers on and off. Plus, I love the style!
According to Ez, these trainers make you run faster!
Final thoughts on our Keen hiking boots
If you're like us, and do lots of hiking as well as city breaks (yes, I wear hiking boots for our city breaks as we always cover so much ground!) the KEEN kids' hiking boots work out to be very good value. You can expect them to last as long as they fit them. And with the reinforced toe, excellent grip, and elastic lacing, they are the best hiking boot I've seen on the market for kids.
As for the adult hiking boot, the excellent quality means you can expect them to last for many years of adventuring.
Head to the Keen website to order online, and don't forget they do 'normal' trainers and sandals too!
---
You may also like to read:
The BEST children's walking boots
Short and easy Peak District walks with kids
ICELAND with kids: a self-drive itinerary (5 days)