The Asia Interviews is a series of guest posts where fellow family travel bloggers talk about their best destination in Asia for family travel. TraveLynn Family hasn't been everywhere, and I love hearing about the adventures of other families in Asia and being able to share them with you.
The rugged island of Borneo is home to dense ancient rainforest, wild orangutans and leopards, and incredible beaches. It's a fantastic destination for intrepid families to explore and those that do venture here often head to Sabah. However, in this Asia Interview, Nicolette from Semi-Budget Travel takes us to opposite side of the island to Sarawak, and provides us with the low down on travelling to Kuching with kids.
1. Tell us a bit about yourselves. Where are you from and how often do you travel as a family? How old are your children?
My name is Nicolette, and I travel with my husband and our two daughters. We live in Southern California in the U.S., and we travel several times a year. Our children are 9 and 7, but they were 7 and 5 when we travelled to Kuching.
2. How many times have you travelled to Asia and why do you love travelling there?
My husband and I have been to Asia several times. This was the first trip to Asia for our children. Asia is a great place to experience unique cultures, foods, climates (hello, equator weather!), and (maybe other than Singapore) affordable travel.
3, Why is Kuching your favourite destination?
We actually travelled to Kuching because we were visiting friends that lived there! However, we would choose to go there anyway! There are beaches, world-famous national parks, rainforests, native cultures, and caves. Kuching is quite affordable, and we also planned our trip to coincide with the annual Gawai festival. (It's also fun to say we've visited the island of Borneo!)
4. What were your top 3 things to do in Kuching with kids?
~Look for all the cat statues around the city ("kuching" means "cat" in Malay).
~Explore the Fairy Caves (slightly adventurous & outside of town).
~Visit Semenggoh Wildlife Centre to see semi-wild orangutans.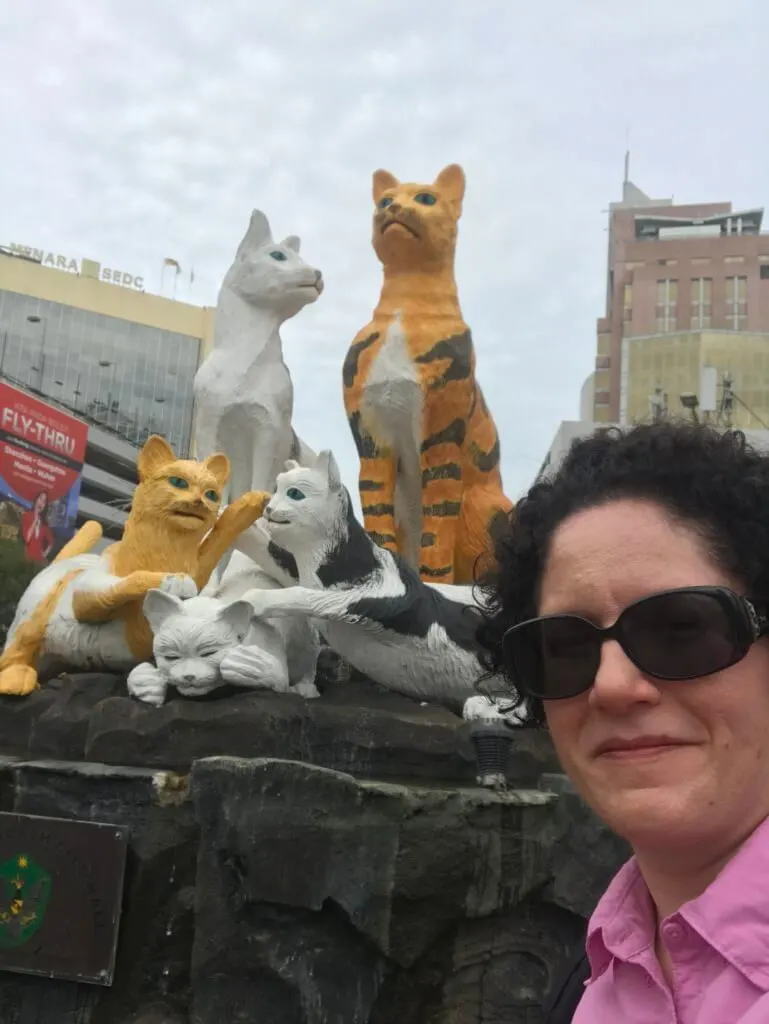 5. Do you recommend any child friendly acommodation in Kuching?
We stayed at the Citadines Uplands Kuching, and we would absolutely recommend it for families. We stayed in a 2-bedroom, 2-bathroom apartment that was perfect for our family. Daily breakfast was included in our stay. There is a beautiful pool on property. Underground parking was included. There is also a walkway bridge over the main road to a large mall on the other side, where you can find name-brand shopping, restaurants, an amazing food court, and a large grocery store.
Check out Citadines Uplands Kuching here.
6. What did the kids eat in Kuching?
We had sought out Malaysian and other Asian food in the U.S. before our trip. We wanted our kids to be aware of the types of foods that we would be eating in Kuching. It worked! Kolo mee and char kway teow (delicious noodle dishes), roti, Sarawak layer cake, and teh tarik were favorites…and they even tried local produce, such as mangosteen and durian!
7. How did you get around Kuching with kids?
We had a rental car that got us everywhere we needed to go in and around Kuching. As Kuching is not a big city like Kuala Lumpur or Singapore, there is no mass rapid transit system or the like. We've found that a rental car is necessary for us in Kuching. Make sure you're ready for the steering wheel to be on the right side (for those from the U.S. and the like where it's normally on the left side of the vehicle).
8. What is your top tip for family travel to Kuching?
Have a plan for each day, but be flexible. One afternoon, we planned to go swimming, but a huge thunderstorm came up out of nowhere, which delayed our plans.
9. What item could you not have done without at Kuching?
Actually, two items went hand-in-hand for us in Kuching…moisture-wicking clothing and insect repellent.
10. Where are you off to next?
We are going to explore our home state of California by embarking on a 2-week coastal road trip!
---
You can find out more about Semi-Budget Travel on their website. You can also follow them on Facebook, Twitter, and Instagram.
You may also like to read:
Nepal with kids: 16 day itinerary
Best beaches in Thailand for kids
THE ASIA INTERVIEWS: Borneo with kids