Getting together with an old mate for a catch up away from the kids is good for the soul. But as parents, this happens once in a blue moon. Life is just so busy right? So when you do finally manage to get a kid-free date in the diary, you may be looking for something special; perhaps with a sprinkling of elegance and class?
Disclaimer: I, along with a friend, were provided with a complimentary stay at Laura Ashley Hotel The Iliffe in Coventry, including dinner and breakfast, in return for this honest review and coverage on my social media channels.
Let me introduce you to Laura Ashley Hotels. Yes, that's right… Laura Ashley, the classically British furnishings and clothing company, now does hotels. And as you would expect, they do them very well.
Laura Ashley Hotel The Iliffe, Coventry, formerly known as Corus The Chace Hotel, opened its doors on Monday 29th July 2019, revealing its Laura Ashley transformation.
This new boutique hotel, which is only the second Laura Ashley branded hotel (the other is in the Lake District), has had a thorough refurbishment, and the elegant new interiors showcase Laura Ashley's exquisite fabrics and furnishings throughout.
An old school friend and I visited on a weekday at the end of November and were immediately welcomed into Victorian grandeur with its dark wooden beams and panelling, and sweeping red staircase leading upstairs. The main entrance hall was beautifully decked out in Christmas furnishings, decorations, and of course, a huge twinkling tree. Towards the back, a large roaring fire invites you to cosy up with a good book; or rather in our case, catch up with an old mate over a bottle of Côtes du Rhône.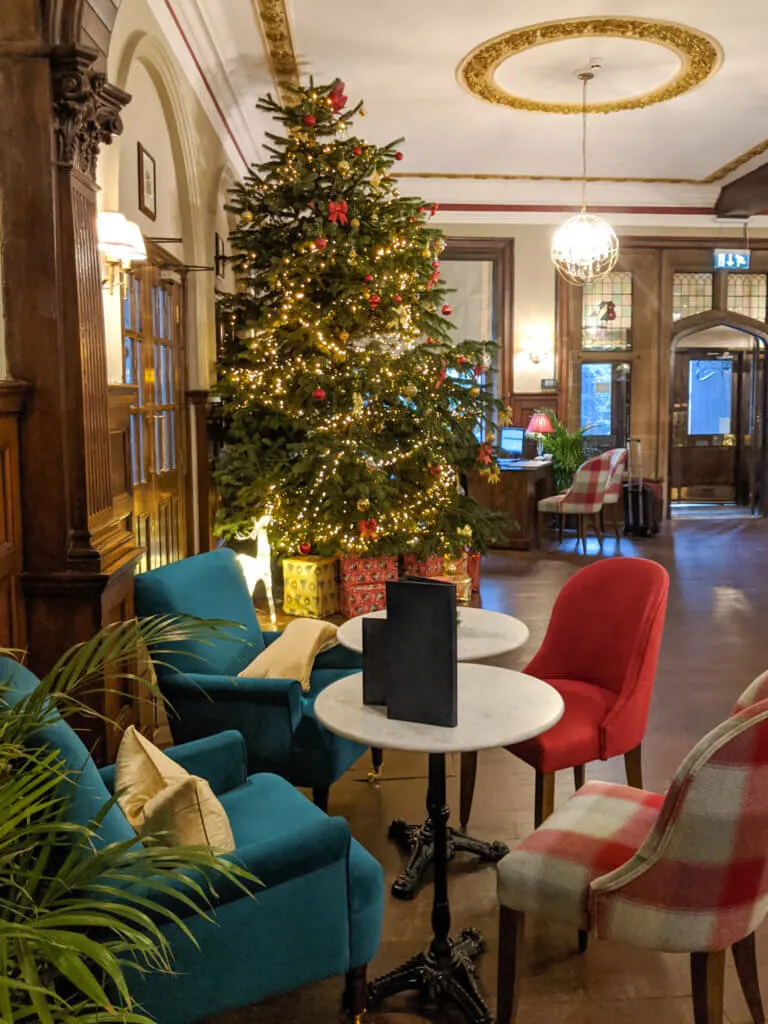 The bedrooms
The upstairs bedrooms are also exquisitely designed by Laura Ashley. In contrast to the warm colour scheme downstairs, the bedrooms have a light and airy, old country house feel. Classic Laura Ashley design adorns every surface; from plush cushions to Laura Ashley Glenmore chairs in marine velvet, floor-to-ceiling drapes to statement lighting, and stylish Laura Ashley Constellation Champagne and Gold Constance Mirrors. I personally loved the little touches of Laura Ashley tea cups and radio.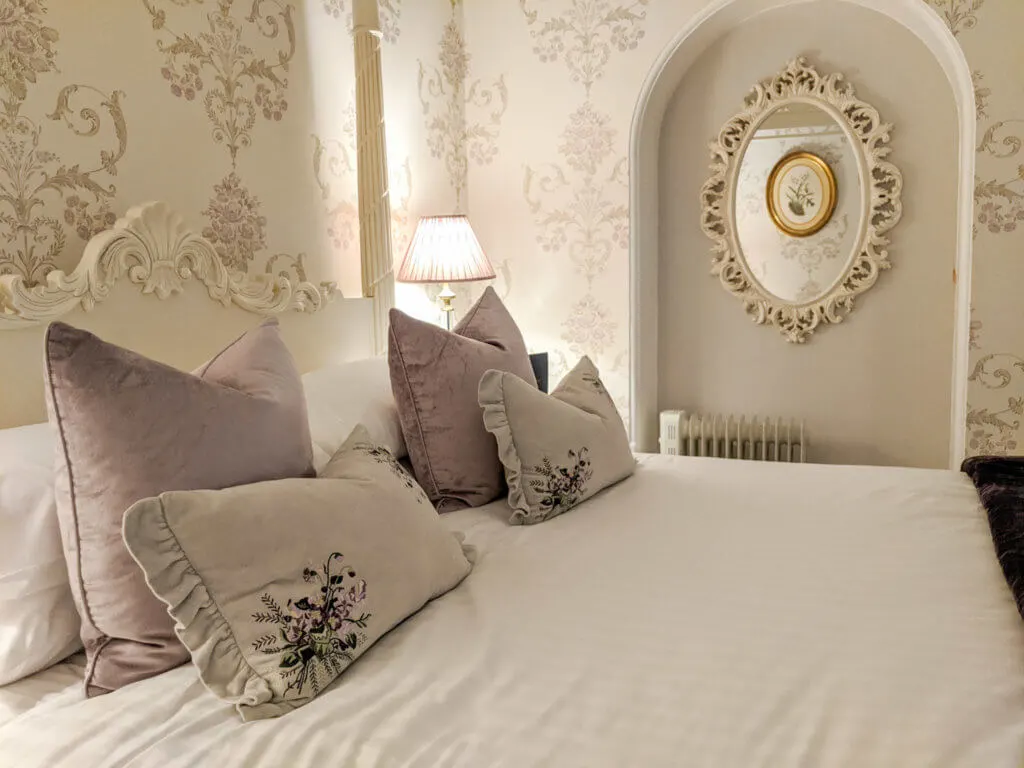 Dining
The Willows Restaurant is where dinner and breakfast are served. But as the hotel was so quiet, we opted to have our dinner by the fireplace in the main hall as it felt more festive and cosy.
I was initially disappointed with the lack of vegetarian options on the menu. There was only one cauliflower dish. This was mentioned to the head chef, who then whipped me up a fantastic vegetarian Thai curry. Absolutely delicious and very impressive. My friend enjoyed a beautifully cooked steak and our meals were complimented by a red called 'Enfant Terrible'; rather apt for two mums having a night away from the kids.
We enjoyed a late breakfast the next day back in The Willow Restaurant, and a full English breakfast was cooked to order. As we had arranged a late check out of 12pm, I decided a nice long bath with my book was in order after breakfast.
Final thoughts
Every part of this Laura Ashley Hotel has been thoughtfully redesigned to create an elegant space to ensure comfort and relaxation. The service is exceptional and the dining exquisite.
Laura Ashley Hotel The Iliffe is the perfect hotel to escape for a night or two in sheer elegance. So call your mum or that old mate to get a date sorted, or perhaps get the babysitters booked in for you and your partner. You both deserve it.
---
To book a Laura Ashley Hotel The Iliffe, Coventry, contact the hotel on 03300583858 or email . Check out the website for further information.
Rooms are priced from £89 per night for a superior room including breakfast.
The Laura Ashley Hotels portfolio also includes The Belsfield Hotel in Windermere, and is soon to include Burnham Beeches Hotel in Buckinghamshire.
You may also like to read:
A 'mumcation' in paradise: Green Bay Resort, Phu Quoc REVIEW
Luxury glamping in Lanzarote
Luxury in the Sri Lankan wilderness: Living Heritage Koslanda REVIEW