Honest, down-to-earth advice on travelling with toddlers on long haul flights.
So first of all, a brutally honest admission… a long haul flight with toddlers can be tough. You board the plane, casting apologetic smiles to your fellow passengers. Some smile back, others appear sympathetic, a few look terrified. Almost everyone is secretly trying to check your boarding pass to see where you are sitting. Console yourself that it was probably you once.
You may be guilty of pre-judging as well, admit it. Check out those childless travellers with their gently reclined seats, earphones plugged in listening to a band you'd have liked three years ago, a book they'll never read resting on their knee. Take our advice and ignore them when they casually order their fifth mini-bottle of wine.
Despite all of this, a long haul flight with toddlers is manageable and you have the reward of awesome travel memories to outweigh the challenges, so read on!
Check out our article for surviving jet lag with kids.
As parents, your task is to keep your little people as content, calm and cooperative as physically possible whilst in the air. Easier said than done. Normal parenting rules that you may follow at home, must, ahem… fly out the window.
This is a FLIGHT SURVIVAL guide for travelling with toddlers on long haul flights. Including the best toys for toddlers on plane, the best airplane snacks for toddlers, and lots of ideas for how to entertain toddlers on a plane. For even smaller travellers, check out these tips for flying with a baby.
Top tips for travelling with toddlers on long haul flights
1. Don't board too early
Airlines give priority boarding to families but this is often up to an hour before the flight takes off. Ignore those muffled announcements and stay where you are. This is an extra hour of unnecessary entertainment and you don't want to use up all your tricks before they even start the engines.
2. Get the bassinet seats as they provide more room
This should be possible if travelling with an under-2 and it'll help if you arrive at check-in early. The baby/toddler can then play on the seat, while one parent glamorously sits on the floor. Suggested games include:seat-buckle game (locking and unlocking seat belt), the window shutter game (Up and down. Up and down. You get it.), and finally the advanced earphone-socket-game (trying to get that jack into the socket).
3. Pack light and only have one cabin bag for the whole family
This bag is ideally a rucksack so you still have two hands free. In it pack:
kids' tablet
kids' magazines – we love the CBEEBIES ones
10 in 1 colour pen – rather than a selection of pens and their lids that you're forever picking up
paperback books (new for novelty value!)
sticker book (again new) – peel off the section around the stickers so that it's easier for little fingers to remove the stickers
a full pack of biodegradable wipes
nappies
formula etc (if you use)
breastpads (for breastfeeding mums)
snacks (see below)
travel potty
1 beaker to share
1 change of clothes for each child
comforters.
Note that there's no need to take regular cow's milk on-board. Good airlines (and some of the bad ones) supply it and will happily heat it up for you. Just ensure you give them about 15mins advanced warning as, for some reason, this is how long it takes at 30,000 feet. Must be the altitude…
Oh and don't pack books for yourself. It's just not going to happen.
4. Pack a travel potty
Sod's law your little one needs to pee when the seat belt signs are on. And however much you beg the air steward, everyone must stay seated. With a travel potty they can slyly do the business in their seat. We actually had to do this on one flight and it worked a treat. Thankfully it wasn't a no2 😉
These foldable travel potties are very handy. Although boys can use an empty plastic bottle if needs be (no judgement – this is an emergency situation!)
ComfyDo! Travel Potty for Toddlers Foldable Disposable…
At the park? On the road? On vacation? The comfy do is a handy solution to give immediate relief to…
Fits easily in any bag, quick to assemble, stable to use and simple to dispose of
Hygienic, no-mess, comfortable travel potty for kids 2-6 years old, up to 65 lbs. Especially…
A kit contains: 1 multiple-use, folding cardboard potty and, 4 single-use liners
Once the 4 liners are finished, you can continue use the potty with any available liners as, reused…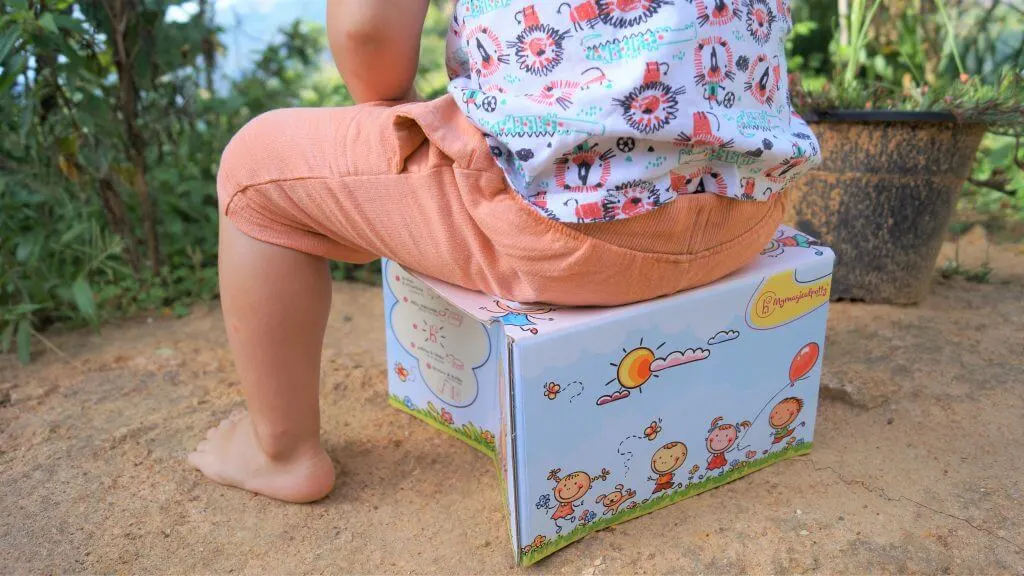 5. Snacks
Raisins, biscuits, satsumas in tupperware box and sandwiches work well for us. Nothing that squishes, can spill, gets messy or takes up too much space. Lolllies (yes, that sugar-high powerball on a stick) work very well for take-off and landing.
But if your little one(s) is asleep for landing/take-off (you lucky parent!), don't wake them to feed or suck on a lolly. Let them be. They don't feel the change of air pressure when they sleep.
6. Best toys for toddlers on plane
Parents main concern when doing a long haul flights with toddlers is how best to how to entertain a toddler on a plane. A word of warning… DO NOT pack lots of small little toys to bring out throughout the flight. They will last for 30 seconds each and you will have a nightmare scrummaging around the floor trying to find and collect them all.
If you've followed our advice above, you will have magazines, sticker books, reading books and the tablets. You honestly don't need any more toys.
You can always get creative with some items on board your flight:
sick bag puppets – draw on funny faces and put on a show
tower building – get some plastic cups from the cabin crew, decorate with stickers from sticker book and build
straws and spoons (again from your favourite cabin crew member) are always a big hit with the teethers – make bracelets and necklaces from straws, the straw-sucking game (tear up little pieces from inflight magazine and place in one plastic cup, pick one up by sucking through straw and transfer to another plastic cup)… There's so much more we could list. Think we need to write a whole separate blog on this!
7. Screen time
Allow your kids as much screen time as they desire, and then some. No judgement here! Get them a kids' tablet (ideally one each in the same colour to avoid endless negotiations) and load it with all their favourite TV shows, games (the CBEEBIES app is fab!) and e-books. And let them play around with the camera, taking photos of view out of the window and then talking about what they can see.
8. Aisle walking
Time this carefully around trolley service. This easily fills 20 minutes. And stop by the toilet to stand on (and jump off) the baby changing table for a change of scenery. It honestly works.
9. Make friends with the cabin crew
You're going to have some demands and you need them on your side. They may even play with your little one for a minute to give you a well-deserved break.
10. Make friends with other parents with kids the same age
Very easy to do this on an aisle walk. And hopefully your kid finds a play buddy!
11. Schedule breaks between parents
Amazing how a 10 minute breather at the back of the plane can refocus for the next window shutter game. If you're travelling as a single parent, don't feel bad asking one of the cabin crew to watch the kids whilst you 'go pee'.
12. Nap when the kids nap
This has been drilled in to you since you had your first baby. You never adhered to this rule at home as there is always washing, picking up toys, emails to catch up on etc. You have none of those distractions at 30,000ft. Plus, if you are flying with toddler on lap, well you're kinda stuck.
Treat yourselves to a beer, then put your feet up and shut your eyes. I know you want to tuck into a film, but you will waste 10 mins deciding what to watch, 5 mins waiting for replacement earphones as yours, surprisingly, don't work (damn that earphone-socket-game), get 8 mins into it and… 'waaaaaaa'.
Final thoughts on surviving a long haul flight with toddlers
Depending on the ages of your little ones you may find none, one, some, or all of these long haul flight with toddler tips helpful – we hope it's the latter! And if all else fails, just remember that long-haul flights are temporary, but the great travel memories you'll create when you reach your destination last a lifetime.
Don't let long haul travel with toddler, put you off doing that trip. Our boys have now grown out of the toddler stage, but whilst they were toddlers and we weren't tied down to expensive school holidays we flew all across Asia and Africa with them.
And just remember, yes flying with a toddler has it's challenges. But it is just a stage and it does gradually get easier.
Have you any tips to add for long haul flights with toddlers? Or perhaps you're looking specifically for tips on travelling with a baby under 6 months.
---
You may also like to read:
How we afford to travel
Surviving jetlag with young kids
Best family travel destinations