Are you looking for a hotel by Luton airport with parking? TraveLynn Family were offered a complimentary stay from Holiday Extras in return for an honest review. As always, these are all more own words and opinions. Also, this post contains affiliate links. Should you click to purchase it is at no additional cost to you.
I shared a knowing smile with a fellow Mum as she heaved the sleeping toddler over her shoulder and lent on the buggy in front of her. It was nearing 6:30am, and along with hundreds of other early-risers, we shuffled our way through the security checks queue, sighing with every inched gained. Hardened staff merely put down anyone who dared to question the delay: "This is Luton Airport. You need to be here three hours early".
It took us an hour to get through the queue, my two boys under 5 remarkably keeping it together better than their parents. When we finally arrived at the conveyor belt laden with coats and the boys' bags, I almost lost it when a jar of jam was confiscated from my son's Trunki Boostapak. Jam is a liquid don't you know?
As I contemplated the scientific state of jam, I was just extremely grateful that we had stayed at an airport hotel the night before. The alternative was to leave our home in the Peak District at the ungodly hour of 3am to then negotiate the road works of the M1, before our Luton Airport 'experience'.
We knew the reputation of Luton and perhaps we should have flown from Manchester, our nearest airport, except the Easy Jet flight from Luton to our half-term holiday in Iceland was a fraction of the price.
Another option would be to tag on a few days in the capital before jumping on a flight. With this option, we wouldn't recommend staying at an airport hotel. Instead, opt for a more central family accommodation in London. But as we were short on time, a Luton airport hotel it was.
The Hilton Garden Inn Luton airport hotel
This is a Luton airport hotel with free parking (for up to 8 days) and free transfer to and from the airport, and certainly ensured that we were refreshed and ready to take on the hassle of Luton Airport. Plus, it also meant our holiday started that little bit earlier!
Read: Park Inn by Radisson Heathrow REVIEWED
Whilst the Hilton name is synonymous with luxury and a high price-tag, the Garden Inn brand offers the expected mod cons of a fancy gym and swanky bar, yet remains conscious of the budget-traveller.
A picnic dinner to save money
We checked in just after 3pm and brought a picnic for dinner. There is an empty fridge in the room to keep your own drinks and food cool, and there are even communal microwaves to heat up food. Didn't bring any food with you? Well you could order room service, dine in the restaurant, nip to Tesco Express just up the road, or grab something from the 24 hour shop next to reception.
Family rooms
The family rooms have blackout curtains (great if trying to get the kids down early in preparation for that early flight) and a sofa bed for two children to share. There is even a smart TV if you want to get some tunes up on You Tube whilst you soak in the bath, and dim-able side lights which were handy for when the boys were asleep before us. If you have a larger family, you can opt for connecting rooms.
Getting to Luton airport
Don't worry about printing out your boarding pass at home, the accommodating staff will sort that all out for you, whilst they arrange some extra pillows for a blissful night's sleep.
The reception staff will also arrange a wake up call and book your transfer to the airport (the journey took us 15 minutes); the hotel even pays for your taxi both ways! Just book your departure taxi the night before and receive a voucher to present to the driver. You will be given another voucher to keep safe for the return journey (this is booked from the taxi rank outside Luton airport on arrival and, for us, there was no waiting time whatsoever).
Parking
As for your car, there is ample space in the hotel's car park and you can leave it until you return from your holiday. This is free for up to 8 days. It is safe, well lit and security cameras are visible.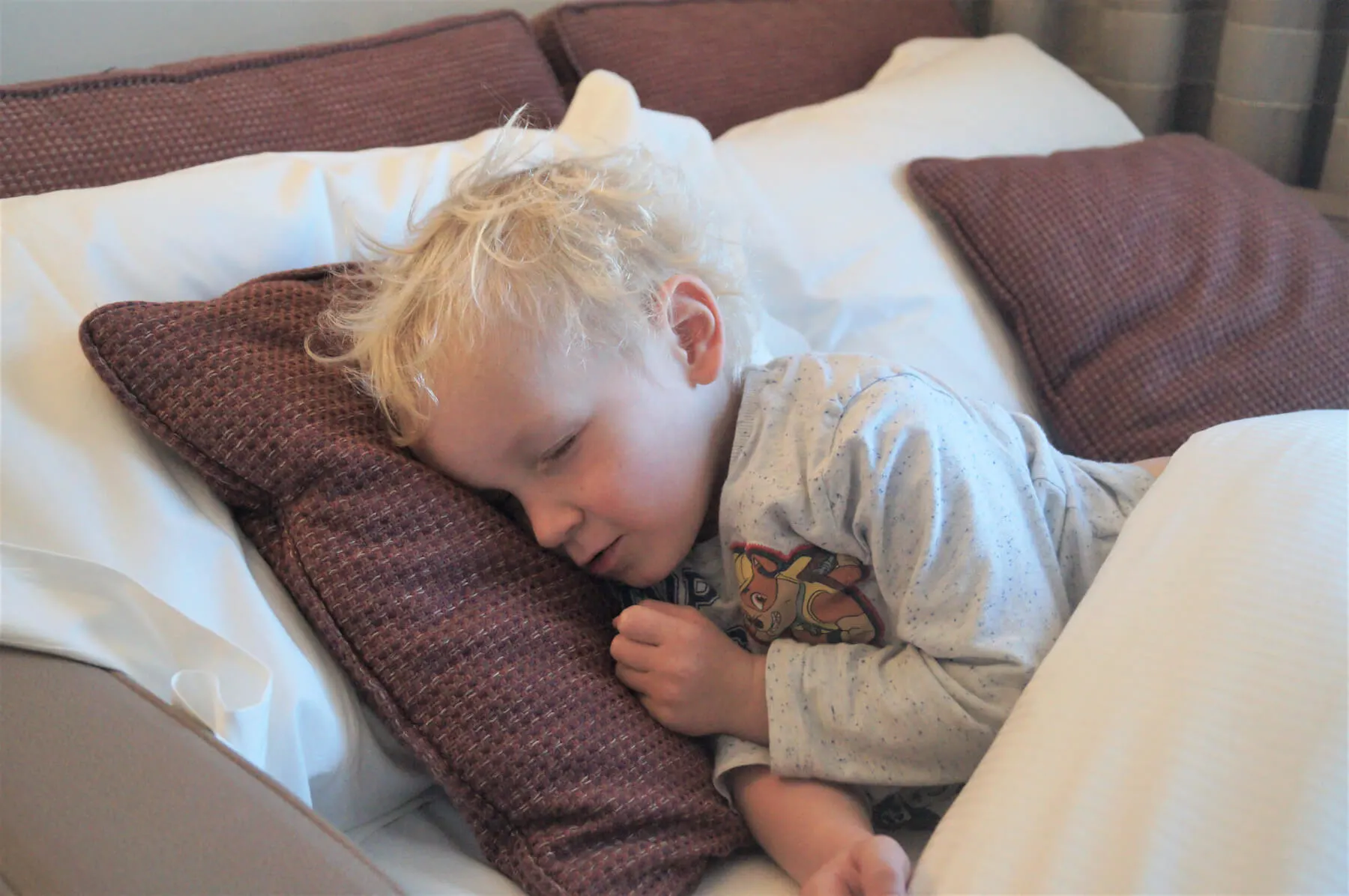 How to book
If you're tempted by that cheaper flight from Luton aiport, help your sanity by checking in to an airport hotel with free parking and transfers the night before.
The Hilton Garden Inn Luton airport hotel with free parking can all be booked through Holiday Extras. Or you may like to stay at one of the other nine Luton airport hotels offered through the site, where prices start from just £36 per night.
So would I fly from Luton again?
Yes, if the flights were significantly cheaper and we booked into an airport hotel the night before. Although it only works if you've found the right hotel and parking at Luton airport. You need to know your car is safely parked, your guaranteed a good night's sleep, and the transfer to the airport is short and smooth. Maybe we even tie it in with an extended trip to London? Check out this 4 day London itinerary for first time visitors.
The whole process booked through Holiday Extras was streamlined and super easy; from parking up, checking in to our room, eating, sleeping, wake up call, then taxi to the airport.
The only thing I think we'd change for next time is to pay the £3 per person (under 2s are free) for priority lane passes through Luton airport security.
And I would have left the jam at home.
---
You may also like to read:
Park Inn by Radisson Heathrow REVIEWED
Surviving Jetlag with kids
Long-haul flight survival with young kids