Our location in the Peak District means that public transport is tricky when we need to get to Manchester Airport. Instead we tend to drive, and therefore have to consider airport parking.
Disclaimer: APH Parking provided TraveLynn Family with complimentary Meet and Greet Manchester in return for social media coverage and this honest review.
For convenience, we often use Meet and Greet for our trips from Manchester Airport. This is a service whereby you drop your car within a two minute walking distance from the terminal, and it is then chauffeured away to a secure car park off site. On return to the airport, your car is waiting for you outside the terminal.
Easy. Who really wants to be queuing for the transfer bus after a long, tiring flight? Especially with young kids in tow.
There are are handful of companies who you can book this service through. We were recently invited to try out the Meet and Greet Manchester services with APH Parking. Firstly from Terminal 2 for a trip to Vietnam, and then again from Terminal 1 for a trip to North Iceland. There are three terminals in total at Manchester Airport, and we haven't yet tried Terminal 3.
If you have a very early morning flight, or maybe you would like a more relaxed run up to your flight, consider staying at Holiday Inn Manchester Airport T2.
Arriving to Manchester Meet and Greet
I was 'Google Mapped'. For my trip to southern Vietnam from T2, I put 'Manchester Meet and Greet T2' into Google and was taken to completely the wrong place. Don't do as I did. Instead drive to this point. Unfortunately signs for the T2 Meet and Greet are rather non-existent.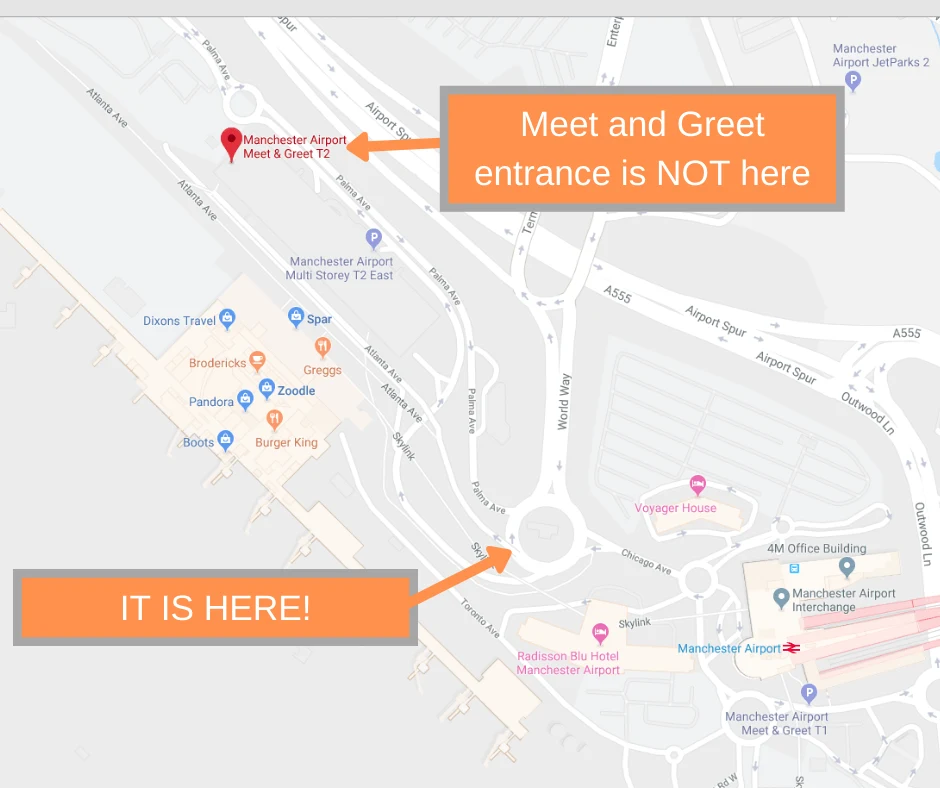 Thankfully, T1 Meet and Greet entrance is much better signposted and very easy to find.
At the barrier entrance, there are scanners and cameras to record every bump and scratch on your car and your number plate is automatically recognised. No need to get out. Once the scanners and cameras have done their job, drive through and a member of staff will direct you to a parking spot.
At T1 you will see the Meet and Greet desk adjacent to the car park. But at T2 you need to walk inside the terminal. Enter your details into the machine and deposit your key where directed. If the machines aren't working (which often happens) or you're not too sure what to do, there are staff on hand to help you out or even do it for you.
You will then be given a card to keep hold of until you return from your trip.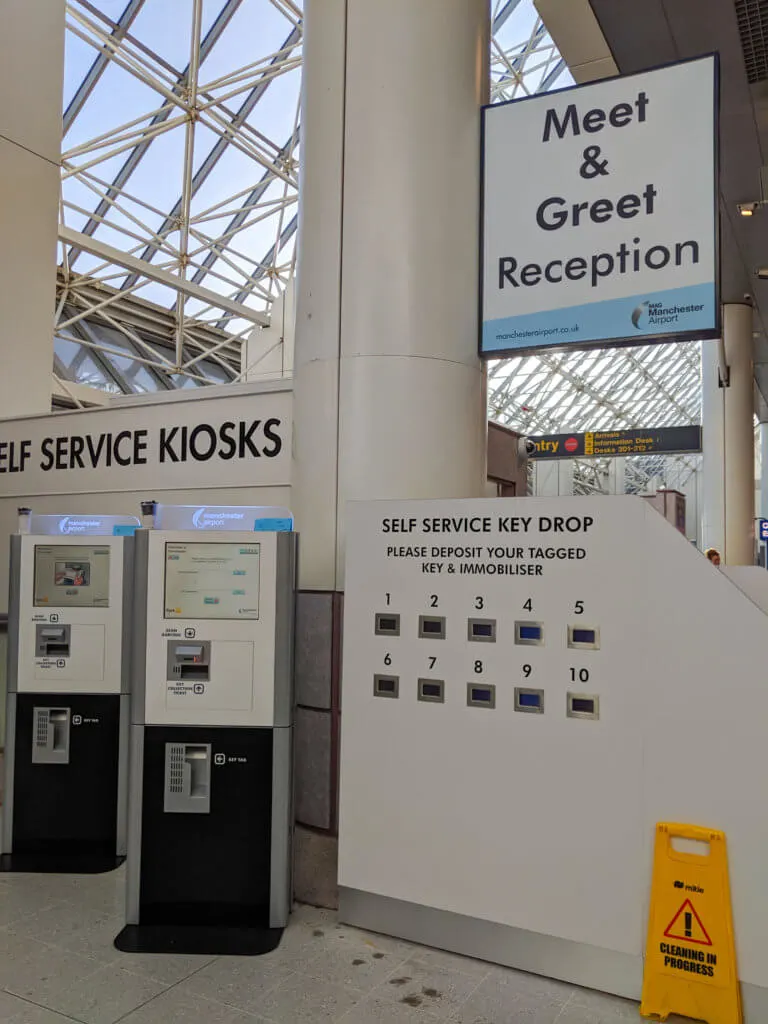 Will my car be safe?
Yes. Your car will be driven away by a fully insured and qualified driver to a security-protected 'Park Mark Safer Parking Award-holding' car park. There have been stories of some unscrupulous operators taking cars to muddy fields whilst customers are away. Thankfully, APH is not one of them and we had no problems whatsoever.
On return to Manchester Airport
At T2, exit the terminal through the doors directly outside of arrivals, and cross the road. You will see the Meet and Greet office. At T1 you just need to return to the same Meet and Greet office you dropped your key at, which is also across the road from the terminal.
Using your card that you were given at drop off, scan the bar code under the machine and you will be told which number box to collect your key from. Again, there are staff on hand to help you out and as there has never been a queue when we've used it, I always chat to the person rather than use a machine.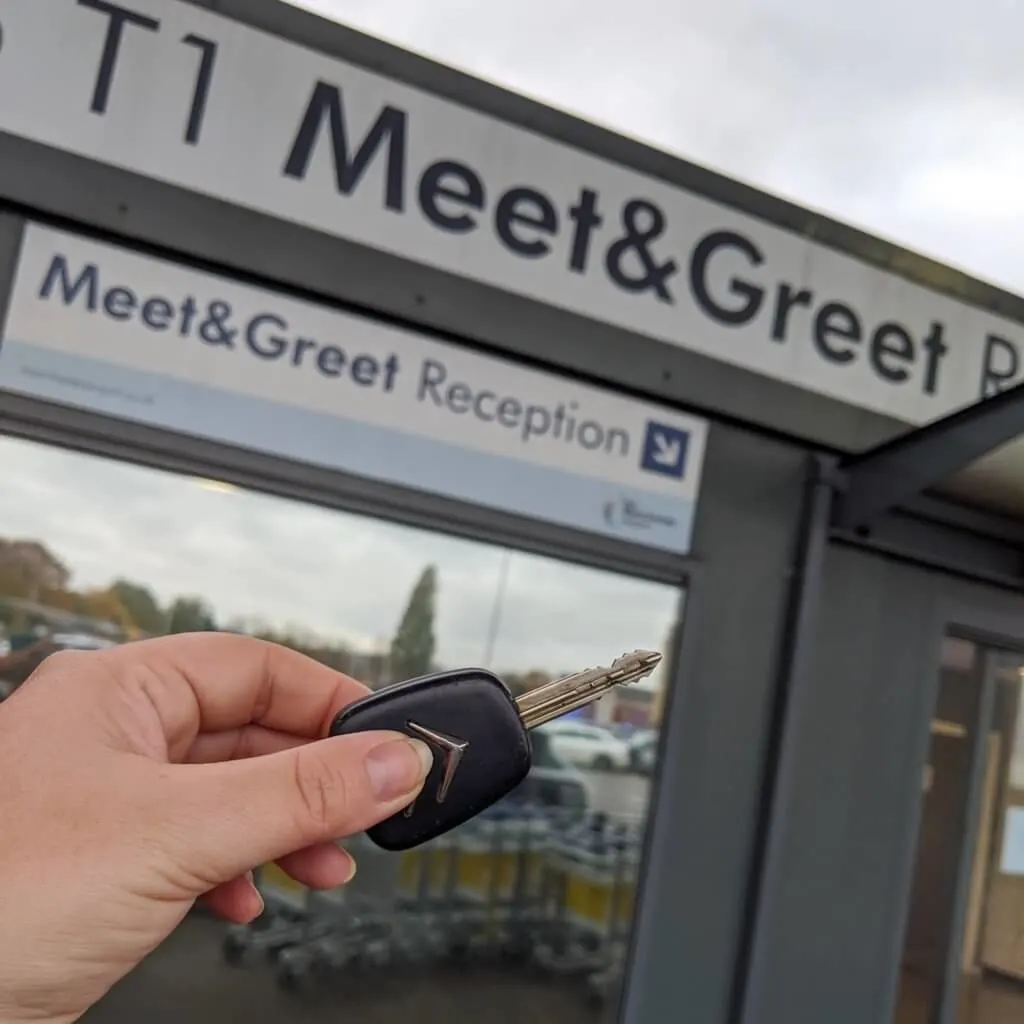 Your key will be returned with a paper tag with a number for where your car has been parked. This will be in the car park right next door to the Meet and Greet office for both T1 and T2.
Locate your car, throw your bags in the boot, and be on your way home.
Isn't it expensive?
Many people dismiss Meet and Greet at Manchester as they think it's too expensive. In all honesty, it's not that much more expensive than opting for Park and Ride, where you have to wait for a bus that transfers between carpark and terminals every 15 minutes. For one week's parking in August 2019, Meet and Greet Manchester was just £12 more expensive than doing Park and Ride!
For those with mobility issues, or travelling with kids, or even if you have a lot of luggage and sports equipment with you, paying that little bit extra is certainly worth it.
How to book Meet & Greet Manchester with APH
Head over to the APH Parking website and book online. If you want to make a saving on booking, make sure you book as early as possible. It can be almost half price if you book 6 months before departure.
---
You may also like to read:
How we afford to travel with kids
Looking for a Luton airport hotel with free parking?
How to beat jet lag with kids