TraveLynn Family were gifted two mifold Comforts for our Morocco travels in exchange for this honest review and social media promotion. As always, these are 100% my opinions. Also, this post contains affiliate links. Should you click to purchase, it is at no additional cost to you, but I receive a small commission.
Our 4 months in Morocco, travelling around with just backpacks containing everything we need, meant that lugging around full-sized car seats wasn't really an option. But we did need car seats. We planned to hire a car for road trips, use taxis for short trips, and perhaps hire a driver to get between towns (which isn't much more in cost to 4x bus tickets).
It's not just a case that we want our kids to be safe in the car. Car seats are actually a legal requirement in Morocco with kids once you're out of the towns.
On a previous Morocco road trip we had brought our car seats from home as we hired a car at Marrakech airport and had the car for the entire trip. So there was no lugging around from place to place. We just had to get the car seats from home to the UK airport, and then from Marrakech airport to the hire car. This really wasn't too much of a faff at all. But for longer term travels where we wouldn't always have our own car, lugging our main car seats around is just not feasible.
We have previously reviewed mifold's hifold car seat. This is a full sized car seat that is collapsible, so it's easy for storage. It has been a total gamechanger for our Mazda Bongo camper travels in France and Spain, and is the best option as there are no head rests where the boys' car seats go. But again, this is just too bulky to carry around with our backpacks in Morocco.
So what is the ideal car seat for backpacking with kids?
Let me introduce you to the mifold Comfort, grab-and-go car seat. When folded, it measures 25 x 23 x 6.6 cm. It's so small that the boys carry them inside their own kids travel backpacks. Us parents don't even need to carry them! #winningatparenting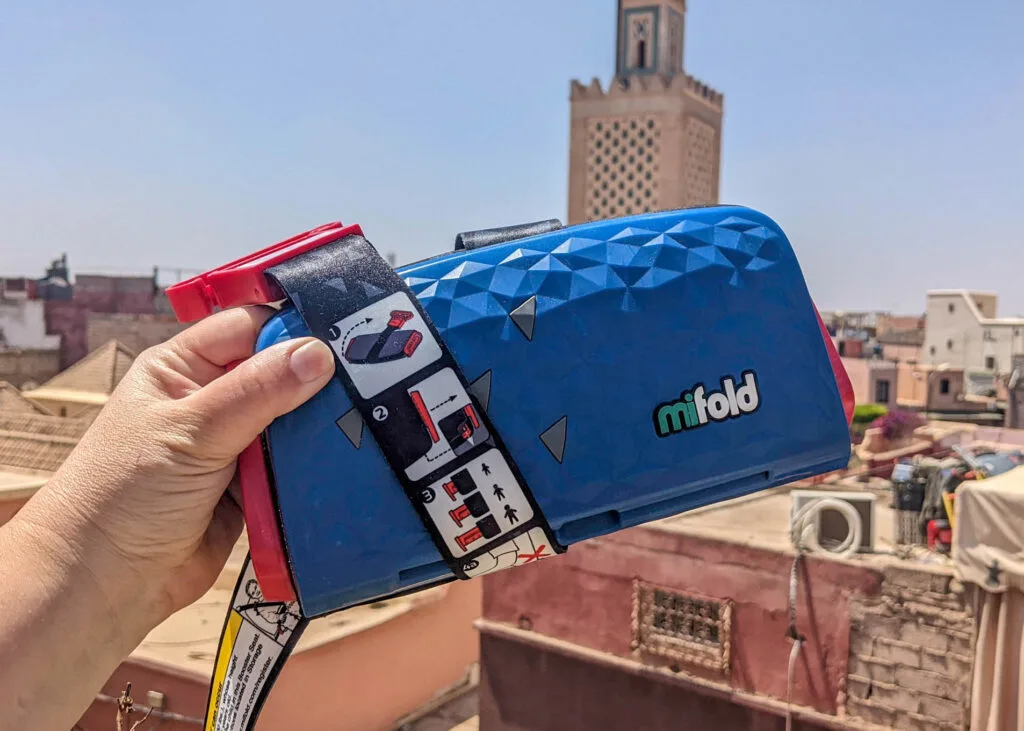 How does the mifold Comfort, grab-and-go car seat work?
mifold Comfort uses patented technology that ensures optimal seatbelt fit.
There are adjustable belt guides on either side of the child's hips routing the lap belt over the child's upper thighs, away from the stomach. There's also a clip on a strap connected to the back of the seat that pulls the seatbelt chest strap down at a custom height for the child in the seat, keeping the seatbelt away from the face and neck.
But it's not a one-size-fits-all. The mifold Comfort car seats not only grow with your child but also adjust to your child's unique size and shape. The belt guides on either side of the child's hips are adjustable to three sizes to make sure the seatbelt is always held snugly in place.
This all means that the seatbelt fits correctly around your child to keep them safe in the car.
Who can use it?
mifold Compact is classified as a Group 2/3 weight-based seat, suitable for children aged 4 and up, weighing between 15kg and 36kg, and up to 150cm tall.
And there are no problems at all if you have three kids, as three mifold Compacts fit easily across three seats in the back.
Is the mifold Comfort car seat safe?
You can legally use the UK version of mifold Comfort car seat everywhere in the world! Well, almost everywhere (except Australia and Taiwan).
The mifold Comfort complies or exceeds the following safety standards: ECE R44.04 in the UK and Europe, NHTSA FMVSS 213 in the US, the CCC in China and the RSSR in Canada.
To fit correctly, you need to make sure:
The car seats are completely flat on the vehicle's seat
The shoulder clip is adjusted to the child's height (2 cm above child's shoulder)
The lap belt guides are adjusted to the position nearest to, but not touching the child's thigh
The seat belt is not twisted.
Click here to watch a video to how to safely install. This is also shown below.
Head over to the mifold website for more information and to check the product specifications.
Is the mifold Comfort as good as a normal car seat?
Despite being called the 'mifold Comfort', I wouldn't say that it is as comfortable as a normal car seat. There is a soft pad to sit on, but there are no sides and head rest. So if children are tired and want to sleep, they won't be comfortable.
Furthermore, whilst mifold Comfort car seat is compliant or exceeds the majority of international safety standards, in comparison to a full sized car seat that provides back, sides, and head support, it doesn't provide as much protection.
But this isn't a car seat to be used as your main car seat day in day out. This is compact and portable car seat option to take with you anywhere; whether it's backpacking across the globe, or as a spare car seat in the boot of your car for ferrying around extra kids on playdates. It's a car seat of convenience.
Our personal experience of the mifold Comfort car seat
mifold have once again provided us with another game changer for our travels. The hifold is perfect for our Bongo camper travels. But the mifold Comfort is now our go-to choice for backpacking, principally because they fit into the kids' travel backpacks so that they carry them themselves. For jumping in taxis and short-term car hire, the mifold Comfort is absolutely perfect.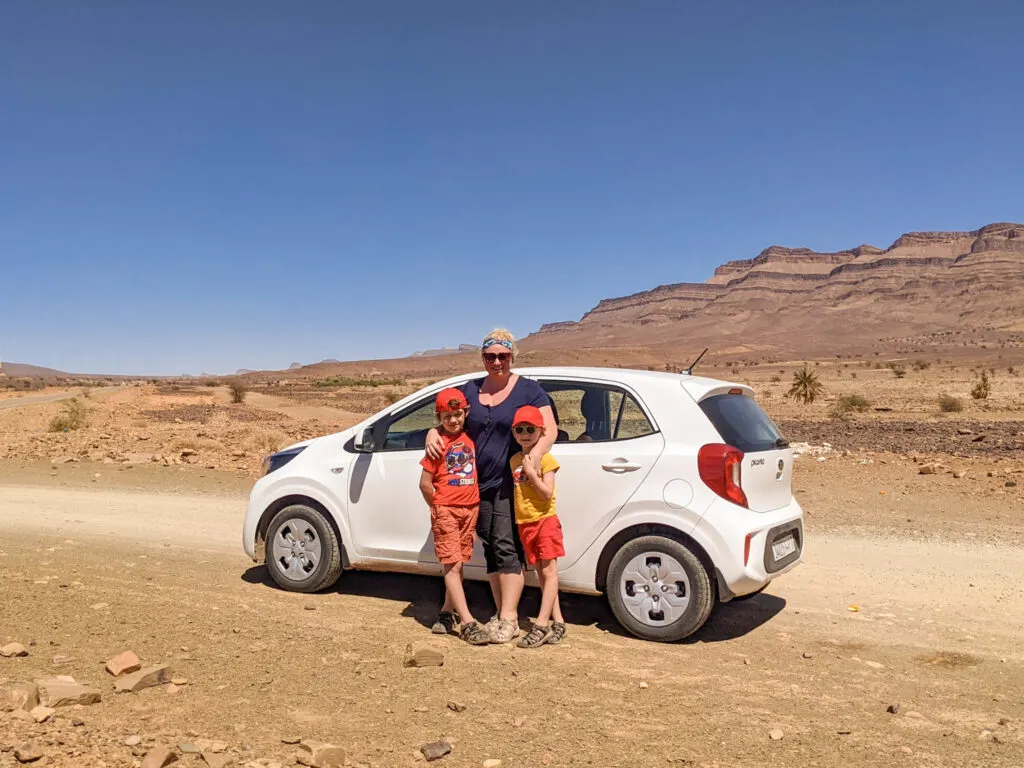 I
t's super easy to set up and then fold away. Just pull out the red sliders on the seat to fit the size of your child's bottom, and slip in the seat belt straps, ensuring there are no twists. The boys (aged 6 and 8) can even fix the seatbelt themselves.
Where can I buy the mifold Comfort and how much is it?
Head over to the mifold website to purchase. Current retail price is £49.95. There is a choice of two colours:
However, you can also purchase through Amazon and the current price is slightly cheaper at £41.58.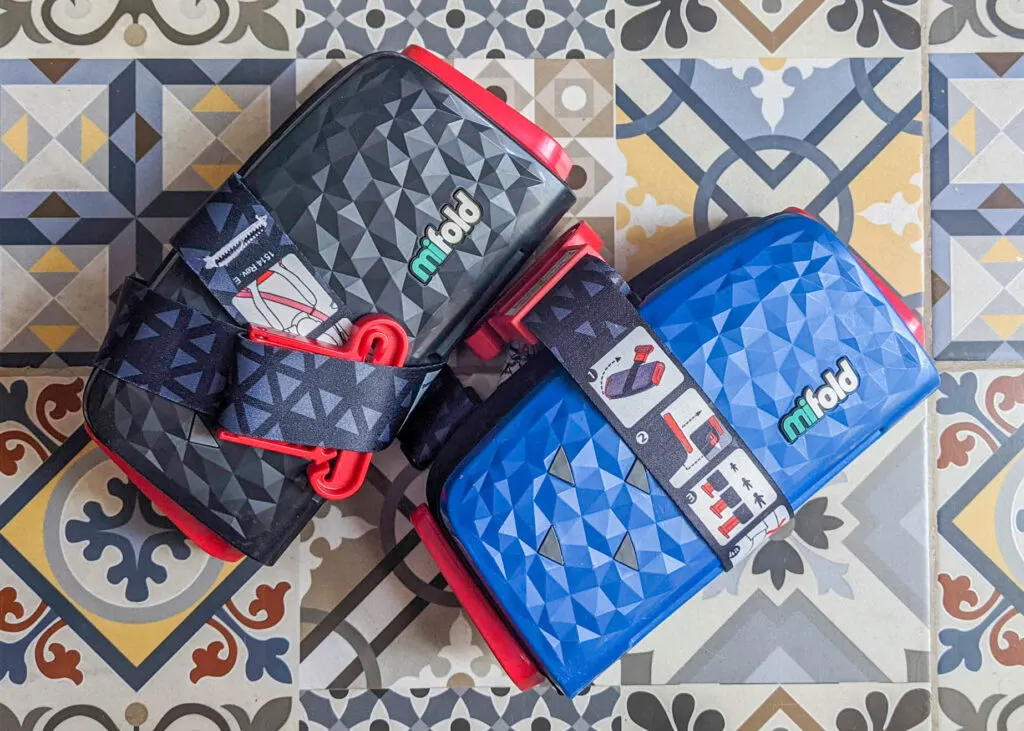 Please note, the mifold Comfort shouldn't be confused with the mifold Original Grab-and-Go car seat, which is an earlier version of the mifold Comfort. The mifold Comfort seat is 3x thicker than the mifold Original, and hence more 'comfortable'.
Final thoughts on the mifold Comfort
The mifold Comfort isn't to replace full sized car seats. It is a car seat that's convenient and compact for family travel, and also complies or exceeds international safety standards (except Taiwan and Australia).
For our current travels around Morocco is it a total gamechanger. Lugging around our car seats from home, or even the foldable hifolds we use in the Mazda Bongo, was just not feasible. The mifold Comfort car seats mean that our boys are still safe when were hiring a car or jumping in taxis, but they're not a nuisance as they fit in the boys' backpacks.
For anyone backpacking with their kids, or needing a compact car seat for car hire, the mifold Comfort gets a big thumbs up from us. But I know that we'll still be using them at home, as they'll definitely come in handy when ferrying extra friends in the car to football training and play dates.
---
You may also like to read:
What to pack for Morocco: an essential guide for families
Should you hire a car in Morocco? Everything you need to know
Essential tips for driving in Morocco like a pro