This is a paid promotion with Land Rover Defender
I'm not usually one for cars, but after our overlanding adventures across Africa in 2018, I have a 'thing' for the Land Rover Defender. Sleeping in roof tents every night, the Defender 110 TD5 was our home for 101 days through South Africa, Mozambique, Malawi, Tanzania, Zambia, and Namibia, and it is still our best adventure yet. The boys at the time were just 2 and 4 years old (Ez celebrated his 3rd birthday at Victoria Falls) and the Defender kept our family safe on some very crazy roads.
The Launch
So when I was invited to the launch of the new Land Rover Defender at Gordon Lamb Land Rover in nearby Chesterfield, I jumped at the chance. Land Rover is a true British icon, and I was intrigued to see how this new model compares and lives up to expectations.
The showroom had been cleared for the new Defender to stand centre stage. There was a free bar, an acoustic guitar singer, and fresh pizza served from a woodfire oven built inside an old Defender. There was a buzz in the air, but nothing too fancy. This is Land Rover after all.
People were free to wander around and look inside, and staff were on hand to ask any questions, and everyone wanted a chance to sit behind the wheel.
What do I make of the New Land Rover Defender?
The launch of this new Defender has been a long time coming and the experts have been working hard on every single component, from the design right through to advanced technologies.
On first impressions, it looks 'snazzy'; something that old school Defender fans may wince at. But a bit of dust and dirt would fix that. And inside, even though there's an electric sunroof, and an electric control panel, it's all very clean and simple looking; there's no fuss.
The 'kit car' element is one of the main draws for old Defender fans. They love to tinker around and fix things up with the Defender. You may still be able to do that to some extent with this new Defender. But in all honesty, from someone who doesn't know a thing about tinkering with cars (that's me!) and really doesn't have the time to, I love the fact that this new Defender aims to maintain and further the sturdiness and reliance of the old Defender, but through advanced technologies.
Check out our video of the new Defender on YouTube
Click here to subscribe to our YouTube channel.
Now the new technologies certainly do sound impressive. I'm not going to pretend to understand them all, but some that appealed to me from the TopGear website include:
An all-new platform, known as D7X (X for EXTREME), which Land Rover claims is three times stronger than any of its closest rivals.
It can wade through water up to 0.9 metres deep, and the electrics have been tested to IP67 standard, which means they can remain submerged in a metre of water for more than an hour without sustaining damage.
The Defender's optional winch, hidden behind the front grille, can handle a maximum weight of 4,536kg and pull from a distance of 45 metres.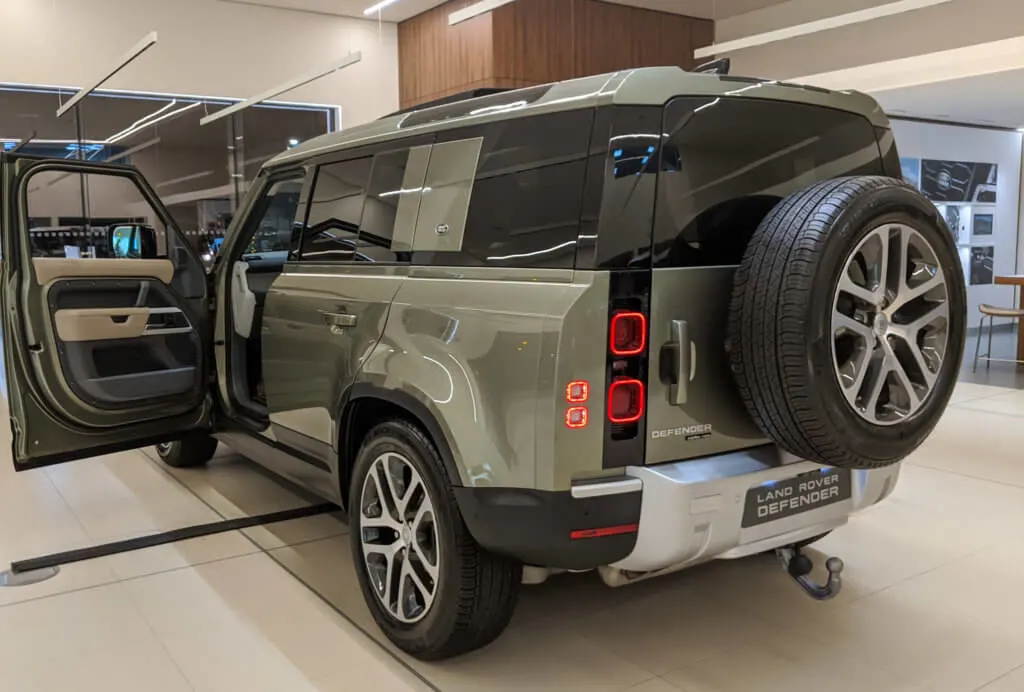 How does it compare to our TD5 in Africa?
My only experiences with a Defender has been our Africa trip. Whilst I trusted our old Defender 110 TD5, it did feel like a tank to drive and you felt every bump in the road. The bolts of the car door were even loosened by the corrugated dirt roads of Namibia, which we had to keep tightening. Oh and forget the air con. This new Defender would certainly be a much more comfortable and smoother ride.
Also, with two roof tents, our Defender 110 TD5 was top heavy and we were at the maximum weight load of 100 kgs. This meant that we had to exercise caution on steep road cambers, and there were occasions we had to turn our Defender around and find a different route as we couldn't trust the balance. The new Defender can withstand 168 kg of gear on its roof, and I imagine we could also get lighter roof tents too now.
Check out our video of Jay putting up the roof tents in South Africa.
The only disappointing thing I can see with the new Defender is that the panels on the bonnet are not structural, they're soft and feel like you could go right through them. For putting the roof tents up each night, I'm rather short and had to stand on these panels to flip the tents open. No idea how I would open the roof tents without being able to stand on the bonnet. Maybe this would be an add-on feature?
Defender equals adventure
For me the Defender is all about adventure and this is a car I know I can trust in all terrain, which is always important when I have two little boys in the back of the car. The fact that this model is so technologically advanced can only be a good thing, and it's refreshing knowing that isn't an expectation of mechanical tinkering know-how.
The new Defender certainly looks good and the technologies sound extremely impressive, but for me it will all be about how it feels behind the wheel and out on the open road. With a starting price tag of £48,ooo, that probably won't be happening any time soon, but I can still dream about driving this impressive beast back to Africa, roof tents and all.
What to find out more about the New Land Rover Defender?
Check out the Farnell Land Rover website.
---
You may also like to read:
Self drive Africa overland with kids: everything you need to know
Your essential first aid kit for Africa travel with kids
Africa packing list: the ultimate packing list for overlanding Africa