In June 2020 we decided it was about time we finally bought ourselves a camper – a Mazda Bongo 4×4 camper from eBay! We're a family of four (our boys were aged 5 and 6) and if you've been following us for a while, you know we love a good road trip.
Whether it was overlanding Africa in a Land Rover for 100 days, or our European road trips in France or Iceland, we're happiest on the road with the freedom to take each day as it comes. We love camping and exploring the great outdoors, and as a family of four, we have no problems living on top of each other in a confined space.
Are you looking at buying a Mazda Bongo camper? Are Mazda Bongos any good? Then read on as we share our Mazda Bongo review and details of our Mazda Bongo camper conversion.
So why had we not bought a camper before?
In all honesty, it came down to freedom of travel. We didn't want to be tied down to how far we could drive from our front door in a school holiday. We love travelling to far flung destinations and wasn't too sure we'd get enough use out of owning our own camper. We always loved the idea of having a one, but we thought we'd just make do with a tent in the back of the car for European road trips. A camper was always a 'nice to have'.
But 2020 has changed all that.
We had big plans for 2020. We hadn't yet announced them and one day I will share them with you. But due to COVID-19 they aren't going to happen for a while. The pandemic put a spanner in the works for all travellers and we all had to adjust our expectations.
As the first lockdown eased, the camper idea that was probably first seeded when Jay and I drove a high-top camper around New Zealand in 2012, came to the forefront of our minds again. It would give us the freedom to go where we pleased, without having to tie ourselves down to accommodation or flights, and it may perhaps be our full time home one day… you know I'm always dreaming of long term travel again 😉
Why a Mazda Bongo camper?
We didn't have a huge budget (£7500 absolute max) and we wanted something compact, yet sleeps the four of us comfortably. We wanted something that could navigate narrow roads and mountain passes, and also had 4WD functionality for use in snow or sand. It had to stand the test of time and be up for an epic adventure.
We went through A LOT of permutations of camper. As we have very little mechanical know-how (translation: zilch) it took us a long time to even realise the Mazda Bongo existed. Some people call it a Mazda Bongo van, or a Mazda Bongo camper, or a Mazda Bongo campervan, or even a Bongo van. Essentially, it's all the same thing, and thanks to our frequent eBay searches one appeared as a 'camper and 4WD'. This was EXACTLY what we were looking for, although we missed out on that one…
The Mazda Bongos have been imported from Japan and are no longer made, so they're becoming quite a classic. You certainly won't find a 2020 Mazda Bongo as they stopped making them in 2005. It's the 2.5 diesel Bongos that are 4WD (the petrol ones are all 2WD). Many have the AFT (Auto Free Top) which creates a sleeping compartment and have been converted in to a camper with kitchen facilities.
We had been following this Mazda Bongo Facebook Group for a while before purchasing and quickly learnt that the Bongo campers are a labour of love. Indeed a lot of people report Mazda Bongo problems in this group and may certainly put future buyers off. But you just need to look after Bongos and keep them regularly serviced. Some Bongos suffer from corrosion if not looked after, and they are prone to over heat, so it's just a case of being wary of that. Plus with the low clearance, the 4WD capability isn't like a 'normal' 4WD to go on dirt tracks, it just gives you more control if you find yourself off tarmac.
But for us it ticks the boxes:
Compact size
Can sleep all four of us
4WD
Affordable
The Mazda Bongo dimensions are: 4.58m (length), 1.69m (width), and 2.09m (height). Comparatively, a VW Camper is 4.89m (length), 1.90m (width), and 1.94m (height).
And why didn't we opt for a VW Camper? Well the biggest difference in the Mazda Bongo vs VW camper debate is that Bongo campers are MUCH cheaper to buy and maintain than the VW camper.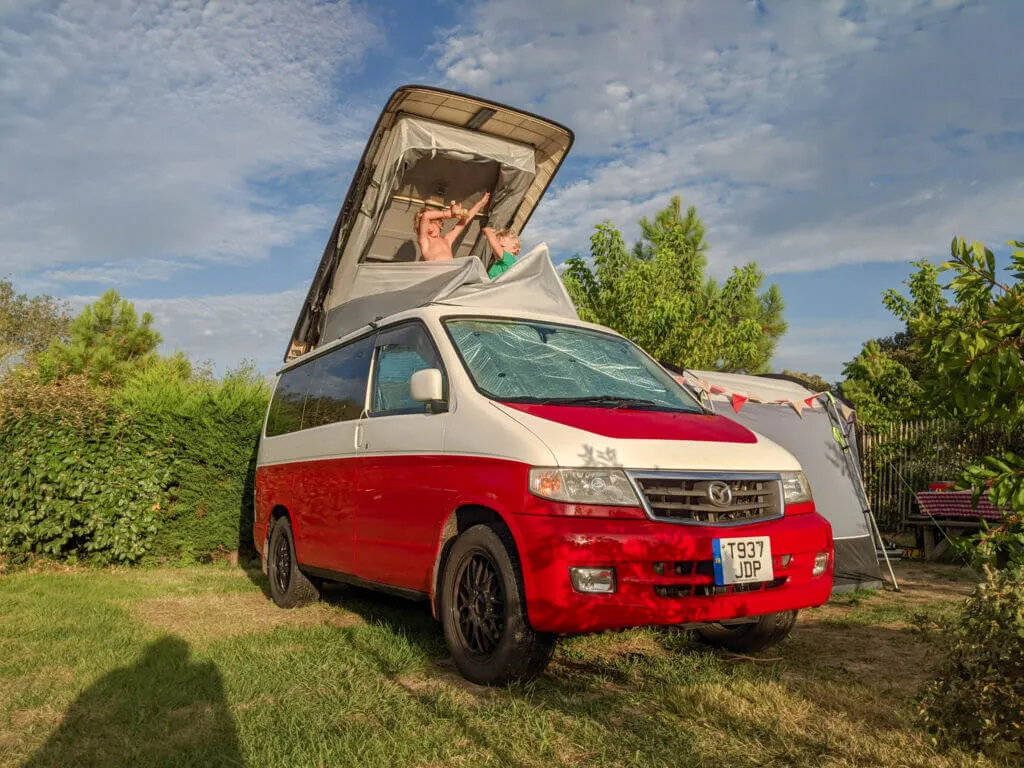 How much was it?
After deciding on the exact camper we wanted, we just couldn't seem to find one to buy. There's no car showroom to go to, and the specialist conversion companies tend to import the 2WD only. It was just a case of waiting it out until the right one came along on eBay or Autotrader. We were happy to buy a cheap, unconverted one and then pay for a Mazda Bongo camper conversionon top (similar to what Otis and Us did with their VW camper conversion). But in all honesty, all the cheaper ones we found (around £3k) had serious corrosion issues and weren't mechanically sound. A conversion on top is around £4k.
Then one Friday night this one popped up on our eBay search. It already had the interior side conversion we were looking for, the AFT, a rock and roll bed (where the back seats pull out to a bed), and it was mechanically sound!
We checked the MOT history on this government site and it looked good. So we jumped on it with an offer of £7150, which was accepted. I'll have to add in here that my Father-in-law helped us out with his mechanical know-how. If we didn't have him helping us, we wouldn't have had the confidence to spend this much on an eBay purchase!
With the boy racer markings down the side, I was surprised to meet a sweet-natured retired couple selling it to us, and they had obviously taken care of it.
Aside from the paint work, there were just a few things we wanted to sort. The hydraulics of the AFT creaked a bit, we wanted an underseal added to prevent corrosion, and a coolant alarm. We also wanted to add solar panels on the roof so we can be off grid and find the right bike rack for our Bongo. There were also a few niggly little things we had looked at by Bongo Spares (who also removed the black vinyl markings).
Have a look inside our Mazda Bongo
The photos below are what our Mazda Bongo camper conversion looked like when we first bought it. Since then it has had a little cosmetic touch up (check out our Bongo renovations here). But it's great how we didn't have to spend any money (or time!) doing an actual conversion (these cost around £4k if you get a conversion garage to do it for you).
Our Mazda Bongo from eBay has almost everything we need: a kitchenette on the side with cupboard space for storage, a rock and roll bed that pulls our for sleeping, the AFT where our boys sleep (they're 5 and 6 years old), and the passenger seat swivels round to provide more space. I also like how the roof inside can lift up to allow more headspace when the kids aren't sleeping up there.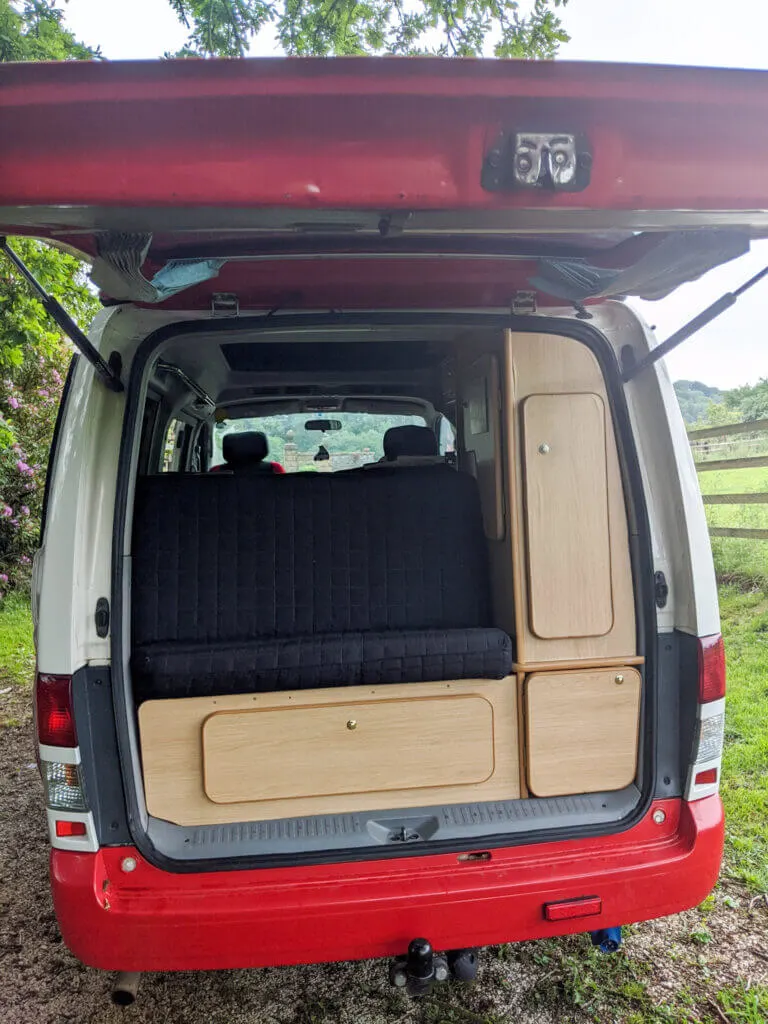 Our Mazda Bongo sleeping arrangements
The boys sleep in the AFT. There's a little hatch for them to climb through, they then close this, put the mattress down on top and snuggle down to sleep.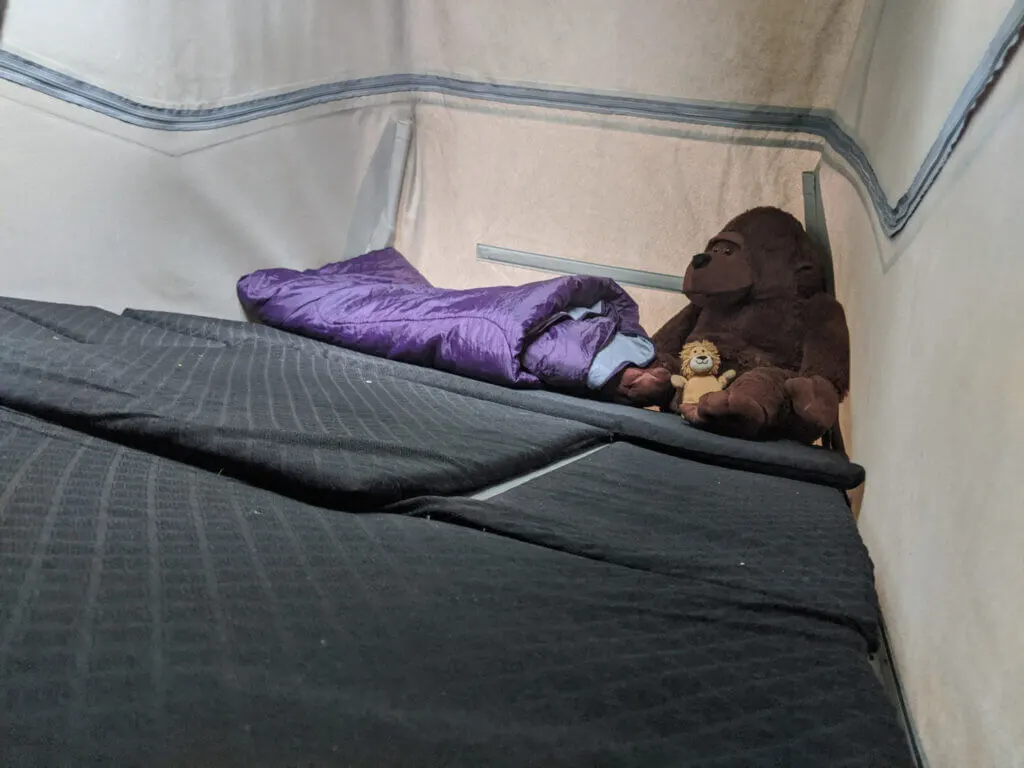 We sleep in the main section. The back seats fold out into a bed. For us, this side conversion is best way to sleep in Mazda Bongo, and whilst 6ft huby can stretch out fully, our bed is a little on the narrow side. Alternatively, some people prefer a rear conversion with the cabinets, sink and fridge by the back door. This gives you a wider sleeping area, but less storage space and better for those who are vertically challenged.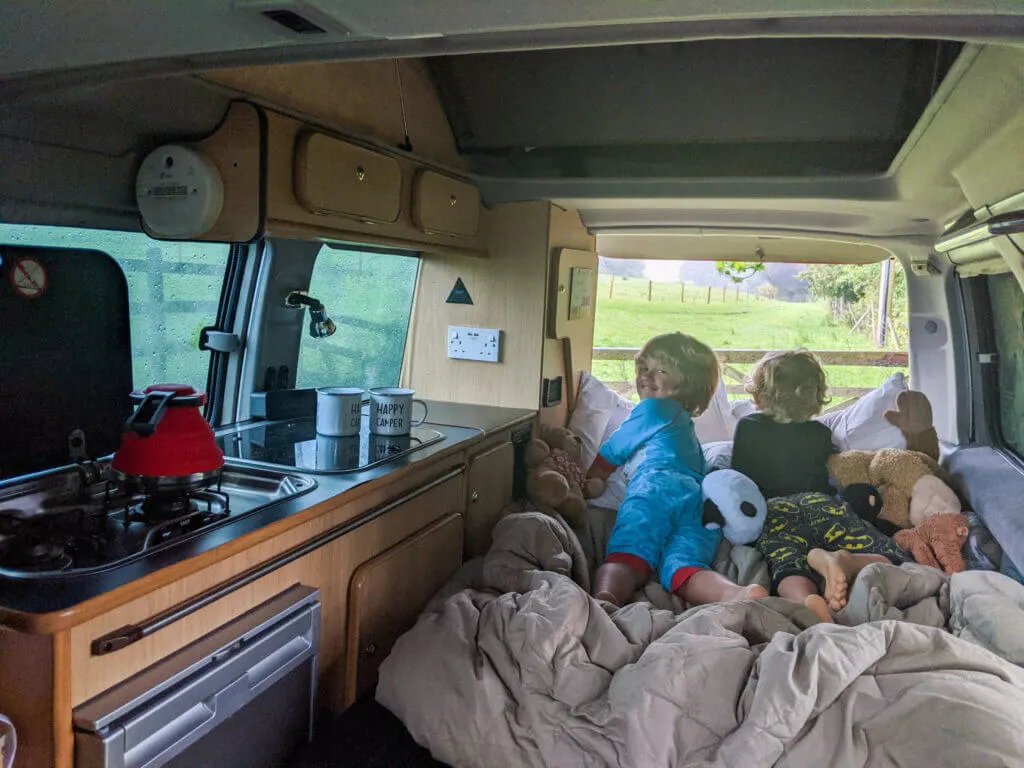 And what our Mazda Bongo interior looks like now
Read this post to find out how I went about our Mazda Bongo renovations.
Car seats for our Mazda Bongo
Space is a huge factor with our Bongo and our old car seats took up a ridiculous amount of space. We used to store them on the driver's seat when parked up, losing valuable storage space.
But now we have our Hifold car seats (click here to read our full review). These fold up super small and we can store these in the driver's footwell when pitched up!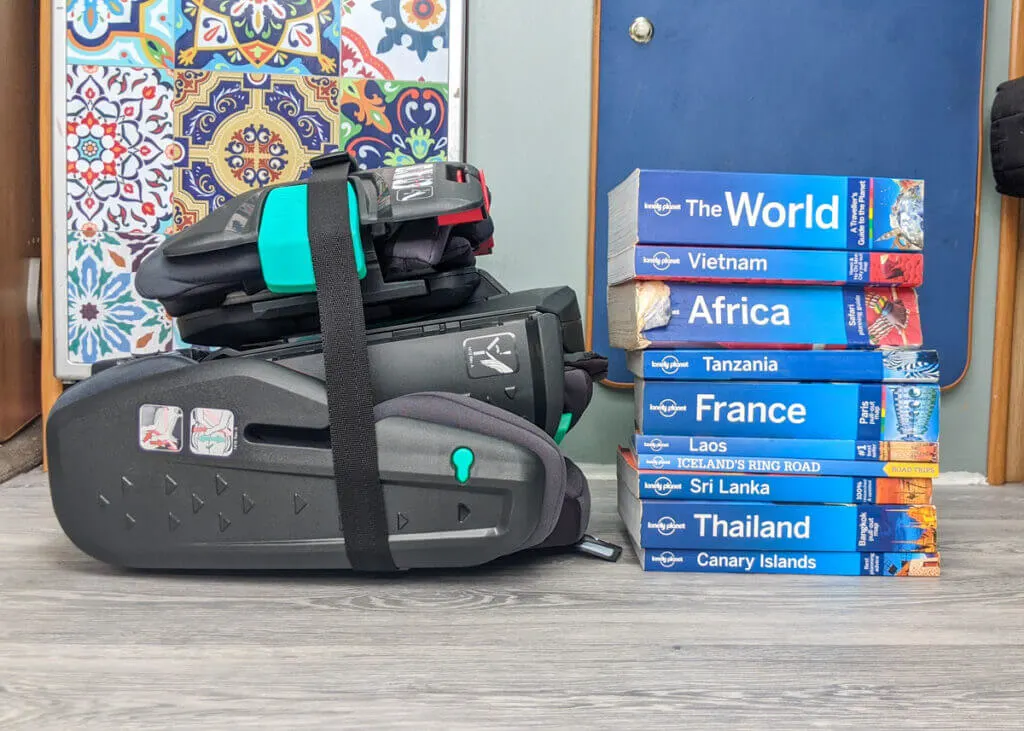 Bike rack for our Mazda Bongo
We've tried a few different variations of Mazda Bongo bike rack with very limited success over years and were about to jettison the bikes, after some serious dramas with the towbar option, before we came across the Thule 973 bike rack. Safe and secure, it's suits both us and our beloved Bongo down to the ground.
Click here to read the full story of our bike rack dramas.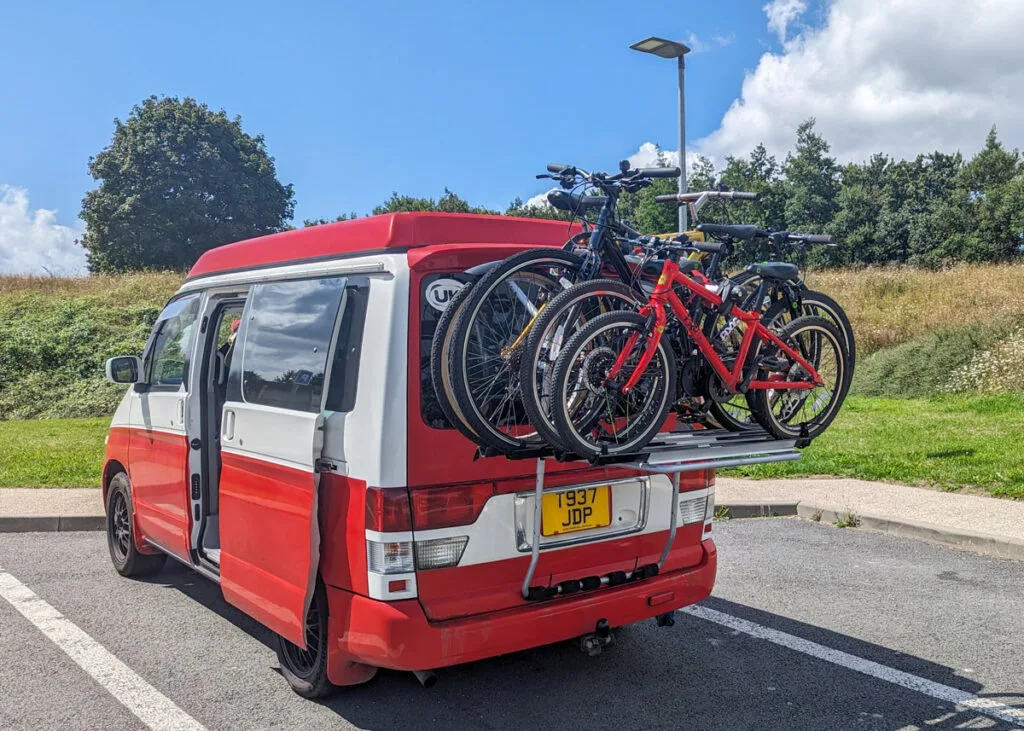 So where have we been in our Mazda Bongo?
Our first Mazda Bongo camping trip was to Hayfields campsite in the Peak District, which is perfectly located for a hike up the Kinder Plateau. This ended up being a good reccy for the camper, to work out where everything goes and how it all works. We really recommend doing a reccy close to home when you first buy your Bongo camper.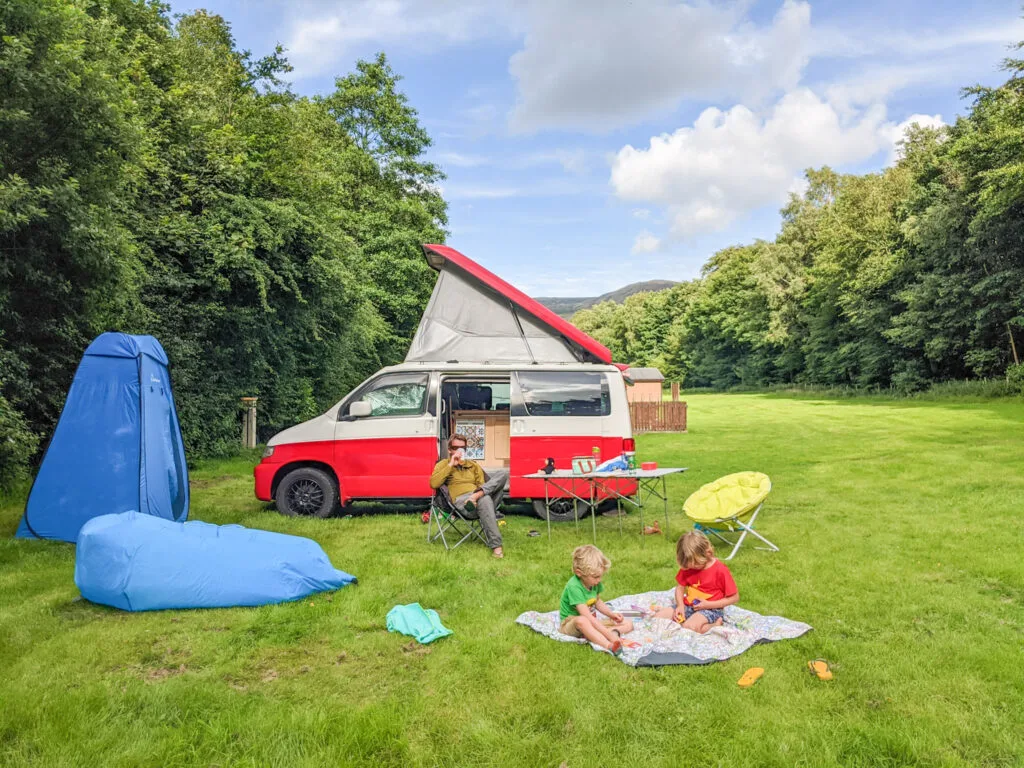 Along with the odd weekend here and there camping in the UK, we've had some fantastic Bongo road trips in Europe and we tend to venture over to the continent once or twice per year. Our favourite trips include:
France is a perhaps the country we visit the most in our Mazda Bongo. Check out our favourite family campsites in France as well as our tips for camping in France and tips for driving in France.
Head over to our Instagram or Facebook page to follow our adventures.
---
More Mazda Bongo tips and advice…
Our Mazda Bongo packing checklist
Organisation is key when it comes to packing for a family camping trip and a camping checklist is paramount! Otherwise there will always be at least one thing I would forget.
So I've put together this Bongo packing checklist to tick off items for every trip that we go on! Feel free to print it off for your own use.
For winter camping, we also recommend this coverless duvet, rather than a sleeping bag for comfort.
Mazda Bongo colouring sheets for kids
Click here to download and print out these FREE Mazda Bongo colouring sheets.
If you too are a Mazda Bongo family, your kids will love these printable Bongo colouring sheets. Or perhaps you're thinking of buying a Bongo camper? Then use these colouring sheets to get the kids involved in the design process. Feel free to add on a Bongo bike rack, roof boxes, solar panels and anything else you may need.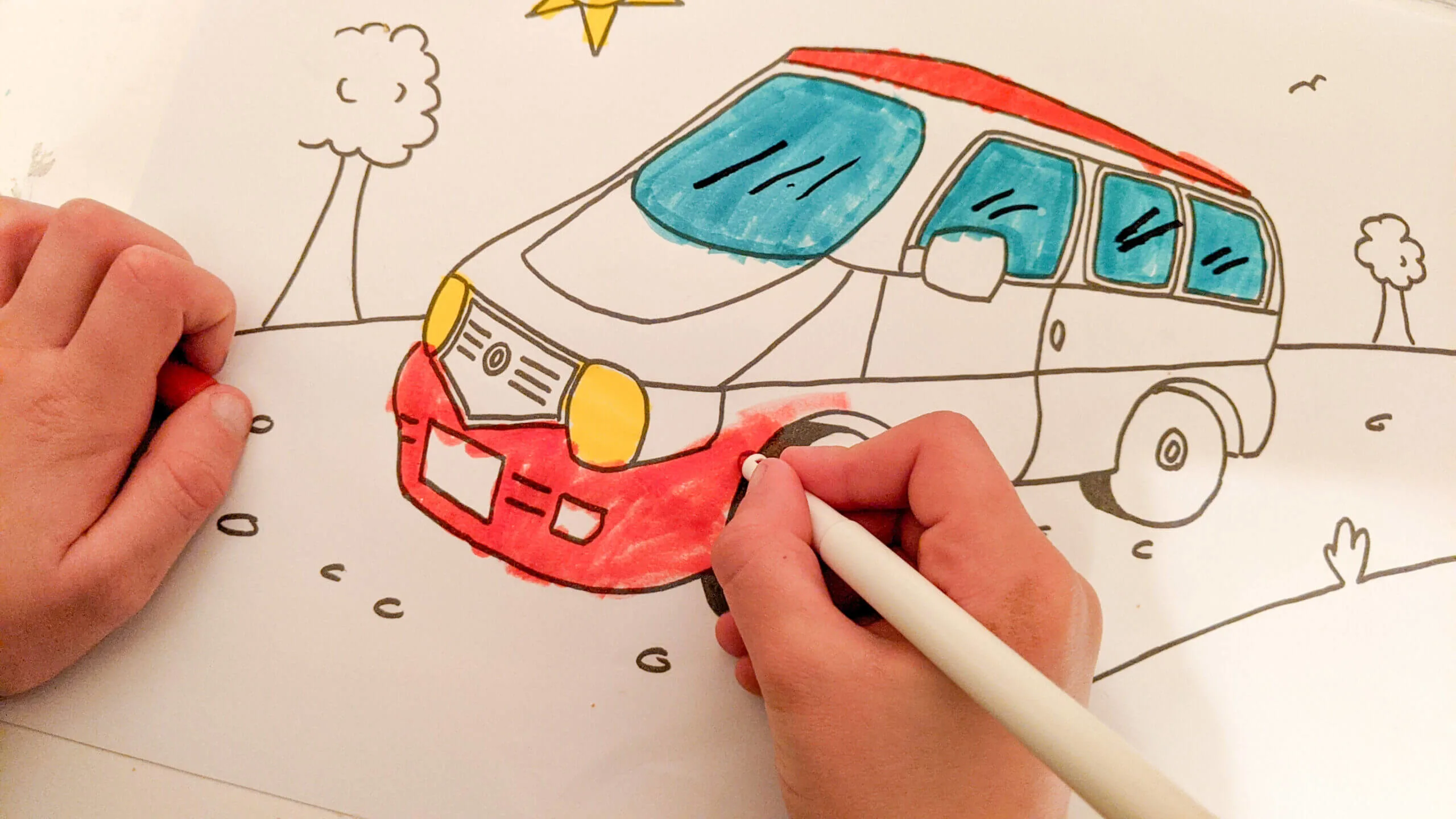 Are you thinking about buying a Mazda Bongo?
The Mazda Bongos are a much cheaper alternative to the latest VW campers, and we absolutely love ours. If you are considering buying one or new to the Bongo life, read our top beginner tips. These include getting an under-seal, adding a coolant alarm, as well as conversion and packing logistics. All things that we have learnt along the way, and will hopefully ensure we get many years of family adventuring from our Mazda Bongo.
Bongo Convos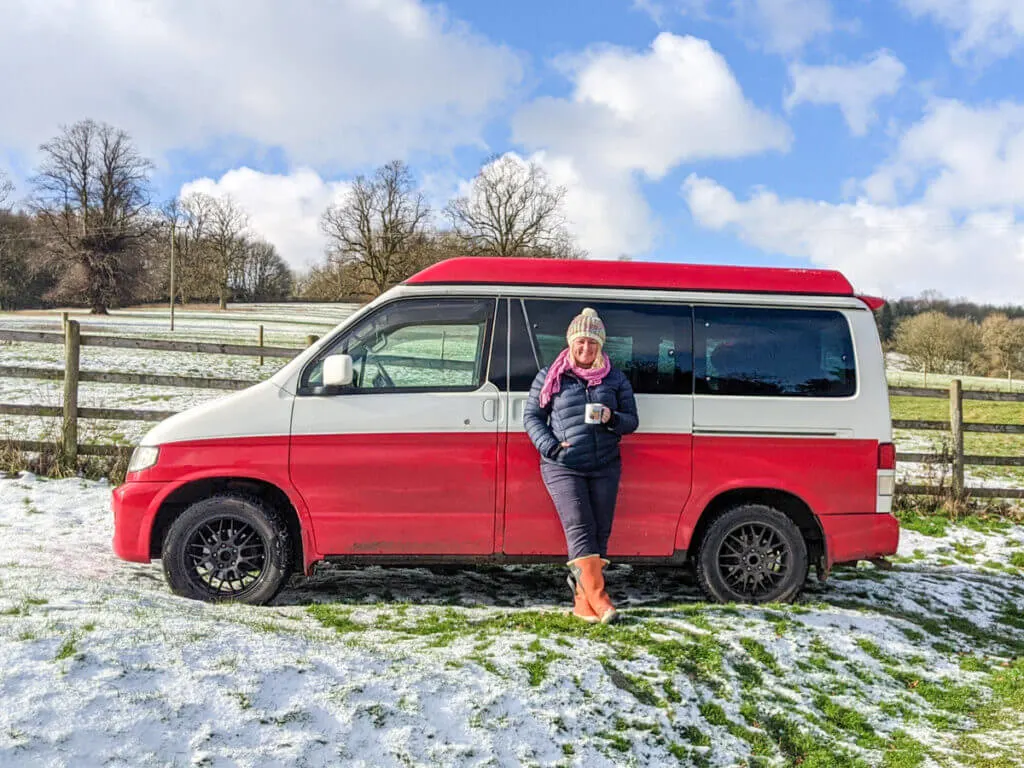 I have also used the Bongo as the 'recording studio' (in the loosest sense of the phrase, as there is no fancy set up) for the Bongo Convos. This was a weekly LIVE insta chat in 2021 where I talked to family travel experts across the globe from the comfort of our beloved Mazda Bongo.
From European vanlife to sailing around the world with kids, from travel budgeting to travel safety with toddlers, you could tune into my Instagram account with a cuppa to listen to us chat all things travel.
Don't worry if you missed any of these episodes. I saved all Bongo Convos to IGTV on Instagram, and I also share them right here on the website for easy access.
---
You may also like to read:
Top 10 tips for an easy and long-lasting Bongo life
Mazda Bongo interior renovations: making our Bongo a little more 'us'
Our Bongo packing checklist for family camping