It had been an uncomfortable night flight from Johannesburg where us parents hardly slept a wink. As we sat waiting for our connecting flight to London on one of the few available chairs available at bustling Addis Ababa airport, I couldn't help but feel a little teary as I watched the throngs of travellers scurry by. We had come to the end of our epic 3.5 month travels around Africa with our two boys (aged 3 and 4) and my mind was only just beginning to process it all.
Disclaimer: TraveLynn Family were offered a complimentary stay in return for an honest review. However, as always, these are all more own words and opinions. Some photos in this post were provided by Park Inn Radisson.
The end of a big adventure always brings a flurry of mixed emotions. But to help ease us with the transition back to normality, we had been invited to stay a night at the Park Inn by Radisson on arrival to Heathrow. This proved to be the perfect pit stop to take a breather before embarking on our next chapter. This is our Park Inn by Radisson review.
However, if you're looking for accommodation more central to London, check out this guide to where to stay in London with kids. And if you have the time, and want to explore London, you must check out this guide to things to do in London with kids to get the most out of your visit. It's such a big city and can be rather overwhelming if you're short on time, so we do recommend planning where you want to go in advance.
Arriving to Park Inn by Radisson
Getting to the Radisson Blue Park Inn could not have been easier. We hopped into a taxi sat outside Terminal 2 and took the short 1.6km drive to the hotel entrance. You could take the Heathrow Hoppa transfer bus, which is a flat fare of £4.50 per adult (when booked online, £5 otherwise), children under 12 are free. However, the taxi only cost us £10.30 door to door (including airport surcharge).
Unfortunately check-in was not as straight forward. We were all shattered from the long flight and had been on the go for almost 24 hours. All we wanted to do was to get into our room and relax, but the queue for check in was long and barely moving with only one member of staff on hand. Thankfully, a member of staff recognised the signs of two frazzled parents and took us to the side to swiftly check us in, and provided the boys with an activity pack to keep them entertained.
Our room
We were provided with a spacious suite on the ground floor. A hallway leads to a lounge, with sofa, TV and where the children's bed had been made. A double door then leads though to the separate master bedroom, with large flat screen TV, writing desk, and hot-drink facilities.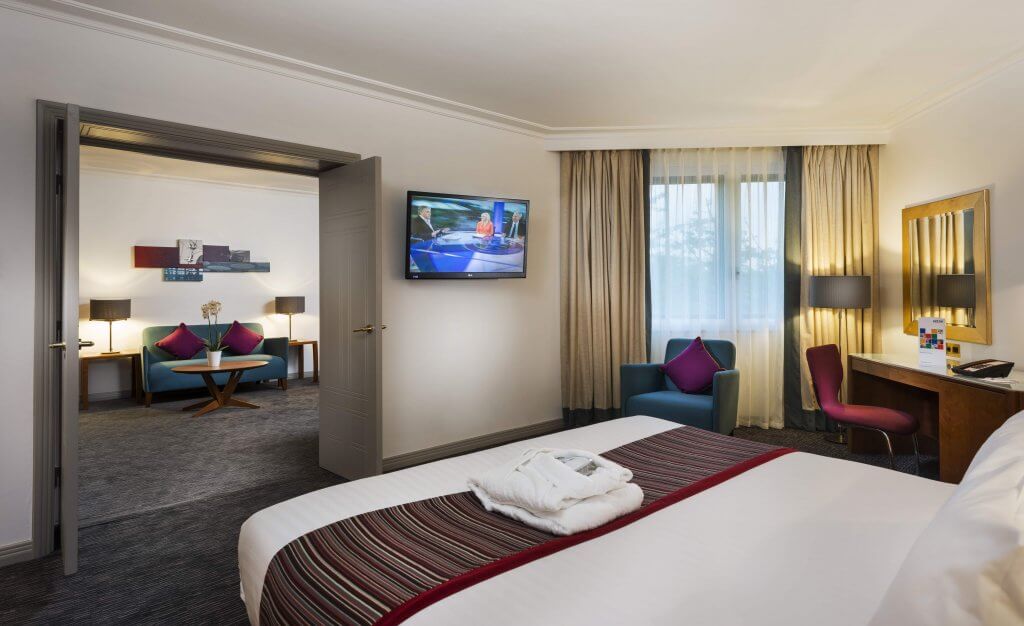 Off from the master bedroom is another hallway leading to a large bathroom on one side (with separate bath and shower), and on the other a walk in wardrobe with dressing table.
Rooms are extremely spotless and have a contemporary-business style to them. The soft towels, power shower and fluffy bathrobe provide a taste of luxury. WiFi is free and fast.
We also appreciated the heavy, black-out curtains, as our visit coincided with the late summer evenings of June and we wanted our boys to have an early night. The extremely comfortable beds assured an excellent night's sleep.
Feeling hungry?
Room service is available serving standard pub dishes. However, we didn't eat dinner as we were rather full from the food served on our flight. In the morning we enjoyed a sumptuous buffet breakfast in the dining room (breads, fresh fruit, yogurts, cereal, English breakfast and juices).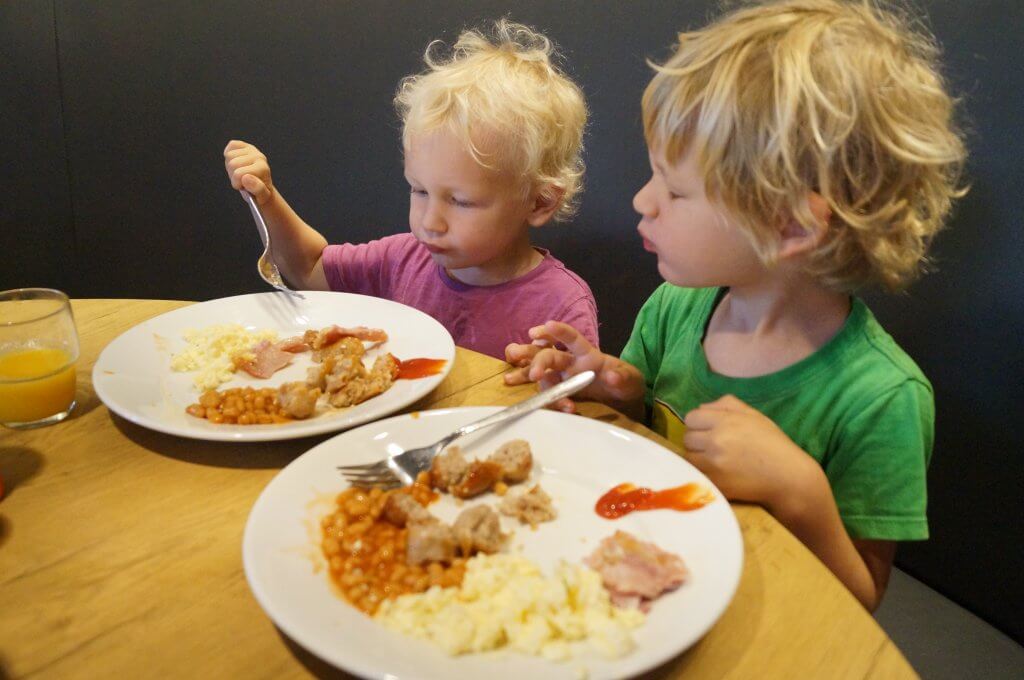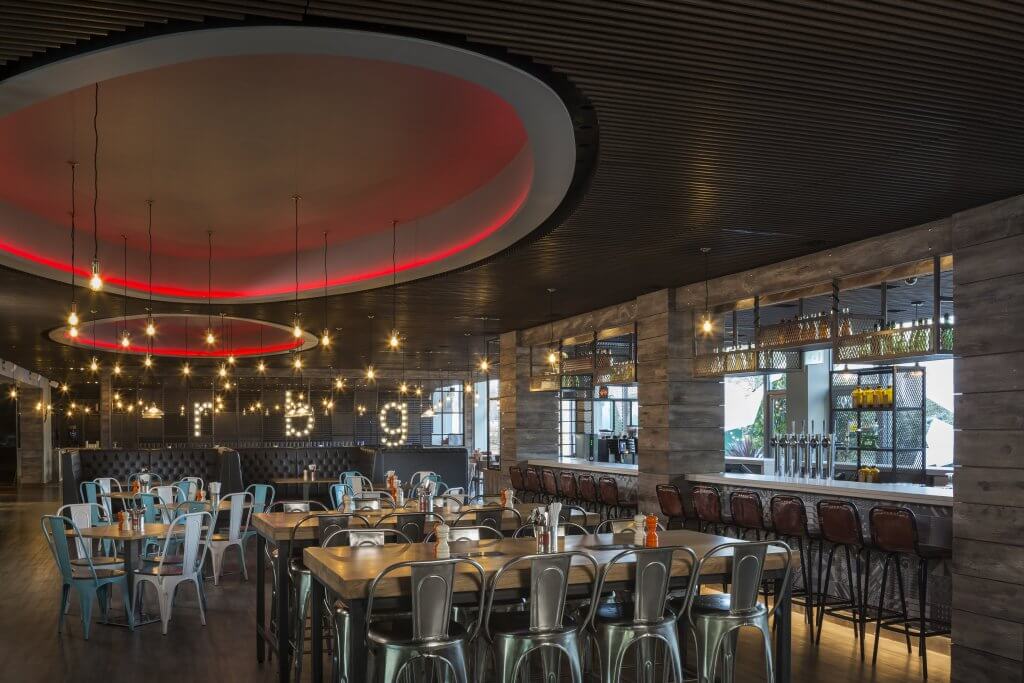 And relax…
The boys went out like a light that night. After enjoying a warm bath, hubby and I snuggled under the feather-soft duvet and switched on the TV to watch David Attenborough narrate a Southern Africa documentary (rather surreal when you consider we were there 24 hours ago). Then, for the first time probably since the boys were born, I enjoyed 10 hours of uninterrupted sleep. Perfection.
How to book
Feeling the need to book a room at the Park Inn by Radisson for your next holiday? Indeed, flying long haul with kids can be exhausting work, so lighten the load and ease yourself out of that holiday. You can book online here or call +44 20 8759 6611. A Family Room starts from £93.
---
You may also like to read:
Surviving Jetlag with kids
Long-haul flight survival with young kids
Is Doha worth a stopover with young kids?