If you are planning a family trip to Iceland, there is a good chance that you will head to Reykjavík at some point and will be wondering what there is to do in Reykjavik with kids. Whether you're using the city as a base for your Iceland travels, or are just popping for an afternoon, it's a fascinating place to explore in its own right, with lots of things to do in Reykjavik for kids (in both good and bad weather).
Disclaimer: This post contains affiliate links. If you click to purchase, it is at no additional cost to you, and I receive a small commission.
Check out our post: Best things to do Iceland with kids!
We first visited Reykjavik with kids on a 5 day Iceland road trip, and although it was bitterly cold, we enjoyed a few free activities (walking around the seafront area and visiting a playground) and realised that we should probably have allowed longer to explore the city. So I reached out to some fellow bloggers for their suggestions on the top things to do in Reykjavík with kids; including the best museums in Reykjavík for kids, watching a children's concert at Harpa, and visiting secret hot springs in the city.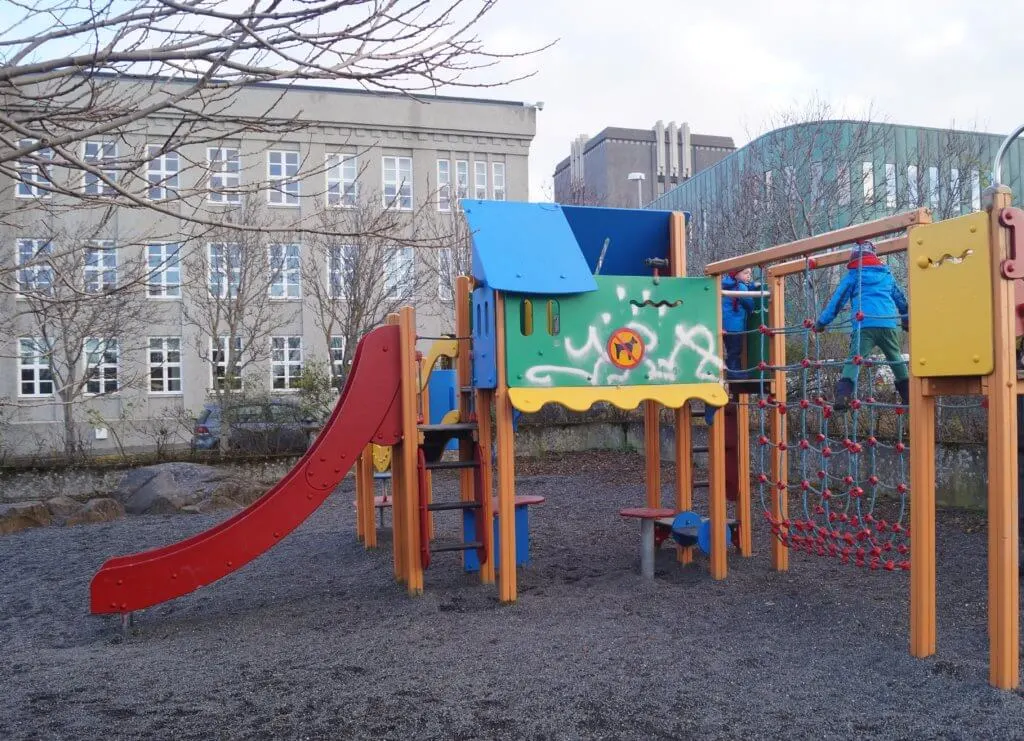 Top things to do in Reykjavik with kids
1. Walk along the scenic waterfront
(Marta, Learning Escapes)
One of my favourite things to do in Reykjavík and one that is easy to enjoy with kids too, is taking a walk along the scenic city waterfront.
It follows the curve of the Reykjavík bay and stretches from the famous Harpa concert hall, to the impressive sculpture called the Sun Voyager and then the historical Hofdi house. It is a long and flat promenade but is a beautiful one: on a good day, you can see the mountains in front of the city and it is sheltered enough from traffic that kids can trot around and you can push a stroller safely.
The sun voyager is easy to spot and fun for kids: the sculpture represents a vessel but kids will notice it resembles an insect with stick legs too, a quality that my two found absolutely hilarious! This is a lovely spot to add to any Reykjavík itinerary.
2. Take in the views from Hallgrímskirkja Observation Tower
(Catherine, We Go With Kids)
When visiting a new city, our kids always the opportunity to get a a bird's-eye view of the area. Located on top of a hill in the centre of Reykjavík, Hallgrímskirkja is visible throughout the city and one of its best known landmarks.
On clear days (which are certainly not guaranteed in Iceland), it 239 foot/73 meter observation tower offers a perfect 360 degree panoramic view of the Reykjavik and its harbour.
Most cathedrals we have visited were built well before elevators were invented and required significant climbs up winding and narrow staircases to reach the towers. However, Hallgrímskirkja is a modern 20th century building that includes the convenience of elevators, which makes the trip to the top so much easier with small kids. Our kids really enjoyed checking out the view from each window, and we definitely recommend visiting Hallgrímskirkja Observation Tower with kids.
3. Spend an afternoon in Laugardalur (swimming pool, botanical gardens, zoo, and much more!)
Just a 10 minute drive from the city centre, there is the recreational area of Laugardalur. Here you will find lots of green open space, a playground, ice skating, Botanical Gardens, a campsite, and it is also where the Secret Solstice festivals is held every year.
A highlight for kids is the geothermal swimming pool (Laugardalslaug). It's the largest in Iceland, complete with a slide and hot pools. Entry is only ISK980 (approx. £6.20) for adults, ISK160 (approx. £1) for children, and FREE for children under 5 (a fraction of entry costs to the Blue Lagoon).
It's also worthwhile visiting Reykjavík's Family Park and Zoo, which is also in Laugardalur and open all year round. This is home to lots of native animals, such as Icelandic goats and horses, seals and Artic Foxes, as well as reindeer.
If your kids are a bit older and love sport, you may even catch a game of football or basketball at the main sporting arena.
4. Visit a hot spring
(Patrick, Adventographer)
After a long day exploring the sights and sounds that make up the vibrant city there's no better way to unwind than visiting one of Iceland's hot springs.
You've likely heard of the famous Blue lagoon, but were you aware that Reykjavík has its own geothermal hotspots that won't break the bank and aren't a 45 minute drive away?
The Nauthólsvík Geothermal Beach is an interesting phenomenon. This small stretch of beach just outside of Reykjavik's core is a geothermally heated bay. Even in the dead of winter you'll find hearty Icelanders taking a dip here where the water temperature is consistently 10C higher than the surrounding ocean!
If an ocean swim is too much consider visiting the Kvika foot bath. Though not big enough for full immersion this small beachside hot spring makes a great place to explore and soak your tired feet after a day exploring Reykjavík with kids!
Check out The BEST Blue Lagoon alternatives in Iceland.
5. Visit a museum
Reykjavík has some fantastic museums, and these are our recommendations for families:
Saga Museum
(Lori, Maps, Memories And Motherhood)
Reyjavik's Saga Museum takes you on a journey back in time to the first inhabitants of Iceland. Seventeen sagas features lifelike scenes from particular points in time — with life-sized mannequins of historical figures (which we swore winked at us a few times).
The museum is self-guided, with an audio recording, describing each exhibit. It's a great primer on the history of Iceland, but might be tough to get through for kids under 10 as there are some pretty graphic depictions: battles, The Black Death, the first Icelandic martyr. There also aren't any interactive exhibits until you get through the entire museum, which was my boys' favourite part where they tried on traditional costumes and battled their dad with shields and swords. Don't miss the gift shop. It has some beautiful hand-made, traditional Icelandic products, and there's also a restaurant to grab some lunch after your tour.
Maritime Museum
Iceland has a deep rooted history of fishing and fish is a staple of the local diet. Learn about the history and growth of the fishing industry at Reykjavík's Maritime Museum. This is a fantastic museum for kids as it's high tech and visual displays are engaging. You can also take a guided tour around the Coast Guard Vessel, Óðinn.
Whales of Iceland
(Constance, The Adventures of Panda Bear)
Whales of Iceland is an educational exhibit about whales in Iceland and its surrounding waters. The museum is located close to downtown Reykjavík and offers an amazingly immersive experience and interactive exhibits for children.
Kids will delight at exploring the museum and walking amongst the life-sized whale models. The museum is home to over 20 different whale models, one of which is a 25 meter or 82 feet long blue whale. Your child will love learning about whale anatomy with their interactive exhibit, touching the whale models, and using their virtual reality headset.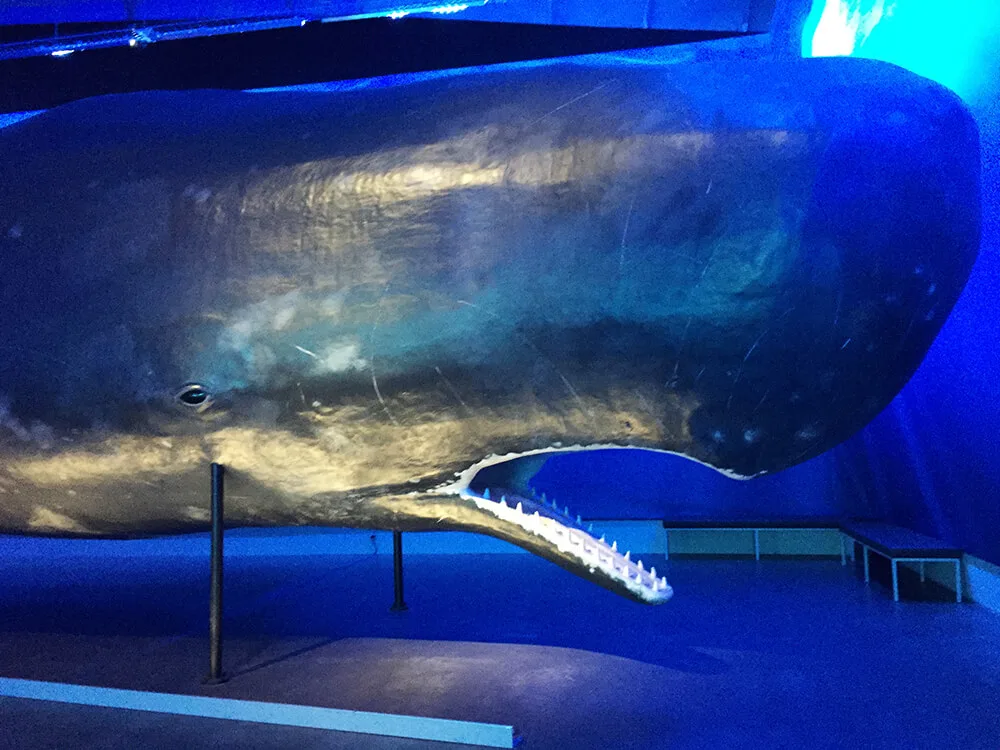 Admission is free for children under 7 years. Whales of Iceland also has an audio guide app which you can use to learn more about each and every whale on display. The self-guided tour takes approximately 30 minutes and guided tours are offered for groups larger than 15 people.
Perlan
(John, From Real People)
One of the down sides of being in the centre of Reykjavík itself is that you miss the chance to view the whole cityscape. The way to solve this is to take a trip to the 4th Floor Observation Deck of the Perlan, or the Pearl in English. At a height of 25.7 metres, it's one of the best places to get your bearings and take in the best views across the whole area. Kids will particularly love chance to watch the aircraft taking off and landing from Reykjavík ReykjavíkCity airport.
Perlan was built out of some old hot water storage tank by adding the giant hemisphere back in 1991. There are some fantastic exhibitions that kids will really love. The 'Wonders of Iceland' experience gives you the chance to see, hear and feel the power of volcanoes, earthquakes and the geothermal energy of this amazing place. There is an augmented reality model of the largest sea cliff in Europe as well as a virtual aquarium and a man-made ice cave. The joy is that everything is inside, you can even get great views from the Cafe when the weather is bad.
6. Go bird spotting at Lake Tjörnin
(Ting, My Travel Monkey)
Right in the heart of Reykjavík, Lake Tjörnin or 'the pond' as it's known locally, has more than 40 species of visiting birds including geese, swans and Arctic Terns. During the summer, it's popular with families feeding the ducks, while there are pretty sculptures that line the shore. We were amazed to see people actually skating on the frozen lake!
7. Watch a children's concert at Harpa Concert Hall
(Nicolette, Semi-Budget Travel )
When I was researching family activities for our trip to Iceland, it was my desire to incorporate a cultural experience into the mix. Since Harpa Concert Hall is such a magnificent focal point in downtown Reykjavík, I decided to check their calendar to see if, per chance, something would fit our schedule and interests.
We hit the jackpot! The Iceland Symphony Orchestra would be performing a concert for children, including a narrated story featuring Maximus Musicus. Maximus Musicus was created by two members of the Iceland Symphony Orchestra, and Icelandic children absolutely love "the most famous musical mouse in Iceland!" What a treat! Harpa was filled with children and parents. There were crafts for the kids before the concert. And then, we got to experience a wonderful concert in the Eldborg concert hall, the largest hall in Harpa!
8. Grab a yummy hotdog
(Celine, Family Can Travel)
If you've done any research into a trip to Iceland, there's no doubt you've heard of the Icelandic hot dogs. These dogs are delicious and sold everywhere (including gas stations). The Icelandic hot dogs are made mostly of Icelandic lamb with some pork and beef. What better time to indulge in this popular food than a day out in Reykjavik!
After having seen it on a travel show, we planned our mid-day stop at the popular Bæjarins Beztu Pylsur, a short walk from Reykjavik's best known landmark, the Lutheran church Hallgrimskirkja. We recommend trying it first as the locals do, served on a steamed bun with raw onions, crispy white onions, ketchup, pylsusinnep (a sweet brown mustard) and remoulade (a sauce made with mayonnaise, mustard, capers and herbs). For our kids, we just went with ketchup, which is always a winner.
9. Take a FREE walking tour
(Bec, Wyld Family Travel)
One thing we decided we needed to do while we were in Reykjavik was one of the free walking tours. It is a city we did not know much about so it was the perfect opportunity to learn more about the Icelandic culture. We met at the square in front of the Parliament building and our guide was Eric. It was an easy walk through the city and as we went in the winter Eric made sure we weren't standing still for long.
We went to all of the popular sites around Reykjavik and Eric told us about them, when they were built and what the significance of the building was. He was also able to share with us some of the more quirky sides of the Icelandic culture…the tree of the year being one of them! (We won't give any of that away though, you will have to go on the tour to find out about that!) and how names are passed down to family members. It was a great way for the girls to learn about the Vikings all the way through to how tourism is now effecting Iceland.
We highly recommend a free walking tour when you are in Reykjavik especially with Eric. There is so much more you can learn from a local that is just not in any guide you will find and standing, in, near or around a landmark of importance to a city is the perfect way for the whole family to learn about a magnificent place like Iceland.
Getting around Reykjavík with kids
We had a hire car and we found it reasonably easy to find parking spots in the city. Parking is not especially pricey (30 minutes was approximately £0.80).
The city is quite compact and you can walk around between the main sites. However, if little legs are tired, one of the best ways to get around Reykjavík is on a hop-on-hop-off bus tour.
Where to stay in Reykjavik with kids
Budget: Central Guesthouse Reykjavík
Near airport: Airport Hotel Aurora Star
Mid-range: Fosshótel Rauðará
For more budget options check out the these hostels in Reykjavik.
And for more family-friendly accommodation options, check out the Best Family Hotels in Reykjavík from Little City Trips.
Alternatively, if you are coming to or from the Keflavík airport, you may want to stay in Keflavík itself. We recommend Guesthouse Keflavík, which can be cheaper than the hostels in Reykjavik and includes one of the best buffet breakfasts we had in all of Iceland.
---
You may also like to read:
5 day Iceland itinerary with kids
How to save money on a family trip to Iceland
NORTH ICELAND ITINERARY: a 7 day family road trip