This is a sponsored review post in collaboration with Rosemood Atelier. As always, this is an honest review and these are all my own words.
Looking back over our time in lockdown there were of course challenges and tears, but the enforced family time with no commitments provided some wonderfully warm moments that have since become the overriding memories. There were long walks in the hills, crafting in the back garden, camping in tents and even on the trampoline, cycling on the quiet roads, and birthdays celebrated during this time. There were also many, MANY, dull and ordinary days, where very little was achieved; but these days of nothingness were often just what we needed and something we never made time for before.
The world stood still, and our little family grew stronger together. It's a precious moment in history that I want to remember and look back on in years to come.
If you follow me on Instagram you will know that I was posting a photo a day from that day, every day during full lockdown. I managed to keep going for 73 days from when the UK schools closed (to all bar keyworker children who needed childcare, and those from vulnerable groups). I then stopped posting when some primary school kids started to go back, although my boys didn't return for a few weeks later.
Rather than these photos just sitting in my Instagram feed, I want to do something with them to remember this historical time. What better way than with a photobook? It's something I've done for so many of our travels in the past, and I want to remember the time when TraveLynn Family were unable to travel and explored the hidden gems on their doorstep in the Peak District!
Rosemood Atelier
I wanted to compile a photobook that was easy for me to edit myself online, and was of excellent quality, made to last.
The Rosemood Atelier photo books are designed to be timeless coffee table pieces exuding both style and elegance. They use the highest quality paper so that photos that are rich in detail and texture, bound in a sleek and solid hardback cover.
Their services also include a complimentary retouching service. To ensure your photo book is perfect they:
Proofread your text (up to 500 words)
Check and retouch your cover photo manually
Have your other photos retouched automatically
Optimise the layout of your photo book pages
There are three styles available: fabric hardcover, softcover, and printed hard cover (which has 3 formats: square, portrait and landscape). You can choose from two different paper types (smooth matte or satin coated) and have between 40 and 120 pages, with 9 photos per page, and high-quality adhesive binding.
Online editing
Online creation of your photo book is super easy. For that timeless feel, I selected for the fabric hardcover. I then uploaded my 73 photos from each day of lockdown.
The website then does some clever stuff and arranges all your photos in to your book. I'm a bit of a perfectionist when it comes to visual stuff like this, but I only did a couple of little tweaks, which was very easy to do in the editor. I also had a couple of pages spare at the end, so I added on a couple of our Mazda Bongo photos as that feels like the start of a new chapter for us.
I then selected the colour of my cover (I chose 'mustard yellow') and then added my text to the front.
You can then expect to receive your photo book within 8-10 days.
The final product
The team at Rosemood Atelier emailed me shortly after I had completed my order. I had missed putting the text on the spine of the photo book! So I emailed this back over to them and they corrected it for me.
When the finished photo book finally arrived from France (where Rosemood Atelier are based), I was so pleased. It is absolutely beautiful, exactly how I had imagined from the online editing, and superb quality. I really cannot fault it in any way.
I actually felt a bit emotional going through the photo book with our lockdown photos. That time now seems a bit of a blur and distant memory, and I do wonder how us parents kept going through all the juggling and exhaustion.
But looking through our lockdown photos in our Rosemood Atelier photo book, we all seem so happy, especially the boys. These are memories that I want to lock in for years to come.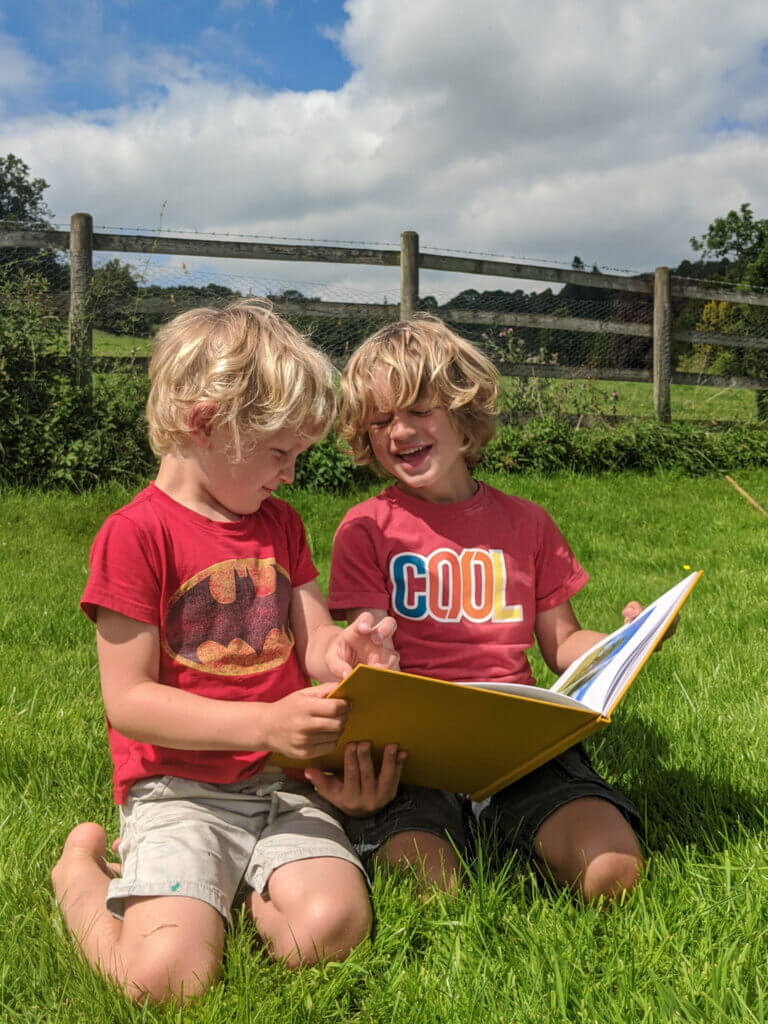 ---
You may also like to read:
Best travel gifts for kids
How we afford to travel
Best family travel destinations