It was Nanny Lynn's 70th birthday and we wanted to get all the family together and do something special. We were eleven in total; 2 grandparents, a family of 5, and a family of 4. The kids (all boys) were aged 4 to 10. We needed somewhere that wasn't too much of a drive away, was kid friendly, and had a safe outdoor area for the boys to play. We also didn't want to all be on top of each other in the one house; grandparents needed a quiet space for downtime, and it's nice for the individual families to have their own space.
Rossendale Holiday Cottages in Lancashire ticked all the boxes for us.
Disclaimer: Rossendale Holiday Cottages offered our party of eleven a complimentary two night stay in return for coverage on my blog and social media channels. As always, these are all my own words and a totally honest review. Also, this post contains affiliate links. Should you click to purchase, it is at no additional cost to you, but I receive a small commission.
We visited Rossendale Cottages on a particularly wet and grey weekend in November. As we drove down the narrow laneway to the entrance gates, clouds were obscuring the surrounding hills and our wipers were set to max. This really didn't matter once we arrived though as we were given a very warm welcome and directed to our cosy accommodation.
Our accommodation at Rossendale Holiday Cottages
First impressions were how well the buildings are laid out, all built from solid local stone, perfectly matching the surrounding farm buildings.
There are five main cottages, a couple of smaller hotel-style rooms and a sprinkling of glamping pods tucked away from the main complex. Whilst not necessarily completely private, there is a peaceful communal feel to the accommodation, which was perfect for us. In fact, our sort of gathering is ideal here as you each have your own space to relax in, yet we were all able to comfortably fit into Buttercup cottage to entertain in the evening.
Our party of eleven were separated into three different accommodations: Buttercup and Willow (which are self-catering cottages) and Rose (a hotel-style room).
All accommodations are very modern, clean and minimalist, and favour IKEA furniture. The use of a mezzanine and exposed brickwork provide character within the practical decor of the cottages. All accommodations have a TV and free WiFi (which is patchy in places).
The self catering cottages have an oven, microwave, large fridge-freezer, and all cutlery and crockery you need. However, there are no plastic cups and plates for little ones, so it may be an idea to bring these with you if needed. I also recommend bringing your own pillows, as we found the ones provided a bit flat.
Buttercup (sleeps 4)
This is the more high-spec of the cottages. There's a separate double bedroom upstairs with ensuite, and an inside window that looks down onto the lounge. This is a lovely feature.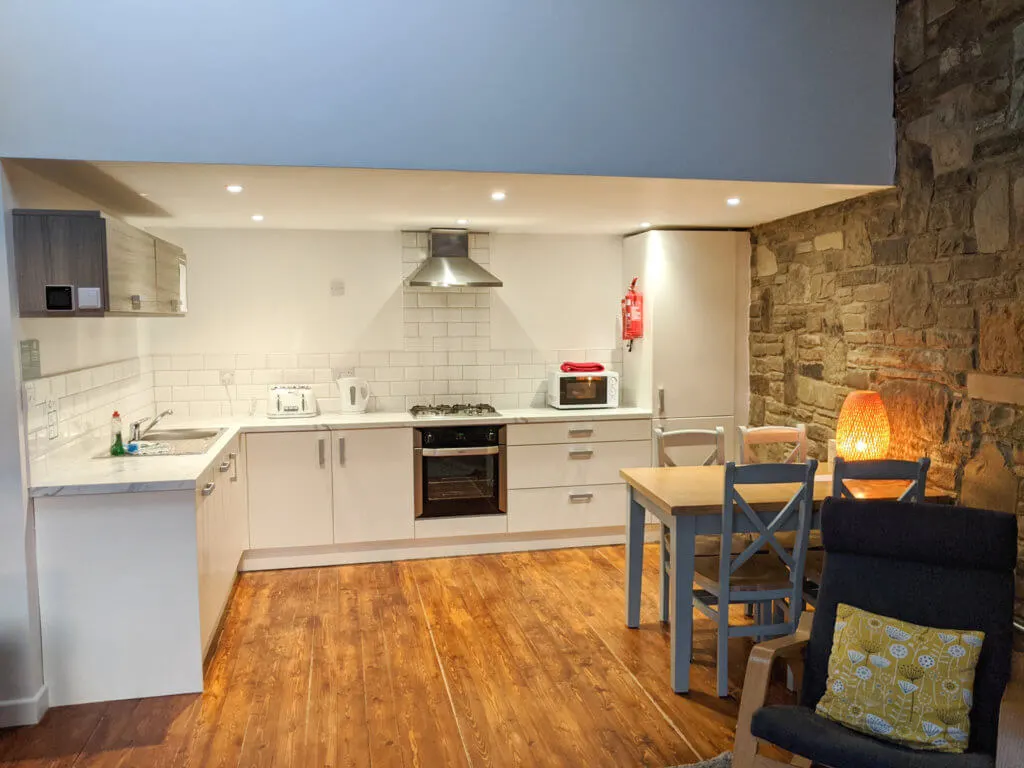 Downstairs there is an open lounge/kitchen/dining area. The sofa downstairs can be pulled out to make a bed, and linen is provided. The kitchen has a dishwasher (which Willow doesn't have), and there is a separate bathroom downstairs.
We could have done with an extra sofa in this cottage, even if it was just our family of four on holiday, there is certainly the space. But we brought in chairs from Willow when we wanted to entertain the whole group in the evenings.
Willow (sleeps 5)
Even though this cottage sleep more people, it's actually more compact and not as high spec as Buttercup. But it is still light and airy. The upstairs mezzanine is open and provides a double and single bed (no ensuite). Do be careful of little ones climbing on the railings here.
Rose (sleeps 2)
This is a hotel style ensuite room, with a small outside courtyard. The room has a fridge, as well as tea and coffee making facilities.
Facilities on site
Follow the Pixie Path to a small children's playground, all made from wood. Dressed up in wellies and rain gear, the boys loved it! There are also lots of games in reception for a rainy day.
If visiting in the summer though, 'The Island' is a lovely feature. This is a BBQ area next to a small stream, complete with a firepit; the perfect spot for a summer evening, unfortunately not quite the same for a rainy and cold November weekend.
Walks in the area
The rugged Lancashire hills are a great place to take a hike. Note that the printed directions for walks from the cottages are a little out-dated and tricky to follow. Take your own up-to-date Ordnance Survey map, as there isn't one provided for guests and footpaths aren't entirely clear. The member of staff at reception on the day we wanted to do our hike had no idea about the footpaths in the area. It was only his second day though.
We had several false starts before we eventually asked a local farmer up the road for directions. The ensuing hike was something out of a corporate team-building exercise with navigation challenges, fence-climbing, possible trespass and lots of muddy fences to climb. It was great fun though and we arrived back to the cottages ready for a hot chocolates all round.
Again, it was nice to have such lovely places to come back to with the space to relax, and the grandparents certainly appreciated the separate room for some downtime after all the excitement of the hike!
It's also worth visiting The Singing Tree, a wind powered sound sculpture overlooking Burnley, just a six minute drive away.
Check out this page for more things to do near Rossendale Holiday Cottages.
Do we recommend Rossendale Holiday Cottages for a family gathering?
Yes, we certainly do! We had the best weekend altogether to celebrate Nanny's 70th birthday. The weekend was a huge success and we all loved the light and airy accommodation.
We particularly loved how Buttercup cottage had the space for us all to hang out in the evening. The kids played games and we ordered in a takeaway. Then everyone had their separate spaces to retire to.
This is what the birthday lady had to say about it:
It was lovely having everyone together and I love seeing the grandchildren all getting on so well and playing together. There were 11 in our group and us grandparents stayed in Rose, an ensuite bedroom. It was excellent, cosy and warm, very comfortable bed, tea and coffee making facilities, mini fridge. The full size bath was great when we returned from our long walk. I now have lots of wonderful memories from the weekend.
Do bear in mind though that people need to sleep on sofa beds if you're a family of three or more staying in the cottages. Although 'The Barn', a two bedroom cottage on site, is an option if you want to avoid a sofa bed.
If you're visiting in the summer months, you may want to check out the glamping pods. They are open all year and are very cosy inside, but you have to walk outside to the shower block to use the ablutions, which may not be for everyone on a cold November weekend. They did look lovely from the outside though.
And make sure you pack an Ordnance Survey map and some good hiking boots to enjoy the walks in the area!
How to book Rossendale Holiday Cottages
Head over to the Rossendale Holiday Cottages website to book online, or email them directly if you have any special requests for a family gathering.
---
You may also like to read:
Best family yurt holidays in England and Wales
Finding family adventure in the UK
The best ALTERNATIVE European city breaks with kids