The Asia Interviews is a series of guest posts where fellow family travel bloggers talk about their best destination in Asia for family travel. TraveLynn Family hasn't been everywhere, and we love hearing about the adventures of other families in Asia and being able to share them with you.
Political situations can change since this interview took place. Please check the GOV.UK Foreign travel advice before venturing to a country.
Tokyo and Kyoto often steal the limelight for Japan's top family travel destinations. But have you ever heard of Shikoku, a rural farming and fishing town popular with surfers? Once in a while, The Asia Interviews series introduces me to a secret gem that I've never heard of, which sounds absolutely perfect for intrepid families. I'll let Carolyn from Happy Place Hunters tell you more about visiting Shikoku with kids.
1. Tell us a bit about yourselves. Where are you from and how often do you travel as a family? How old are your children?
We are a family of four from the Gold Coast of Australia with two boys aged 8 and 12. We took our eldest on his first big 'round the world' trip at 18 months, but now only travel part time. My husband Dave is a cameraman, so we tag along on his filming assignments when possible, or set out on our own adventures during school breaks as often as finances allow.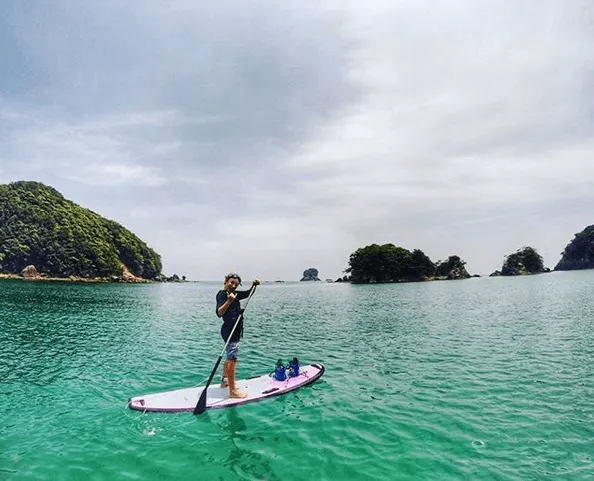 2. How many times have you travelled to Asia and why do you love travelling there?
Since Australia is part of the Asia-Pacific region and literally on Asia's doorstep, I couldn't even count the amount of trips I had pre-children throughout Asia. However since the boys were babies they've only visited Hong Kong, Singapore, KL, Sri Lanka, Maldives and Japan, but they can't wait to visit more – so many vibrant destinations that are culturally rich, and not to mention full of amazing food!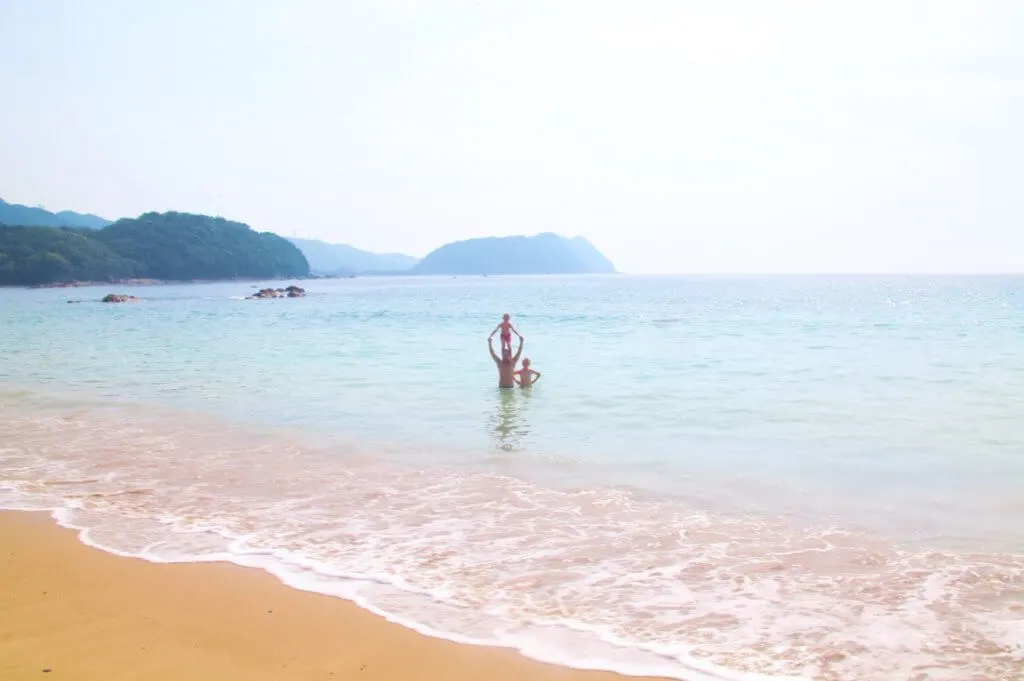 3. Why is Shikoku your favourite destination?
We love to surf and SUP (Stand Up Paddle boarding), and had heard of Kaifu and several other breaks in the Tokushima region.
This area runs at a totally different pace to the cities of nearby Kansai, and even though it's a 5+hr train ride from Osaka it is well worth the trek to discover some of Japan's least developed countryside.
To reach Kaiyo in Tokushima from Osaka we had to change trains a marathon six times, and the further away from the city we got the trains got smaller and older, to the point we half expected a shopping trolley to pick us up by the time we reached Shishikui 😉 Jokes, but it was definitely obvious we'd left the city behind when we spotted wild monkeys swinging through the trees out the train window.
4. What were your top 3 things to do in Shikoku with kids?
Surf and SUP: We'd headed to the region to specifically explore the crystalline waters around the stunning bays and islands that define the Shikoku coastline, so it's no surprise that the standout activities for our kids were surfing and SUP. Even if your children aren't water babies, getting a SUP tour is an easy and fun experience that most kids will love – naturally you may want to skip this if you're venturing here in winter though!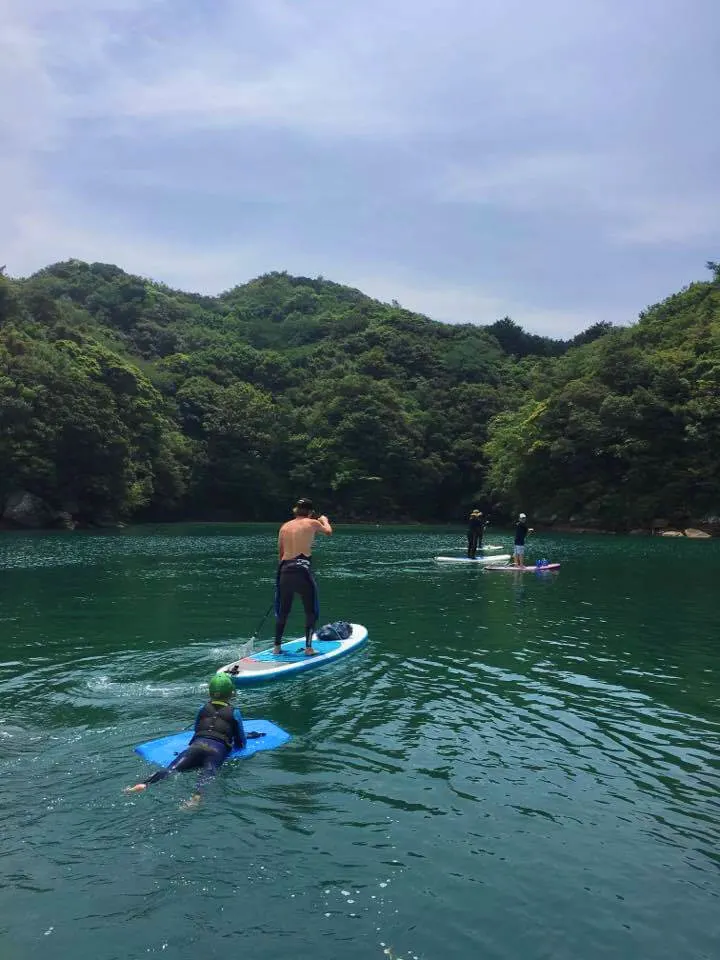 Pilgrimage Trail: Apart from lush tropical ranges, clear emerald rivers, and beaches, there's lots to see culturally here and still get some exercise in too – Shikoku's famous pilgrimage trail (a 1,200km trek that takes in 88 Buddhist temples and sites) runs right along the coastline here, and offers sweeping views of empty beaches and bays just waiting to be explored. One of our local friends showed us a trail past ancient ruins and up a densely forested mountainside to a peaceful lookout, high above the misty coastline. But there's no shortage of easier, more kid-friendly sections of the pilgrimage trail you can do by foot, bike, car or tour bus, too.
Making traditional tie dye: The stunning traditional indigo blue dye that features so heavily in Japanese art and textiles is celebrated at a little oceanfront space at Shishikui called In Between Blues. They paint and dye all kinds of beautiful objects on display here – from glassware to surfboards – but also run workshops where you can learn the traditional methods for dying fabric and make yourself a one-of-a-kind keepsake. The workshops need to be booked in advance are in Japanese, but as it's so visual and hands on instructions are still fairly easy to follow – our boys got to sit in on one and were fascinated. It also has a little café, so a great spot to spend a lazy morning or rainy day – although PSA for toddler tamers; there's lots of breakables within reach of little hands.
5. Where did you stay and do you recommend it?
We stayed at Pavilion Surf and Lodge, a surf store on the beachfront at Shishikui that has little rooms at the back. You can also rent or buy surfboards and SUPs here, or they do lessons and tours. There's also free bikes for guests to use, and they do free pickups and drop offs to the train station .
It's run by Roxy surfer and adventurer Kaori Mayaguchi, her partner, and her parents so has a great family feel and they have set it up to be very welcoming to non-Japanese speaking guests.
It's not flashy – rooms are simple demountable cabins and there's shared bathrooms, eating area and kitchen. But it's really affordable (depending on season, under $100 per night for a family of four), clean and in a great position beachfront. Plus the fact they could hire us any gear we needed or help us get around meant one less major headache – we didn't need to bring big heavy boards for starters!
6. What did the kids eat?
There were a few really good restaurants near our accommodation including a cosy little surfer hideaway called Bahati, as well as a 7 Eleven just a few doors down. In any other country in the world I doubt I'd rate convenience store food, but in Japan 7 Eleven is the bomb – lots of great healthy snack and rice balls and sushi. Because we also had access to a kitchen we could make western meals if we wanted too, but our kids LOVE Japanese food so we mostly ate local style.
7. How did you get around Shikoku with kids?
Our Japan rail pass was great for big stretches, but there's lots of gaps in its coverage in Shikoku – plus the town we were staying in was the end of the line, literally!
So for short local trips our hosts drove us around, or we caught local transport. If you were mainly travelling in Shikoku you'd get a local train pass, hire a car, or do what the pilgrims do and bike or walk everywhere.
That said, the train ride from Osaka to Shikoku over the Great Seto Ohashi bridge was one of the coolest train journeys to experience – it's a double decker bridge that skips between islands that has to be seen to be believed.
8. What is your top tip for families travelling to Shikoku?
If you're looking to unwind and change pace after a few big weeks of travelling between Japan's major cities, this is a beautiful area to relax, unwind and stay put! It takes a lot of effort to reach, but the payoff is definitely worth it for those who enjoy the outdoors or slow travel.
9. What item could you not have done without in Shikoku?
As we spent nearly every day in or on the water, probably our swimming costumes and wetsuits.
10. Where are you off to next?
Hopefully back to the USA for another big road trip! Fingers crossed.
---
You can follow Happy Place Hunters and their adventures on their website, Facebook, Instagram, Twitter and Pinterest.
You may also like to read:
THE ASIA INTERVIEWS – Kyoto with kids
THE ASIA INTERVIEWS – Tokyo with kids
The BEST holiday destinations in Asia for family travel