Are you looking for the best family air tent? TraveLynn Family were gifted the Vango Edoras 500XL Air in return for an honest review. As always, these are all my own words and opinions. This post also contains affiliate links. Should you click to purchase, it is at no additional cost to you, but I receive a small commission.
As a family we absolutely love camping, and the Vango Edoras 500XL Air was PERFECT for our month long summer road trip around France and we've also tried it out and some Peak District family campsites closer to home.
This tent is currently on offer at Winfields Outdoors.
We first used this test at the Just So Festival mid August 2017. Check out this video of the boys putting the tent up before taking it to the festival.
It's super easy to put up, principally as there are no poles. A tent with no poles? How can this be? Well in the place of poles are air tubes that you pump up (it comes with a hand air pump). There are five tubes and it takes about 20 seconds for a parent to pump up each tube. There's a clever button that keeps the air locked in as soon as you remove the pump attachment; so you don't have that classic manic fumble to get the cap on once you pull the pump out.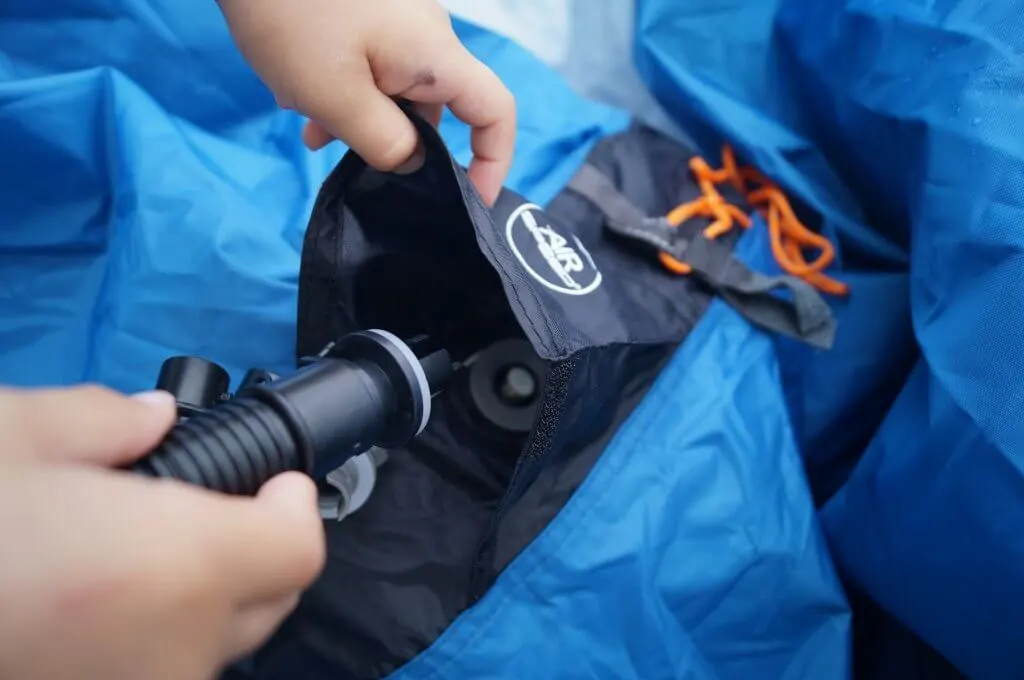 Then getting it down is even easier! Turn the button around to 'open' and the tube deflates.
Steps to erect the tent:
1. Roll it out and open out flat.
2. Peg down the four corners
3. Pump up the back two air tubes first
4. Go inside tent and push the blown up tubes to standing
5. Pump up the remaining three air tubes
6. Peg down the base and guy ropes
7. Crack open a congratulatory beer for the parents (juice for the kids)
Once it's up…
There is so much space inside and would very comfortably sleep a family of 5. Even more if you wanted to use the spacious 'lounge' (which is a super handy space for those rainy days).
I also like how there's a covered porch at the front to provide some outside shelter and keep muddy boots in the dry. There are also lots of neat pockets to store items.
Tips for getting it down
Turn the nozzle to deflate to open, and leave open.
Start folding the tent in from the opposite side.
When rolling it away for packing, we always open again to redo the roll. We find that just a little more air comes out and it's easier to pack away.
Ok I love it, but there must be some negatives?
The only downside is it's size when packed up and weight. It takes up almost half of our boot space and I'm unable to carry it on my own (although hubby can). However, this isn't a tent to take backpacking across the hills for a night of wild camping. This is a family tent perfect for weekend festivals and setting up camp for a few nights (or longer!) of outdoor family fun.
Where to buy the Vango Edoras 500XL
This tent is currently on offer at Winfeilds Outdoors.
This tent has served us well for two summers now, and I'm sure there are many years of camping fun to be had in it. It may be on the pricey side, but it's excellent quality, a good size for families, and very easy to get up and down. It gets a BIG thumbs up from us!
Extra equipment
Vango also sent us two double sleeping bags (extremely warm and cosy, with lots of padding and comes with two pillow cases!) and a clothes rack. Now I had no idea how handy this clothes rack was until we put it up at Just So Festival. Rather than attempting to live the weekend out of our rucksacks and everything dispersing across the tent to represent a bomb explosion (our usual approach), it was very handy actually unpacking all our clothes and food into the clothes rack, keeping everything tidy and easily accessible.
And Vango also do fantastic rucksacks! The day pack pictured below is waterproof, comfy on the shoulders and just the right about of space to store snacks, drinks bottles and jumpers for a day of adventuring.
Now where to take our tent next? We should really take the opportunity to explore more of the UK's campsites. Perhaps here in the Peak District, up to the Highlands of Scotland, or maybe down across to the family friendly campsites in Pembrokeshire…
This Bristol Brood has also tested out the Berghaus Air 8.
---
You may also like to read:
Finding family adventure in the UK
Short walks for young kids in the Peak District
Travelling Africa with kids: our top 10 highlights