Are you looking for a light-weight, budget, family tent? TraveLynn Family was gifted the Vango Spey 400+ tent in exchange for this honest review and social media coverage. As always, these are all my own words and opinions. This article also contains affiliate links. Should you click to purchase, it is at no additional cost to you.
With the camping season in full swing and the school year drawing to a close, we had plans of picking up the boys one Friday after school, and walking straight to a nearby campsite, for a weekend of hiking and camping in the great outdoors from a Peak District family campsite.
As we planned to hike with our camping gear, it was paramount that we packed lightweight gear as our boys are only 4 and 5 years old and unlikely to carry much themselves. I looked at our massive Vango Edoras 500XL Air in the shed and realised that there was no way we could hike with our current tent. I can barely lift it alone and I've honestly lived in apartments smaller than this tent. It's perfect for our upcoming French camping road trip, but for hiking in Peak District? Nope. Not an option.
Check out our Camping with kids Checklist.
We needed a tent that was small, hard wearing, light-weight to carry hiking, but also comfortable for a family of four to sleep in.
So I was very grateful when Vango sent us their Spey 400+ to review. This compact tent 4-person tent is designed with the active outdoor enthusiast in mind. Whether you are hiking, biking, or kayaking to your campsite that night, the Vango Spey 400+ is ideal. But I also see that it would be handy for short camping trips, or maybe just overnight at a festival, as it takes barely any space up in the boot of your car.
Click here to purchase the Vango Spey 400+
Specifications of the Vango Spey 400+
It weighs 6.03kg
Took my boys and I 15 minutes to put up; would be quicker without little helpers 😉
The RRP is £130 (although it's currently cheaper on Amazon) and is a great budget option if you're looking for a family tent.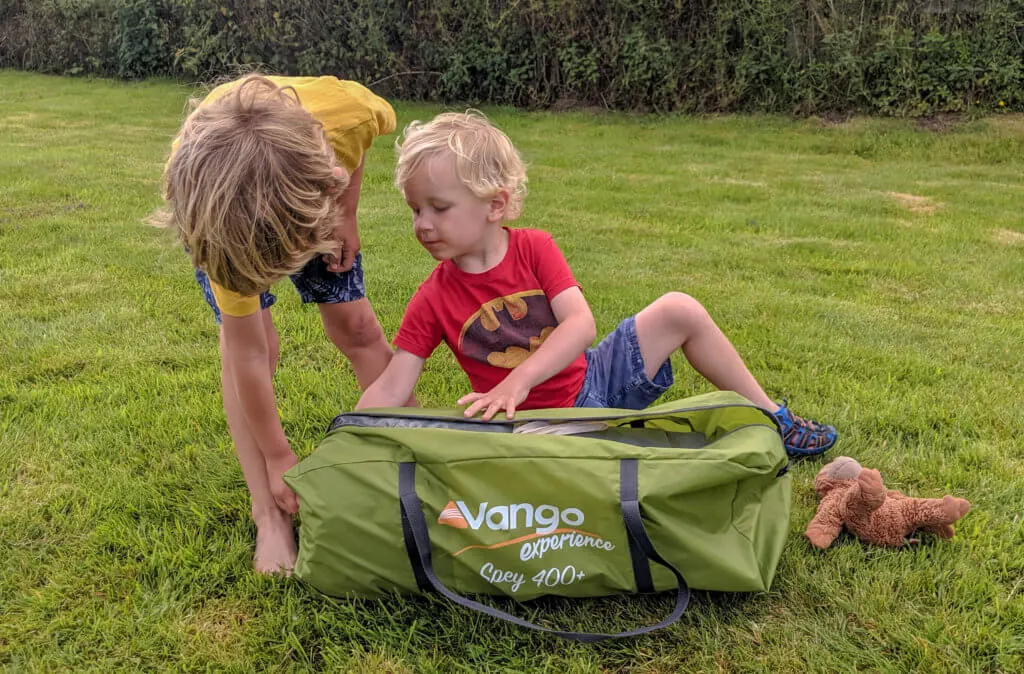 Hiking with the Vango Spey 400+
I have to confess, the plans for our hiking and camping weekend at the end of the school year never quite happened. The weekends we had booked out to do it were totally washed out with some dismal weather, and any other weekends were booked up with the kid's social lives. Before we knew it, school was finished for the year and it was time to pack and head off on our France road trip.
But we did manage to have a trial run with a campout in our garden, which enabled me to write this Vango Spey 400+ review. Just hoping that this year the UK is blessed with an Indian Summer to extend the camping season through September. We'll see…
Getting the tent up
With just three poles that hold up the outer layer, and an inner that attaches from inside, the Vango Spey 400+ is relatively straight forward to put up. Two longer poles hold up the middle and back, and the shorter front pole holds up the front (this is all colour coordinated). There is an arched pole structure (a 'peak' in the middle of the fully assembled pole), allowing for slightly extra head room, and more effective rain run-off.
The inner and the outer are separate when you get the tent out for the first time. However, if you keep them attached after first use, it will mean it's even quicker to get up the next time! Just make sure there is no condensation between the two layers before packing away.
The layout
The bedroom compartment comfortably slept the four of us overnight. Even with little ones sleeping at perpendicular angles. And the darker fabric reduces the amount of early morning light.
There is a covered porch area, perfect for storing camping gear, hiking boots etc. You'll also find small pockets to store things, and lantern hanging points in the bedroom.
Although as this tent is compact and lightweight, you are unable to stand in it, which is to be expected.
Will it stand the test of time?
Our 4 year old fell on to the tent and snapped one of the poles. I couldn't believe it. Before we even slept in it for the night! Typical. Kids, eh? Thankfully, you can buy replacement poles online, and prices are very reasonable.
As for the material, Vango states that the Spey 400+ has 'robust and hard wearing fabric to stand up to the rigours of the most active campers'. It certainly looks good quality fabric, and I've always trusted the Vango brand, but this is something that only time will tell.
I should also mention the 'Tension Band System'. This prevent sideways movement in strong, changeable winds. Thankfully, we didn't get to test out high winds in our garden. But its certainly peace of mind in the unpredictable British weather.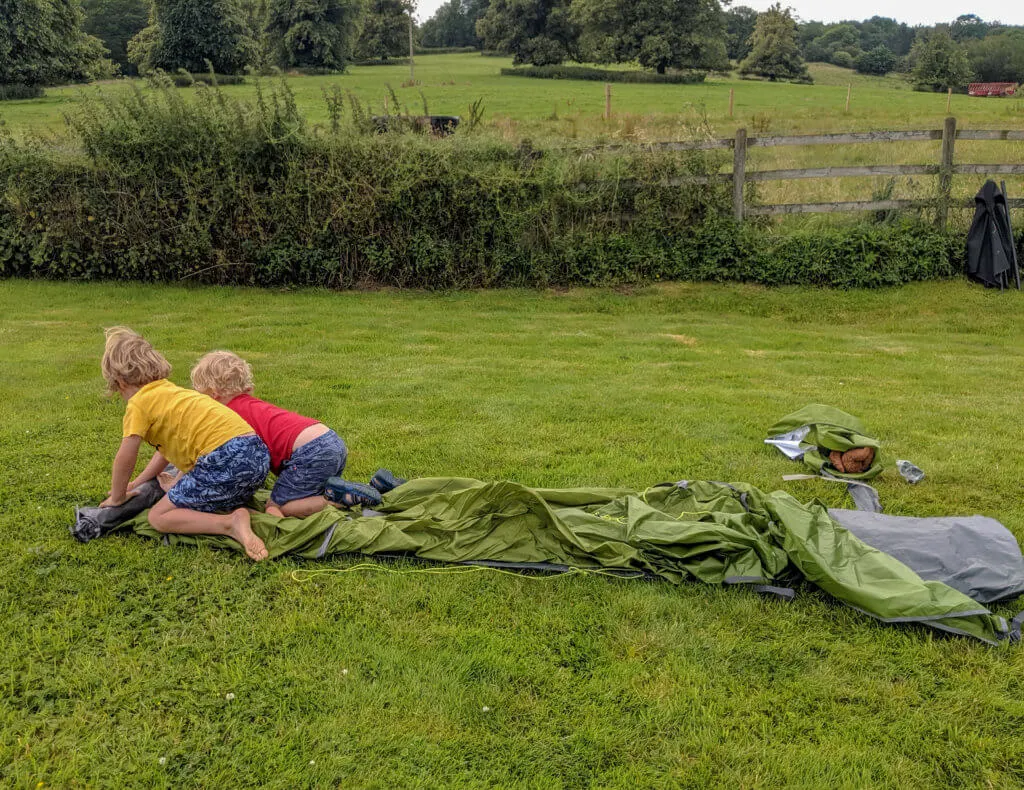 Would I recommend the Vango Spey 400+?
This tent is a great budget option and perfect if you need something small and lightweight.
This isn't the tent to take on a week long trip as you'll get frustrated not being able to stand up in it or not having enough space to spread out. But that's not what this tent is for. This is for the short, active trips, and perfect for carrying on a family hike to a campsite.
Click here to purchase the Vango Spey 400+
---
You may also like to read:
The best family air tent? The Vango Edoras 500XL Air REVIEWED
Camping with kids checklist – includes FREE printable download
Unique France road trip itinerary for a summer camping with kids