We believe you can travel with kids at any age and should definitely start them young. Admittedly those sleep deprived early years are somewhat challenging, but babies are much more portable than teenagers! Though people do keep telling me it gets easier as they get older. Is this really true? I certainly feel that it's easier travelling with my boys now they are 4 and 6 years old. But, is there an optimum age for that once in a lifetime trip? What is the best age to travel with kids?
I published a post about why I believe preschool is the best age to travel with kids after our year in India and four months traversing sub-Saharan Africa in a Land Rover with roof tents. But as our boys have only just started school, we're yet to experience travelling with older kids. So I reached out to some of my favourite family travel bloggers who travel extensively across the globe to give us the lowdown on each age group for travelling with kids.
BABY 0-2 years
by Leona from Wandermust Family
We love travelling in the 0-2 age bracket! Many first time parents are intimidated to travel with their baby but they really shouldn't be as in my opinion the toddler years are harder!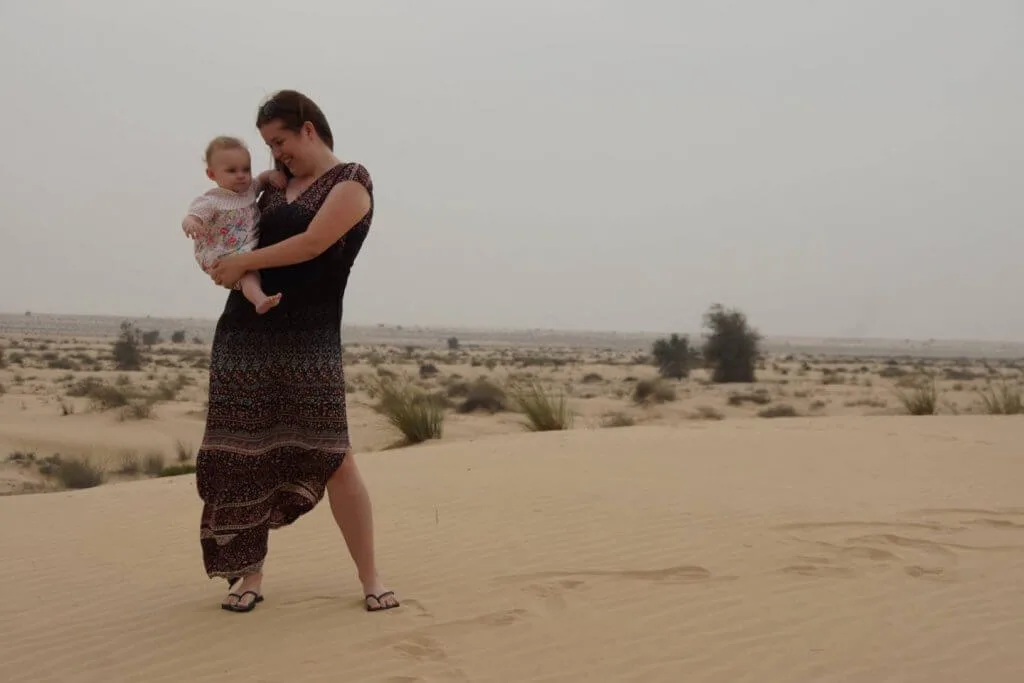 We love the fact that travelling at this age makes you travel slower, and you see and do things that you perhaps wouldn't have done pre-kids. On the plus sized too – children under two can travel for free on airplanes!
Under two your child is pretty portable which makes destination planning pretty easy! Yes you will have to take some paraphernalia but even then you don't need to take as much as you think!
Our favourite experience was travelling around Japan with our under two taking in the beautiful outdoor spaces, gardens, temples and even giving her her first taste of Disney. Also, at this age a good travel stroller is an essential and we recommend the Familidoo!
PRESCHOOL 3-4 years
by Jenny from TraveLynn Family
The days of hunting down nappies in markets and ensuring we always have milk handy are thankfully behind us. There are still the occasional meltdowns and tantrums when they're tired, but this age is so beautifully inquisitive about the smallest things and they don't need expensive excursions to keep them entertained; just ensure you always have snacks handy. Schooling is not yet an issue which means that you can travel off season for the better deals, and they learn through everyday play; what better way to do this than through travel?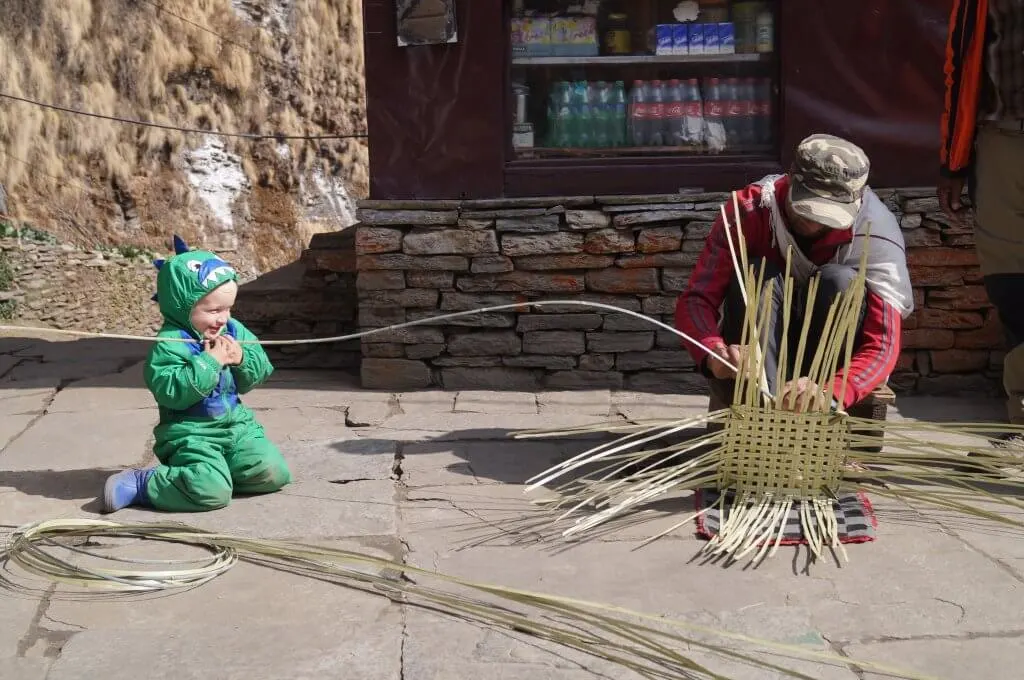 They still need a lot of sleep at this stage and when travelling, we always ensure we have some downtime during the day (which is always very beneficial for us parents to take a breather too!) Furthermore, they don't have that attachment of missing friends from home and are happy just playing with mummy and daddy (although it's always a bonus when they make a new buddy in the playground).
Our best trip with our boys this age has to be our 4 months traversing sub-Saharan Africa in a Land Rover. It's not an obvious destination for kids of this age and many parents would worry about safety and malaria. However, we never once felt threatened and took all the necessary precautions for malaria. It was the perfect adventure for our boys; spotting wild animals on safari, running down sand dunes in Namibia and playing on remote beaches in Mozambique, all whilst cooking every night on an open fire before retiring to bed in our Land Rover roof-tents under the African stars.
I never pack toys for my boys as they seem to have a novelty value of two minutes. Maybe the odd dinosaur or car. But toddler scissors and glue are always packed (they love cutting out brochures and sticking leaves together), and we always ensure we have their Amazon Fire Kids' Tablets with all their favourite TV shows and games downloaded. Perfect for that much-needed downtime.
PRIMARY age 5-10 years
by Keri from Our Globetrotters
We have travelled with all of our children since they were infants, and although there were ups and downs along the way, we got through those tough toddler years and we have finally seen the light! Travelling with primary school age children has brought about so many more fabulous opportunities.
We could start with how much LESS gear we need to bring with us – we have carry-on only in our sights now we are no longer traipsing along strollers, car seats, portacots, boosters, slings and lord knows what other essential supplies that we apparently couldn't live without (we are still working on cutting back the number of teddies that apparently need to see the world!)
Now we will never be full time world schoolers so we do fall foul of needing to book our major trips during school holiday time. However, for this age group travel has been the perfect supplement to what they have learnt in the traditional classroom setting. Our oldest daughter has a learning difficulty and has struggled with book work at school. By combining what we can find online and actually being able to visit many of these places it has opened up so many opportunities for her to learn in a different way. We have visited Jerash in Jordan where the Romans were brought to life for her; now she is studying Ancient Egypt and we will be visiting Luxor and Aswan over the winter. Being able to see, feel, smell and taste the real thing while you are learning is absolutely priceless to watch.
Another huge advantage of this age group, other than their fabulous curiosity and a bit more patience (let's be honest, a lot of travelling is actually waiting!) is the ability to listen. I wouldn't say it's all the time but understanding instructions on safety, why we do things a certain way, knowing where the boundary is makes travel in many ways much safer and more manageable, particularly as we are a larger group and the children outnumber us!
The most important item our kids pack at this age is colouring. We always make sure there's a fresh note pad or colouring book in their packs. It's perfect for filling down time, sometimes they are inspired to start journaling or drawing their adventures. And yes, our younger boys still do bring teddies everywhere and we still need to include them in our rounding up headcount at least 12 times a day. At least they DO carry their own packs and are a lot more responsible for their belongings.
EARLY SECONDARY age 11-14
by Nicky from Go Live Young
We've always travelled a lot but it wasn't until our kids were older that we really started exploring the world together. Just last year we returned from a nine month round the world trip with our three boys. Here's why we believe travelling with kids aged 10 -14 is the perfect age to travel and adventure:
They learn so much while travelling – kids are like 'sponges' and at this age they're learning and remembering it all. Our boys have learnt so much from their travels around the world. Alongside their learning they've become confident, adaptable and worldly wise.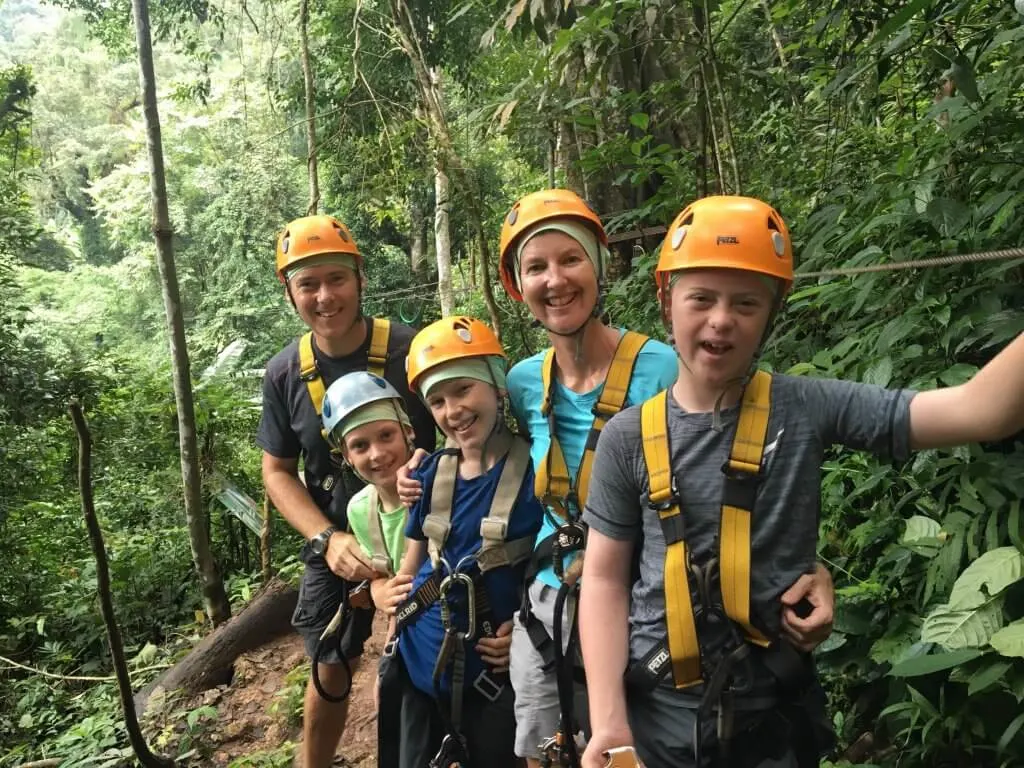 At this age they're old enough to enjoy and participate in most experiences – we've experienced river rafting, snorkelling, zip-lining, sea kayaking and hiking as a family. Shared memories that will last their lifetime.
They can carry their own stuff – a definite plus! They carry their own stuff and are responsible for keeping it organised. A great life lesson in itself!
Barriers are broken down – travelling with children means that everybody talks to you! Kids can be a great ice breaker. We've met and chatted to so many people as a result of the boys.
Consideration at this age has to be give to schooling. We decided to take our boys out of school for ten months to travel the world but we continued their schooling with daily lessons and learning through travelling. They're now back in school and our travel takes place in the holidays. There's actually plenty of holidays throughout the year, you just have to smart about where you go and booking ahead for the best prices. For some families, the teenage years can be a transition period where they miss their friends back home and don't necessarily want to travel. We haven't experienced this yet!
We've been lucky to have so many wonderful experiences but some highlights include: hiking the Tongariro Crossing in New Zealand, trekking with Komodo dragons in Indonesia, snorkelling on the Great Barrier Reef, hiking the Great Wall of China and being on safari in South Africa.
My boys would all say their must have items for any trip would be their kindles, for hours sent travelling, and some card games for playing with mum and dad. I have to mention the dreaded electronics at this age, whether it be phones or iPads, but actually our boys travelled the world for almost a year with iPods, only using them on travel days!
TEENS age 15-18
by Kirsten from Kids Are A Trip
We have been travelling with our kids from the moment they were born, and can easily say that travelling with teens has been our favourite age. The years of packing multiple bags, hauling all of the gear, and dealing with meltdowns is finally behind us (for the most part). It has been rewarding to see how our tiny travellers have grown into self-sufficient, thoroughly engaged companions who have their own opinions of what travel could and should look like.
This age group gets a bad rap for constantly being "plugged in" and their inability to enjoy the moment. That may be true for some, but we've found, our kids are actually able to set some boundaries when travelling, using the phone for photos and sharing, but enjoying the rest of the time as a family. There can also be a "fear of missing out" factor, as in, all of their friends at home are doing something, and they can't be there. If this describes your teens, leave the phone at home. We've done it, and it's amazing how much it can change a vacation. Teens will complain the first few days, but after it all sinks in, they really enjoy the experience.
With regards to favourite vacations, I think every teen will be different, but ours really have enjoyed unplugged, adventure vacations. Think Costa Rica and Colorado dude ranch. These both offered a healthy dose of adventure, delicious food, and education, and were far enough out of their comfort zones to convince them to go in the first place.
My teens would easily say their favourite item to bring along is their phone, but I'm a big proponent of leaving those behind. We only get so many years to travel with our kids, so if these are some of the best, why miss out on them? The teenage years heading into adult hood have been some of my favourites, and I plan to enjoy every minute.
So… what is the best age to travel kids?
From reading what my fellow bloggers and globe-wanderers have to say, I'm not sure there really is a 'best' age for travelling with kids; each age has it's pros and cons and no age really stands out as a 'winner'. So my thinking is, why wait for that 'perfect age'?
But what do you reckon? What do you think is the best age for travelling with kids?
Disclaimer: This post contains affiliate links. Should you click on a link to purchase, it is at no extra cost to you, although I get a small commission that goes towards the running of this blog.
---
You may also like to read:
How to maximise your annual leave allowance for 2020
Our best family travel destinations in 2020 for intrepid families
Tips for travelling with young kids