Are you looking to do 4 Island Tour from Koh Lanta with kids? Read on…
With life-jackets on, my 2 year old clung on to my back and I started swimming towards the dim torch-light disappearing ahead into the tunnel. We entered the darkness and Ezra started to get a little unsure, so instead I held him in my arms and kicked through the water. Why didn't I put on the flippers!?
Disclaimer: Our tour with Lanta Garden Hill Tours was complimentary. However the opinions and words are all my own, based on our own experiences.
As the torch light ahead disappeared, I looked behind me and realised I was in the depths of the tunnel, swimming through unable to touch the floor, in complete and utter darkness.
I couldn't even see Ezra who I was holding in front of me. "Isn't this exciting mate?" I encouraged trying to keep my cool, whilst Ezra kept an eye out for dragons.
Thankfully I could hear Jay and Arthur nearby and I kept kicking away hoping to see light soon. How was I not moving forward? Kick, kick. Kick, kick. Kick, kick.
Finally, the light started to stream through and a big burst of wave carried us through to the end of the 80 metre tunnel. As I found my feet, I stood up and looked around. A 360 degree rainforest wall towered over us and disappeared into the clouds above, protecting a pristine lagoon, hidden within the island. Magical.
It is known as Emerald Cave and the easiest way to experience it is on The 4 Islands Boat Tour, a must do for any Thailand itinerary. We took this tour as a day trip from Ko Lanta, where we were based for a week. You can read about our time in Ko Lanta here.
And if you want to get some good underwater photos of your kids snorkelling, makes sure you check out these best underwater cameras.
4 Island Tour Koh Lanta Boat Tour
TraveLynn Family and friends (4 adults and 4 children aged between 2 and 4) were invited to experience the 4 Islands Boat Tour with Lanta Garden Hill Tours via Asian Evolution Tour. Unfortunately the weather gods were not kind to us this day. Rain and clouds persisted throughout the tour. It's a shame we didn't get to see these beautiful locations in all their glory, but the kids found the snorkelling, swimming and speedboat more than enough fun! And this snorkelling adventure was easily one of the best activities we've done in Thailand with kids.
We were picked up by a songthaew from our hotel at 8:30am to take us to the meeting point on the beach and soon after a speedboat arrived. There were a couple more pick-ups and once all 24 were onboard, we were on our way! All boys (the big ones too!) absolutely loved bouncing over the waves, waving back to Ko Lanta as it disappeared over the horizon.
The morning was spent snorkelling at Koh Ngai and Koh Chuck, with about 40 minutes at each location. The two year olds were happy to bop around in their life jackets, whereas the 4 year olds were able to explore underwater. The kids snorkel and googles provided for my 4 year old were too big, but thankfully we had packed his swim goggles from home and he was happy to hold his breath. I wouldn't say that we saw many tropical fish, but the kids still got very excited about the few the past us by.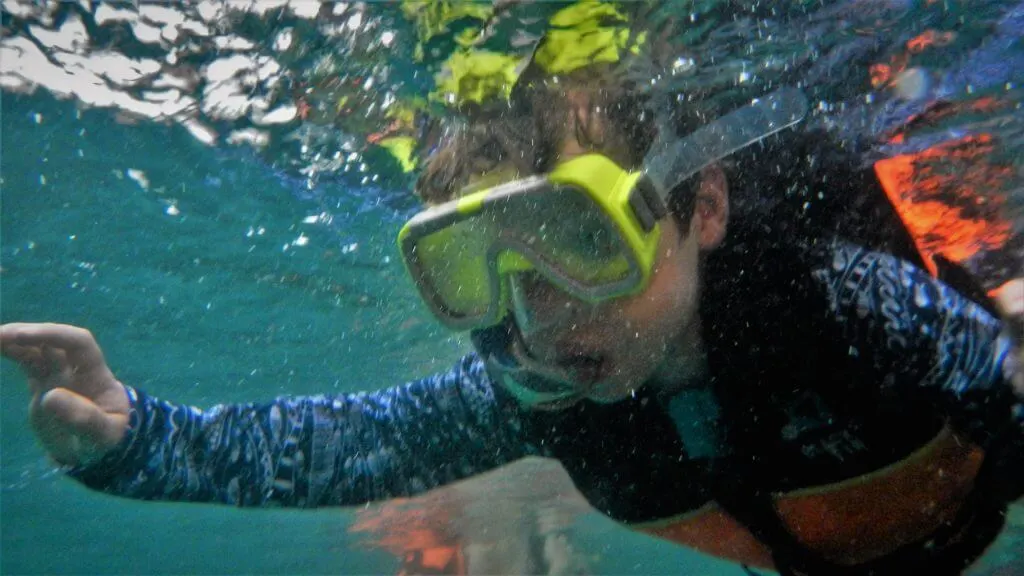 A buffet lunch of local food was served at Koh Kradan. Usually this would be on the beach, but due to the weather, we all took cover under a shelter with plastic chairs. As with any tour, the day is carefully timed and we were going to be on the island for 1.5 hours. So rather than hiding under cover, trying to entertain the kids, we all decided to embrace the rain and jump in for a swim. We were wet anyway!
In the afternoon we visited Koh Mook, to explore Emerald Cave (described at the beginning of this post). This has to be the highlight of the tour for all of us. We had to share the experience with a fair few other tourists, although that didn't take away from the magic. The boys considered the lagoon the perfect place to look for dinosaurs.
It was then about an hour by speedboat back to our drop-off at Ko Lanta. All boys were fast asleep on the return journey. BIG day.
How strong a swimmer does everyone need to be?
Although everyone is provided with a life jacket, parents need to be confident swimmers and have the strength to support their little ones in the water. For the children, ensure the strap that goes between the legs is secured and fastened, otherwise the jacket may slip off. All children need to be comfortable in sea water (which is a slightly different experience to a swimming pool) and happy to get their faces wet. If this is not the case, the day may be hard work for all concerned.
Did anyone get sea sick?
When you first board the speed boat, it dances in the swell of the waves and the smell of petrol is strong. This may turn a few stomachs. However, as soon as the speed boat started moving and careering across the sea, with the wind in our faces, everyone was absolutely fine.
What should you take on a 4 Island tour Koh Lanta?
Water is provided on board and lunch is included. However, you should also bring:
Swim costumes – you'll be doing a lot of swimming!
Snacks – the kids will be hungrier than normal with all that swimming
Kids snorkel gear or swim goggles from home – the ones provided were too big and didn't fit properly.
Microfibre, quick-drying towel
Plastic bag to keep your things dry – water gets everywhere!
Change of clothes for kids in plastic bag to stay dry
Waterproof jacket or poncho – between swim and snorkel spots, you may get cold on the speed boat (especially if it's raining!)
Waterproof suncream, sun hats and sun glasses – for the majority of visitors blessed with better weather than us!
Waterproof camera! Although for Emerald Cave, the guide takes a diver rolling bag (waterproof) to keep cameras dry through the tunnel.
How much does the Tour cost?
At the time of writing (December 2017):
Adults – THB1700
Children aged 4 to 11 – THB850
Children under 4 – FREE
Check out this post from Dive.in if you have older kids and looking to do some diving in Thailand.
---
You may also like to read:
Ko Lanta with kids – Klong Dao Beach
A day in Bangkok with young kids
A 10 day Thailand itinerary with young kids and no internal flights or overnight trains