There are some destinations that instantly conjure images of exotic, picture-perfect adventures, and Borneo is certainly one of them. From the chance of an intimate catch-up with Orangutans at Sepilok, to watching a mother turtle lay a batch of eggs under the moonlit sky, a trip to Borneo with kids will stay with you forever.
As part of our Southeast Asia backpacking adventures, we spent almost three weeks travelling around the eastern state of Sabah so our guide and itinerary focuses on this corner of the island. But with so much to see and do, Sabah feels like a country in its own right and, once you've spent some time here, you'll be desperate to return and explore more of the island.
We've condensed our three week adventure into a 12 day Borneo family itinerary for you to follow and get the best out of your trip; this is one place you want to make the most of. But first, we answer some of your possible concerns around safety, visas, immunisations, and getting around, as well as suggesting the best things to do in Borneo with kids.
Disclaimer: This post contains affiliate links. If you click to purchase, it is at no additional cost to you, and I receive a small commission.
Is Borneo safe to travel with children?
This Borneo with kids guide focuses on the Sabah region of Borneo, so make sure you carry out additional research if you are intending to visit other regions of Borneo.
Sabah is a very safe place to visit with kids and you'll find the vast majority of people you meet to be friendly and helpful. As with anywhere around the world, it's important you take the usual precautions against pickpockets and petty theft which can still occur in the larger cities.
Road travel around Sabah might be a minor concern as most vehicles won't have car seats so you may need to bring these from home if you intend to use them.
There are general warnings regarding sea travel off the coast of Sandakan which we cover in our Selingan Turtle Island post. Whilst there is a minor threat of terrorism here, the Malaysian authorities patrol the area constantly, and many thousands of tourists each year enjoy a peaceful and trouble-free trip to the region.
How to get around Borneo with kids
We limited ourselves to Sabah during our Borneo trip, which greatly reduced the distances we needed to travel.
The ever-growing tourist numbers in Sabah have had a welcome knock-on effect to the transport infrastructure, particularly the road and air network. Where there was once no road linking Kota Kinabalu and Sandakan, you'll now find a well-maintained (but windy) road cutting through the island, providing a pleasant route between the two major cities.
For shorter hops, try to use the ride-hailing apps which are revolutionising travel in Southeast Asia.
Grab
Grab taxis are great for trips around Sandakan and Kota Kinabalu, and much easier than trying to use normal metered taxis.
As a family of four, the price was often the same or less than trying to use buses, with much less scope for getting lost. Make sure you download the app before your first trip, you may need to get a local SIM to receive a one-time passcode although we didn't need to for the Grab app itself.
Rides can be booked using the modern app which will be very familiar if you've used ride-hailing apps like Uber before. Amongst the many advantages, we loved that the driver always knew where we needed to go, there was no need to haggle on price, and we had the added security of seeing a rating for the driver before they arrived. In some cities, you can even request a woman driver if you prefer.
Bus
The road network between the major cities in Sabah is in good condition with buses linking most towns together. The buses are comfortable, with reclining seats, footrests, and air-conditioning. We didn't come across any with on-board toilets but there were well-planned rest stops along the routes for you to take care of business, and also pick up some drinks and snacks.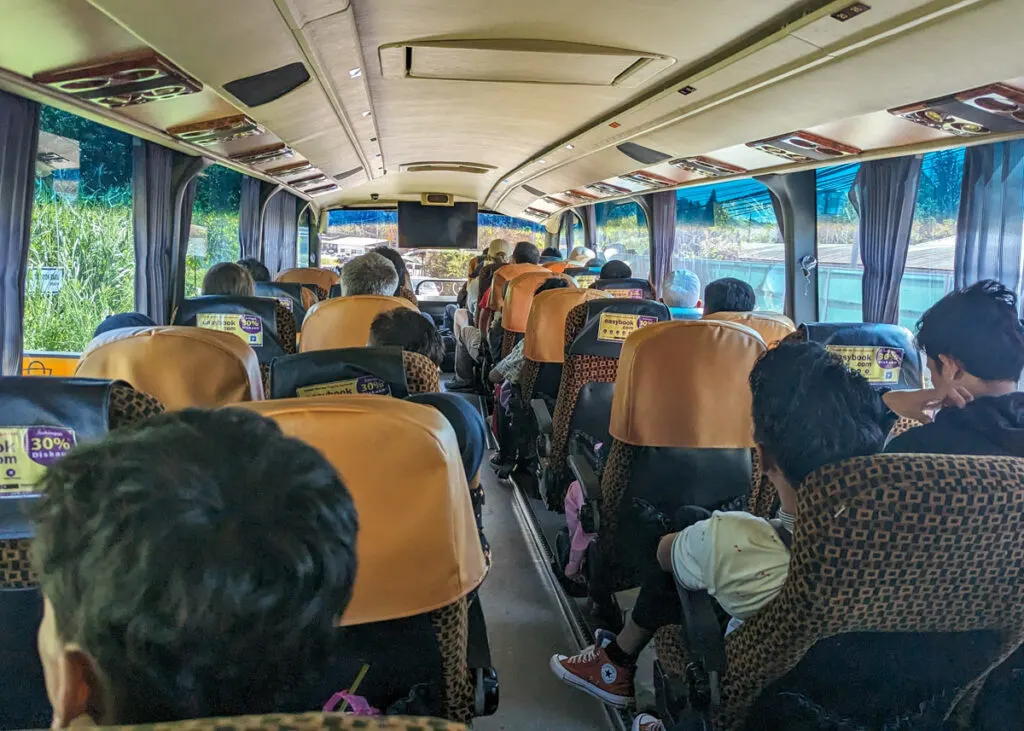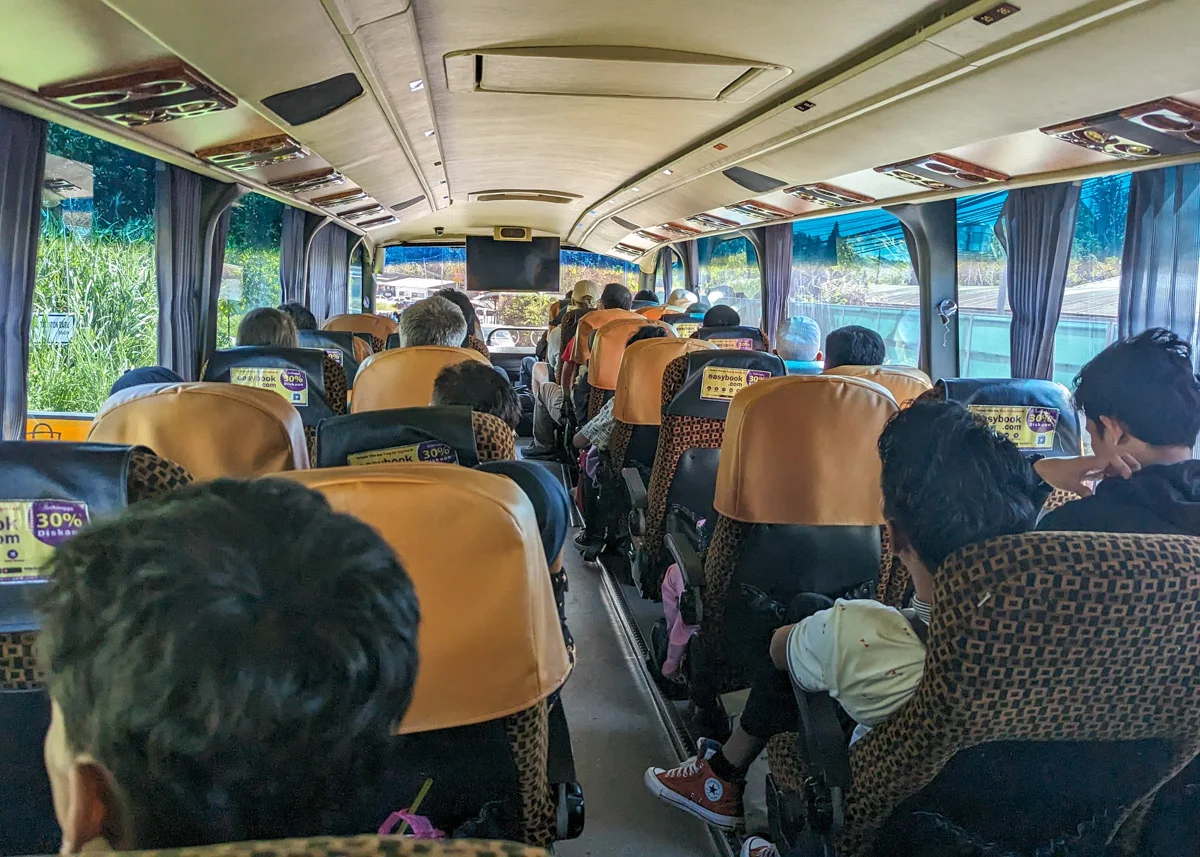 There are a small number of bus companies plying routes across the country, it's easiest to book online unless you happen to be at the bus station already. There is a small booking fee added to each ticket, but the convenience makes it more than worthwhile.
We tried a few websites but kept coming back to Easybook; the website was easy to use and lets you plan ahead by showing routes and available seats. Payment can be made using international cards, which usually worked, but you can also pay via a Malaysian bank account or with several 'easy pay' methods, like GrabPay.
Buses are cheap (we paid RM43 each to get from KK to Sandakan which is a 7.5 hour journey) so we never considered hiring a car which would've worked out more expensive and more hassle, but it would give you more flexibility. Some of the bus companies and routes offered slightly cheaper child tickets but usually it was the same price for adults and children.
Bear in mind that on some routes (e.g. KK to Sandakan) you can't book part tickets (i.e. from Ranau to Sandakan if you're stopping at Poring Hot Springs), so you'll need to book tickets for the whole journey and inform the bus company of your pickup point.
Plane
Flying is popular between Sabah's major cities (predominantly Kota Kinabalu, Sandakan, Tawau and Lahad). There are also flights back to Peninsular Malaysia, particularly KL and Johor Bahru.
Consider the environmental impact of short flights before booking, but you can get good deals with AirAsia, Firefly or Malaysian Airlines between the cities. Factor in luggage costs and getting out to the airports but flying times between all the Sabah cities are never more than one hour, making it a good option if you're short of time.
Boat
As a tourist, the main reason to use boats in Borneo will be to reach the nearby islands of Selingan Turtle Island from Sandakan, Tunku Abdul Rahman National Park from Kota Kinabalu, or for a Kinabatangan river safari.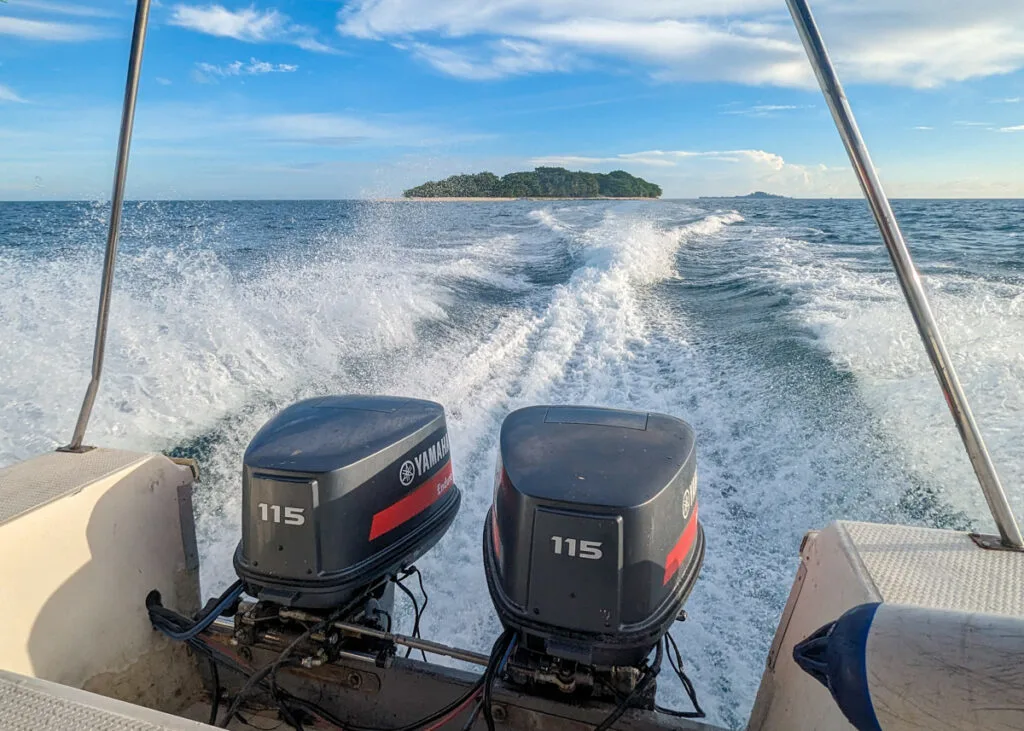 It's difficult to book these independently (particularly with Selingan Turtle Island) so do check our guides for Selingan Turtle Island and Kinabatangan river safari.
For Kota Kinabalu island hopping, it's relatively easy to book the day or two beforehand at the Jesselton Point Quay where the tours depart from.
Visas for Borneo
Citizens of most countries (including the UK, USA, Australia, NZ, and the EU) don't need a visa to enter Malaysia and are usually given a 90-day stamp on arrival. Note that when travelling to Borneo from Peninsular Malaysia, you'll need to show your passport and go through immigration and you'll receive another stamp in your passport. This doesn't affect your permitted length of stay in Malaysia though, it'll remain at 90 days from when you first arrived in Malaysia.
If you do need a visa, apply for an e-visa in advance, check the Malaysian government website for up-to-date information.
Immunisations for Borneo
It's essential you speak with a medical professional before travelling to Borneo to check which vaccinations and anti-malarials you may need.
In the UK, the excellent Fit For Travel website from the NHS has all the information you'll need. Make sure you plan ahead for any vaccinations as some require a longer course of injections over a few weeks.
The majority of Sabah is considered low or no risk for malaria so, unless you're in a high-risk group, anti-malarials aren't usually required, but please check yourself. Fit For Travel has another excellent map to check the current situation.
Tips for travelling Borneo with kids
Book tours for Selingan Turtle Island and Kinabatangan river safari at least a month in advance during the high season (July-August).
Pack a pair of long trousers and a long-sleeved top to protect yourself from mosquitoes in the jungle.
Use mosquito repellent with DEET in the jungle (we use Jungle Formula). You can pick up mosquito repellent with DEET from Watsons in Kota Kinabalu, although we found they had run out on a couple of occasions.
Pack a poncho or light rain jacket. It will rain at some point. This is the tropics.
Consider bringing your own snorkels for Kota Kinabalu island hopping. The ones we hired from the tour company were in a very sorry state and over-priced.
Unless you're planning on trekking Mt Kinabalu (which isn't included in this Borneo with kids itinerary) you don't need to pack hiking boots; trekking sandals are fine (we love KEENs for all the family). For the jungle treks on the Kinabatangan river tour it's actually recommended to wear wellies as it's so muddy and to protect your calves from snakes (these can be hired for a nominal fee and there are plenty of kids sizes).
You will find yourselves on a lot of tours in Borneo, whether it's to visit islands or see wildlife. Whilst we love independent travel, unfortunately tours are a necessity in much of Borneo. These can be full-on and we recommend allowing downtime days in between if you can, especially as there are lots of early morning starts and late evenings.
The road between Kota Kinabalu and Sandakan is long and windy. If any members of your family suffer from travel sickness, consider flying between the two towns and give Poring Hot Springs a miss.
Top 8 things to do in Borneo with kids
Check out our Southeast Asia packing list for families
12 days Borneo with kids itinerary
From our time travelling Borneo with kids, I have compiled the 12 day itinerary, detailed below. Please note that his only focuses on Sabah in Borneo.
If you have extra days to spare, I would recommend using them at the Nexus Resort & Spa just north of Kota Kinabalu for some luxury and downtime. Alternatively, if you want to fit more destinations into your time, you could fly to Sarawak, perhaps to Kuching, to explore another side of Borneo with kids.
However, the following tried and tested itinerary gives you a good insight and includes all the necessary highlights of visiting Borneo with kids, including seeing the mother turtles laying eggs on Selingan Island, seeing the orangutans at Sepilok Orangutan Rehabilitation Centre, and a Kinabatangan river tour. In fact, the main highlights are all around Sandakan. So if you are short on time, I would actually recommend giving Kota Kinabalu and Poring Hot Springs a miss, and focus your time in Sandakan.
Day 1-3: Kota Kinabalu
READ: Visiting Kota Kinabalu with kids
Accommodation: Homesuite' Home
(£35pn for a 2bed apartment. It's clean, has a small kitchen, superb views from the 23rd floor, and there's also a swimming pool and playground on the 7th floor.)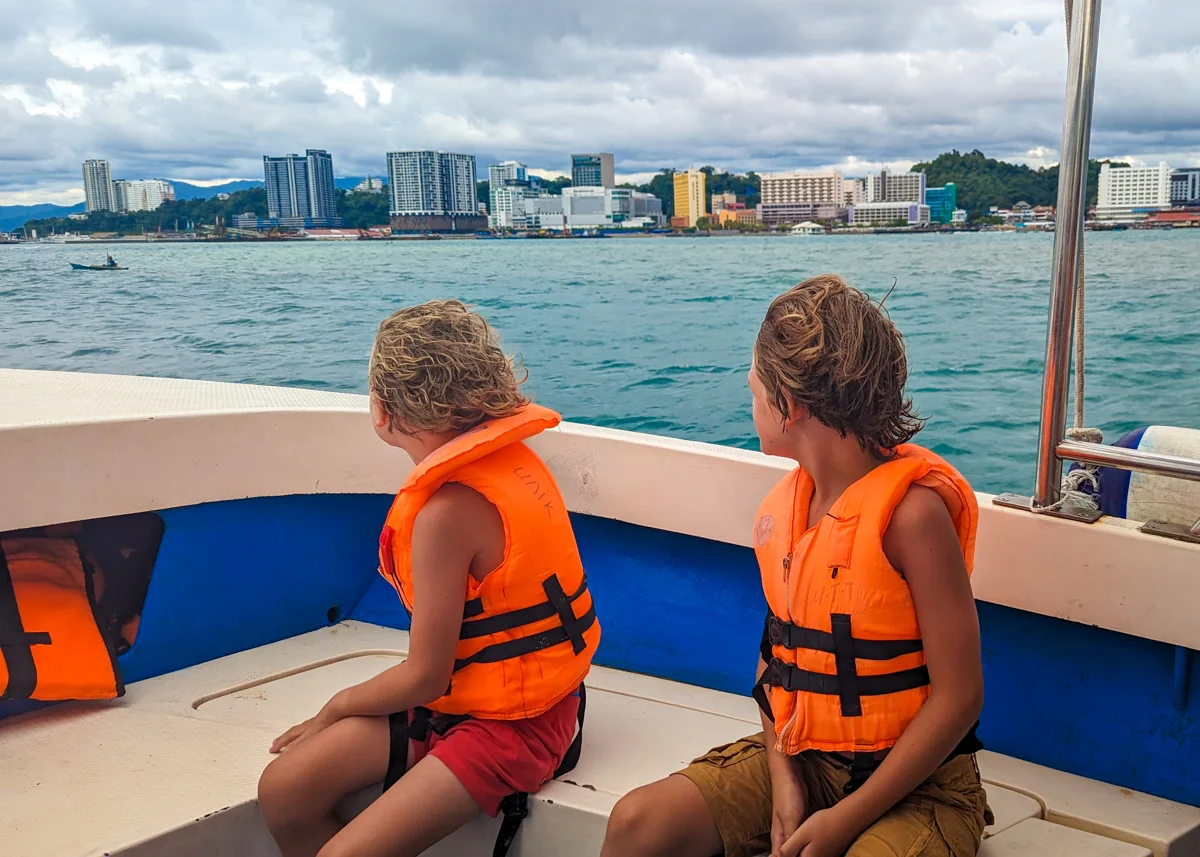 Two days in Kota Kinabalu with kids allows you one full day to do a Kota Kinabalu island hopping tour (head down to Jessleton Quay the day before to book your trip) and another day to visit Sabah Museum or Mari Mari Cultural Village, and visit the superb night market for dinner (held from 5:30pm every night, click here for location).
However, Kota Kinabalu is also the place to treat yourselves with some luxury accommodation as you won't find this elsewhere in Sabah. We highly recommend at least one day at Nexus Resort & Spa. The pool complex is great for kids, and the sunsets from the private beach are stunning.
Day 4-5: Poring Hot Springs
READ: Poring Hot Springs, Borneo: your essential guide
Accommodation: Kinabalu Poring Vacation Lodge
(£26pn. A friendly homestay, 15 mins walk from the hot springs, although the host is happy to drive you there. Very basic family room, ensuite. The communal area is rather messy with cluttered with bags and piles of stuff everywhere.)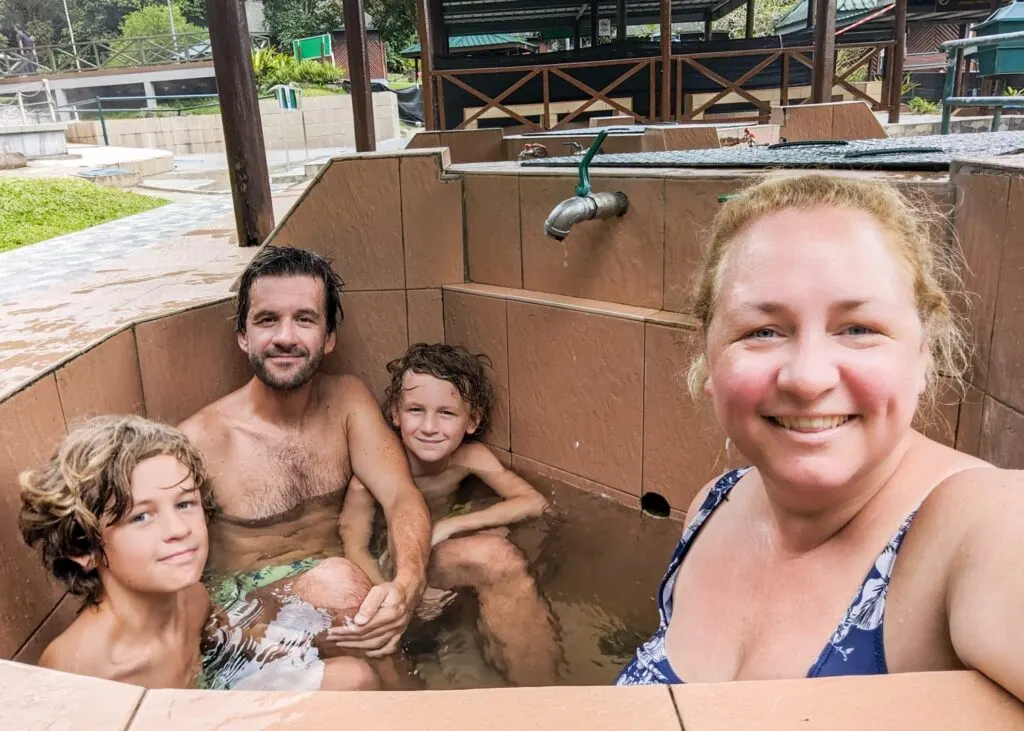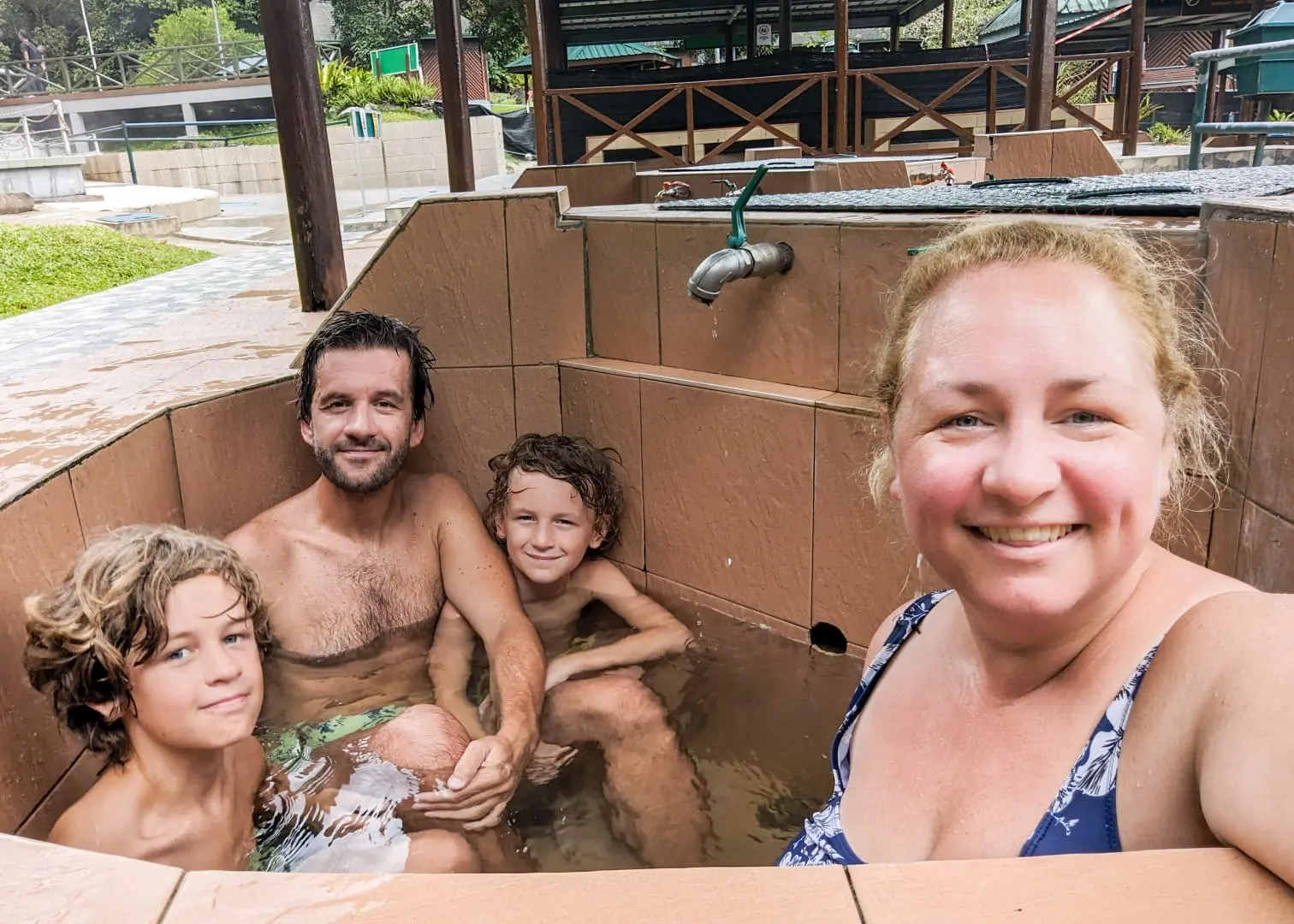 On day 4, take a bus or minivan from Kota Kinabalu to Sandakan (you can pre-book bus tickets on easybook), and ask to be dropped off at Ranau. You will need to pay the full fare from Kota Kinabalu to Sandakan, even though you'll be jumping off at Ranau. From Ranau, your accommodation near Poring Hot Springs will be able to collect you.
Allow a full day at Poring Hot Springs, as it's not just the baths of hot, sulphurous water to enjoy, there's also a superb Poring canopy walk, a butterfly park, and a worthwhile walk to a stunning waterfall. The baths themselves cost MYR10 each for three hours (a good 45 mins of that is waiting for the bath to fill with water).
Check out our guide: How to get from Kota Kinabalu to Sandakan
Day 5-6: Sandakan
READ: Visiting Sandakan with kids
Accommodation: AeCOTEL
(£26pn for a twin room. No family rooms, so we had to book two separate rooms next to each other. Exceptionally clean, standard room, ensuite, good location. The supermarket downstairs is very handy.)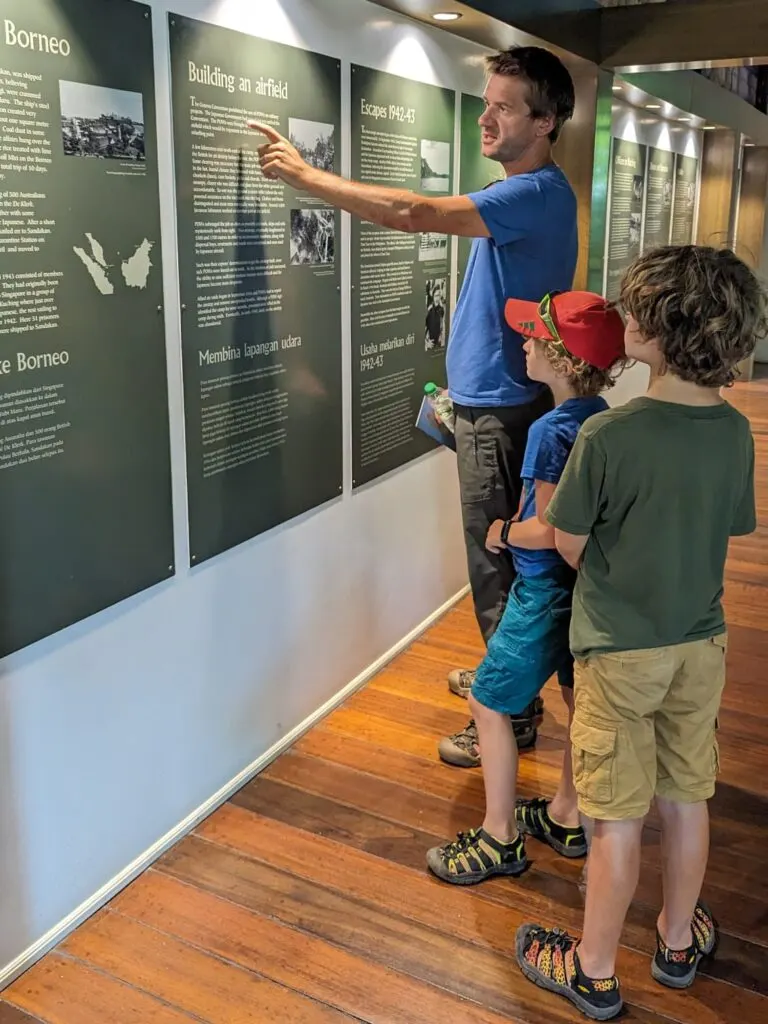 Sandakan is a popular base for some of the best wildlife experiences in Asia. But many travellers miss out the town of Sandakan itself and head straight off to river cruises, Sepilok (for the orangutans), or out to Turtle Islands.
Catch the the bus from Ranau to Sandakan (make sure you pre-book tickets on easybook) and stay in the town for a couple of nights. This allows one day to get to Sandakan and another day to explore.
Sandakan is a really interesting town of contrasts and history. This is where the POW camps were based, and the start of the death marches where thousands of mostly Australian POWs died. There's also an interesting British colonial history, and even though the town is backed by wild jungle and the waterfront supports a floating village, there's a shopping mall.
Start your day with a visit to Sandakan Memorial Park, which is excellently curated, before heading over to Agnes Keith's House to understand the colonial history of the region. A stop at the English Tea House is very worthwhile. Along the waterfront, next to the mall on the McDonald's side, is a stretch of restaurants for dinner.
Day 7: Selingan Island
READ: Selingan Island, Sabah: visiting the turtles in Borneo
Tour operator: Crystal Quest
(£273 for the overnight tour for our family of four, which included lunch, dinner, and breakfast, return speedboat from Sandakan, two AC ensuite rooms, turtle viewings. Snorkel gear not included and poor quality, we recommend bringing your own.)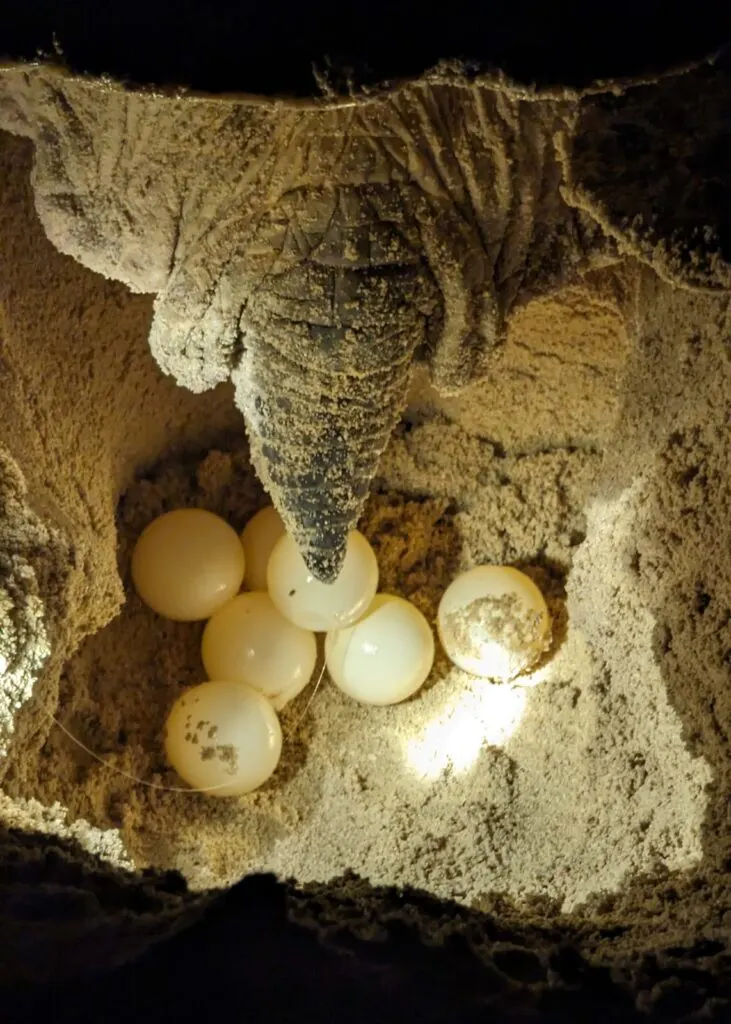 There's only one company that goes out to Selingan Turtle Island and numbers are limited, so make sure you pre-book your trip with Crystal Quest as far in advance as possible. We had no luck booking online through their website, but instead used the phone number on their website and booked via WhatsApp.
A speedboat takes you from Sandakan out to the island (1hr) and you have the afternoon free to walk on the beach and snorkel (AMAZING snorkelling). Then in the evening after dinner, you wait in the central area until the ranger reports that a mother turtle is laying her eggs. Be prepared to wait a while, we had to wait until 11pm. Afterwards the kids can release newly hatched baby turtles into the sea (which have been carefully looked after at the hatchery on the island for the last 50-60 days).
Overnight accommodation is included and in the morning after breakfast, it's a 7am return on the speed boat back to Sandakan.
Day 8-9: Kinabatangan River (3D/2N)
READ: Exploring the Kinabatangan River with kids
Tour operator: Asia Green Travels
(£317 – MYR1860 for a 3 day / 2 night river experience. Includes 2 nights in a ensuite AC family room, 3 river cruises, 2 jungle night walk, 1 jungle day walk, 2 breakfasts, 1 lunch, 2 dinners)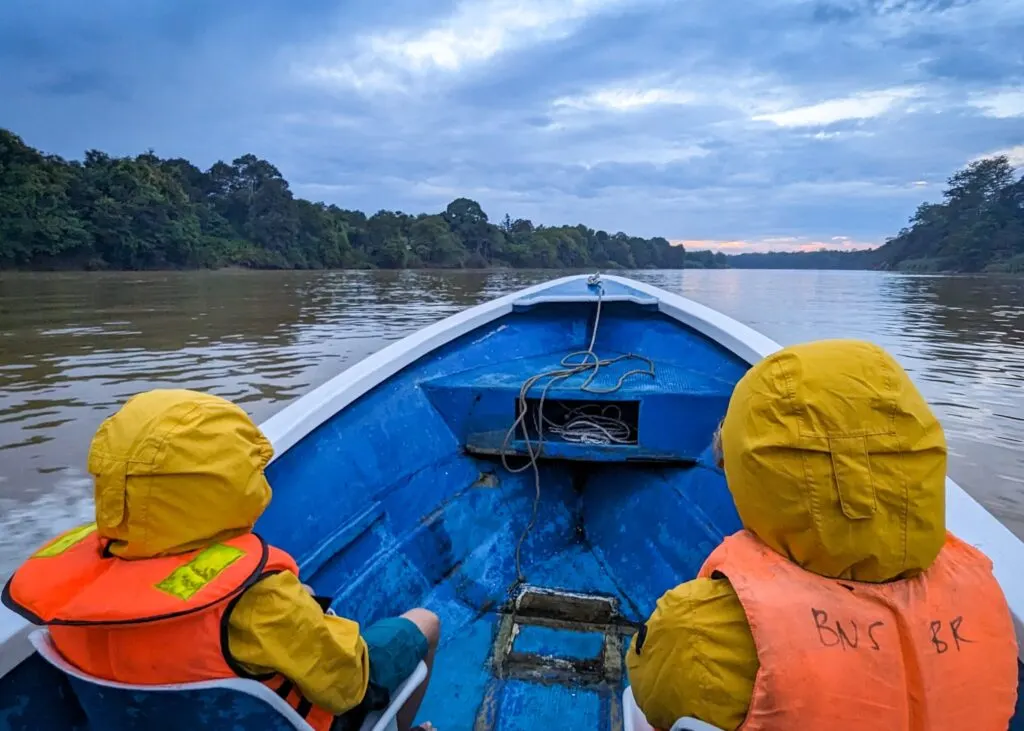 It's an early start to catch the 7am ferry back to the mainland. The pick up time for the Kinabatangan 3D/2N river tour will be closer to noon, so you will have time in Sandakan for a wander.
You will be picked up by bus in central Sandakan by the tour operator and driven to the resort. We booked through Asia Green Travels and stayed at Sukau Bilit Resort.
The resort is very well organised, if slightly regimented with everyone following the same routine of river cruises, night walks, and sunrise tours. At times, the restaurant gets very busy with blocks of seats reserved for tour groups and the rather repetitive and basic meals laid out on large tables. But it's not the food you're here for, instead the amazing wildlife which included hornbills, proboscis monkeys, macaques, crocodiles, and orangutans.
Over three days you will do four river cruises and three jungle walks (two after dark). You'll usually stay with the same guide throughout the tour which is handy because they'll know which animals you've already seen and try to complete the set for you.
The accommodation is lovely, set back from the river in separate, raised buildings. We chose the deluxe family room which had a double bed, bunks beds, en-suite bathroom, plus AC and ceiling fans. It was a lovely place to retreat to from the heat, particularly on the days we'd had the 5:30am alarm call!
Day 10-11: Sepilok
READ: Sepilok Orangutan Rehabilitation Centre, Borneo: tips for your visit
Accommodation: Sepilok B&B
(£58pn for a large family room, with AC, ensuite, and balcony. Breakfast is included, but very basic, and there's an onsite restaurant. A 5 minute walk around the corner is Rainforest Café with lots more food choice and you can use their pool for a small fee. It's a short 1.5km walk to Sepilok Orangutan Sanctuary, but along a road in the heat. Grab works in Sepilok and it's MYR4 to get around the tourist area.)
The tour bus taking you back to Sandakan can drop you off at your accommodation in Sepilok around noon.
Seeing these rescued orphaned orangutans at Sepilok Orangutan Rehabilitation Centre is often a top reason anyone visits Borneo with kids. With the catastrophic deforestation rates on this huge island, this rehabilitation centre has been a lifeline for these endangered apes and the work that goes into their rehabilitation is truly incredible.
However, it does get exceptionally busy, especially in the high season (July and August) and it's important to set expectations for your visit. For instance, the nursery (where the young orangutans play outside) can feel rather zoo-like as you're inside behind a glass wall, and at the main outdoor feeding platform, where the rehabilitated adult orangutans come for food, you may only see 1 or 2 (or even 0) orangutans. Read our tips for visiting Sepilok Orangutan Rehabilitation Centre. We recommend going to both the 9am and 2pm feeding sessions. Your ticket is valid for both.
But there's more to Sepilok than seeing the orangutans. Make time to see the rescued sun bears at Bornean Sun Bear Conservation Centre and the superb walking trails and canopy walkways at Rainforest Discovery Centre (RDC).
Day 12: Fly to your next destination
Time to leave Sandakan and either explore elsewhere in Borneo, perhaps Kuching? Or maybe it's onto Peninsular Malaysia for a night or two in Kuala Lumpur or Penang before heading home.
Although if you have LEGO fans in the family, we very much recommend fitting in a trip to LEGOLAND Malaysia after the end of your Borneo trip if possible.
Borneo destination guides for families
Here you will find the links to our focused destination guides in Borneo for deeper research.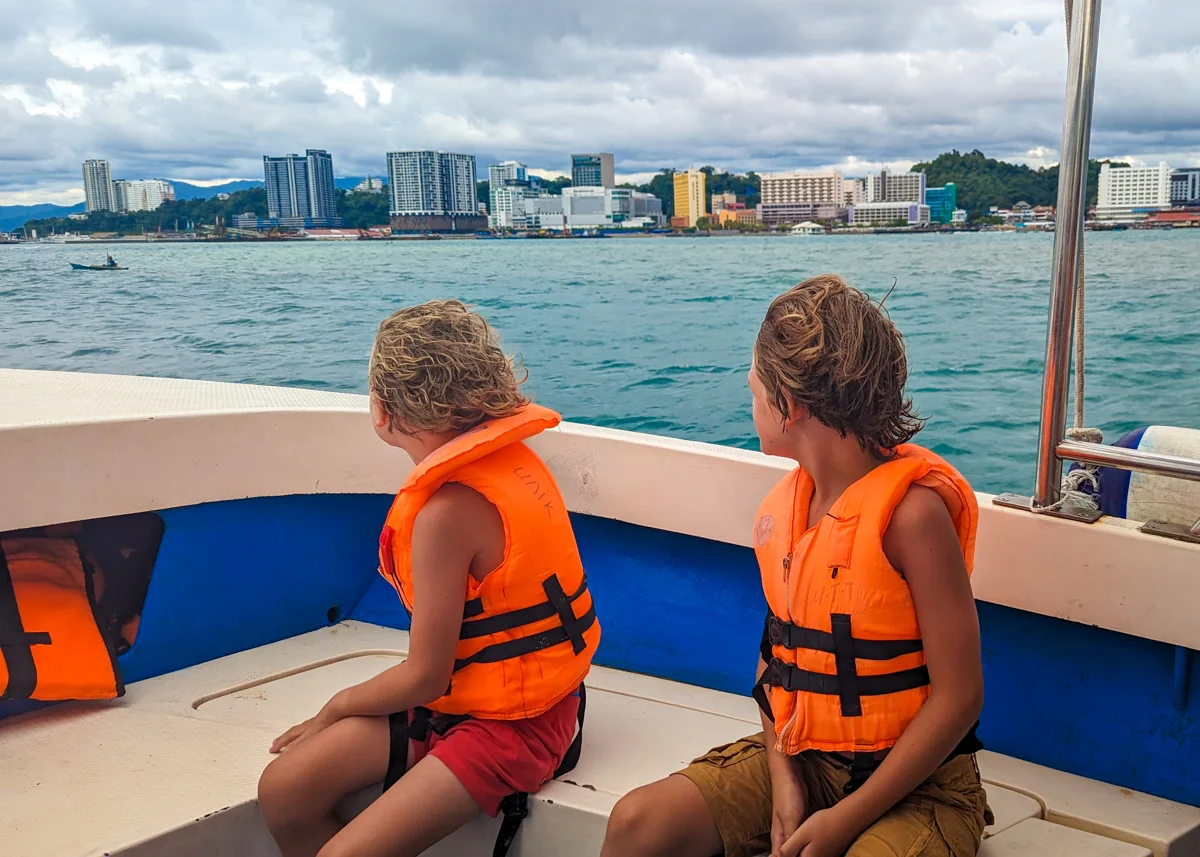 Visiting Kota kinabalu with kids
VISITING the SEPILOK ORANGUTANS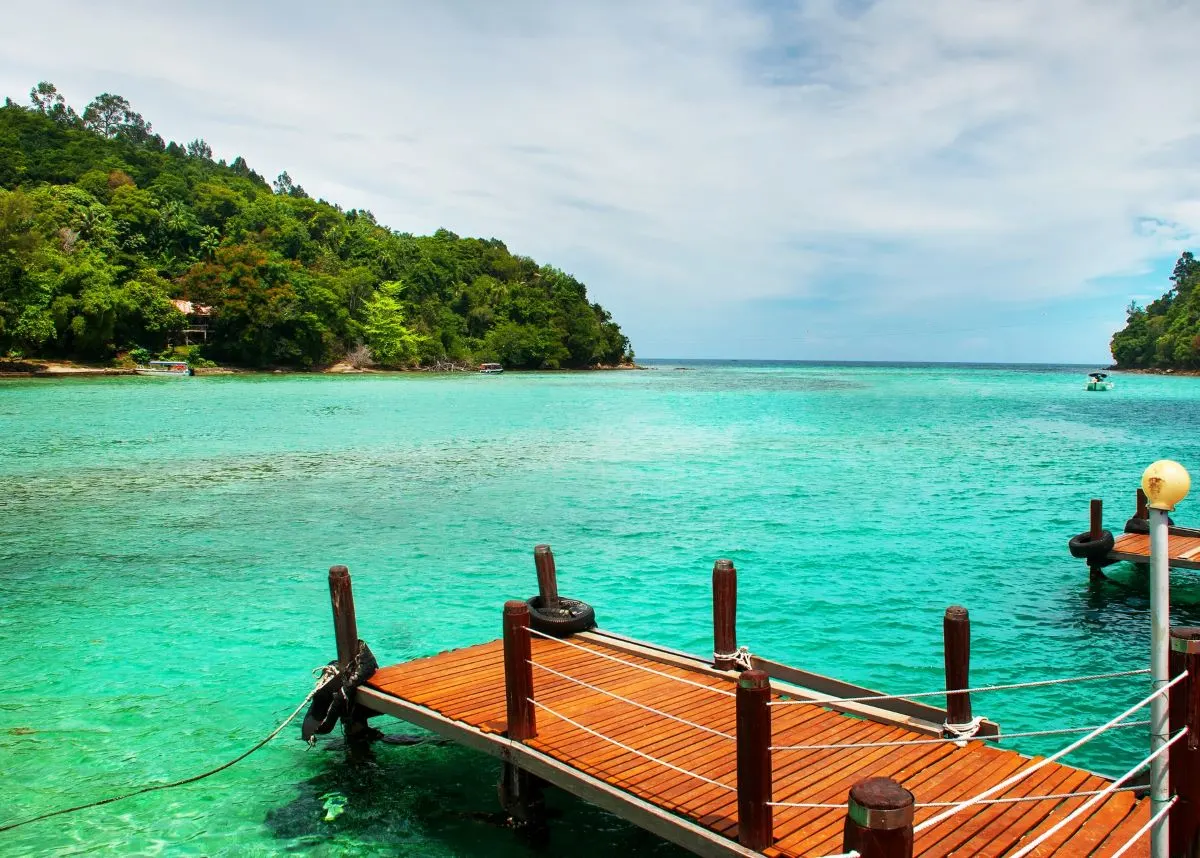 KOTA KINABALU ISLAND HOPPING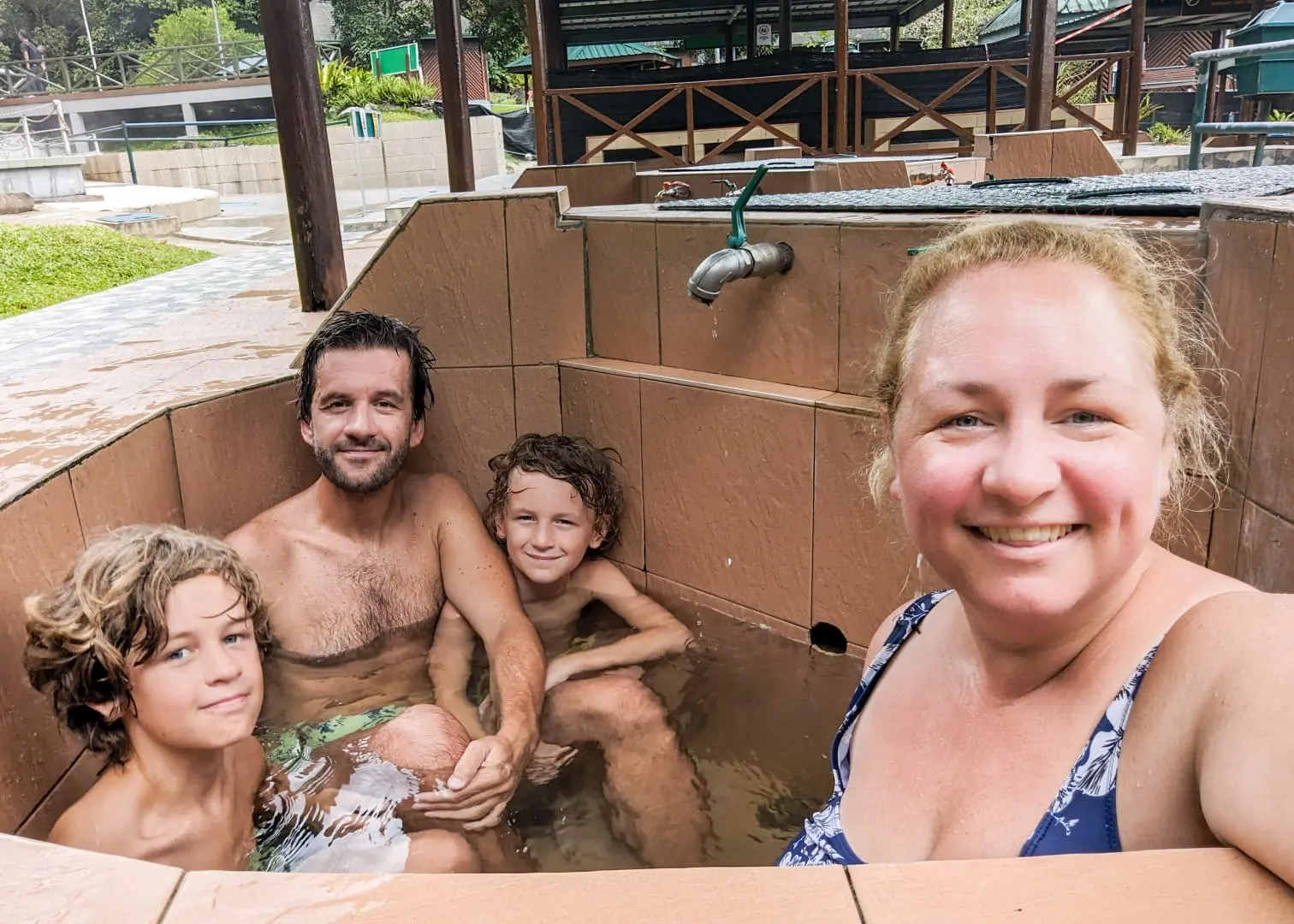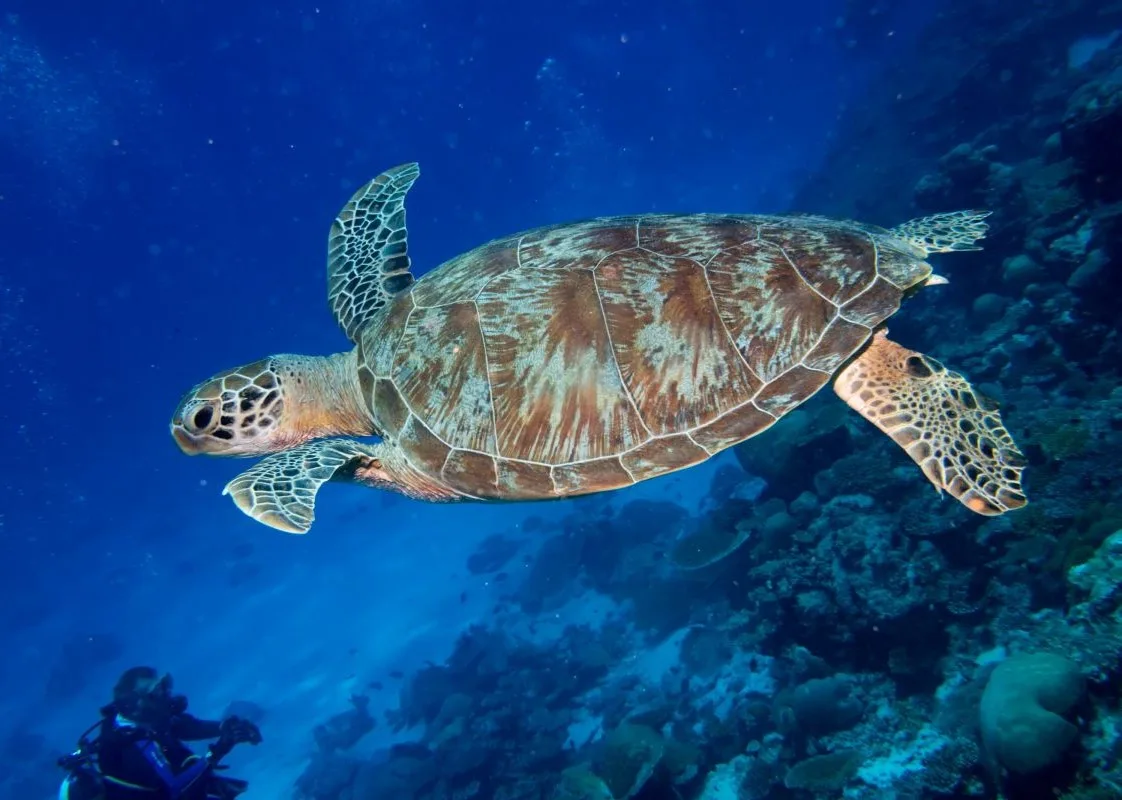 Exploring the Kinabatangan River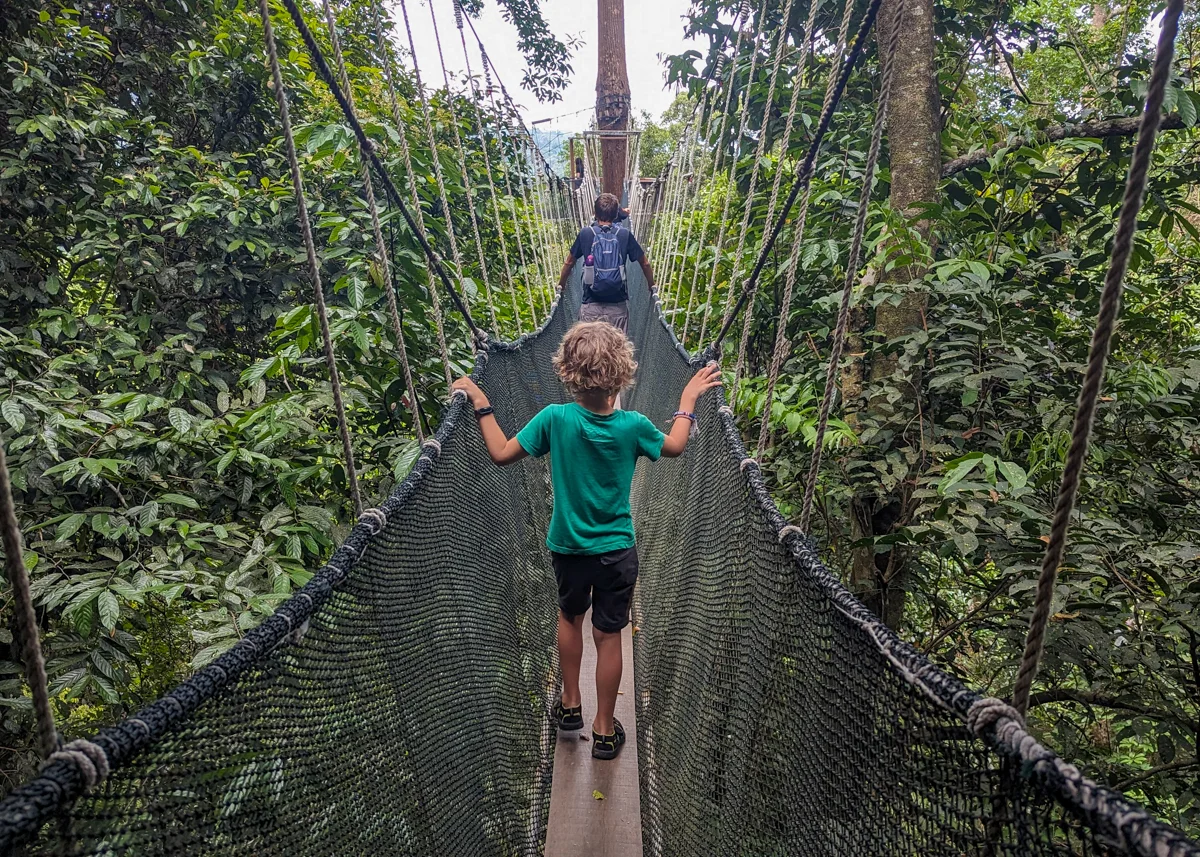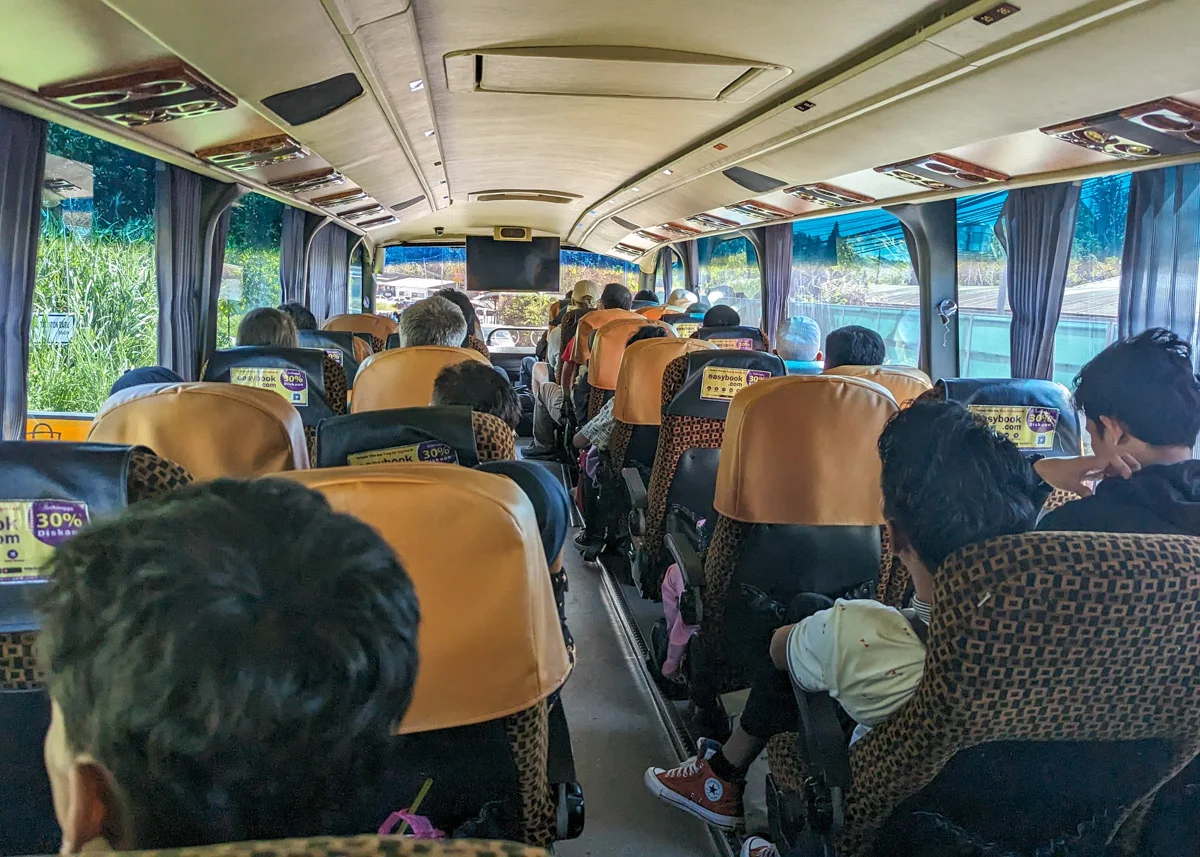 GETTING FROM
Kota Kinabalu to Sandakan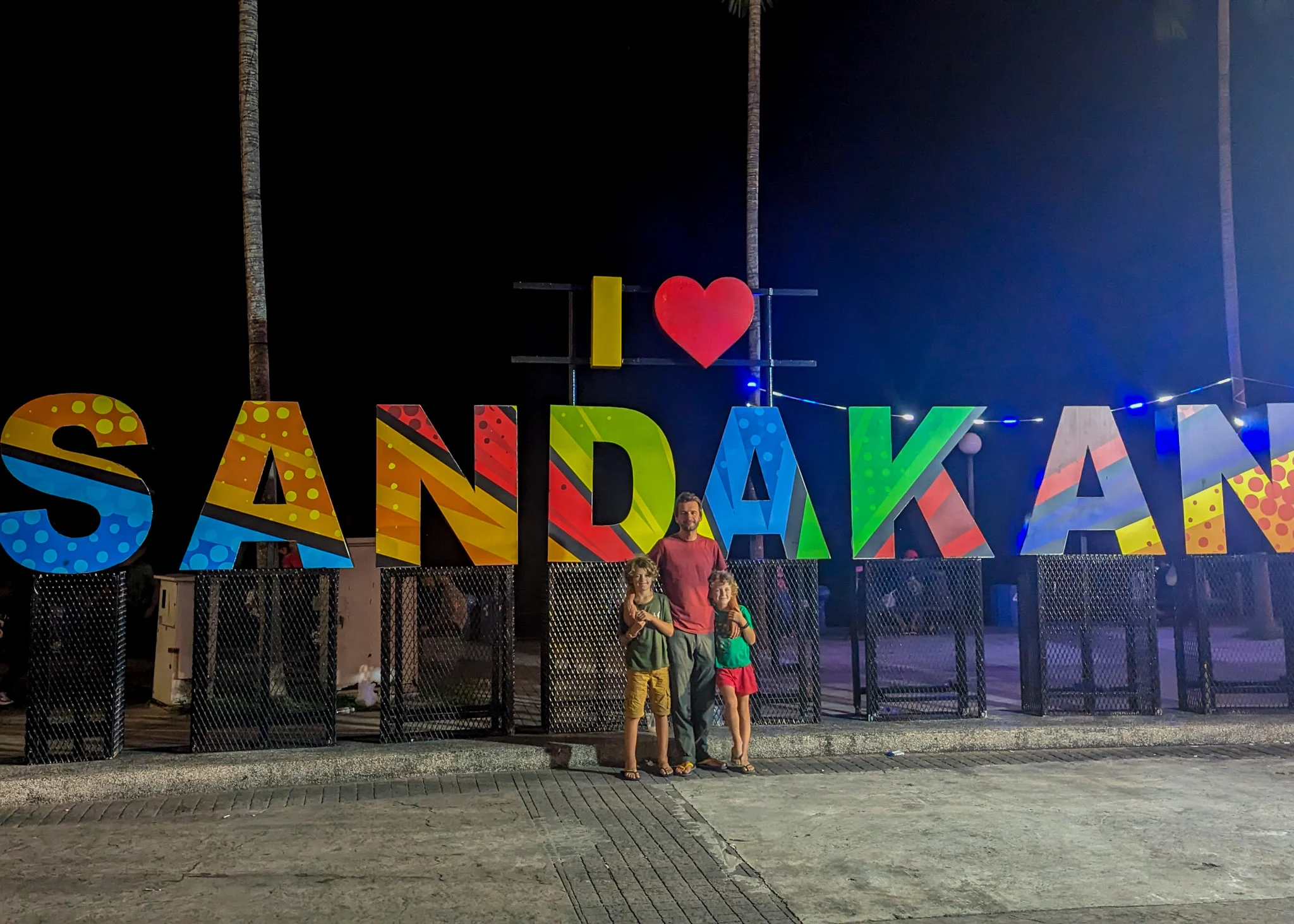 visiting sandakan with kids
Check out our Southeast Asia packing list for families
Borneo stories on Instagram
If you would like to get more of a visual idea of what to expect travelling Borneo with kids, you can head over to our Instagram where in the Highlights section we have saved stories from our Malaysia travels.
---
You may also like to read:
Thailand with kids
Cambodia with kids
Vietnam with kids