Kids travel journals are a fantastic tool for enabling children to record their adventures and a great way to practice their writing skills when on the road. They are an absolute must-have for all worldschoolers. We often use them on our travels for downtime or to fill time whilst waiting for public transport or meals at restaurants. Plus, what an wonderful memento for you all to look back on in years to come.
As a parent, it's always interesting seeing what's noteworthy for our boys with their travels. Often it's the seemingly mundane things like an ice-cream or a piece of rubbish (sorry, treasure) they've collected that feature, then other days it's a unique interaction with somebody new, or a funny story.
Over the years, we've used all different types of kids travel journals. So after numerous messages asking me for my advice on travel journals, I thought it was about time I shared my recommendations and thoughts on what we've used in the past.
Disclaimer: This post contains affiliate links. If you click to purchase, it is at no additional cost to you, and I receive a small commission.
1. Kids travel journals with repeated pages
If you type 'kids travel journal' into Amazon search, the list of results are exhaustive and it can be overwhelming deciding on which one suits your kid best.
Most journals featured on this list have the same idea; a page (or double page) with an engaging layout of boxes and prompts for kids to complete. This more often than not includes destination, date, weather, what they did that day, etc.
These journals are great for keeping records of short trips in the one place. But for long-term travel, they in all honesty get rather monotonous. There's a lot to enter for each day and if the kids don't fancy completing it all, there are big gaps that they may go back to complete, but more than likely are left blank.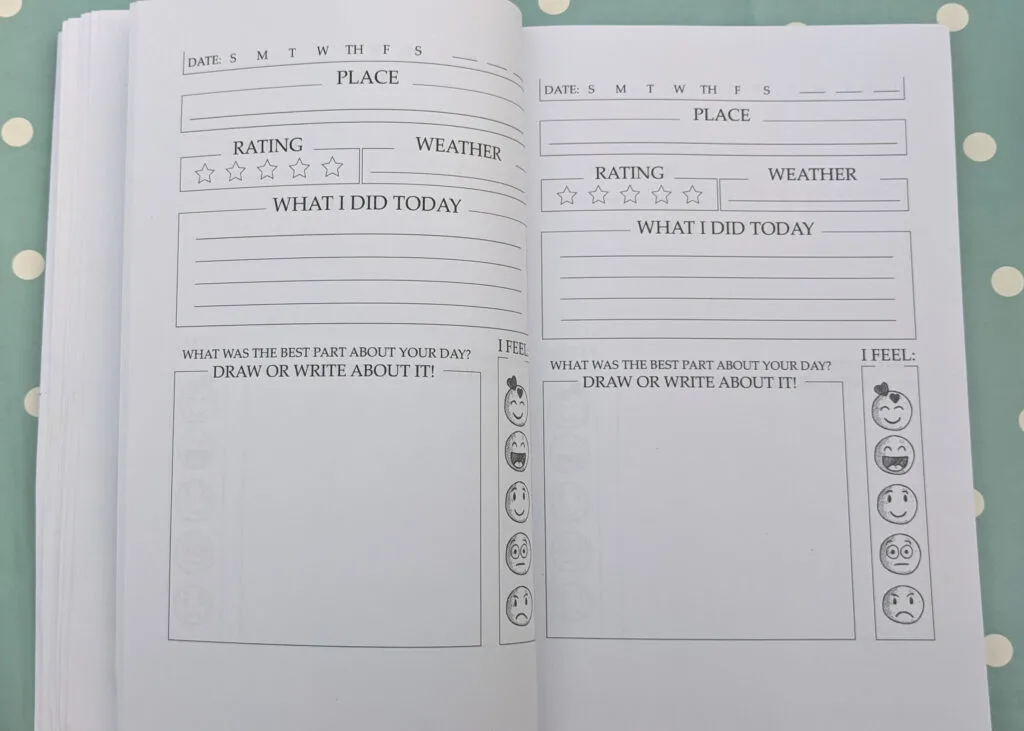 The exact same layout every day may limit some children and it can get rather dull doing the same entries day in day out for long-term travellers.
We have used kids travel journals like this for our summers travelling France in our Bongo camper for 6 weeks at a time. The boys would start these journals with good intentions and keep them regularly updated to begin with, but over the weeks, enthusiasm wanes.
However, I do think there is a place for this type of journal. There's something satisfying about looking through and comparing journal entries with the same layout, and I think they work perfectly for shorter trips. In fact, I sell kids log books for walks on my Peak District Kids site that follows this exact format.
2. Kids travel journals with different prompts on every page
For our 4 months in Morocco in 2022, we decided to take a different approach to the kids' travel journals.
As we deregistered the boys from school for a term, we wanted to keep on top of their schooling (which includes writing). We enlisted the boys to online schooling to cover maths and English, but obviously online English doesn't lend itself well to handwriting.
A kids travel journal is the perfect tool for travelling kids to practice their handwriting, but it needs to be a journal that goes the distance; you don't want to be nagging them to do their journaling just a couple of weeks into the trip.
So I bought them each the Lonely Planet Kids' Travel Journal.
This is a brilliant kids travel journal that has obviously had a lot of thought put into it, but costs the same as the travel journals with repeated pages.
Every page is different and there are pages to complete both before and after their travels, as well as during, including a page to draw items in their suitcase, pages to stick tickets as 'ticket towers', a flag page, faces to draw of people they've met, as well as writing pages with prompts such as, 'List what makes you happy today', 'Where have your feet stood today?', 'What was the first thing you saw when you opened your eyes this morning?'
Sale
This has become the most complete kids travel journal the boys have ever done to date, and there are 72 pages. I also like the hardback cover, which means it survives being thrown and squished into the kids travel backpacks.
However, as every page is different, there is no flow to the journal. My boys ended up jumping to the page that suited what they wanted to journal about that day, which is absolutely fine as it encouraged them to journal more, but looking back on it now, the journal doesn't flow with our adventure.
3. A bog standard notebook
Something that I've learned from the boys' journaling on our 2022 Morocco trip is that they wanted to journal differently every day (or rather a few times per week). Hence why the Lonely Planet Kids' Travel Journal worked so well. Sometimes there's not much more to say than 'we sat on a bus all day' with a ticket stuck into the journal, and other days they want to write a full essay about some kids they met in a playground. After a major sightseeing day, they may be exhausted and just want to stick in a postcard with a few facts learned from the day. Plus, Ez likes doodling, Arthur prefers to write lists, and neither enjoy colouring in.
Flexibility is key when it comes to travelling with kids, and this really goes with kids journaling too. For our long term trips I don't expect them to journal every day, but I do expect them to keep a journal and want to encourage their creativity.
However, I really want us all to be able to look back on these journals and there to be an easy flow. Long term travels unfolds as each day passes; the beginning of a trip is always different to the end, and as individuals we grow and change through this process.
So for our upcoming 10-week trip to Southeast Asia I've gone for a bog standard notebook. This is the notebook: Avery A5 Lined Notizio Medium Wirebound Notebook
Avery A5 Lined Notizio Medium Wirebound Notebook
Quality 90gsm FSC Certified paper
Perfect for note taking or bigger projects.
Twin wire binding for to allow pages to fold back or lay flat
90gsm paper means no ink shows through the page
Additional extras included for ease of use
There are 90 pages, the hard-wearing cover means it's robust, and it comes with plastic dividers to separate the notebook into sections. The lines are also soft enough so you can draw over them.
I'm also planning this to be their notebook to accompany online schooling, as this is a huge part of their journey and equally as interesting to look back on. Their 'online schooling' notebook was separate for their Morocco travels, but one book to carry and look after is always easier than one, right?
This is the notebook the boys used for their online schooling work whilst in Morocco. It was handy having one side blank and the other lined.
Printykins Sloth Notebook – A5 / 21cm x 15cm /…
PREMIUM SLOTH DESIGN NOTEBOOK – Brought to you by Printykins UK, this Sloth inspired notebook is an…
WHAT MAKES THIS NOTEBOOK SO GREAT & UNIQUE – Due to the fun, witty Sloth themed background not only…
MULTI USE – With both plain and lined / ruled pages this jotta can be used as both a sketchbook…
SIZE – The notebook is A5 / 21cm x 15cm size which makes this pad ideal to carry around with you…
OTHER DETAILS – The notebook is presented on high quality paper (90GSM stock paper) enabling…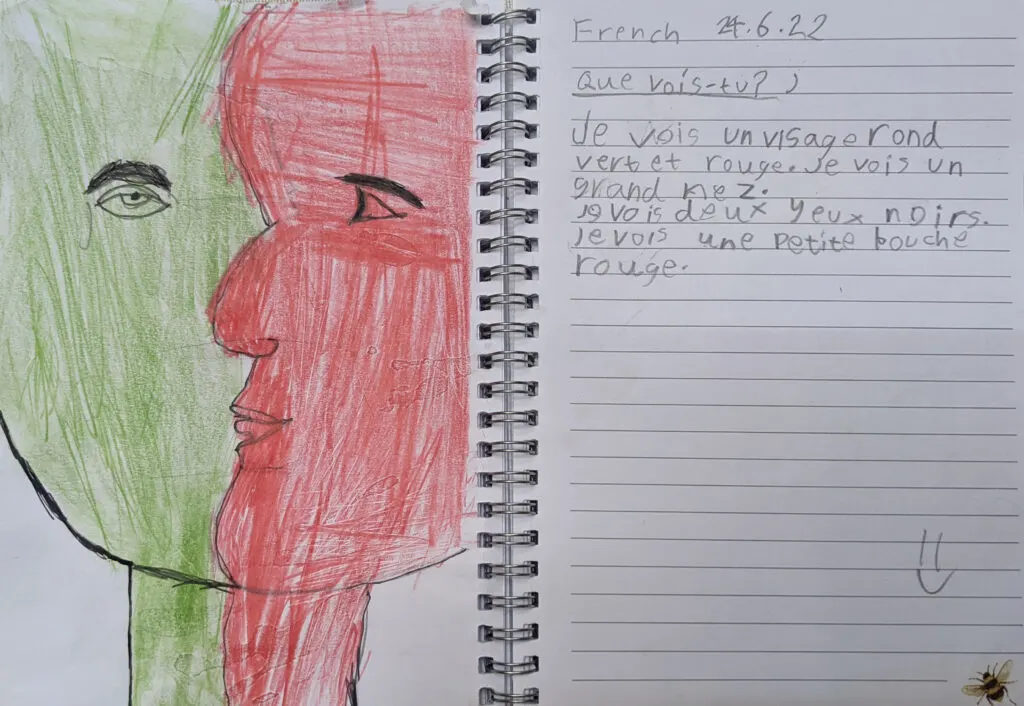 The intention with the notebook format is to give them free reign to journal about what they want, and keep everything in the same place (school work and journaling). I don't really mind what they're journaling about, as long as they're actually journaling.
I'll report back with how it goes…
UPDATE: The notebook worked brilliantly! The boys wrote more than they ever have previously in their journals and managed a daily entry for every day of the trip, except the last few days. Definitely taking this approach next time.
Final thought on kids travel journals
There are so many kids travel journals on the market and it can be overwhelming to work out which is the right one for your child. Every child is different, but over the years I've realised that a flexible layout works best for my kids.
The format of kids travel journals can be separated into three types:
Kids travel journals with repeated pages
These are good if you're a family who do lots of short trips, but can feel rather monotonous for long-term travellers. However, it's nice to look back at memories that follow the same format.

Kids travel journals with different prompts on every page
These are fantastic for those big trips lasting a month or longer. There are so many different prompts to maintain engagement and encourage a full journal by the end of the trip, but the memories won't be linear when you look back in years to come.

A bog standard notebook
Keeps it simple and allows for maximum flexibility that is perhaps better suited to long-term travel families. However, this isn't perhaps quite as fun for younger kids.
Whatever kids travel journal you choose, always pack a glue stick and scissors so you can add in tickets, labels and postcards picked up along the way. Sometimes just a couple of words next to whatever is stuck in is enough to jog the memories in years to come.
---
You may also like to read:
Best travel backpacks for kids
Our top family travel destinations for intrepid families
Unpaid Parental Leave: taking leave from work to travel with your kids