We visited Luxembourg in December 2022 for two nights as a family of four (the boys were aged 7 and 9). Here we cover the best things to do in Luxembourg with kids, including where to stay and how to get around. This trip was supported by Visit Luxembourg who provided accommodation, meals, and a LuxembourgCard in exchange for social media coverage and this blog post. As always, these are all my own words and opinions.
Luxembourg City is arguably one of Europe's prettiest capitals, although for some reason few British tourists venture to this unassuming country squished between France, Belgium, and Germany. But with fairytale architecture, interesting nooks, good museums, and a great dining scene, it's worthy of a weekend break or a stop off on a European road trip. Indeed, we used it as a stopover on our way down to the French Alps.
This is the capital city of Luxembourg. A tiny, landlocked country (it's approximately the same size as Dorset in the UK) that ranks top as the richest country in the world, according to GDP, as well as the safest country in the world. However, despite its wealth, we were surprised to see that graffiti, litter, and homelessness, which are common sights around most European cities, also exists in Luxembourg City, albeit to a lesser extent.
But is Luxembourg worth visiting with kids? What are the best things to do? How do you get around? And is it expensive?
Disclaimer: This post contains affiliate links. If you click to purchase, it is at no additional cost to you, and I receive a small commission.
Is it worth visiting Luxembourg?
We have visited many European cities with our kids over the years, and Luxembourg definitely sits towards the top of our favourites list. It doesn't have the fun-factor of Billund, or the sights to see of Paris or Rome. But it is perhaps the best capital city we've been to that allows you to just wander and see where your days goes, without feeling the need to tick off sites. Just the way we like to explore!
We loved the beer and hot chocolate stops, browsing museums, and strolling pretty streets. There's an understated charm and it didn't feel crowded (even though the Christmas markets were still on). It's just one of those cities with a really lovely vibe; bursting with history, but with a sprinkling of cool.
Getting to Luxembourg City
There are direct flights from UK airports to Luxembourg City, including Ryanair and Easyjet, as well as good train links with surrounding countries of France, Belgium, and Germany.
Alternatively, if you take the Dover ferry to Dunkirk, it's only a 4 hour drive through Belgium to reach Luxembourg. This is the method we took. Luxembourg City was our first stop on a road trip to the Alps.
Parking is plentiful in the city if your vehicle is under 2 metres. We were travelling in our Mazda Bongo campervan, which is 2.1 metres and parking was a total nightmare. We found one underground carpark that was 2.1 meters, but it was way too close for comfort and found ourselves backing out with a queue of cars honking behind us. Any open air car parks had time restrictions (generally 5 hours). We spent an hour driving around the very small capital city and before we almost gave up, we saw two motorhomes parked at a bus car park. There was no signage about payment, restrictions, or time, but we had no other choice. We parked our Bongo there for two nights, and it was still there with no clamp or ticket when we returned. This is the location, but we don't actually know if we were just lucky or not.
Getting around Luxembourg City
Luxembourg City is a very very walkable city. It's compact and even though it's split on different levels due to the escarpment creating a natural fortification of the old town, there are free public lifts to take you between the levels.
Top 5 things to do in Luxembourg City with kids
A couple of days is all you really need to explore Luxembourg City with kids. In fact, one day will do if you're pushed for time.
I'm told that the surrounding countryside is stunning, but we only visited the capital, and therefore only share our experience of visiting Luxembourg City with kids. If you have the time, it's worth staying longer to explore the surrounding countryside. All public transport is free in Luxembourg, so you could use the city as a base if you don't have a car.
1. Wander the old town
Luxemburg City is such a fantastic capital to just wander pretty streets and soak in the views and history. We followed the rough route of the Wenzel Walk. Starting from the Corniche, also known as the 'most beautiful balcony in Europe', this walk leads you through the oldest quarters of Luxembourg City as well as to the UNESCO World Heritage fortress.
The walk is mostly signposted, although the below map is the route that we ended up taking. We finished at Ascenseur Elevator Plateau St. Esprit Grund, a free lift that takes you back up the cliff to the main area of the city (which saves a huge climb for little legs after a long walk).
Allow a good three hours for the walk to explore and play. Towards the end of the walk you will also pass a playground (click here for location). There are swings, a climbing frame, zip wire, and even a small all-weather sports pitch.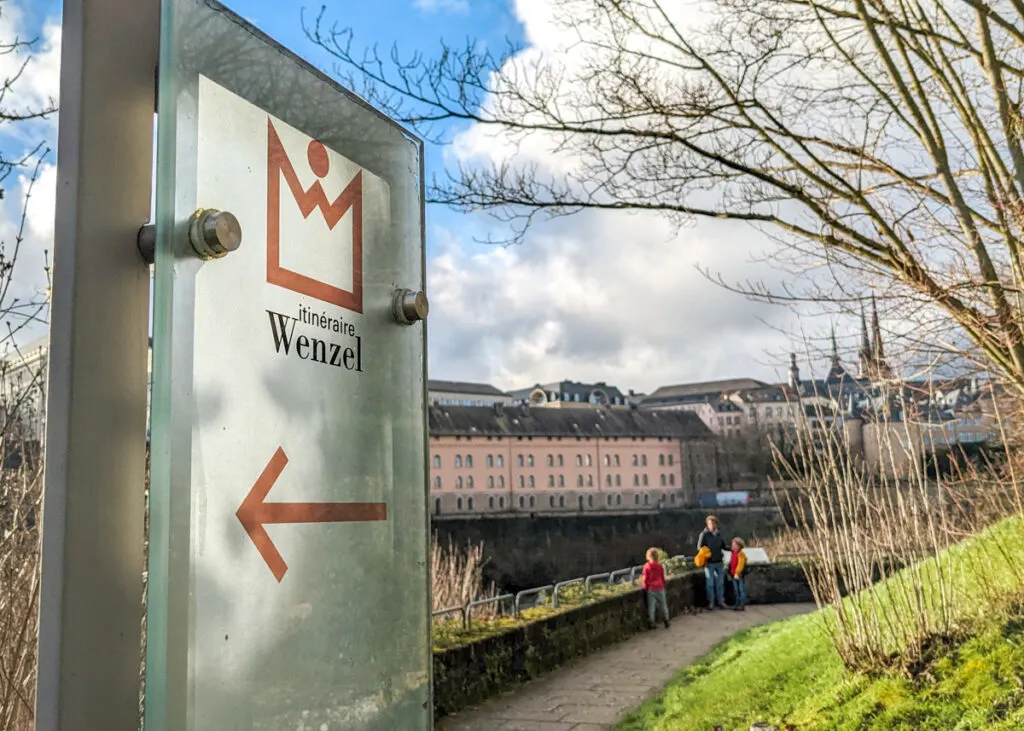 2. Visit a museum
For a small city, Luxembourg City is bursting at the seams with museums. There are no fewer than 7 museums along a one mile stretch, all very different from one another.
We obviously didn't get a chance to try out all of them in our short visit to Luxembourg City, but we did try out Musée national d'histoire et d'art Luxembourg (free) and Luxembourg City History Museum (included with the LuxembourgCard. which is worthwhile getting if you are exploring the entire country).
Neither museum was particularly interactive, but the displays are spacious and cleverly done, plus very quiet. At the Musée national d'histoire et d'art Luxembourg, you can pick up a kids' booklet for free which provides activities for the kids to do as you explore around the museum. The visit to the Luxembourg City History Museum is worth it alone for the lift and the view over the city.
Note that museums are closed on a Monday.
3. Bock Casemates
There are 17km of underground tunnels cut out of the solid rock beneath Luxembourg City today, and part of these are open to the public. Unfortunately, these were closed at the time of our visit for restoration.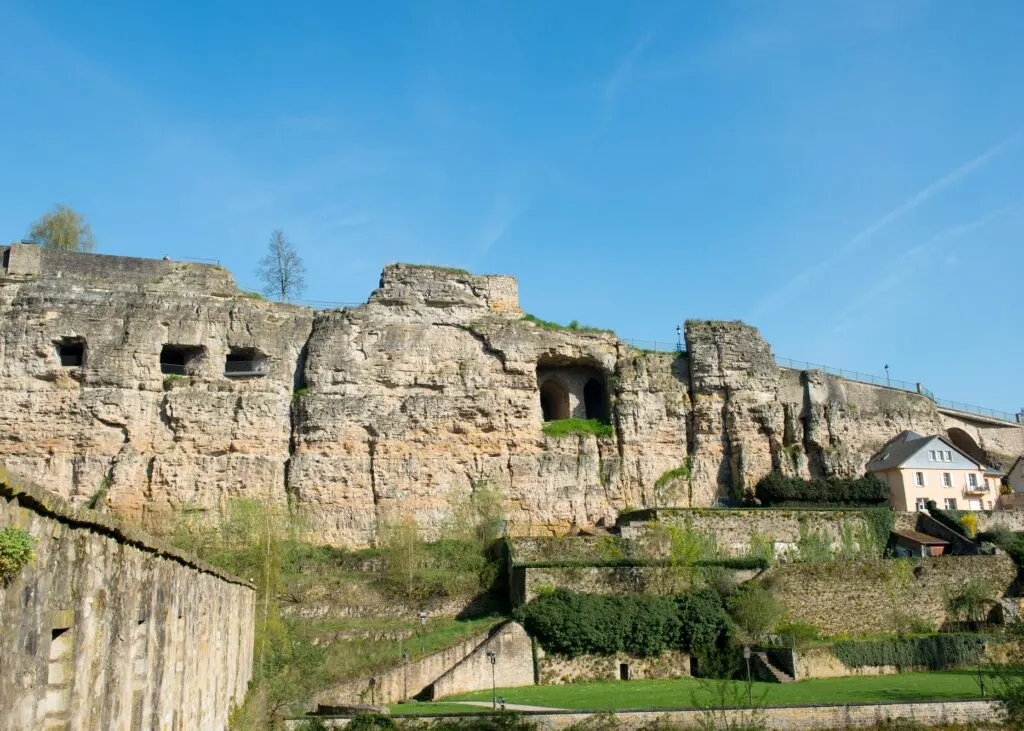 Now a UNESCO World Heritage, the first underground tunnels were built in 1644 during Spanish rule, then extended by French 40 years later, and then again by the Austrians in the eighteenth century. They have been used as a subterranean defence system and why Luxembourg has been coined, 'Gibraltar of the North'. They were also used as air-raid shelters during the two World Wars and could protect up to 35,000 people.
4. The Chocolate House
We would never have known about this quirky little chocolate shop if it weren't for Louise at @littleredsuitcase, who is living in Luxembourg with her family. Click here for the exact location. It's just round the corner from the Luxembourg City History Museum, so worth combining with a visit there.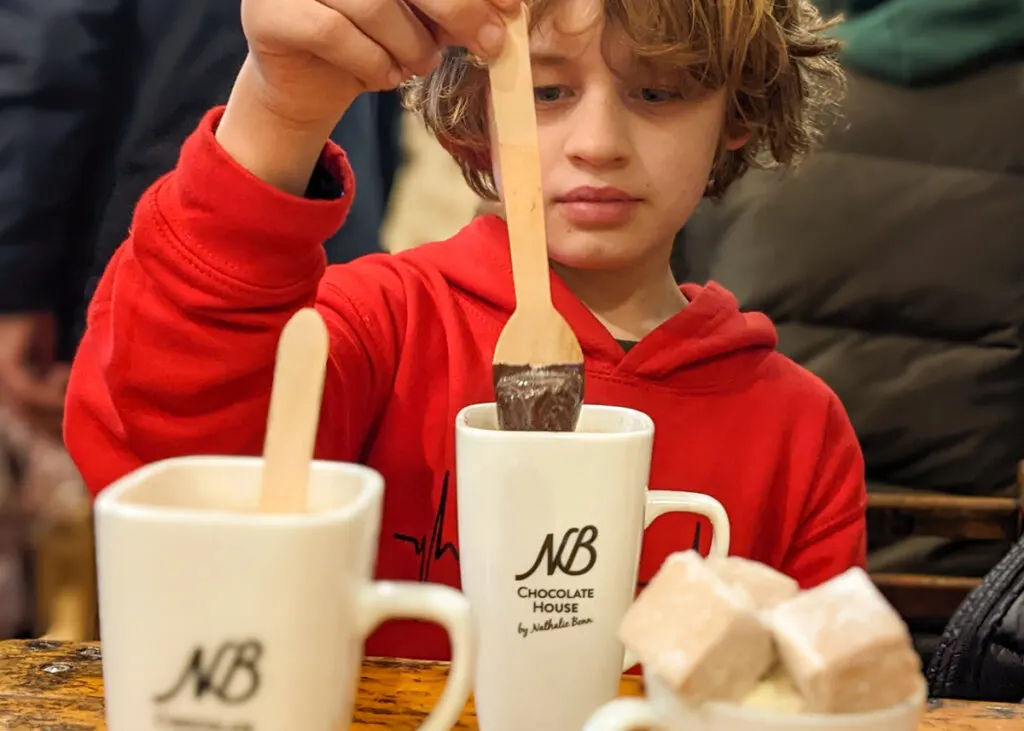 Downstairs, where you enter, is the chocolate shop. Here you can purchase lots of chocolatey treats, and upstairs in the café. A must try is the hot chocolate. Pick a chocolate lump with spoon from the shelf on the ground floor and then take this up to the café. Once sat down at the café, order a mug of hot milk. Dip in your spoon of chocolate, stir, and drink once the chocolate has melted. Delicious!
You can also order cakes and other treats to eat in the café.
5. Pfaffenthal panoramic elevator
This is a free public lift that connects Ville Haute and Pfaffenthal, travelling up/down 60 metres in 30 seconds, with the capacity to carry five cyclists and ten pedestrians. It's great fun for little ones, and offers sweeping views.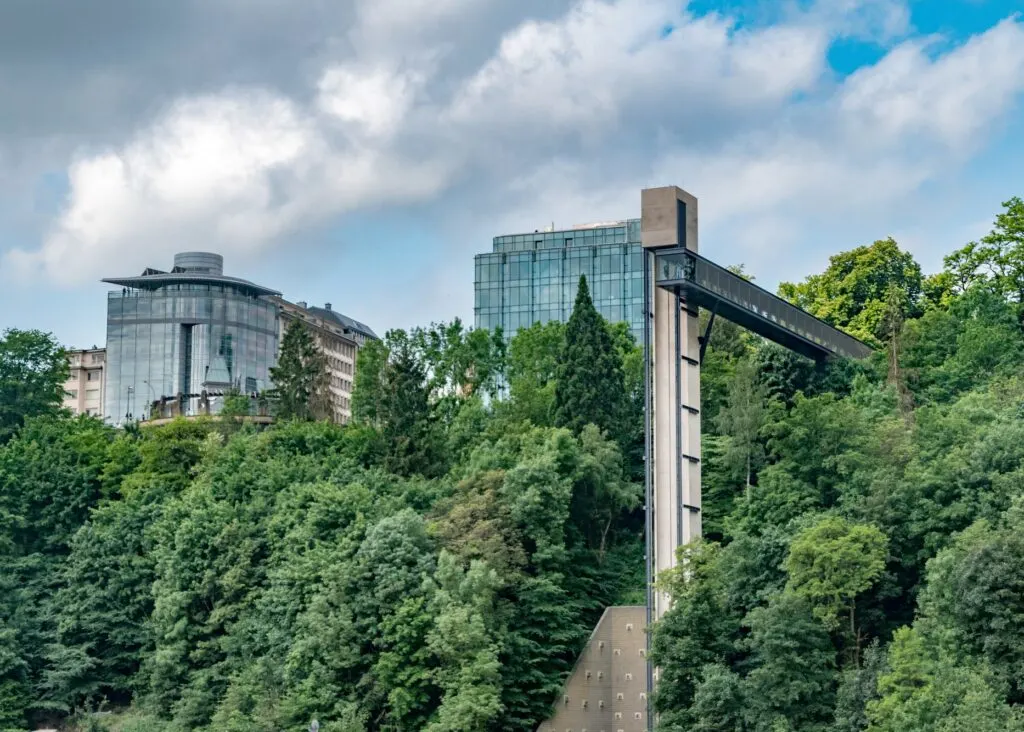 Click here for location. It is open 7 days a week from 5:45am to 1:00am.
Where to stay in Luxembourg City
Hosted by Visit Luxembourg, we stayed two nights at Hôtel Simoncini, a white-washed-modern hotel in the heart of the city, offering a perfect location for sightseeing. We had a suite that was made up into a family room (one double and single sofa beds). There was a small fridge, TV, excellent WIFI, and an ensuite bathroom (bath with overhead shower). Breakfast was included and was the usual continental spread of breads, jams, cereals, fruit, and eggs made to order.
Many parents may consider Hôtel Simoncini a rather pricey stay at £300+ per night. Budget conscious families may want to look at:
Final thoughts on visiting Luxembourg City with kids
Thinking of our time in Luxembourg City makes me smile. European city breaks with kids can be exhausting as there's often a lot of ground to cover and sights to see. But Luxembourg City felt very relaxing and easy paced. With no big-ticket sights (aside from the Bock Casemates, which were closed for our visit) we allowed ourselves to just wander and see where the day took us. This is always my personal favourite way to explore, and we found that there was always a little pub or café to dive into if we needed a refuel. Plus, it really is such a pretty city, and we loved that it didn't feel to busy at all, despite it being the Christmas holidays.
---
You may also like to read:
Milan with kids: top things to do
Nuremberg with kids: top things to do
Billund with kids: top things to do