Want to get a feel of what adventures can be had in South Africa with kids? Then read on…
South Africa boasts a beautifully wild coastline, impressive predators and jaw-droppingly stunning landscapes. Whilst the history remains raw, this is the modern and progressive face of Africa with a well-maintained infrastructure, world-class eateries and wineries, and an explosive art scene.
It is an excellent choice for those who want to experience the adventurous side of Africa with kids without having to venture too far from the beaten track. Plus there is no worry of malaria and there is a good range of malaria free safaris to choose from.
Our African overland adventures may have begun and ended in Johannesburg, but we only scraped the surface with all there is to do for families travelling to South Africa. I therefore reached out to some fellow travel bloggers who have explored the country to help me compile this list of top 18 things to do in South Africa with kids. From horse-riding in the Drakensburgs, to self-drive safaris to spot lions and elephants, to family-friendly wineries, South Africa offers the perfect concoction for that adventure family holiday. especially if you are considering a South African road trip.
Here is our list of things to do in South Africa for kids.
1. Table Mountain
Callan, Singapore n Beyond
Here's a no-brainer when visiting Cape Town with the little ones, ascending Table Mountain. Why? Well, apart from being the number one tourist attraction and list of things to do in Cape Town, it really is an amazing experience.
Once you reach the top, you're welcomed to a vast array of flora and fauna, with indigenous plants and wildlife you can see nowhere else in the world. Ever seen a dassie before? There is also a restaurant and snacks up top, so you can take in a side of fresh coffee with your view while the kids frolic safely at dizzying heights.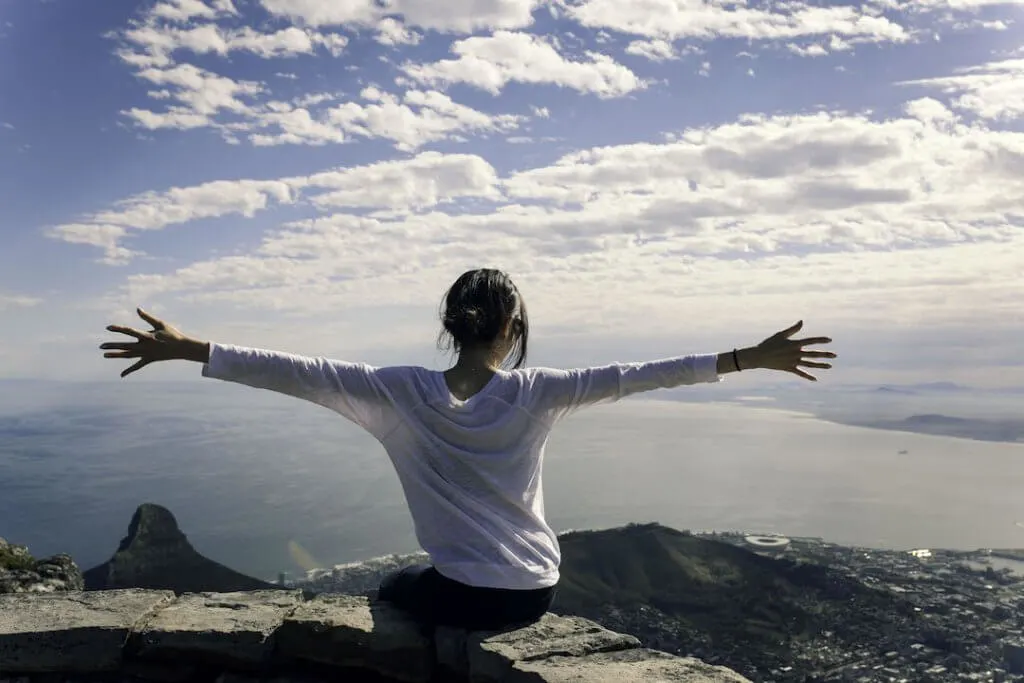 The ride up the rotating cable car is super fun and the view over the Peninsula is spellbinding for both young and old. Cape Town is known for having fluctuating weather, so if the forecast is good, don't think twice and get up there.
But a word to the wise, get there as early as possible or in the late afternoon, as the crowds do pile up fast. Book online for convenience.
2. V&A Waterfront
Christine Rogador, Tripsionista
V&A Waterfront is the most visited South African destination. With over 24 millions visitors annually, this waterfront in Cape Town is considered as one of the must visit places and one of the most iconic spots in South Africa.
Aside from the charm of the harbour and European architecture, the complex is set to the magnificent background of mountains and ocean. The entertainment harbour complex boosts world-class shopping malls, museums, restaurants, bars, tourist attractions, and the gateway to boat cruising activities in Cape Town.
The complex has something to offer to everyone and even if you are travelling with kids, you won't run out of things to do here. The complex has aquariums where kids can enjoy the underwater world, historical museums where one can peek into South African's colourful past, Cape Wheel to enjoy the 360 views of the city and playgrounds for them to run around.
3. Cape Town Boat Trip
Leona, Wandermust Family
Cape Town is perhaps one of my favourite cities by the sea and the best way to see it is from the sea. Taking a boat from the Victoria and Alfred dock is a great way to see the city and some its best wildlife.
On our wildlife boat tour we saw dolphins, seals, sun fish and much much more. It was amazing how close we got to the wildlife and the diversity we saw!
It is the perfect summer day activity for the whole family whether you are interesting in seeing panoramic of the city or just want to get up close and personal with some of the cities fantastic aquatic life!
4. Muizenberg beach
Kathryn, Becoming You
I'm lucky enough to live in Cape Town, South Africa so I am able to enjoy most of these amazing activities with my kids on a regular basis, but one of our families favourites is to head down early on a weekend morning to Muizenberg beach. With it's multi-coloured beach huts and amazing views across False Bay, this beach is one of the most iconic in South Africa.
I love Muizenberg beach as it has something for every age group – soft sand for building castles and rock pools to explore at low tide with the toddlers, amazing restaurants and coffee shops for the adults and fun waves for kids of all ages.
The great waves here make this one of the best beaches in the world to learn how to surf and there are plenty of surf schools lining the strip eager to take you and your kids out into the waves for your first taste of "the stoke"! You can hire surfboards and wetsuits and sign up for a group class or get a one-on-one lesson. The surf schools have great changing facilities, hot showers and coffee or hot chocolate to warm you up again after your lesson.
Just be sure to keep your ears open for the shark siren – this beach is known as a Great White Shark hotspot – but most of the locals head out into the breakers anyway and it's not likely you'll be that far out on your first lesson!
5. Boulders Beach Penguins
Jurga, Full Suitcase
South Africa is one of a few countries where you can easily see penguins in the wild without much effort. You wouldn't immediately expect Antarctic wildlife in Africa, but Boulders Beach penguin colony in Simon's Town near Cape Town proves you wrong. A big group of penguins lives here all year round and for a small fee you can see them up close and personal from wooden boardwalks along the coast.
Our kids were still very young when we visited and at that age wildlife has to be right in front of their nose in order to appreciate it. No worries here – you could almost cuddle the penguins if you wanted to – they are that close to you.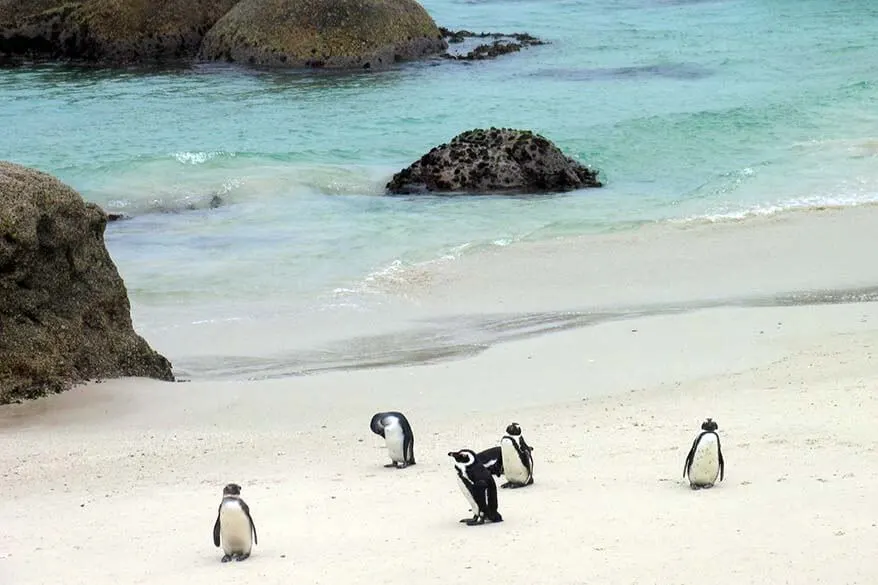 If you visit South Africa, you'll have plenty of opportunities to see a big variety of wild animals, but Simon's Town is the only place where you can see penguins in the wild. Don't miss!
6. Stellenbosch
Keri, Our Globetrotters
Located 50km east of Cape Town is the stunning university town of Stellenbosch. It is surrounded by the Cape Winelands, one of the premier wine regions of the world and also one of the most spectacularly beautiful places on earth.
Don't be mistaken in to thinking Stellenbosch is just about the grown ups though. With over 150 'wine farms' you certainly won't be short of a tasting or three, but there are plenty offering far more than just wine to keep the whole family entertained.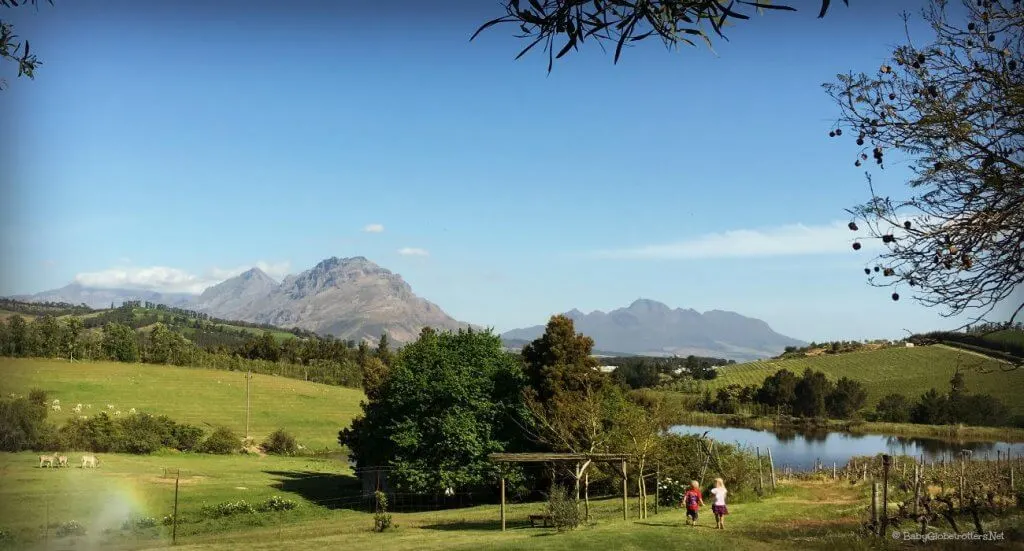 A family favourite is Vredenheim which offers the chance to tour their big cats sanctuary before tucking into your grape tasting. Or nearby Spier which has Eagle Encounters, a birds of prey rehabilitation program. If farm animals with your tasting are more your kids thing and an amazing weekend braai (South African barbeque) Middlevlei is just what you need!
Those with a sweet tooth might want to try a chocolate and wine matching experience. Kids can sit with you while you take a 'chocolate flight', perfectly paired with the right grape varietal, or for kids, it's sparkling grape juice! Two of the best for delivering this experience are Lanzerac and Spier. You can see all of our favourite regional recommendations here.
7. Fairview Vineyard
Elaine & Dave, Show Them The Globe
Tucked away in the heart of wine country and located around a one hour drive from Cape Town is one of the most unique vineyards in the world. Fairview Vineyard is first and foremost a working farm which houses a number of micro-businesses who produce incredible wines and cheeses for visitors to experience.
However, the highlight for both adults and kids, is the Goat Tower and the herd of goats which live on the vineyard. We spent ages watching the goats at Goat Tower, a large tower which serves as a playpen and climbing route for the vineyard's resident goats.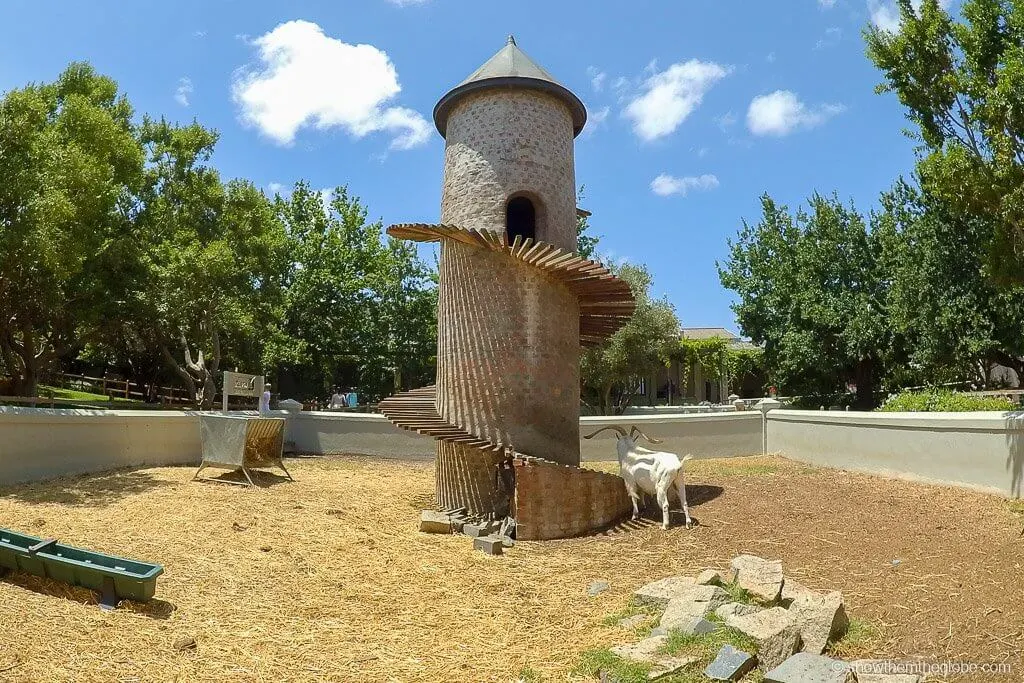 Kids can take selfies with the goats, there's a yoga class with the goats (yep, seriously) or just simply watch them play on the tower. After enjoying the goat fun adults can enjoy a wine tasting while the kids can indulge in the delicious cheeses and other treats at the on-site deli, bakery and restaurant. Overall it's the perfect day out for families from Cape Town.
8. Babylonstoren Farm
Nancy, We Go With Kids
Babylonstoren is a historic Dutch farm that dates back to 1692 and has one of the best preserved farmyards. With over 8 acres of gardens, kids will enjoy walking the gardens and learning about fruits, vegetables, berries, bees for pollinating, indigenous plants, fragrant laws, and more.
The gardens themselves are reminiscent of "The Secret Garden," and visitors of all ages will enjoy the jumping chickens pop up and down for their food.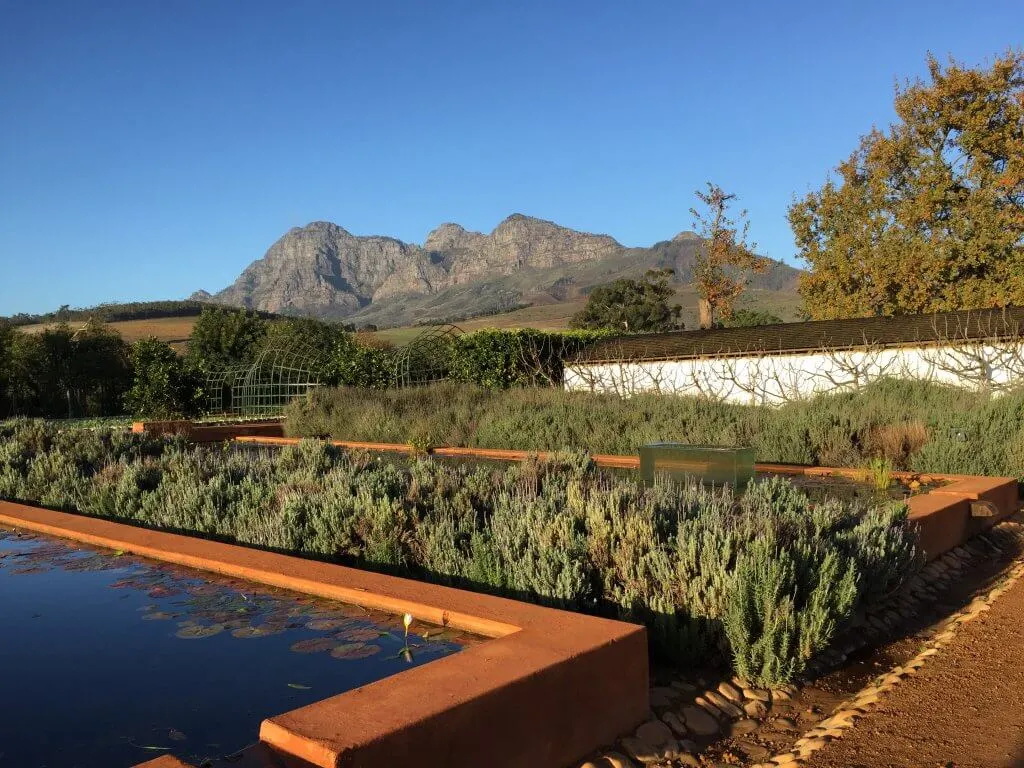 There are also bikes available for use, if the kids tire of walking and it truly is a beautiful way to enjoy the outdoors, while appreciating the historical preservation of the farm and its trajectory into the modern world.
9. Ostrich farm, Oudtshoorn
Nicky, Go Live Young
One of our most amusing visits during our four weeks in South Africa was to an ostrich farm in Oudtshoorn. Don't miss the chance to encounter ostriches if you are in South Africa. Our two hour tour around this working ostrich farm taught us all about ostrich faming and indeed ostriches. Did you know that the ostriches egg is the largest laid egg of any animal? Our kids could stand on the eggs without breaking them!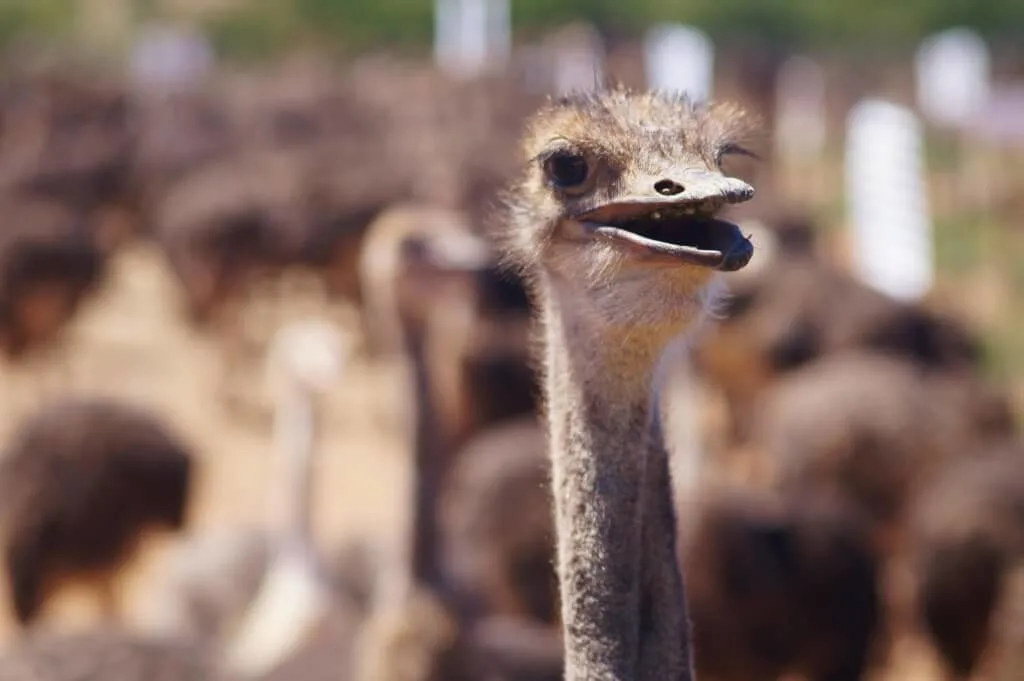 After learning all about ostriches it was time to feed these majestic birds. Feeding these huge birds involves holding food in your hand for the ostrich to violently gobble with its large beak. Not for the faint hearted but great fun.
The highlight however was riding an ostrich. What is it like? It only lasts a few seconds and is a fast, bumpy ride where you hold on for dear life! And yes, there's a chance you may fall off. These animals are fast, the fastest birds on land, able to run at 40mph. After your visit try an ostrich burger at the farm cafe. Delicious.
10. Cango Caves
Campbell & Alya, Stingy Nomads
Cango Caves in Oudtshoorn is one of the places where both children and adults will have fun exploring caves and tunnels. The caves can be easily visited from Mossel Bay as a part of the Garden Route trip. It's not just one cave, it's a system of chambers connected by tunnels and some of them are very narrow you have to crawl through.
The caves can be visited only in group with a guide. There are two different options; Heritage tour, a short one hour tour that will take you through the biggest and the most impressive chambers with massive stalactites and stalagmites around.
If you're children are old enough (6+) you can join a 1h30min adventure tour, that includes climbing ladders, squeezing through very narrow passages like Devil's Chimney (30cm high) or Leopard Crawl (27cm high).
This tour is a journey to a magic world of gnomes and trolls, even the names of some rock formations and tunnels sound like something from a legend or a fairy tale; King Solomon's Mines, The Ice Chamber, Crystal Palace, The Ice-cream Parlour, The Devil's Workshop etc.
11. Knysna Elephant Park
Ting, My Travel Monkey
What drew me to was the fact that the park has dedicated the last 20 years to elephants, and is internationally recognised as one of the best captive elephant facilities in the world.
More than 40 elephants have been rescued and/or relocated there and it has also played a vital role in formulating regulations and guidelines for captive elephants throughout South Africa.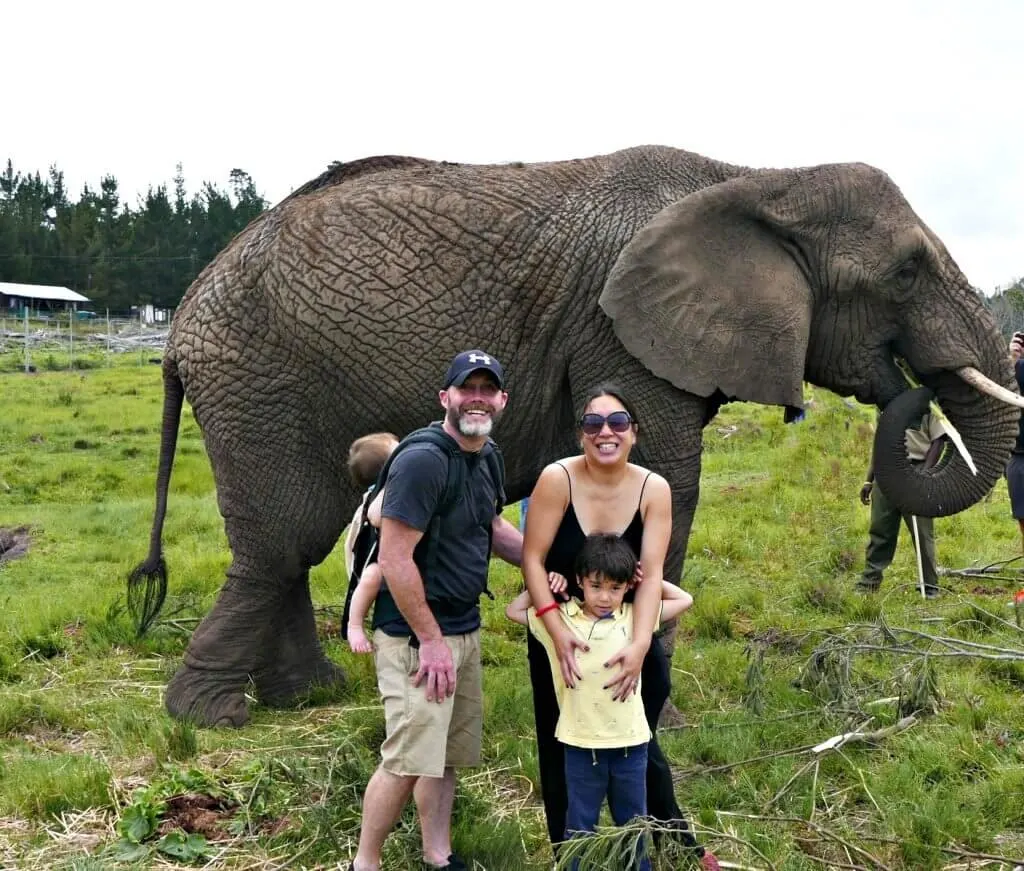 Not only did we get to feed them with buckets of fruit and vegetables, but we also go to get up close and stroke their ears. It was a heart-stopping moment.
And then later, walking with elephants meant that my young son was able to ask the ranger all sorts of questions about the mammals and his interest was just so amazing to watch. It is something that we will all cherish for the rest of our lives because it was a once-in-a-lifetime opportunity. Plus, knowing that we contributed to a project that will keep protecting these animals well into the future, was a comforting thought.
12. Birds of Eden
Jessica, Longest Bus Rides
Birds of Eden is a zoo you've never imagined. There are no cages, but instead a massive net dome containing all the birds. Inside the dome visitors walk on boardwalks, bridges, and paths—some really high off the ground! It's fantastic for bird watching, which is of course what you're observing. With no signage, but birds from all over the world, it's a place for spending time with family and friends.
Colourful birds are on the ground and in the air—some big and others small. Some eat at the feeders along the pathways, so you can observe them at closer range. It's practically a wild animal park for birds. There are a few mammals wandering the grounds. The paths are mainly in a loop, so older kids can walk ahead on their own safely, while younger kids won't get lost.
There are so many interesting places in this area for learning about wild animals or having an adventure with your family. Directly next door to Birds of Eden is Monkeyland.
And, nearby is Lawnwood Snake Sanctuary, an elephant sanctuary, and Tenikwa Wildlife Rehabilitation & Awareness Centre.
All of these are easy drives from Kynsna, as is Plettenberg Bay (observe great white sharks from a boat or get in the water and learn all about their habitat and life as surface feeders!), and Stormsrivier (horseback riding, bungee jumping).
13. Ziplining at Storms River
Rachel, Adventure and Sunshine
We spent a lot of time on the road in South Africa so we were looking for something extra fun for the kids. Ziplining near Tsitsikamma National Park definitely delivered!
With 8 slides in the course to complete, the longest a whopping 211 metres, it was the perfect mix of adventure and fun.
As we stepped into our harnesses the kids were nervous. Thankfully we had a great guide who helped the kids clip in and out of each slide and gave them wonderful encouragement.
The slides ran up high, past small waterfalls and across pretty gorges. After a couple of slides the kids shook off the nerves and were gleefully ziplining through the trees. The time flew by and they were begging to do the course again – a great morning out for the whole family. Check out their YouTube video here.
Do note that tandem ziplining is required for kids aged 3-7 years. From 8 years they can zipline independently.
14. Addo Elephant National Park
Jenny, TraveLynn Family
If you're kids love elephants, you must take them to Addo Elephant National Park, just a one hour drive from Port Elizabeth, as you are guaranteed to see dozens in their natural habitat.
Established in 1931 as a sanctuary for the eleven remaining elephants in the area, the park is now home to over 600 elephants and many other mammals (including buffalo, warthogs, zebra, hyena and lions).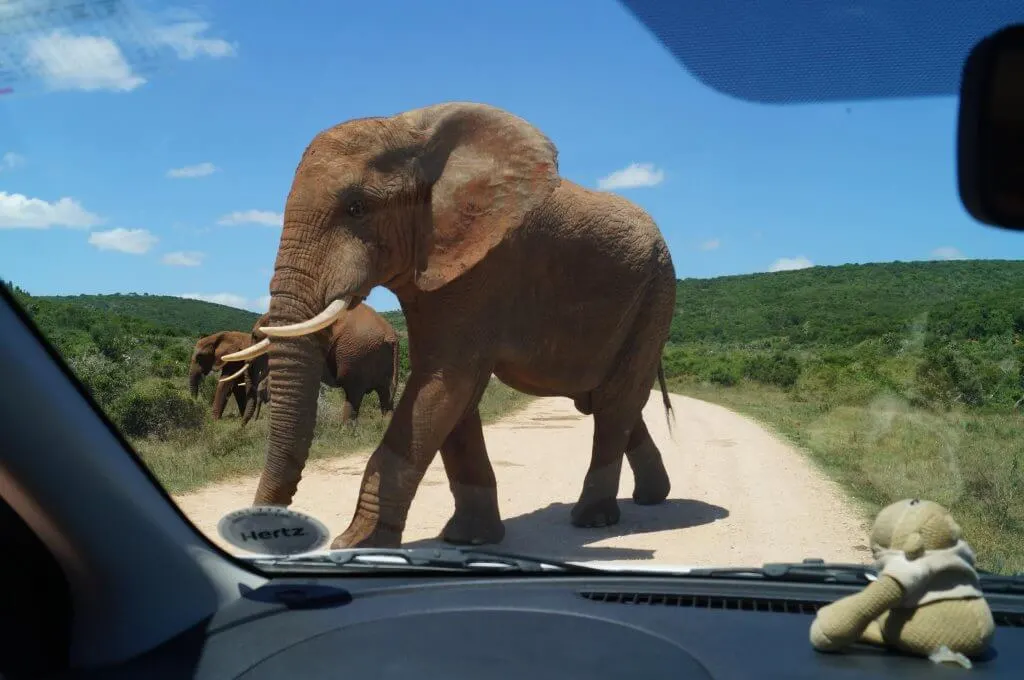 The park has good tarred roads, so a standard 2wd is sufficient, and the main rest camp even has a swimming pool to cool off after your self-drive safari.
15. Horse riding in the Drakensberg
Natasha & Cameron, The World Pursuit
One of the best kid friendly things to do in South Africa is go horse riding in the mountains. The best place to do this is in the Drakensberg mountain range.
Montusi Mountain Lodge near the amphitheatre lets visitors and guests of the lodge take part in this special experience. Any level rider can join as long as they are comfortable around horses.
Riders can take in all new views of the natural beauty while on top of the horse. It's so special to do this here as there is quite a lot of ground to cover and on horseback you can wander in a less intrusive and quieter way. We were even able to get very close to wild animals on the horse. Antelope and other wildlife don't see the horse as a threat allowing you, as a human, to get much closer than ever before.
Enjoy the views, wildlife, and experience as a family!
16. Bourke's Luck Potholes
(Emily, Kids and Compass)
If you're visiting the Kruger National Park then try to make room for a day trip along the Blyde River Canyon; a spectacular natural wonder which has plenty of things to see and do with kids.
Bourke's Luck Potholes are a great stop for kids along this route. The potholes are thousands of years old and have been carved into the soft sandstone of the canyon wall by the Blyde River.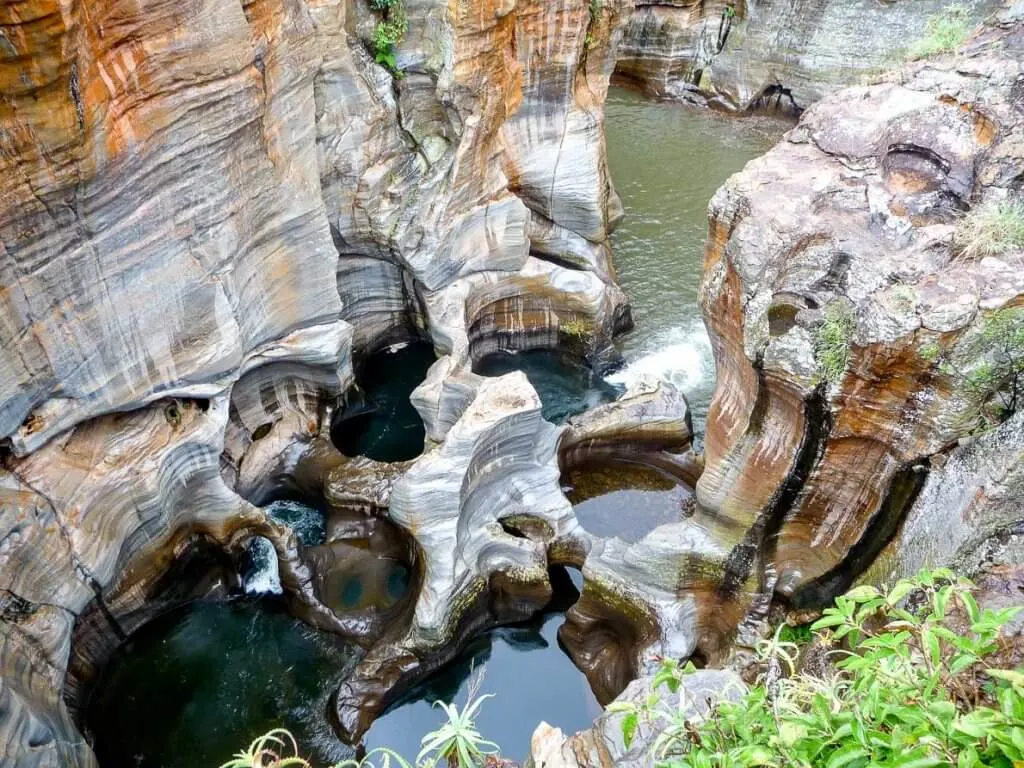 Kids will love walking on the bridges high over the river and splashing in the river. Watching the water swirl around in the colourful potholes is hypnotic. There is no gold here, so sadly Mr Bourke (a gold miner who the potholes are named after) was all out of luck.
You won't need to spend the whole day at the potholes so you can also look at a some incredible viewpoints at God's Window and the Three Rondavels nearby and visit the former gold mining town of Pilgrim's Rest (now a protected heritage site).
This is a great place to enjoy the natural beauty of South Africa with kids in tow.
17. Spotting the rare white lion in Timbavati
Kellie, 4WornPassports
There are few adventures more exciting for kids than going on an African safari. Safaris are perfect for families because the mornings and evenings are filled with game drives, but there is plenty of time in the middle of the day for napping by the pool and relaxing.
The Timbavati region of South Africa offers an exciting opportunity beyond spotting the Big Five: searching for the über-rare white lion. White lions have a rare genetic marker resulting in a beautiful white coat.
Less than a dozen white lions are living in the wild in the entire world…and they all live in the Timbavati and Kruger Park regions of South Africa. Unless these beautiful cats are granted endangered status soon, they will likely be hunted to extinction.
For more information on planning your own amazing safari, be sure to read how to plan a family-friendly, budget safari.
18. Kruger National Park
Jenny, TraveLynn Family
Kruger is perhaps South Africa's most well known parks, and rightfully so. This is a game-rich park with a good chance of ticking off the big five.
We love that you can self-drive as it means you can be self-contained with your little ones and feed them snacks when needs be. Plus the roads are well-marked and very well maintained, meaning that you can even explore the park in a 2wd, and there are lots of safe picnic sites dotted around the park.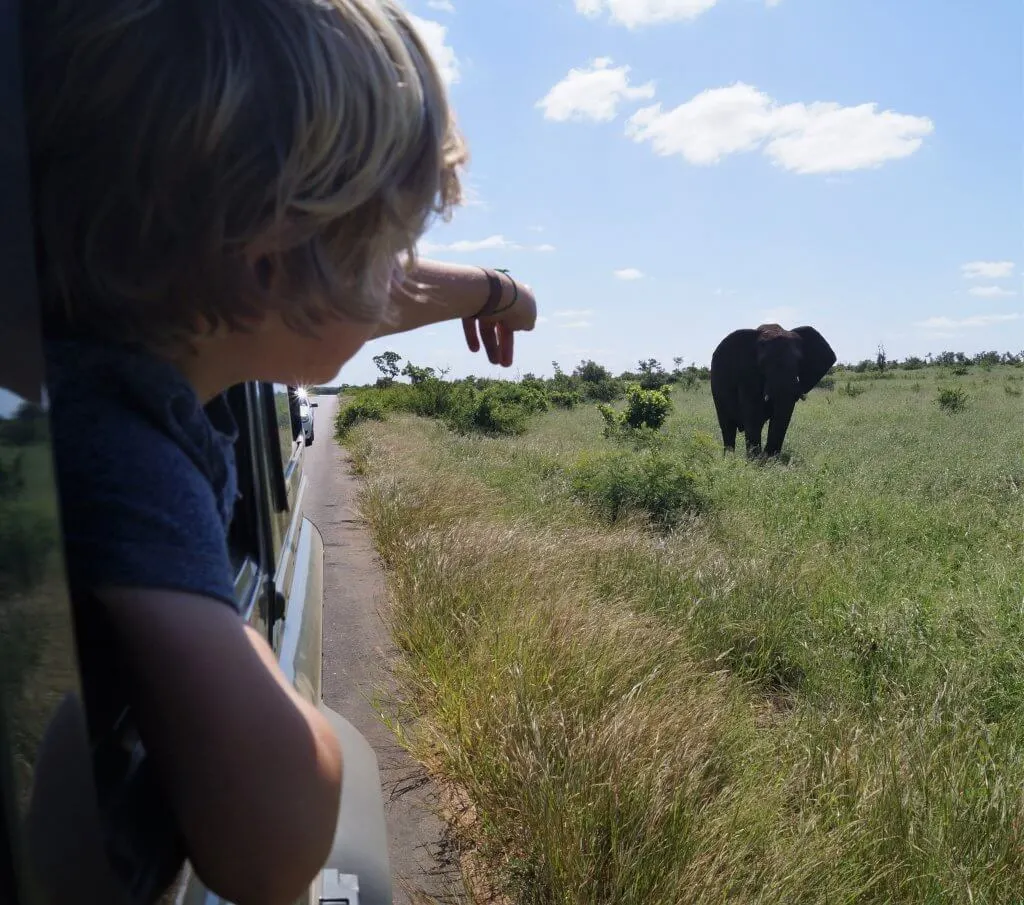 Accommodation (including camping) does get booked up, so book in early on the asnsparks site. Some of the rest camps even have swimming pools, which our boys particularly loved for cooling off after a morning game drive.
If you are looking for accommodation just outside Kruger, we recommend staying at the family-friendly Southern Sands near Hoedspruit.
---
You may also like to read:
Malawi itinerary with kids
Mozambique itinerary with kids
Medical kit list for families travelling Africa