Cambodia is a wonderful destination to travel with kids. It feels much less 'touristy' than neighbouring Thailand to the west and is more compact, with shorter travel distances, than neighbouring Vietnam to the east.
This gentle and resilient country offers everything from lazy beaches and buzzing cities to fascinating history and adrenalin-fuelled activities. One day you will be trying to get your head around the horrors of the Khmer Rouge regime or exploring 11th century temples, and the next day you may be whizzing through the jungle on a zipline or be physically shaken by your chair at a 4XD cinema.
We spent almost a month travelling Cambodia with kids as part of our Southeast Asia backpacking adventures, and here I share our suggested 2 week Cambodia with kids itinerary and top tips to help you get the most out of your family visit.
Disclaimer: This post contains affiliate links. If you click to purchase, it is at no additional cost to you, and I receive a small commission.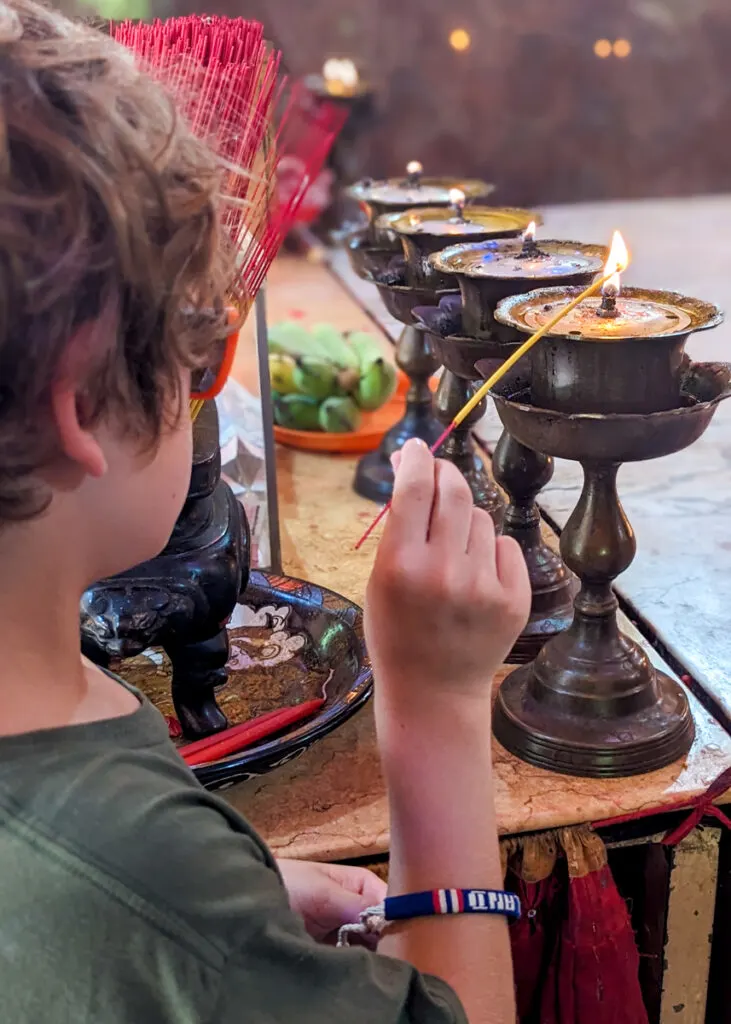 Is Cambodia safe to travel with children?
The short answer is yes, absolutely.
The slightly longer version is that Cambodia occasionally receives a bad press in terms of safety, mainly relating to the capital Phnom Penh. When we travelled pre-kids to Cambodia in 2007, it was one of the few cities on the trip we were genuinely wary about in advance, to the extent that we changed our arrival time to arrive in the daylight. Once we got there, it was friendly and safe and turned out to be completely trouble-free trip. Fast forward sixteen years and the situation has improved immeasurably and our recent trip with two young kids was equally trouble-free.
Do be aware of the following though but, as always, keep everything in context.
There are often high-profile reports of bag-snatching in the main cities, notably Phnom Penh and Siem Reap and whilst you should be aware of the risk, it's highly unlikely to affect you and no more so because you're travelling with children. Similarly, the cases of violent assault are thankfully rare and more likely to affect travellers out and about late at night alone, not a scenario you are likely to encounter with kids.
The healthcare system in the country is admittedly quite poor, ranging from adequate in the major cities to virtually non-existent out in the countryside. Minor scrapes and injuries will be fine but in the event of an emergency or serious injury, it's likely you'll need to immediately fly to Bangkok or another major city. Make sure your travel insurance covers for this eventuality.
One tragic component on life in Cambodia, especially in the countryside are landmines. The golden rule is never stray from the main roads and tracks outside of the towns/cities which could be a challenge if your kids like to run free, particularly if they make friends with local kids. It's better to be safe than sorry which means always keeping them close by and speaking to them in advance about the dangers. A trip to the landmine museum may help with this.
How to get around Cambodia with kids
Grab
What did we do before Grab?!
One of the biggest frustrations and difficulties getting around a large city can be the taxi drivers and lack of meter usage. Maybe it's just us but we've never had any luck getting local taxi drivers to use the meter, usually resulting in us shaking our heads as we walk away and try another, or giving in and paying double or treble the fare. It makes it harder having two kids in tow, often stood by the side of the busy road, holding up traffic whilst the negotiations take place. Then it can be difficult to explain where we need to go, etc, etc, etc.
Our recent trip to Southeast Asia was the first time we've used an e-hailing app in the region and it's been a revelation! Easy to book drivers, fixed fares, and a Google Map point stored as our destination. It solved most of our problems getting around and saved us a small fortune. Bear in mind we're a family of four so we fitted into the taxi with no issues, it would be difficult for a bigger family. The other thing to remember is you'll need to register with the app before your first ride. We were using e-sims so didn't have a local Cambodian number to receive an activation SMS but luckily Grab didn't need this step. The other main app (Pass) did so we were unable to use them. Not all cities have Grab (we used it most in Phnom Penh) so try to get a physical local SIM if possible.
For longer distance journeys, some travellers use Grab which can often work out the same price of slightly more expensive than a bus or train, particularly if you're travelling between two places not served by much public transport.
Bus and minivan
The other options for longer trips are bus and minivan. Buses tend to serve connections between the larger towns and cities. Minivans do the same but also plug the gaps in the countryside and can be an option. We tended to use buses as they felt slightly more comfortable and less prone to speeding. Buses can be booked via the old-fashioned approaches of telephone or going to the physical office which will save you some small fees but can add to the hassle-factor.
Booking online is very easy, some of the companies have their own websites, for others you can book via baolau. They take a small commission but it's an excellent resource for checking routes and timetables, plus they accept most overseas credit cards. You can also usually choose your seats at the time of booking which is a huge plus point when travelling with kids, giving you the peace of mind knowing you're sat together.
Our recommendation for bus companies is Giant Ibis who provide the highest standard of buses in Cambodia, particularly recommended for the international service between Siem Reap and Bangkok. You can book online using their site, or message them on WhatsApp to reserve tickets which can be collected via any of their offices.
Train
The final option for getting around is to take the train, it really was one of the highlights of our trips as we pulled out of Phnom Penh heading to Battambang. The routes are very limited, one travels between Phnom Penh and Battambang, the other between Phnom Penh and Sihanoukville. Both routes run every day and timetables can be found on the Baolau site. If you can manage to find a train that matches your schedule, it's definitely worth doing, it's also cheaper then the bus and often less crowded.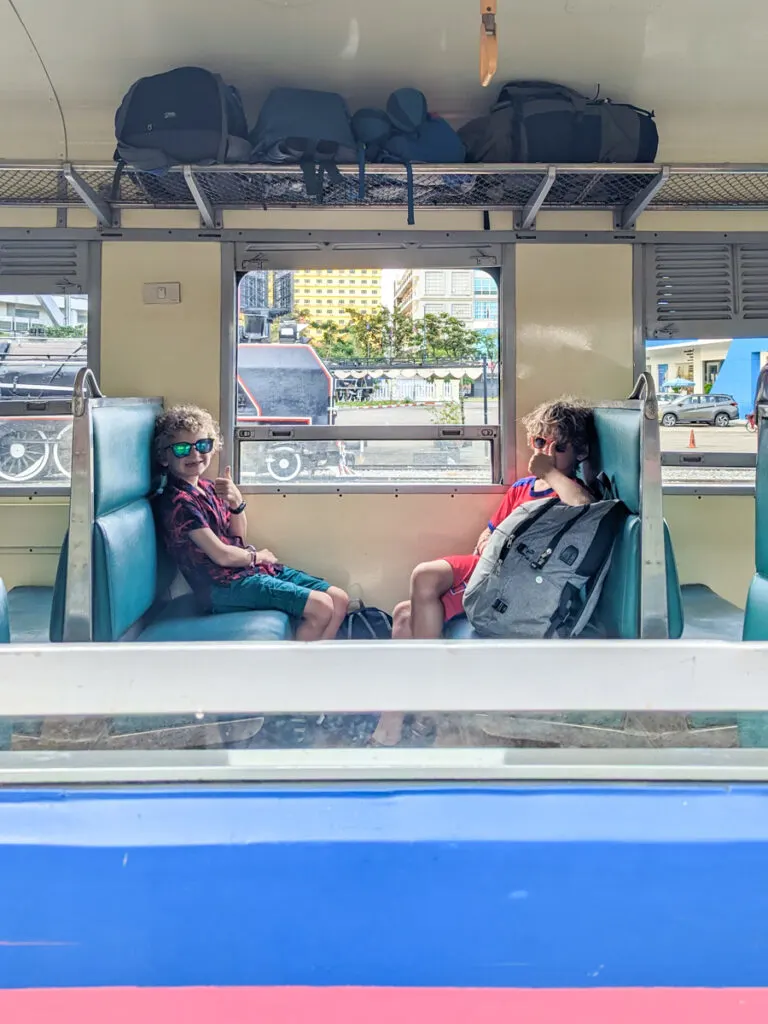 Visas and immunisations for Cambodia
It's a good idea, if you have time, to arrange your visa in advance. We heard rumours of low-level hassle at the border if you didn't already have a visa; just minor stuff like being asked to pay a small surcharge or problems with no change etc. Nothing too bad, but a trouble you could do without when you've got young kids with you.
We got our Cambodia visa online in advance and it was a smooth process on the whole, just a few minor things to watch out for:
The system is quite clever in that it reads your passport image file and pulls out your name, DOB, passport number etc. Do double check that all the details are correct though.
It will also find your passport photo and offer to use this as the application photo. We incorrectly assumed that it had to use that one so left it in place, even though the quality wasn't great. Oddly enough, the boys photos were accepted but we received an email saying ours had been rejected. We quickly took another on our mobile phones and it was processed within a couple of hours.
With that in mind, do keep an eye on your spam folder in case they contact you.
The application form will ask for an address in Cambodia. We booked a cancellable hotel in Sihanoukville for the first night and used that address. We had a change of plan before arriving and cancelled the hotel, this didn't seem to cause any issues at the border.
Print out TWO copies before you get to the border. They'll keep one on entry and staple the other A4 sheet into your passport ready for departure. It's not ideal as it pads out your passport and stays there for the duration of your trip. Try to avert your eyes when they rip it out at departure, it can be stressful!
You'll be given a one month single entry visa which must be used within three months. Keep this in mind when applying, don't apply too early or it may expire before you arrive at the border.
You can use the e-visa at most borders, there are a few remote ones which don't allow them. If you're taking the 'usual' tourist routes in and out, you'll be fine. But do check beforehand on the website.
We applied on a Wednesday and it was approved (for the boys) on the following Monday. This was about in line with the timescales they advertise on their website. Once we'd corrected our photo issues, our visa was also approved within a few hours.
Don't panic of you haven't done the e-visa. As mentioned above, you can get them at the border, just bring cash (US dollars, Thai Baht or Cambodian Riel) and some patience.
For vaccination advice, please refer to the Fit for Travel NHS website.
Some tips about money in Cambodia
Cash is king in Cambodia.
Get used to working with dollars and riel as these are used simultaneously in Cambodia (often in one transaction). It can be very confusing for the first couple of days but don't let anyone rush you. You'll soon find you are an expert with the 4,000 times table.
Be extremely careful when receiving US dollars in change as ANY minor tears or cuts in them will likely be rejected by the next person you give them to. To be honest, it can be quite a nuisance but everyone is used to people checking their change. Try to limit the amount of times you spend dollars and keep them in a plastic folder or similar. No-one checks or cares if riels are cut or slightly torn.
If you are stuck with a torn note, you can exchange them at a bank or moneychanger for a 10 or 20% fee.
ATMs will usually offer to dispense US dollars or Riel. If you choose US dollars, it's very likely to be $100 bills only which won't be accepted in smaller restaurants and shops. If you go into the banks they will usually exchange them for smaller notes if you ask nicely although occasionally it can be a problem. Just try another bank in that case.
2 week Cambodia with kids itinerary
From our time travelling Cambodia with kids, I have compiled this 2 week itinerary. If you have extra days to spare, I would recommend using them in Siem Reap and/or Koh Rong Sanloem.
Day 1-3: Koh Rong Sanloem
READ: Koh Rong Sanloem with kids: Lazybeach REVIEW
Accommodation: Lazybeach
(basic family beach huts with fans)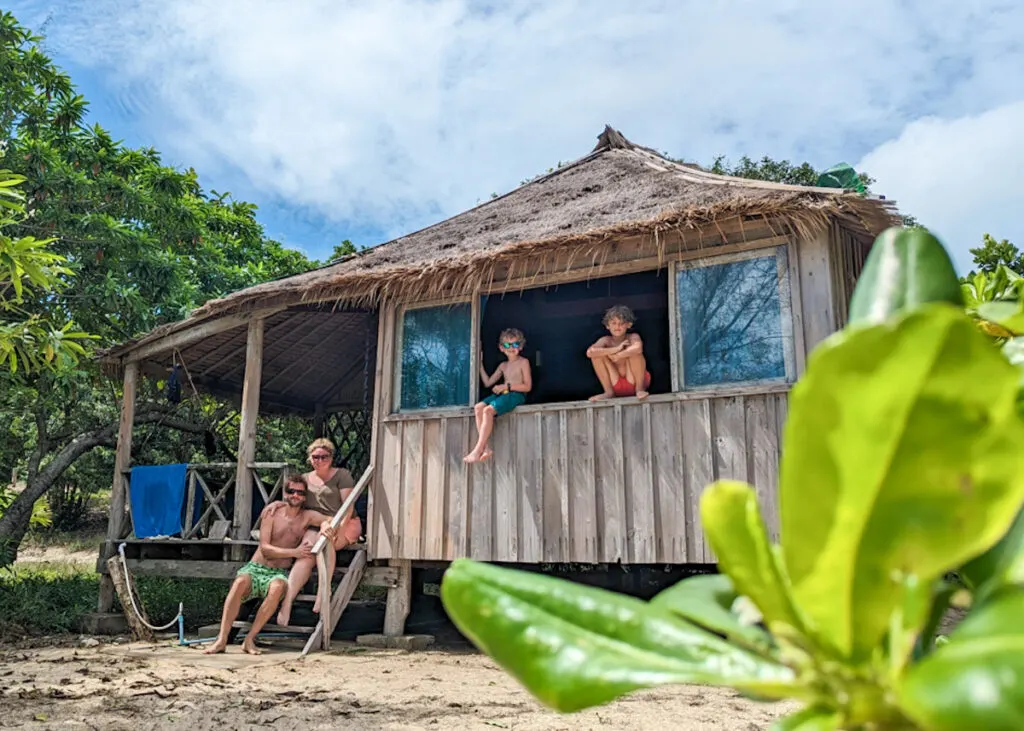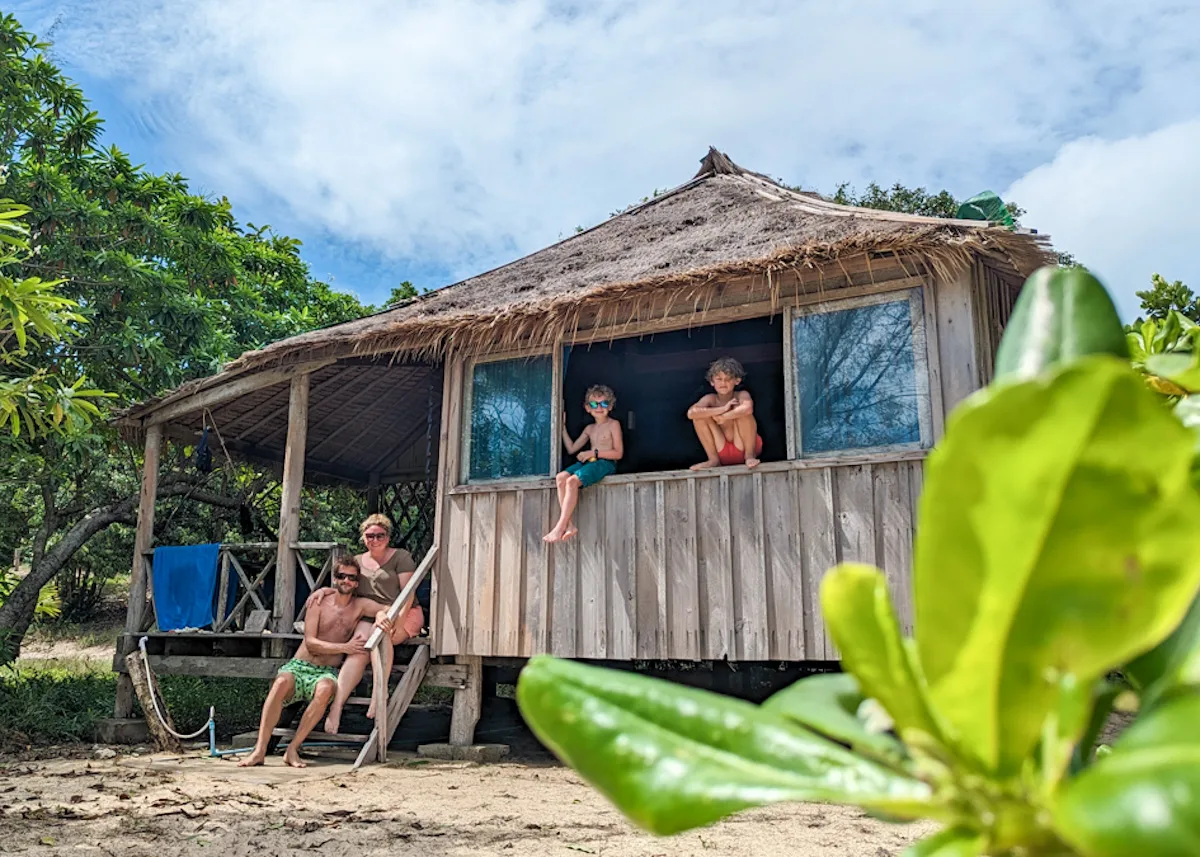 Start your Cambodian adventures by unwinding on the beaches of Koh Rong Sanloem. Sihanoukville is the launch pad to get here, so you will need to get yourself to Sihanoukville either by flight, train, bus, or private transfer. Sihanoukville is sadly a city that has become a casualty of Chinese development with no regard for the local culture and environment; it's high-rise concrete buildings with casinos and clubs are not worth staying longer than a night for.
The easiest way to organise your ferry (speedboat) from Sihanoukville to Koh Rong Sanloem is through your accommodation on the island. Expect to pay aroundUS$25 per person (under 9's are slightly cheaper). The speedboat takes around an hour, depending on whether it stops at neighbouring Koh Rong or Koh Rong Sanloem first. From the ferry port on Koh Rong Sanloem, a tractor can pick you up and take you to the other side of the island if you are staying at Lazybeach, which we very much recommend.
The vibe at Lazybeach is very laid back, as it's name suggests, and is a wonderful place to unwind and recalibrate. Spend your days playing in the waves, on the beach, or the board games behind the bar. It's a beautiful slice of paradise where life is stripped back to basics.
Day 4-5: Kampot
READ: Visiting Kampot with kids
Accommodation: Magic Sponge
(Lovely family room with aircon. There's pool tables and minigolf, and the owner, William, is the perfect host)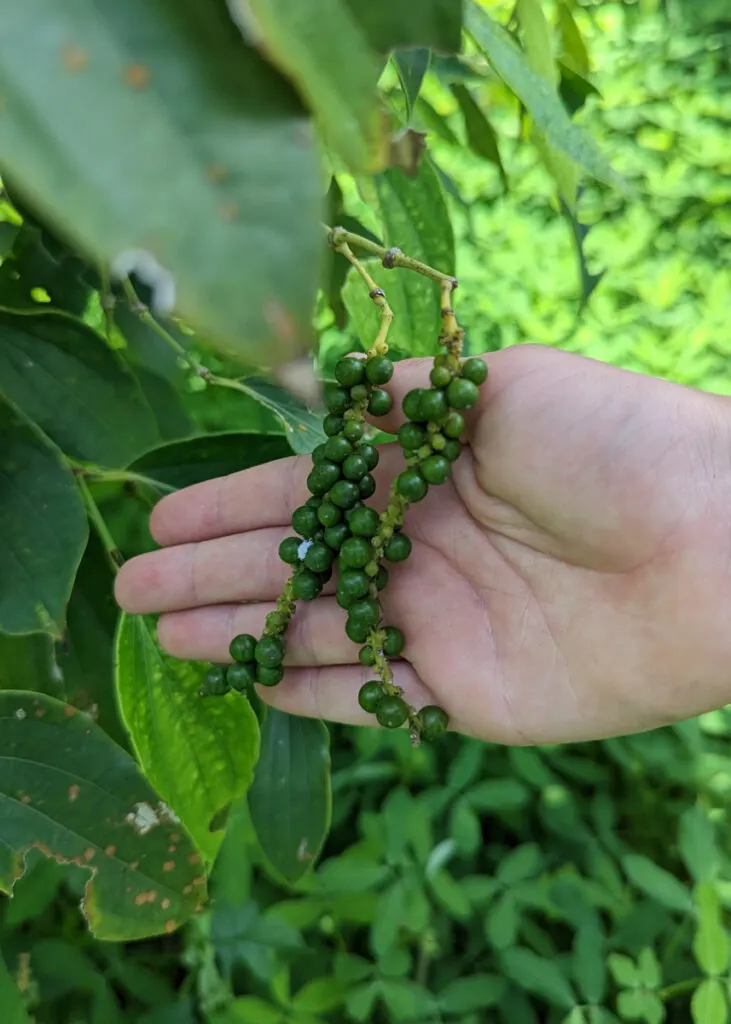 The river-side town of Kampot is a lovely stopover between the Cambodian islands and Phnom Penh. It's just one of those places where you don't necessarily tick off the sights, but you just soak up the vibe. The easiest way to get here from the ferry terminal in Sihanoukville is via private transfer, which can be arranged through your accommodation.
There are some great accommodations and eateries here, but we loved our stay at Magic Sponge and the free onsite mini-golf and pool tables were a hit with our boys. But
An absolute must-do in Kampot is to hire a tuk-tuk driver for the day to take in the sights of the surrounding countryside. Expect to pay around US$25. The usual stops are:
the salt field just outside of town
tour of La Plantation to learn about how Kampot Pepper is made, as well as taste-testing 17 different types of pepper
Kep – a seaside town known for its crab market. There's a beach to play on, but the sea didn't look too inviting here. There are also lots of snack stalls along the beach; our boys highly rate the Cambodian pancake.
Phnom Chhnork – a 1300 year-old temple in a cave
Day 6-8: Phnom Penh
READ: Visiting Phnom Penh with kids
Accommodation: City View Apartment
(A spacious, modern, 2-bed apartment over two floors. Three bathrooms, kitchen, washing machine, and a superb roof-top pool).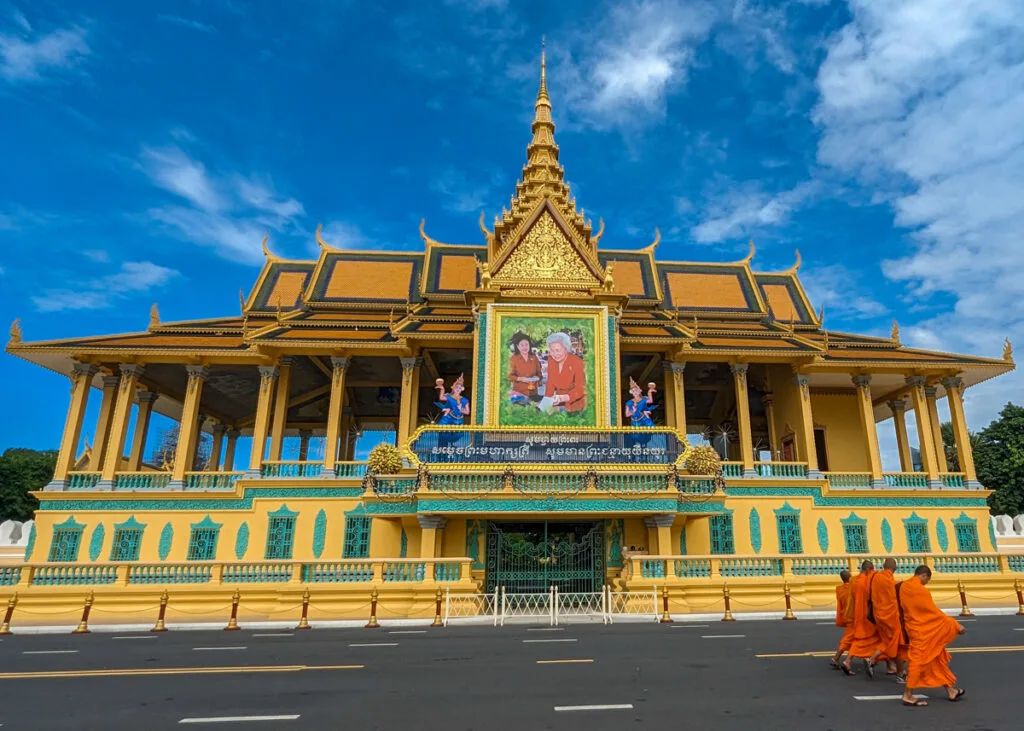 Phnom Penh, the capital and largest city in Cambodia, retains the fun and flavour of other large Southeast Asian cities, but on a much smaller scale. Think of it as a tamer version of Bangkok; it feels much easier to navigate and not quite as highly-strung. It's a fascinating city to explore how modern Cambodia is transforming alongside deep-routed traditions.
At the time of writing, there were no public buses between Kampot and Phnom Penh due to the state of the road. So we took a private transfer organised through our accommodation.
Phnom Penh offers families the perfect balance of exploring tradition and having some serious fun with hi-tech cinema complexes and waterparks. There are some fantastic things to do in Phnom Penh with kids including:
The Royal Palace
Wat Phnom
Sunset cruise and Sisowath Quay
Eat and shop at the night market
We decided not to take the boys to the Genocide Museum and Killing Fields. They were 8 and 9 years old at the time and if the images at these places were a film it would be rated 18+. Jay and I were really shaken up by our visit there pre-kids. We've spoken to the boys about the past atrocities here, but don't want those images etched on their minds quite yet. However there is no minimum age to enter and as parents it's totally your call as to what you feel is best.
Day 9-11: Battambang
READ: Visiting Battambang with kids
Accommodation: Lotus Blanc Homestay
(Basic family, ensuite room with AC. This is a family homestay and our boys had so much fun playing football with the two sons.)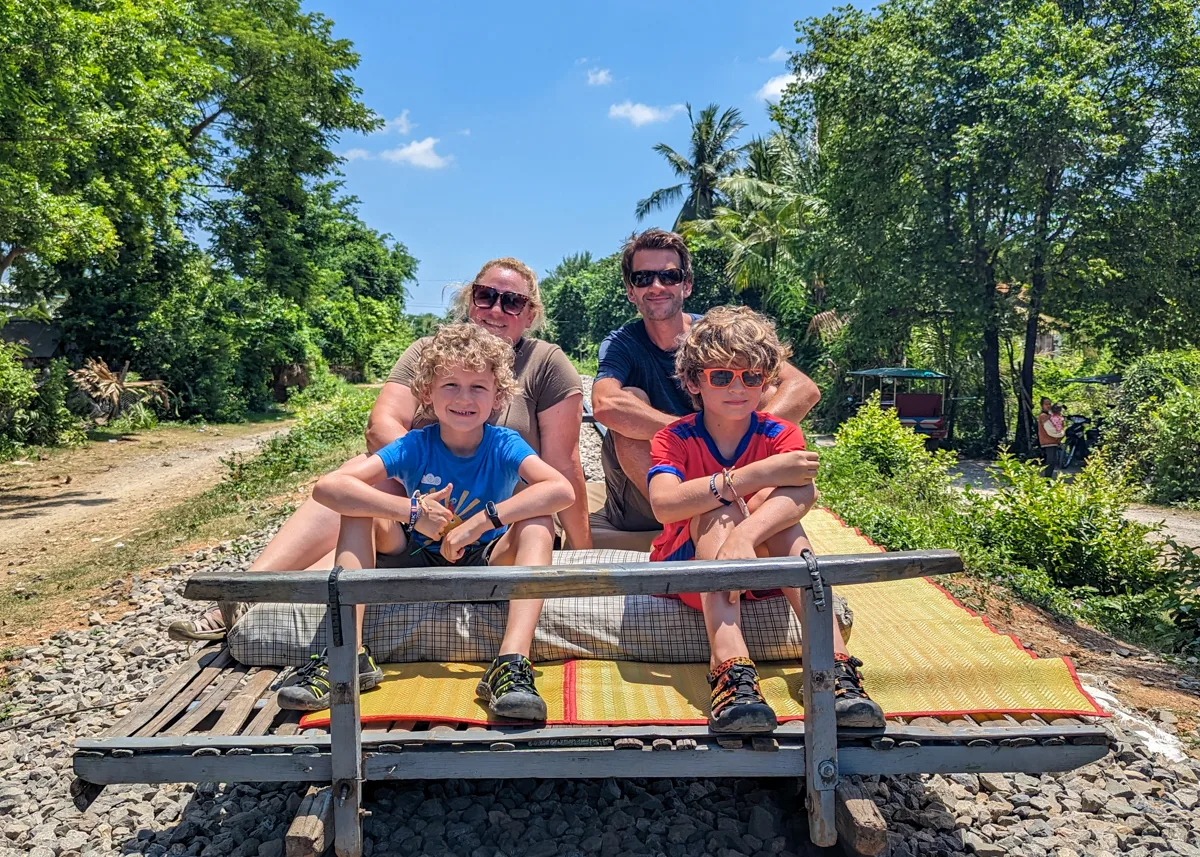 The train from Phnom Penh to Battambang has to be a highlight of our time in Cambodia. It was a wonderful feeling chugging through the Cambodian countryside watching people go about their everyday lives with warm air rushing past (the above photo is of the Battambang Bamboo Train, not the public train we took from Phnom Penh to Battambang in case you were wondering). You can prebook your train ticket direct from the station in Phnom Penh.
Battambang might not be on everyone's radar when visiting the country, but it's a fantastic base for worldschooling families who want to learn more about Cambodia's past and present, and there's also the superb Phare Circus to watch (we were totally blown away by the energy, personality, and ingenuity of the show).
We organised two separate tuk-tuk day tours through our family homestay, Lotus Blanc Homestay. The first day tour is the main tour that visitors to Battambang do that takes in the Bat Cave and Killing Cave, Banon Hill, and a ride on the bamboo train. The second day tour is learning about local traditions and way of life with watching how how rice wine, rice paper, fish paste, and bamboo sticky rice is made as well as a visit to Killing Temple and Ehkphnom Temple. Read more about these day tours in our guide to visiting Battambang with kids.
Day 12-14: Siem Reap
READ: Siem Reap with kids guide
Accommodation: SAKABAN Suite
(Large family ensuite room with balcony, including breakfast. Superb location, lovely pool, and friendly staff.)
From Battembang, the most cost effective (and easiest) way to get to Siem Reap was by private transfer booked through our accommodation.
The main reason most people visit Siem Reap is, of course, to see Angkor Wat. Indeed, it's top of the list of things to do in Cambodia and watching the sun rise behind the main temple is a bucket list experience.
But let's be realistic, the kids aren't going to be too enamoured by days wandering around ancient temples in the heat. Thankfully there are so many fun things to do in Siem Reap with kids besides Angkor Wat, including Angkor Zipline (a zipline course in the rainforest canopy), learning about the impressive HeroRATs who are sniffing out landmines and saving rural communities, an Angkor Wat-themed golf course, plus the range of food options along Pub Street will keep even the fussiest of eaters happy.
You could honestly spend a week or more in Siem Reap; the town has such a lovely vibe and there's so much to do beyond Angkor Wat.
Cambodia destination guides for families
Here you will find the links to our focussed destination guides in Cambodia for deeper research.
Visiting Phnom Penh with kids
Visiting Kampot with kids
Visiting Siem Reap with kids: beyond Angkor Wat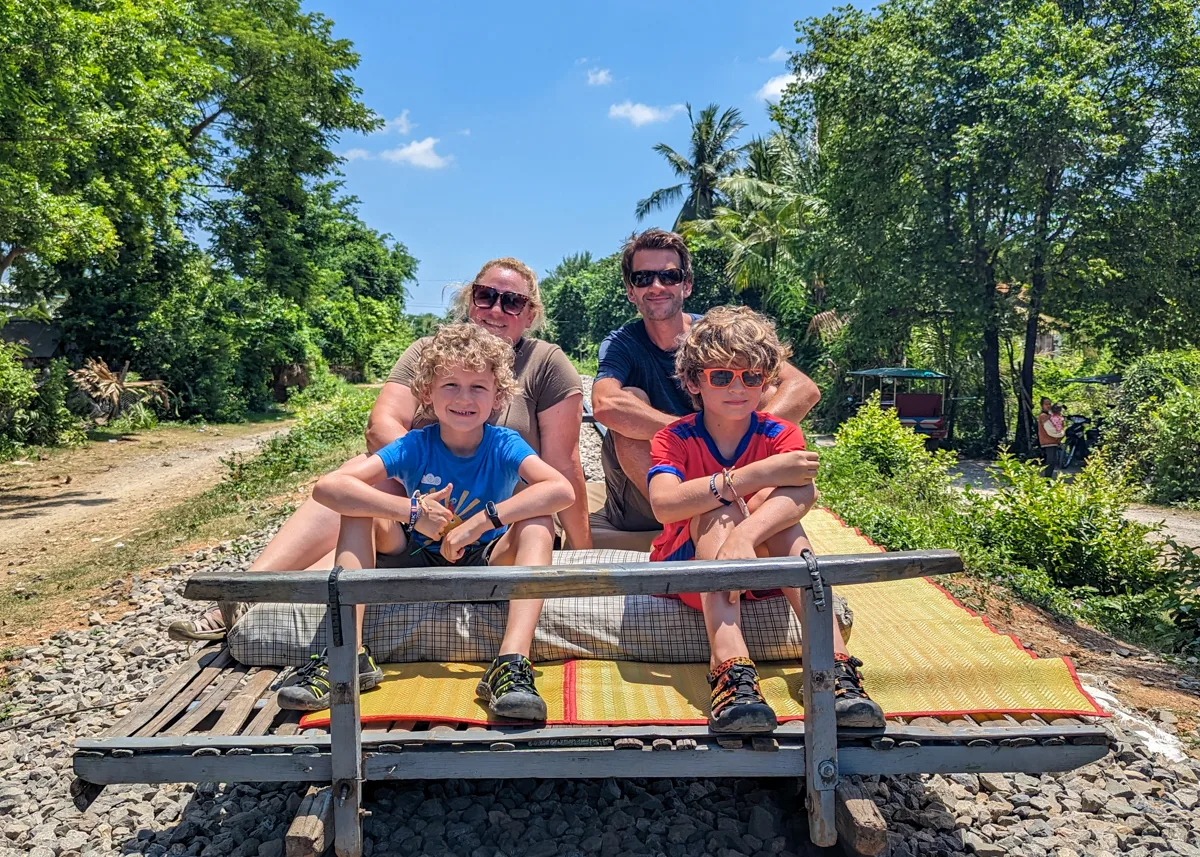 Visiting Battambang with kids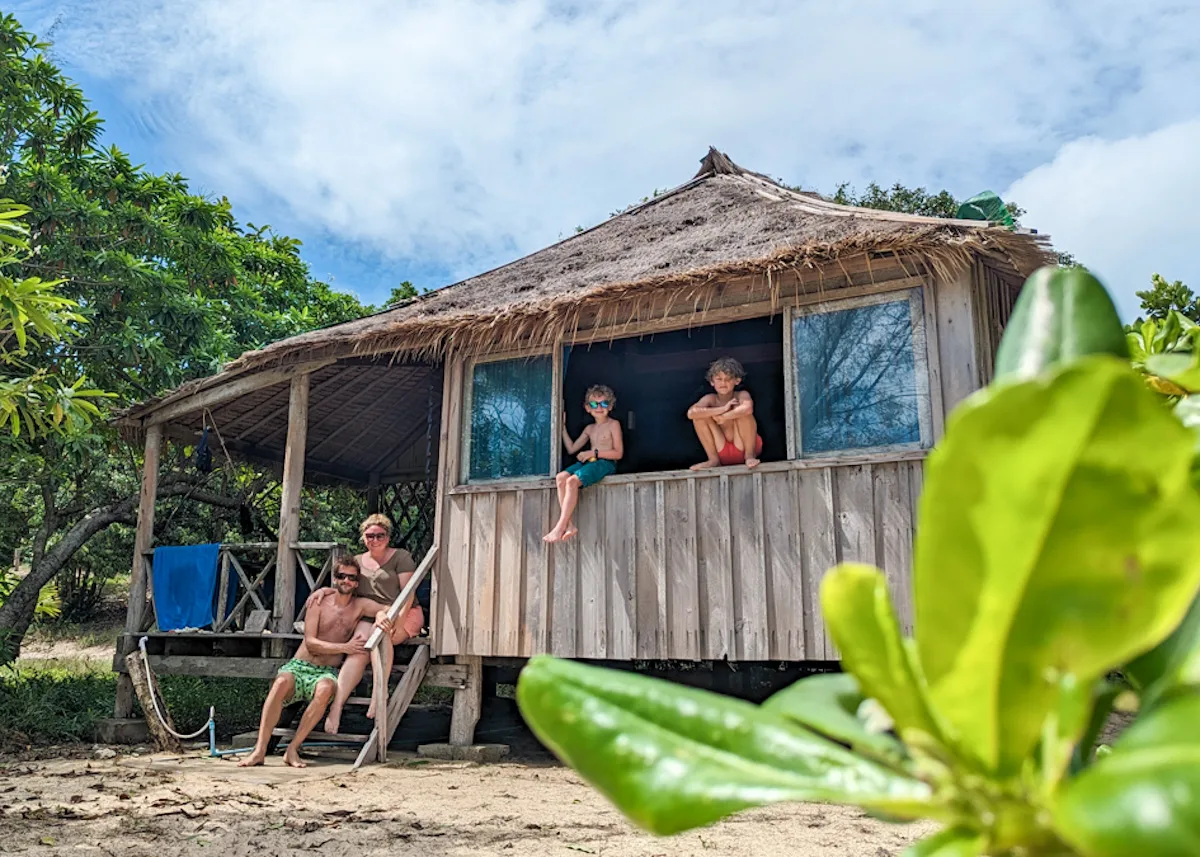 Koh Rong Sanloem with kids: Lazybeach REVIEW
Check out our Southeast Asia packing list for families
Cambodia stories on Instagram
If you would like to get more of a visual idea of what to expect travelling Cambodia with kids, you can head over to our Instagram where in the Highlights section we have saved stories from our Cambodia travels. Check out 'Cambodia pt1' and 'Cambodia pt2'.
---
You may also like to read:
Thailand with kids: top tips and an easy family itinerary to follow
Borneo with kids travel guide
Vietnam with kids: top things to do