How to pack light for a family backpacking adventure around Southeast Asia with this Southeast Asia packing list.
On the day we left our home town of Bakewell for 10 weeks backpacking Southeast Asia with kids, I published a post to our Instagram and Facebook account. Along with many well wishes for adventures ahead, a lot of people were commenting about how little luggage we were travelling with.
Wow I need to up my packing game! Have the best time, can't wait to follow along x

Erika Lowe
Very inspiring. Safe journeys! Any packing tips? Whatever you got in those bags? X

Heather Carey
Is that all the luggage you've got?! Impressive!

Catherine Brady
OMG I take more bags than that just to go to work !

Joanne Cahill
Your minimal packing is inspirational!

Gwen Lindsay
We've packed more stuff for a weekend in Woolacombe have an amazing time!

Helen Flowers
Good lord I pack more to go to the park with a toddler and infant Have an amazing time, can't wait to hear about your adventures. Xx

Tanya Pln
No suitcases ? Wow proper back packing x enjoy and so brave

Rebecca Heywood
As promised to many of you who messaged and commented, I'm sharing our Southeast Asia packing list for families. Our travels took us through Thailand, Cambodia and Malaysia, including Borneo.
Disclaimer: This post contains affiliate links. If you click to purchase, it is at no additional cost to you, and I receive a small commission.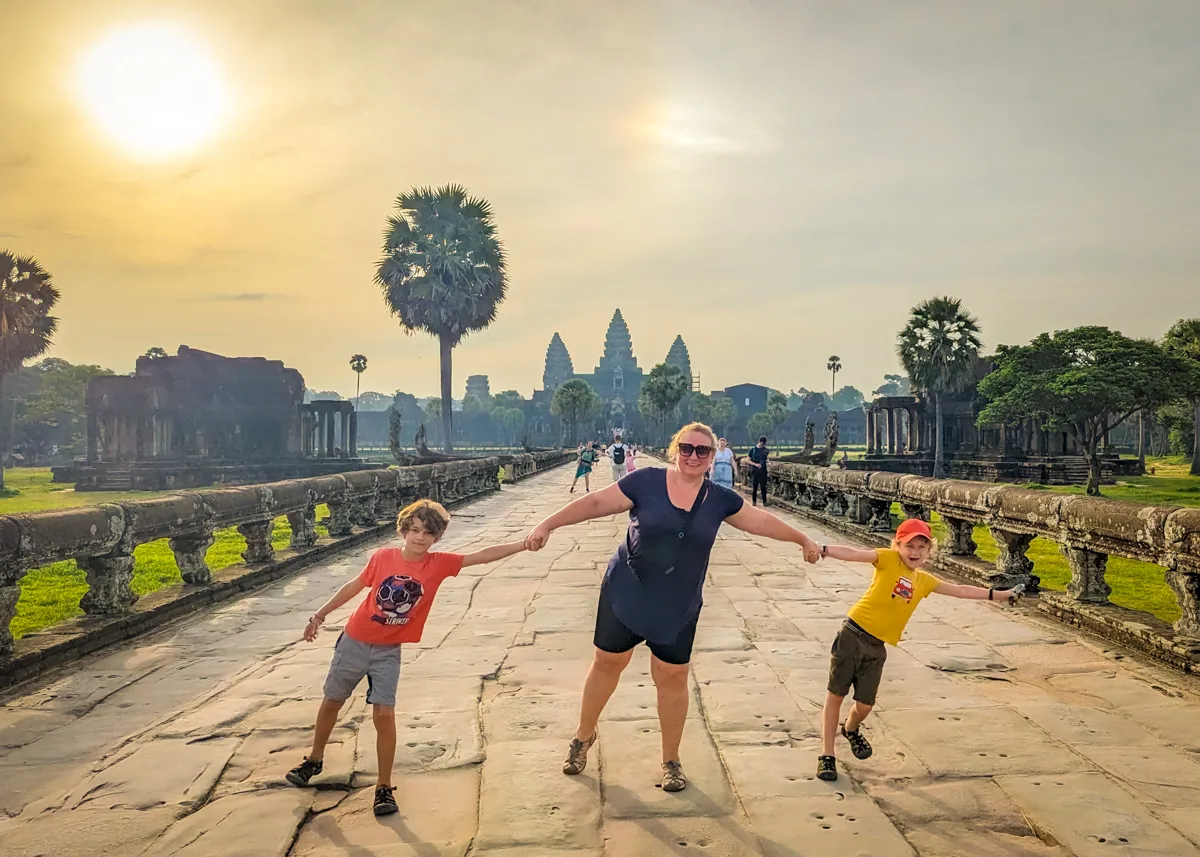 OUR SOUTHEAST ASIA ITINERARY
Why we pack light for Southeast Asia
Now we are very light (stingy?) packers. This allows us to jump on and off trains and buses more easily and also reduces those pesky extra fees when taking low-cost flights within Southeast Asia. Check out our tips for packing light with kids.
Plus, in the hot and humid climate of Southeast Asia, you really don't need thick jumpers, heavy coats, and jeans unless you're going up into the mountains. We live in flip-flops, shorts / light skirts, and T-shirts or swimwear 99% of the time. These obviously take much less space in our rucksacks than what we'd pack for a European winter trip for example. Indeed, our packing list for just 5 days in Iceland with kids is very different to this Southeast Asia packing list as it requires many warm layers.
And if you need any extra clothes, then there are lots of markets where you can pick items up cheaply. Similarly, you can still get shampoo, mossie repellent, medicine etc in pharmacies in Southeast Asia, so you really don't need to pack extra items to last the trip. If you run out of something, there will definitely be a shop you can pick a replacement from.
In fact, in the past we've flown to Bangkok with just a couple of changes of clothes and then just picked items up whilst there. If you want something more long-lasting, there are also malls aplenty in all Southeast Asian cities, including well known high-street brands such as good old Marks & Spencer and Next.
Also, we're not fashionistas. We're happy wearing the same thing day in day out. if it doesn't smell too bad and not covered in food stains, then an item of clothing can definitely be worn more than once.
What bags to take
READ: Best travel backpacks for kids
Not to sound to obvious, but we backpack with backpacks! Whilst some families like to take suitcases, we find them very cumbersome with our style of travel, and there is rarely a long and flat section of pavement to walk along in Southeast Asia with your suitcase rolling behind.
If you're visiting Southeast Asia for a week or two, and just staying in a few accommodations with private transfers in between, then a suitcase is absolutely fine. Suitcases also rarely require a full unpack to get something out of the bottom of the bag.
However, a backpack means that you have two hands free (which makes travelling with kids easier, such as with holding hands and navigating to your next accommodation on your phone).
Jay and I have backpacks that we've used for over ten years, both 40L.
Arthur has the Deuter Fox Kids' 30L Backpack. We bought this for him when he was 8.5 years old, just before we left for 4 months in Morocco. It is brilliant. It's just the right size, has waist straps, adjustable back height to grow with him, and it's decently priced (especially compared to the extortionately priced Osprey kids backpacks).
The Deuter Fox Kids' 30L Backpack was unfortunately a bit too big for Ez, who was aged 7 when we left for Morocco. Instead we bought an 18L backpack from Decathlon with a waist strap (the waist strap is important to help distribute the weight evenly). By the time our trip to Southeast Asia came around, we probably could have purchased him one, but he could fit all he needed into the Decathlon bag, and we didn't want to overload him. However, he bought a few extras with his pocket money on our Southeast Asia travels (LEGO and cuddly toys) and in hindsight, we should have upgraded his backpack before we left.
We then had an extra laptop backpack for electronics (laptops, tablets, kindles) that one of us parents always took. Plus a small foldaway backpack for any snacks and other essentials needed for a bus journey while our main bags were in the hold.
So in summary, we actually had 6 bags between us:
I also have a bumbag that I use as a handbag to keep my phone in and small essentials such as sun cream, tiger balm, and loo paper. This is the one I use.
What we packed in our backpacks for Southeast Asia
So what did we actually back in our backpacks for Southeast Asia and how did we keep things light? Well read on…
Clothes
Lightweight clothes are what's needed for Southeast Asia. Leave the denim at home.
We tend to pack enough clothes for 10-14 days and then get them all laundered. It's really quick and easy getting clothes washed in Southeast Asia; in towns and cities, and always in tourist places, there is a laundry facility where you can get you clothes washed, dried and folded within 24 hours. It was about £7 each time I got all the family clothes laundered.
JENNY
1 x long skirt
1 x lightweight / flowy trousers
2 x shorts
5 x tops
1 x thin jumper
1 x lightweight waterproof
2 x swimsuit
3 x bras
14 x knickers
1 x socks
1 x cap
1 x sunglasses
JASON
2 x shorts
1 x lightweight trousers
5 x T-shirts
1 x thin jumper
1 x poncho
1 x swim trunks
10 x underwear
2 x socks
1 x sunglasses
THE BOYS
2 x shorts
1 x lightweight trousers
5 x T-shirts
1 x hoody
1 x lightweight waterproof
2 x swim trunks
10 x underwear
2 x socks
1 x cap
1 x sunglasses
Everyone's clothes fit into packing cubes, which then go into each individual's bag. Click here for the packing cubes we use.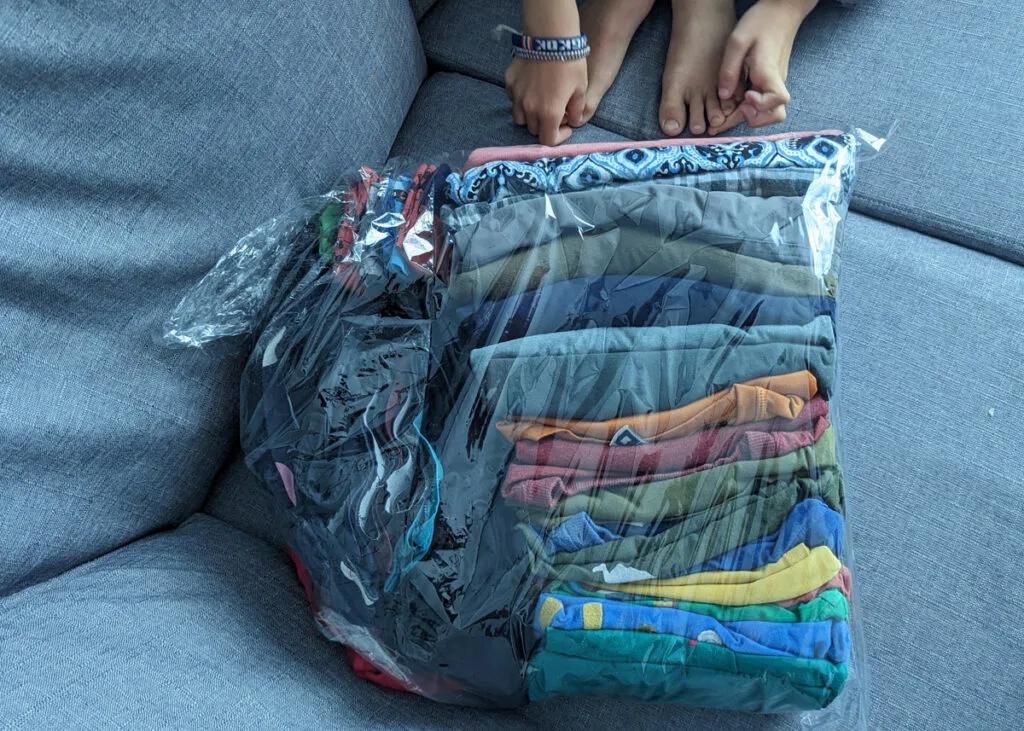 Shoes
KEEN sandals and flip flops. That's all the footwear we needed.
We lived in our KEEN sandals for most of the trip. These offer great support, protect the toe, and allow your feet to breathe in hot climates. Pavements in Southeast Asia often had cracks, things sticking up to stub your toe on, and are very uneven, so flip flops aren't really ideal, especially for the kids. Although flip-flops were handy for beach days or walking around resorts.
Jay also packed his running trainers to do some runs during the travels.
If you are planning on long hikes in the mountains, such as climbing Mount Kinabalu, then you would need to pack hiking boots. We never felt the need for them with our itinerary and even on the muddy jungle treks on the Kinabatangan River, check out our Borneo with kids travel guide, we hired wellies (they had lots of kids wellies available too) for a very small fee.
Toiletries
All toiletries go into one bag that Jay carries in his backpack. We use this bag for the toiletries as it fits everything in and you can unzip and hang it up in bathrooms.
Remember you don't need to pack for extra weeks in case you run out. You can always purchase items easily from shops in Southeast Asia.
Also, consider using shampoo and soap bars, rather than liquid bottles to save on space.
Ladies, consider travelling with a menstrual cup, rather than relying on tampons and sanitary pads. Not only is this better for the environment, but the menstrual cup takes up a lot less space, and you don't need to worry about trying to purchase tampons whilst travelling.
Our toiletry list consists of:
TOILETRIES
shampoo bar
conditioner
soap bar
shower puff
toothbrushes
toothpaste
facewash
moisturiser
hair products
hair brush
menstrual cup
makeup (although I rarely wore any)
suncream
aftersun
mossie repellent
We like to use the Green People sun products as they are ocean-friendly. And I always pack one Jungle Formula mossie repellent, and then purchase the more from 7eleven when we arrive in Southeast Asia.
Medical kit
You can always find a pharmacy to stock up in Southeast Asia, but it's a good idea to have the essentials handy in your backpack.
MEDICAL KIT
plasters
antiseptic cream and wipes
bandages
medical tape and scissors
Tiger Balm
Calpol
Eye wash
Ibuprofen
Paracetamol
Immodium
Dioralyte
School items for the boys
For this trip, we deregistered our boys from school. Rather than take on 'homeschooling' ourselves, we took the online schooling approach for travel.
The boys used their Amazon Kids Fire Tablets for online lessons with Amy from Tuition UP, as well as the DoodleLearning app, . They have these headphones to use with this.
They also had a notebook each, which acted as both their travel journal and workbook, and a pencil case with usual schooling essentials. Note that we recommend a standard notebook as the best format for a kids travel journal, read why here.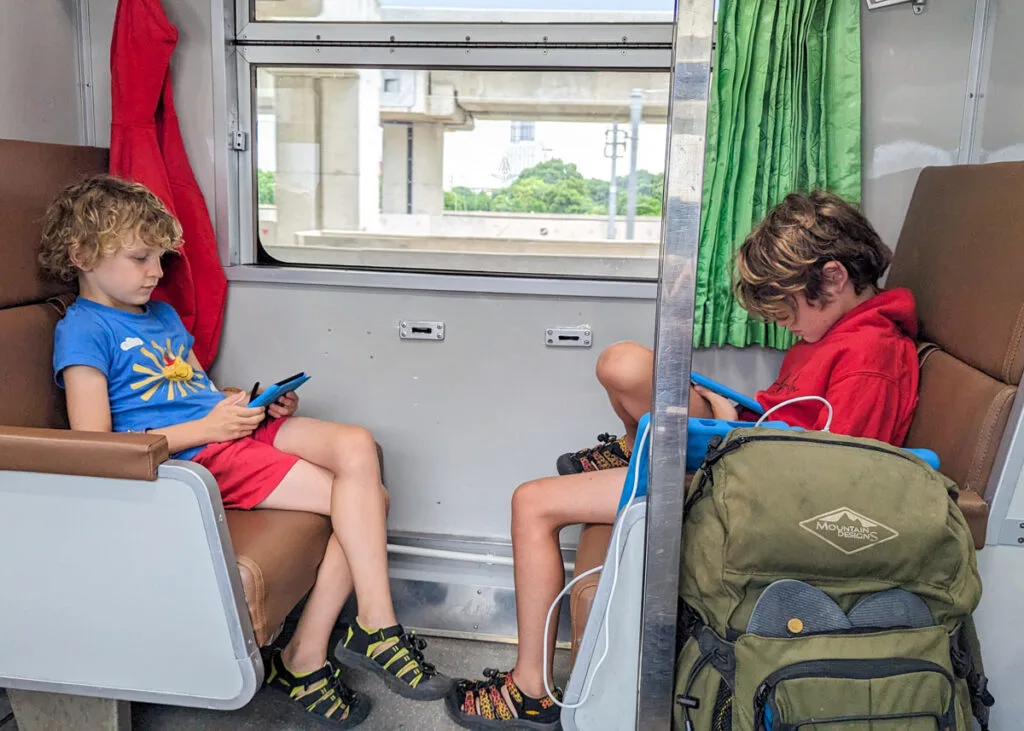 For reading, the boys each have an Amazon Kindle. This is a huge space saver. No way could we cart around all the books the boys read while travelling. Us parents also have a kindle each.
BOYS' SCHOOLING ITEMS
Kindle fire tablet
headphones
Kindle
notebook
pencil case with usual items
Electrical items
Aside from the boys' kindles, tablets and headphone, I also travel with my laptop. Being a travel blogger means that when we travel, I work on the road. Jay and I also pack our kindles for reading, and we have a couple of battery packs in case we need extra charging.
Plug sockets vary through Southeast Asia, so I always pack this Worldwide Travel Adapter, which can be fashioned accordingly to wherever I am in the world. It has a plug socket as well as USD sockets, so can charge multiple things at once.
ELECTRICAL ITEMS
Adult kindles
Laptop and charger
Battery packs
Worldwide travel tdapter
USB cables
phone
It's been years since I last travelled with a camera. I used to love my DSLR, but I can't justify the bulk of it anymore. Phone cameras have come on leaps and bounds in recent years and I find my Google Pixel phone does the job (and that's coming from a blogger who is always needing photos for work).
All other items
Then there are all the extra little items that don't fit into a category, but are all essential in our eyes. Yes, even the hammock; we've travelled all over with one for years now, whether its on a Bongo camper trip in France, overlanding Africa in a Land Rover, or this 10 week trip backpacking Southeast Asia.
ALL OTHER ITEMS
Microfibre towels
Swim goggle for the boys
Hammock
Collapsible bowls (handy for cereal and noodle snacks)
Sporks
Bottle opener
No toys for the boys?
Aside from their kindles and tablets, which they would sometime use for gaming, the only 'toy' we brought from home were the sinkers to use in the swimming pool.
Instead they use their natural surroundings, or we buy something along our travels. A new football, for example, holds much more novelty value than one from home for instance.
This trip also coincided with Ez's 8th birthday. Family and friends had given him money as a gift and we went to the LEGO store in Bangkok to spend it. He ended up buying the Singapore LEGO set, which was rather apt as that was the endpoint of this trip, and this came out to play on multiple occasions along the trip.
No car seats?
We've never taken car seats to Southeast Asia. We tend to travel around in buses, trains and tuk-tuks. The rare time we do take a taxi, there are often no car seats.
If you are planning on renting a car, like we often have in Morocco for instance, we recommend packing the mifold comfort.
Is there anything else I wish we'd packed?
Yes, knickers for me.
Apologies if this is a bit too much information, but in humid climates, I find I shower more and so end up changing my knickers more. This means that I had to wash knickers more regularly than I had planned.
So what did I do? I popped to Marks & Spencers one day in Penang and just bought some more!
Also, I would be tempted to take snorkels next time. We did a bit of snorkelling when we went Kota Kinabalu island hopping and on Selingan Island, and both times the snorkels we rented were really bad quality. Although I'm in two minds and snorkels take up a lot of space in the backpacks. It really depends on how much snorkelling you plan to do.
Is there anything we wish we hadn't taken?
Nope. Really can't think of anything.
And yes, I do feel rather smug typing that.
But we've been travelling with our boys now for almost ten years, and this wasn't our first trip to Southeast Asia with the boys. They'd been to Thailand a couple of times before (including Koh Chang and Bangkok), plus Jay and I had been multiple times before they came along. So we knew what to expect.
Final thoughts on our Southeast Asia family packing list
One of the reasons I love travelling Southeast Asia with our boys so much is that packing is very easy. Honestly, I spend four times as long packing up our Bongo camper for our France family camping trips.
You really don't need much for Southeast Asia and if you do find you need anything extra, it's very easy to buy clothes, medicine, toiletries etc. often cheaper than what you would pay at home.
But each to their own. Some people need to pack more for peace of mind, 'just in case…' and others like to dress up more and have an array of different dresses to keep their IG feed interesting (you've probably gathered that we don't fit into this bracket). As long as you're happy carrying it and it fits into your bag without breaking the zip, then by all means take it.
For us, we just enjoy the freedom of travelling light. It's an artform we've honed over decades of travel now and I hope our tips here help you with minimising your packing for your trip.
---
You may also like to read:
Africa packing list for families
Best travel backpacks for kids
Southeast Asia with kids