The Kinabatangan River in Borneo cuts its way though the rainforest, offering a glimpse into a unique habitat. Whilst the rainforest is constantly under threat across Borneo, in this protected corner you can experience how life once was, when the river was the main transport route and animals roamed free.
There's a lot on offer here; a classic Borneo river cruises (of course), night-time jungle walks, sunrise cruises, and a huge array of animals.
Read on for our top tips on how to maximise your time and experience the Kinabatangan River, Sabah; a highlight for anyone travelling Borneo with kids.
Your comprehensive guide to travelling Borneo with kids. Focusing on Sabah, we share advice on safety and getting around, top tips for your visit, and detail a 12 day itinerary.
The 3D/2N Kinabatangan tour package
There are a couple of Kinabatangan tour package options available but most people opt for the 3 day, 2 night version (3D/2N). If you're pushed for time, you could try the 2D/1N but keep in mind the title is slightly misleading. You'll be picked up in Sandakan around lunchtime but by the time you've loaded up, escaped the city, done pickups at Sepilok, it's likely to be closer to 3pm before you arrive at the lodge and then you're straight onto the first river cruise. You'll then be expected to depart the next day at 8:30am. So, technically 2 days and 1 night but they're stretching it slightly.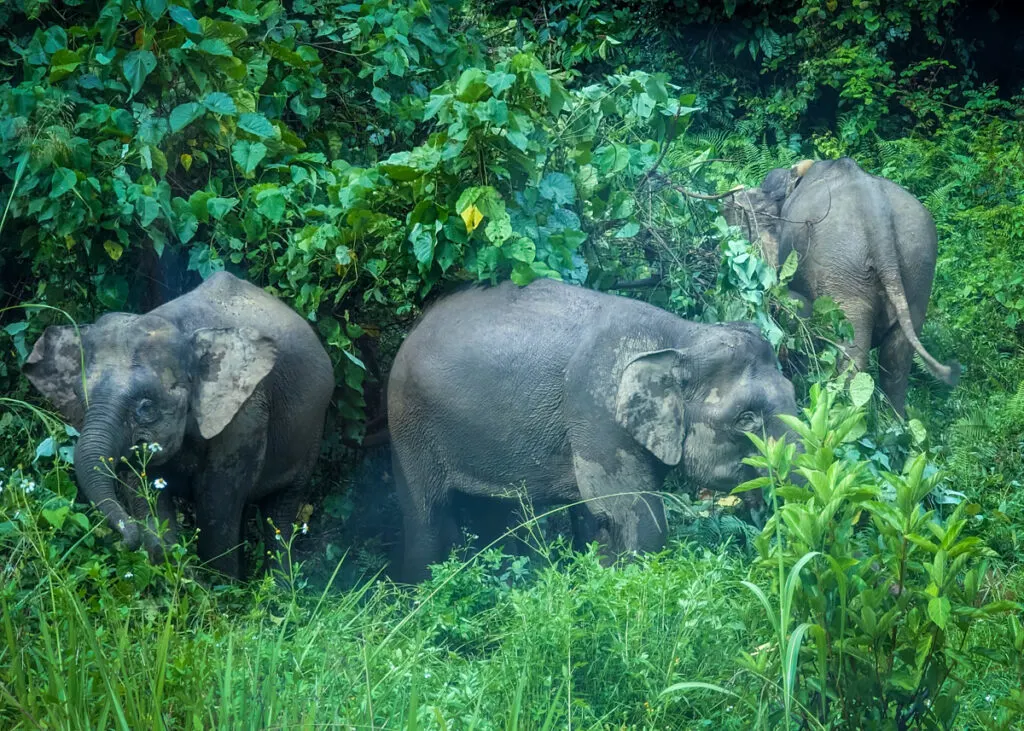 Instead the 3D/2N tour gives you a whole day at the lodge in-between the travel days. We found this a huge plus after the early alarm for the sunrise cruise, it was nice to come back to the lodge and relax/sleep for a few hours.
The 3D/2N package will look something like this:
DAY 1 Depart Sandakan at 11:45am
Arrive at lodge 3pm
3:30pm Tea time
4:00pm River cruise
7:00pm Dinner
8:00pm Night-time jungle walk
10:00pm Bed
DAY 2 Sunrise river cruise, alarm at 5:30am(!) in time for a coffee/tea
7:30am Breakfast
9:00am Jungle walk
12:00pm Lunch
3:30pm Tea time
4:00pm River cruise
7:00pm Dinner
8:00pm Night-time jungle walk
10:00pm Bed
DAY 3 Sunrise river cruise, another alarm at 5:30am
7:30am Breakfast
8:30am Checkout and return to Sandakan
All of the above Kinabatangan safari excursions are optional of course but you get a sense of how busy the stay can be. It's on day 2 that you get the chance to rest after the morning jungle walk and before the afternoon river cruise. Take advantage of the break and relax in your room or on the decking.
It's a fun-packed few days but you need to remind yourselves that you're on a Kinabatangan wildlife safari, and the Sukau Bilit resort is one of the larger Kinabatangan river lodges. We had a couple of large tour groups staying at the same time and, as tour groups can do, they took over the restaurant somewhat, to the extent that we couldn't always get a table of 4 together in the main restaurant area. It was better on the actual walks/cruises as you're assigned the same guide in a group of 10-12 people, but some groups seemed to be bigger and were assigned a larger boat. It's slightly luck of the draw but we didn't mind too much, we had a nice group and knowledgeable guide, but it never felt like we were travelling independently.
You quickly realise there is a conveyor belt element of the Kinabatangan river tour operation; people depart in the morning and new arrivals appear in the afternoon, the meals and tours repeat on a loop. It's a smooth operation and the staff know what they're doing but, again, it does shave some of the charm away.
Also, with Sandakan being the start/end point of the tour, you can nicely combine your Kinabatangan wildlife safari with also visiting the Sepilok orangutans and/or a trip to Turtle Islands.
Our experience of the Kinabatangan River cruise
As with all nature experiences, you can't help but base the success and enjoyment somewhat on what you see. During our stay we went out onto a Kinabatangan river safari four times and saw a wide range of animals including macaques, proboscis monkeys, crocodiles, eagles and hornbills. Our guide was very keen for us to see orangutans and made this the focus of the last two trips, but we had no success, although we did see one of their nests and apparently had just missed a large adult orangutan.
Even though we didn't tick off all the big hitters, it was still a fantastic experience, particularly as you sat back and let the river flow past you. Our guide spoke good English and provided lots of interesting facts and figures about the animals and landscape we were witnessing. He was also happy to lend binoculars to our boys.
Ours was one of the smaller boats, seating about 12 people which felt like a nice size; some of the other boats seated double that amount and looked a bit crammed.
Our experience of the Kinabatangan jungle walks
Almost by design, some aspects of a nature tour will be more miss than hit, and the jungle walks perhaps fell into that category. We did two night-time walks and one in the morning but, to be honest, we didn't really see much. A few sleeping birds, some stick insects and an admittedly incredible chance to view orange monkeys; it was fun but not amazing.
Coupled with this, the mosquitos in the evening were insane, despite us wrapping up and covering ourselves with DEET, they were everywhere, even managing to nibble through our shirts. Of course, with this being Malaysia, it was still very humid at night so we sweated in our long sleeves, never really feeling comfortable. For the boys, it was probably the least successful part of the stay.
You can hire rubber boots (wellies) which were VERY welcome as we traipsed through the thick undergrowth in the dark, the guide's tale of being bitten by a snake a few days previously wasn't entirely well received by the group.
Our Kinabatangan river accommodation
A real highlight, the deluxe family room was situated in a raised block housing a few other rooms. Whilst the soundproofing and curtains weren't perfect, it was a beautiful place to stay. We had a large double bed with bunk beds for the boys, ensuite bathroom, AC and fans. It was a few minutes back to the restaurant and reception but it felt nicely tucked out of the way from the noise and hustle.
There are also dorms on site, plus some more basic level rooms but try to get a deluxe if you can.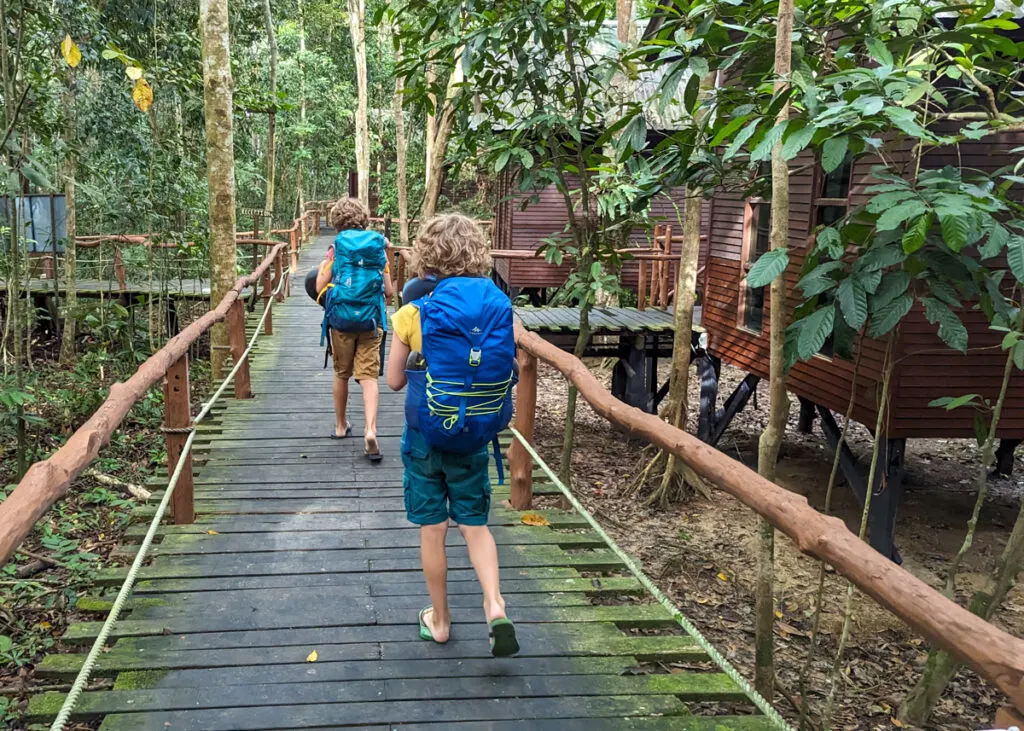 The meals
Serving so many people in such a remote location must be a difficult job and the lodge manages it fairly well. The food isn't amazing, quite repetitive and wasn't always boiling hot, but it was good enough. As to be expected, the local food is better than the Western dishes and is certainly very filling. There is also hot/warm tea and coffee available for free throughout the day, and a filtered water machine.
What to wear
On the night walks and cruises, it's advisable to wear long sleeves and trousers because the mosquitos come out in force. You're also quite likely to experience a rainstorm or two during your stay so try to bring a rain jacket or poncho to wear if needed.
Flip-flops are a good idea for the Kinabatangan river tour (nothing to dry out if it rains), and hire the wellies for the jungle walks.
Around the resort, everyone is in very informal/safari gear so there is no need to dress up for dinner.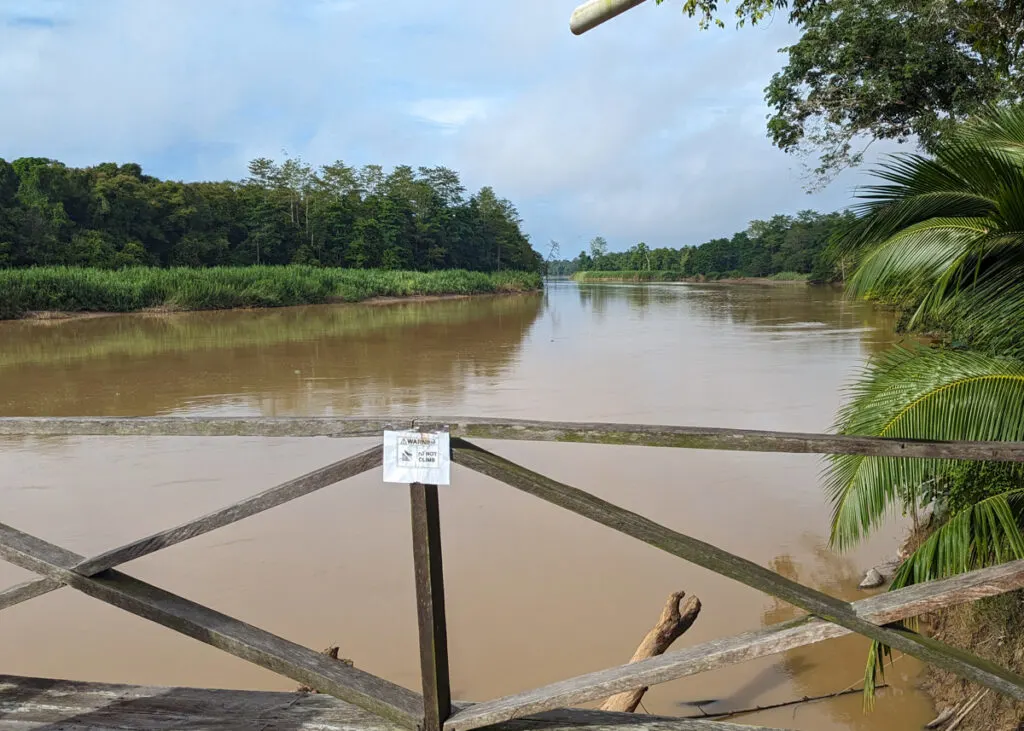 Check out our Southeast Asia packing list for families
A note about mosquitos
Not too bad in the daytime (but still wear some spray if you can), they really join the party in the evening, especially on the jungle walks. We bought a couple of cans of DEET in Sandakan and used most of it during our stay. Try to bring as much as you can and prepare to spread it liberally.
Do remember that animals don't like DEET at all so avoid spraying whilst on tours and near any wildlife.
Is there a minimum age for a Kinabatangan tour?
Not officially but you'd need to judge your own kid's ability to stay alert, quiet and entertained by nature-viewing. It's quite non-stop, especially on the 2D/1N tour and it can feel like you go from one experience to the next quite quickly. There is an unspoken expectation that people stay fairly quiet when you see animals, and the night time walk could be quite spooky for some kids.
Our two boys aged 8 and 9 were fine, we saw lots of other kids there as well, the youngest was perhaps 5 or 6.
How to book a Kinabatangan River tour
We emailed a very friendly tour company called Asia Green Travels in Sandakan who organised everything for us. They are very used to answering questions and got back to us quickly each time. As with everyone in Malaysia, they're also very happy to message via WhatsApp.
Once we'd confirmed dates and group size, we just needed to make a MYR200 deposit via PayPal and we were all sorted. On the day of the trip, we took a Grab to their office in downtown Sandakan to drop off our bags and made final payment once we got to the Kinabatangan riverside lodge. Very simple and efficient.
Final thoughts on exploring Kinabatangan River with kids
The Kinabatangan River, Sabah, is a true highlight of any trip to Malaysia with kids but you won't be alone. No doubt you could try to arrange yourself and find a less busy lodge but, what with the extra hassle factor and risk of going wrong, we'd recommend taking the tour.
It's well organised from initial enquiry right through to drop-off (incidentally offered free to Sepilok hotels if needed, otherwise back to Sandakan) and you can relax knowing everything is covered.
The itinerary can feel somewhat full and regimented; they've been doing it for such a long time and they know what works but don't feel like you have to do everything, particularly if you have younger kids. A skipped cruise or nature walk across the whole stay isn't going to matter, and the extra lie-in/relaxation might give you a fresh energy for the next trip.
The boys had a great time and it's one of the experiences we talk about the most from the trip, the combination of nature-viewing and riverside lodging is quite unique and sure to be a highlight for you too. Just don't forget the alarm clock and mosquito spray!
---
You may also like to read:
Visiting Kota Kinabalu with kids
Sepilok Orangutan Rehabilitation Centre, Borneo: tips for your visit
Selingan Island, Sabah: visiting the turtles in Borneo