Seeing the rescued orphaned orangutans at Sepilok Orangutan Rehabilitation Centre is often a top reason anyone visits Sabah, especially if you are travelling Borneo with kids. With the catastrophic deforestation rates in Borneo, this rehabilitation centre has been a lifeline for these endangered apes and the work that goes into their rehabilitation is truly incredible.
However, it does get exceptionally busy, especially with tour groups, so here we share some tips to get the most out of your visit to see the orangutans in Sepilok.
But there's more to Sepilok that orangutans, so we also suggest some accommodation options if you want to hang around for a couple of days and see all that Sepilok has to offer.
Your comprehensive guide to travelling Borneo with kids. Focusing on Sabah, we share advice on safety and getting around, top tips for your visit, and detail a 12 day itinerary.
How to get to Sepilok
The main regional city of Sandakan sits thirty minutes to the east of Sepilok and is the most popular gateway to the orangutans. There is an airport in the city and it's also a major hub for island-wide buses and minivans.
If you are travelling from the west (including Kota Kinabalu), the main road passes about three kilometres from Sepilok so you can ask to be dropped off at the roundabout and make an onward connection. There will usually be a minivan available, you can sometimes flag down a tourist bus, or otherwise take one of the waiting taxis (if possible, book a Grab to save negotiating – the drivers here know you're semi-stranded so will drive a hard bargain).
Check out our guide: How to get from Kota Kinabalu to Sandakan
If you're already in Sandakan, you can take a local bus to Sepilok, or book a taxi. Note that if you're going to Sepilok from (e.g.) Kinabatangan River, some of the river packages will include free drop off at Sepilok to save you a trip back into Sandakan.
Getting around Sepilok
The walking distances around Sepilok are deceptively long, especially in the midday sun. At first glance, our accommodation seemed to be walkable to SORC but, with the combination of sun and no pavements, we soon realised a taxi was the better option. On top of that, we wanted to come back to the hotel for a midday break, or head over to another hotel for lunch, so a taxi was usually the option we took.
As elsewhere in Malaysia, we relied completely on Grab and it was brilliant yet again. The average fare around town is MYR4 and we never waited too long for a ride. The only exception was when we tried to get a Grab back to the airport; no driver accepted the booking so we had to take an inflated option booked by our hotel. It may have been because it's not an attractive fare out to the airport, or possibly a mini-cartel situation, but either way this was the only time we struggled.
Some hotels seem to offer a free shuttle service but we found this ranged from sporadic to non-existent so it's recommended to grab a Grab and skip the wait.
Tips for visiting Sepilok Orangutan Rehabilitation Centre
🦧 Cash only for tickets
🦧 Your ticket allows entry for both the morning and afternoon sessions (it's closed 12-2). We went to both sessions and both were busy.
🦧 The gate opens at 9am and 2pm for each session. We arrived 5 mins early and were first in. Go to the nursery first and the best viewing there is on the carpet in the far corner.
🦧 Set expectations 1 – the nursery (where the young orangutans play outside) can feel rather zoo-like as you're inside behind a glass wall. But this is where most of the action takes place and there's AC.
🦧 Set expectations 2 – at the main outdoor feeding platform, where the rehabilitated adult orangutans come for food, you may only see 1 or 2 (or even 0) orangutans. We only saw one in the afternoon viewing (a few more in the morning viewing). This is actually a good thing as it means that the rehabilitated orangutans are finding food in the jungle and don't feel the need to visit the feeding platform (we also visited during the fruit season, so there are lots of food choices in the jungle).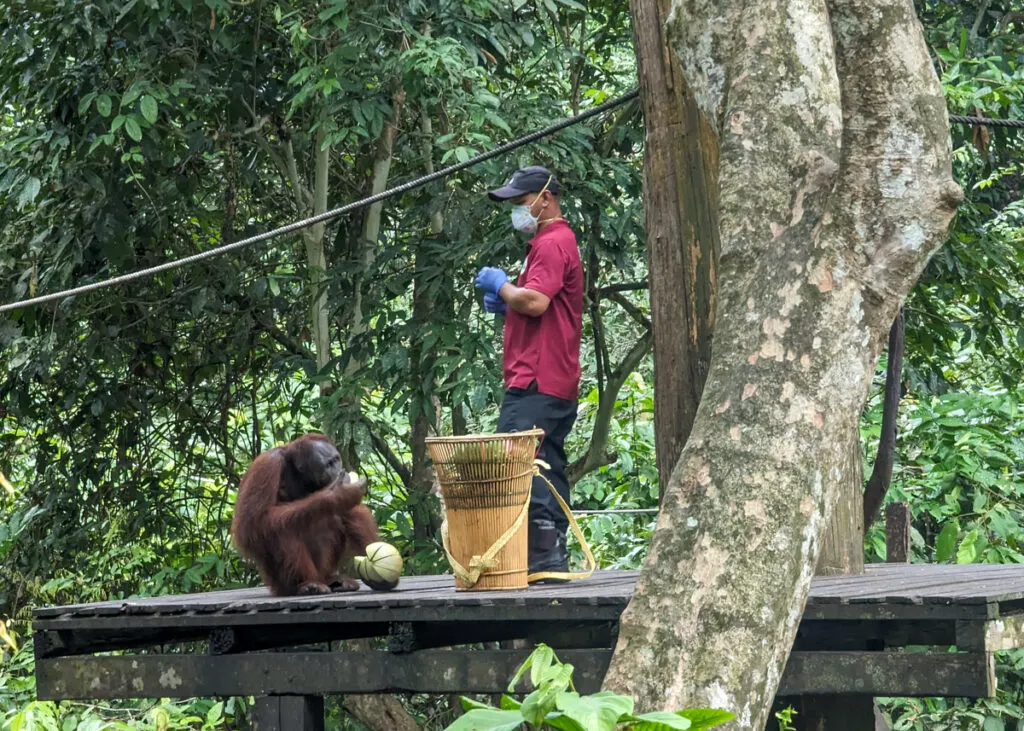 🦧 Get to the main viewing platform 30 mins early so that the kids can find a spot at the front to see.
🦧 You can't take in bags and rucksacks. It's hot and the kids will need water. So put a small water bottle inside a bumbag, which is allowed.
🦧 Set expectations 3 – the gift shop is really disappointing. Ez had been dreaming of buying an orangutan toy from Sepilok our entire trip. There are no cute orangutans toys to buy (there's one scary one that doesn't look like an orangutan), and no stickers for their travel journals, but we bought a fridge magnet.
Other things to do in Sepilok
There's more to Sepilok than seeing the orangutans. Whilst in Sepilok, it's worth visiting the Rainforest Discovery Centre (RDC) and the Bornean Sun Bear Conservation Centre.
Rainforest Discovery Centre
One of the surprise highlights of our trip to Sepilok was the Rainforest Discovery Centre (RDC). After the organised crowds at SORC, this felt like a beautiful excursion into the orangutans' habitat. Whilst we didn't see any orangutans, it was amazing to walk high up in the canopy and spend some time spotting wildlife.
There are several large towers to climb which give an even clearer bird's eye view of the landscape, plus a series of walkways which link up with the towers.
It can get hot in the sun so make sure you wear sunscreen, hats, and take advantage of any shade you can find. When it gets very hot, head down onto the lower trails which meander through the rainforest at ground level. There are numerous side trails and walks you can do, as well as a busy café and gift shop.
Bornean Sun Bear Conservation Centre
We'd been excited to visit the Sun Bears but were left slightly disappointed with our visit. After the excitement of SORC and the sheer scale of RDC, we found the sun bears visit missing both aspects. The centre is a lot smaller than RDC, so the walkways and viewing towers feel inferior. Whilst SORC undoubtedly has aspects of a zoo, the Sun Bears Centre really did feel like you were in an enclosed viewing area, complete with barbed-wire, wooden stakes and glass viewing windows.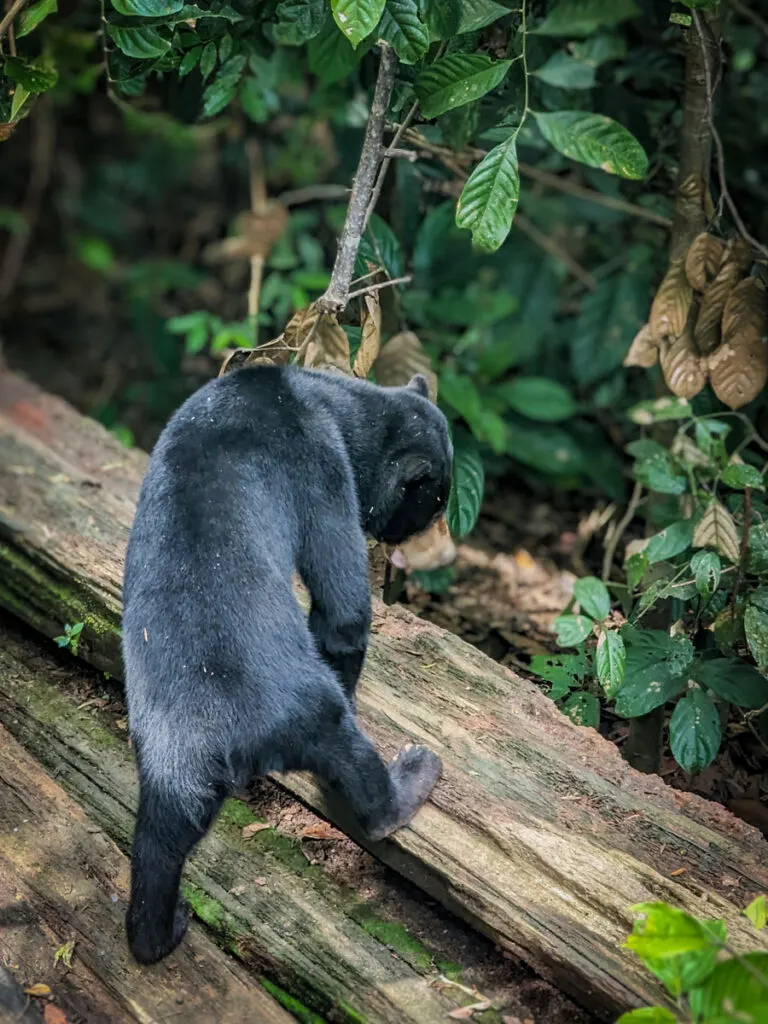 There's no doubt the bears are super-cute and it was lovely to see them but we found we'd covered the entire area in 10 minutes and were rather killing time towards the end. Perhaps we caught them on a bad day. We did hear from fellow travellers that orangutans are often present, which would have added to the experience.
Eating in Sepilok
Almost without fail, every accommodation in Sepilok has its own restaurant, usually serving breakfast, lunch, and dinner with long opening hours. The menus are generic but tasty, with the usual mix of Western and Asian dishes. The prices are reasonable, slightly more expensive than Sandakan but not as high as we'd feared.
Be aware there are no supermarkets or food stands anywhere in Sepilok. If like us you've grown accustomed to always grabbing snacks and drinks whenever you like, keep this in mind. We're not sure if this is a permission issue or just that no-one has decided to set up shop, but it'd be a handy addition to the area.
There are also cafes at each of the main sights, serving the same food as at the hotels. They're all air-conditioned and a good option in the middle of the day during a sightseeing visit.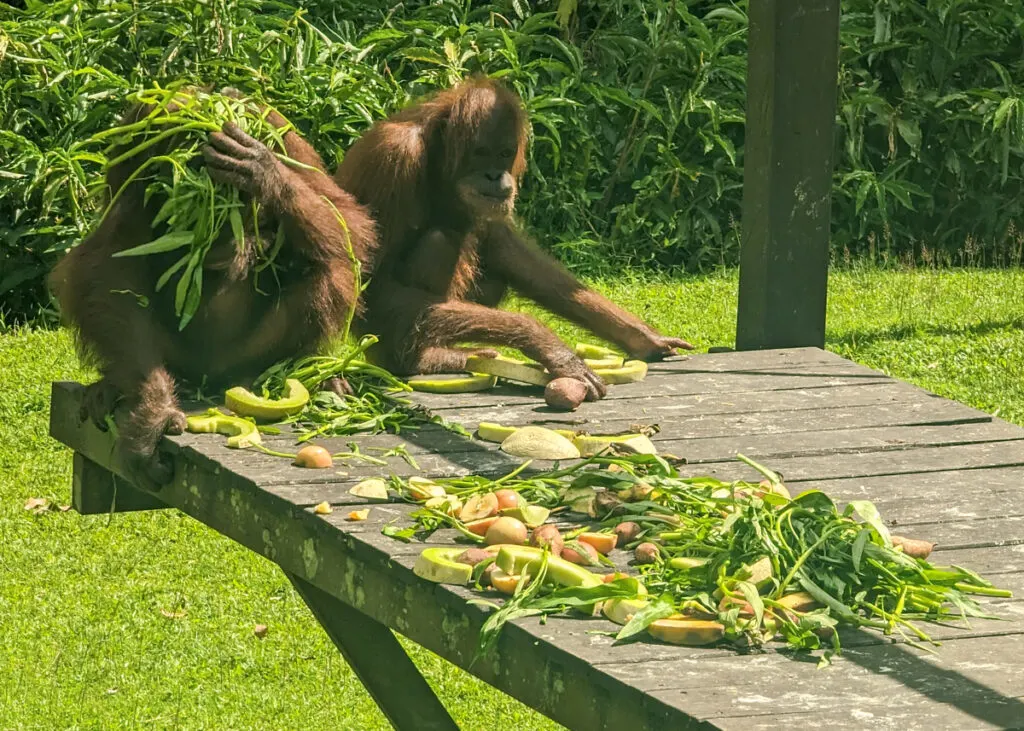 Where to stay in Sepilok
We've split our stay here between Sepilok BnB and Sepilok Jungle Resort (which has a pool). These were the ONLY places that had availability for our dates and we had to book them about a month prior to our visit (not usually our style!). But both offer jungle views from a balcony.
Out of the two, Sepilok BnB was our favourite. We secured a family room with AC, complete with large balcony overlooking the camping area. The service was a little hit-and-miss but the restaurant was a pleasant place to refuel and sip a cold beer. It was in a good location (just) walkable to the DRC and only a short ride to SORC and the sun bears.
Sepilok Jungle Resort was probably great a few years ago but it's now looking tired in places and is very busy with tour groups. The pool is fun but dirty and the guest services around the pool area look like they've been untouched for decades. If they're able to afford some cleaners and decorators it could be great again but not at the moment. We found their last room available online and we soon found out why it was available – very basic, no AC and dirty. We only had one night but that was almost too long.
Final thoughts on visiting Sepilok
Sepilok is rightly world-renowned for its nature encounters and it formed one of the highlights to our Sabah trip. It goes without saying that you won't be alone during your visit, everyone else in Sabah will be making the same trip but this didn't detract too much from our visit. We had the benefit of time, so were able to visit early or late to miss the tour groups and retreat back to our hotel during the midday heat.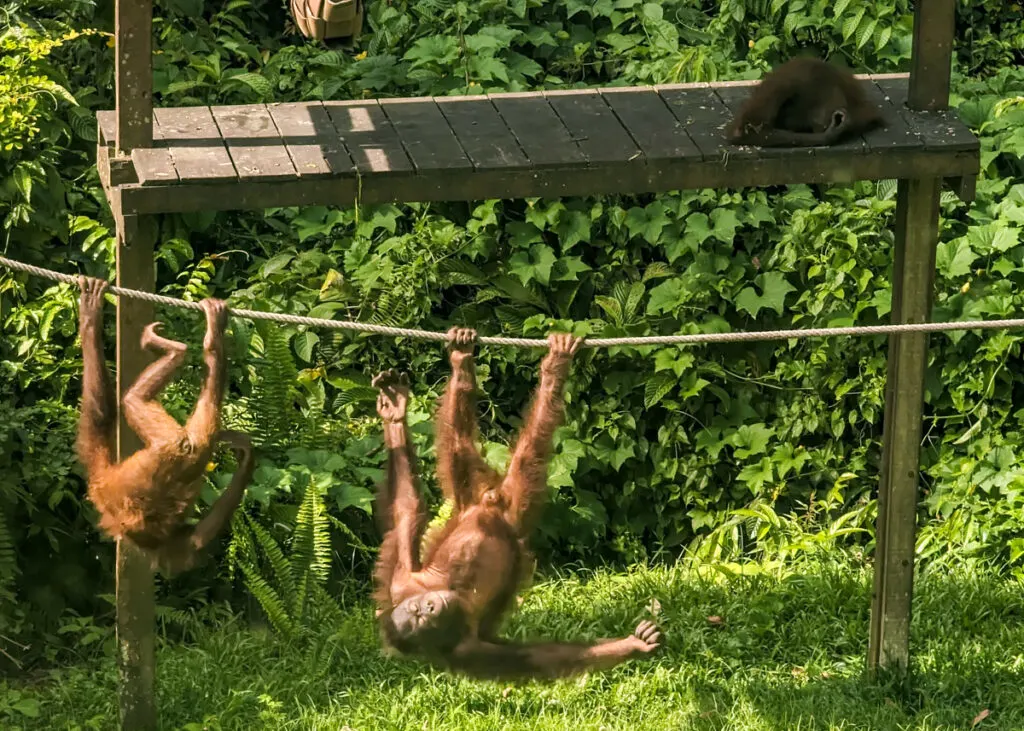 Do remember it's not just about the orangutans, even though they are the stars. The RDC in particular is a fantastic day, but we were also struck by how beautiful the rainforest location is, even amongst the crowds, but particularly when the tour groups had departed and the sun started to set.
Its location close to Sandakan is handy, making it an easy stopover. Sandakan is a fun city in its own right but definitely stay a few days in Sepilok if you can, it will really add to the whole experience.
---
You may also like to read:
Visiting Kota Kinabalu with kids
Exploring the Kinabatangan River with kids
Thailand with kids