Tanzania has been on my bucket list for longer than I can remember. Those images of Mt Kilimanjaro majestically rising from the Serengeti plains, and the colourful spice markets of Zanzibar with it's powder-soft beaches, have always stirred my sense of adventure. I couldn't even sit through the opening song of The Lion King without moaning that we hadn't yet visited Tanzania with the kids.
Disclaimer: This post contains affiliate links. If you click on a link to purchase, we receive a small commission at no extra cost to you.
So when our African overland adventures starting coming together, I knew that we had to get to Tanzania. However, with huge distances between destinations and pricey park entrance fees, even I questioned if it travelling Tanzania with kids was worthwhile. And would we be able to find enough things in Tanzania for kids to do, that didn't break the bank?
For all your questions answered about our overland travels through sub-Saharan Africa in a Land Rover, check out our post… READ – Africa with kids FAQ: all you need to about our overlanding family adventures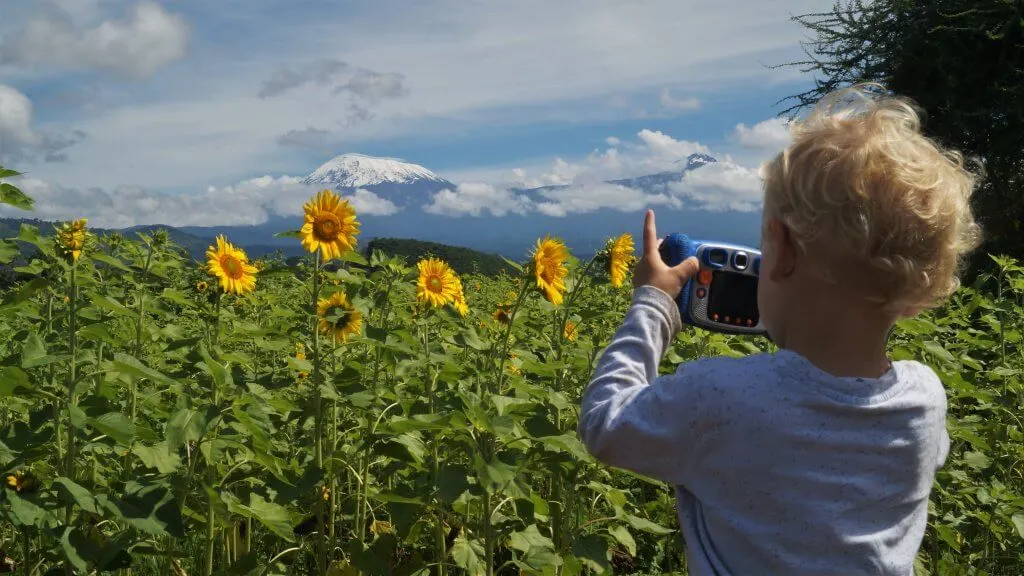 Now after three weeks self-driving and camping around Tanzania in a Land Rover Defender, hubby and our two boys (aged 2 and 4), I'll be honest and tell you that Tanzania wasn't quite what I expected. We've had some truly incredible moments – stumbling across mating lions, marvelling at Kilimanjaro's snowy peak, camping under a million stars with the sounds of wild animals around us (read our Tanzania itinerary with kids) – but, it has been seriously hard work at times, more so than other African countries.
I would imagine if you are experiencing Tanzania through a tour agency or with a personal driver, many of these challenges would be overcome. But as our regular readers know, we love to embrace independent, adventurous, travel and try to stick to a budget to enable long-term travel.
The rain… so much rain!
Our Tanzanian travels coincided with the end of the wet season (coined the 'long rain season' which runs from March through to May). Now this wasn't your standard 'quick afternoon downpour' wet season that we have previously experienced in Asia. This was a constant, incessant, heavy rain that poured from the sky day in day out, turning dirt tracks into impassable muddy slush and severely hindered any possibility of beach time on the east coast (massive shame if travelling with kids). It was apparently the most severe rains Tanzania had experienced in decades!
So if you are considering travelling to Tanzania with kids, try and avoid the rainy season. Note that there is also a 'short rains season' from the end of October to the beginning of December.
We had to turn back on so many roads. The rains had made them impassable for our limited 4×4 expertise.
The main roads are far from relaxing
As with much of in Sub-Saharan Africa, the travel between destinations is long. However, unlike Malawi and Mozambique, the problem is not the potholes, it's the trucks causing a never-ending overtaking game on the the single-lane highways. Don't be alarmed when cars, buses and trucks overtake on a blind hill or corner at speed, it's expected that the oncoming driver (you!) move out of the way.
Add to this that every settlement has a strict 50km/h speed limit, enforced by officious police hiding behind bushes, ready to catch you out, Tanzanian roads do not make for a relaxing drive.
However, we found our boys to be as good as gold on these long, difficult travel days (helped by their Amazon fire tablets). It was us parents who were the whingers!
The police
And lets talk about the police. You will be pulled over for speeding, even if you stick to the speed limit. We had a few confrontations with police in Mozambique and Malawi, but it always just seemed a nuisance. In Tanzania, they are out to get you and it took all my willpower not to bite their head off when they threatened to detain my husband if he didn't pay a fine. Be a better person than me and keep your cool.
Expensive national park fees
Unless you have a limitless budget, you have to be extremely selective in where you go. Even the smallest parks with little game viewing are USD100+VAT for 2 adults and a car (children under 5 are thankfully free). Once inside the parks, very basic camping starts at USD30 per person.
The Serengeti may be Africa's best wildlife viewing park, but we decided against visiting as it was going to completely blow our budget; one of the ways we manage to travel long-term is by sticking to a strict budget. Just to drive through the Ngorongoro National Park, which you need to do to get to the Serengeti, is USD150 (add on $295 if you actually want to visit the crater, which you can't really NOT do if passing through), then 2 nights camping and 2 days safari is USD500. So almost USD1000 for the 3D/2N. Sure we could have put it on the credit card, but with so many opportunities to visit other National Parks for a fraction of the price over these 4 months, we just couldn't justify it. Check out this Serengeti Safari experience from The Pink Backpack.
Apparently if you do want to visit the Serengeti, the most affordable way is by joining a tour in Arusha. With kids so young, we didn't feel comfortable sharing a safari experience with other tourists (kids can be unpredictable and we have better control over them in our own car).
Instead, we picked two parks to self-drive – Ruaha and Tarangire. On both occasions we barely saw another human being and witnessed some incredible wildlife with no one else around. However, after the rains, many of the dirt tracks were a mess and 4WD expertise was required.
Read: tips for a safari with kids under the age of 5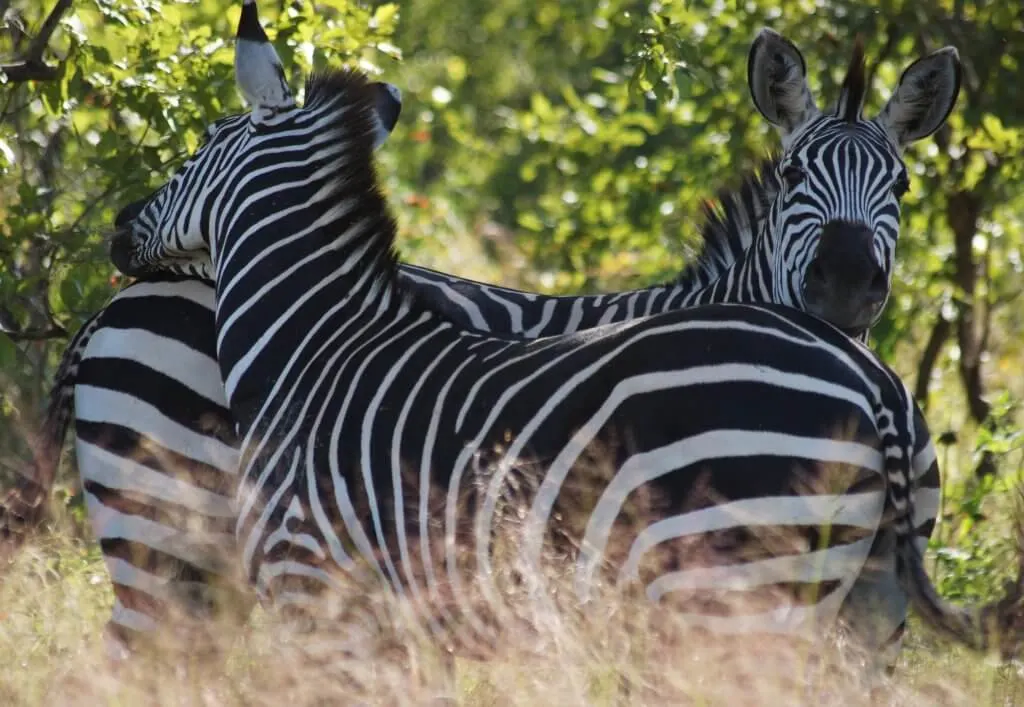 But that's enough negative talk…
Tanzania was just a bit more challenging than we had expected, certainly more than Mozambique and Malawi, and we had to make some difficult decisions on what we could and couldn't visit. However, we still had many incredible moments during our 3 weeks in Tanzania. I will never forget that feeling when we the clouds finally cleared after the rains and we caught our fist glimpse of Kilimanjaro's snowy peak. Wondering around the crumbling buildings of Bagamayo's old German colonial town was magical. Watching hundred of elephants wander the plains of Tarangire was priceless. And we're still all laughing at how I leapt out of my skin when a mating lion clocked me and released a deafening roar at Ruaha.
Also, the standard of campsites in Tanzania was very good. Some places even have a swimming pool and kids' play area! Prices are generally USD10 per adult (children under 5 are free).
So is travelling Tanzania with kids worthwhile?
Yes! Tanzania will reward you with incredible adventures and provide some balance with it's fantastic camp grounds. Just take it slow, BE PREPARED and plan your route according to your budget and the seasons. If you're self-driving, like us, patience is required in bucket loads, keep your cool with the police and stock up with food and fuel whenever you get the chance. And, as with all travel in Africa, ensure you have a good family medical kit.
---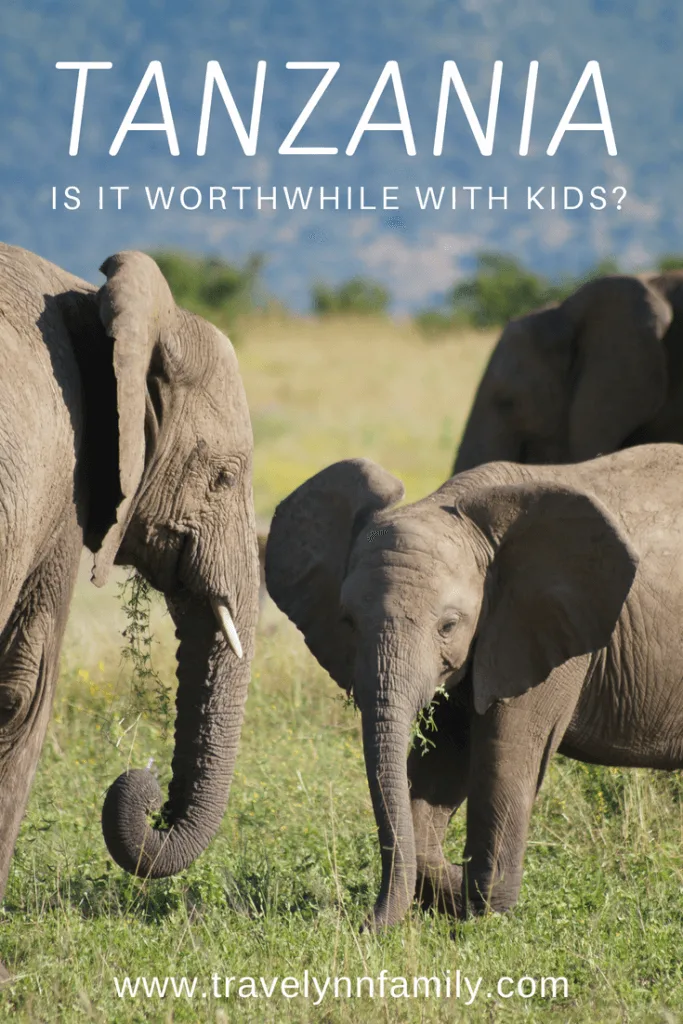 You may also like to read:
AFRICA OVERLAND Part 1: South Africa and Mozambique itinerary with kids
AFRICA OVERLAND Part 2: Malawi itinerary with kids
We're off to Africa!
For more posts on Africa, head to our AFRICA page.