3.5 months, 2 parents, 2 young kids, 1 Land Rover Defender and a bucket load of adventure. This is the first leg of our African overland travels, detailing a few stops in South Africa before our self drive Mozambique overland itinerary.
The distances in Mozambique were vast, featuring countless potholes once away from coast, and we were warned about corrupt police expecting bribes from Western travellers. However, the police seemed disinterested in us and our long travel days were welcomed with smiling waves from locals as we passed through dusty villages and rewarded with endless stretches of untouched powder-soft sand.
For all your questions answered about our overland travels through sub-Saharan Africa in a Land Rover, check out our post… READ – Africa with kids FAQ: all you need to about our overlanding family adventures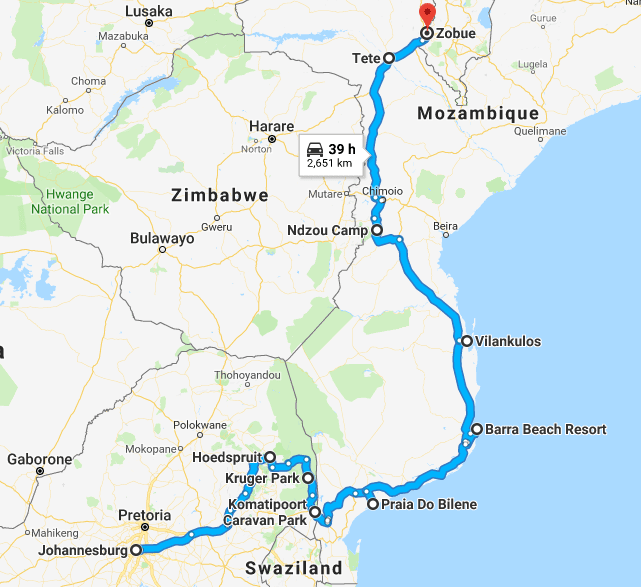 You may also want to check out our ULTIMATE Africa packing list for overlanding Africa with kids.
SOUTH AFRICA itinerary
Day 1: Arrive Johannesburg
We landed to Johannesburg Airport mid afternoon to find our ride to Southern Sands Eco Lodge (where our 4×4 was waiting for collection) had broken down. So we stayed overnight at Melwood Airport Lodge, hoping that it would be fixed by the garage by morning. We had originally planned to break up the journey and stay overnight in Dullstrom.
Day 2: Drive to Southern Sands Eco Lodge (near Hoedspruit)
With the radiator repaired, Richard from Southern Sands Eco Lodge drove us the 5 hours to meet our home for the next few months – a Land Rover Defender.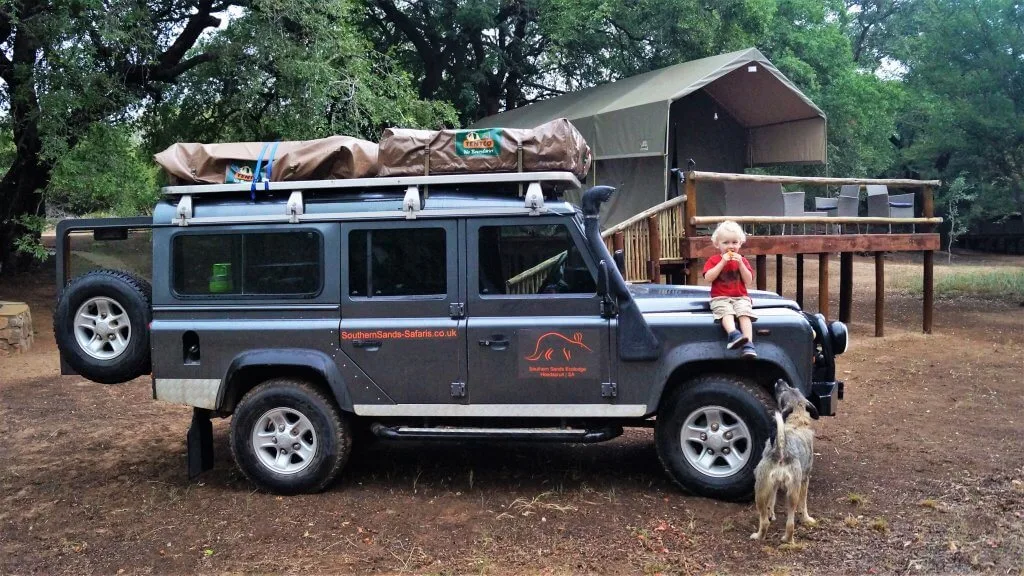 Day 3-4: Southern Sands Eco Lodge
You can read about our stay at Southern Sands Eco Lodge here. Between meeting the resident wildlife (giraffe and zebras!) and eating hearty meals cooked over the braai, we prepared the Defender for the next 3.5 months on the road. This included a 4×4 driving lesson, getting border and insurance documents in order, demonstrations for erecting and packing away the roof tents, a quick mechanics lesson and loading all the camping equipment.
Day 5-7: Kruger National Park
Kruger National Park is only an hours drive from Southern Sands Eco Lodge. We spent a few days on a self-drive safari spotting the native animals; including lions, elephants, zebras, hippos, vultures and much much more. We camped the first night at Satara Rest Camp and the second at Skukuza Rest Camp. Both are busy camps, but both have a swimming pool and the former a playground; perfect for the little ones after a long safari drive.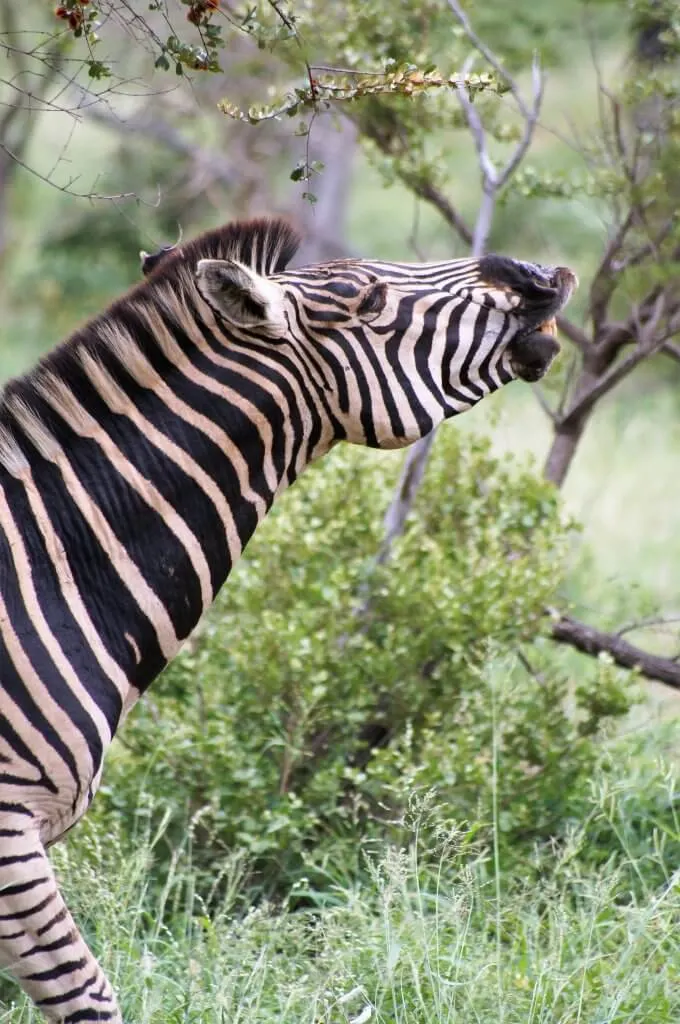 On day 7 we exited Kruger through Crocodile Bridge, at the Southern end of the Park, and drove the short distance to Koamitpoort (where you will find petrol stations and supermarkets). We camped at Komatipoort Caravan Park, which has a playground and swimming pool (although not very clean).
MOZAMBIQUE itinerary
Day 8: Mozambique border crossing
We arrived at Ressano Garcia border crossing at 7:30am and the entire process took about 1.5hours. You can read about our experience here; ensure you have your documents in order and DO NOT use runners. We had planned to stay in Maputo, but with no campsites and no where safe to leave our Defender overnight, we stopped at Matola to pick up a sim for our phone and stock up on food, then pushed through to the coast, arriving at Praia Do Bilene at 4pm.
Day 9-11: Praia Do Bilene
With a rather hectic start to our overland adventures, this was the perfect place to take stock and breathe. We pretty much had the beach to ourselves and the lagoon water at Praia do Bilene is shallow and calm; perfect for the little ones to play in. The campsite at Complexo Palmeira is basic but shady and right on the beach.
Day 12: Paindane
With a long drive ahead of us to Paindane, we set off at 7am and stopped off an hour later at Xai-xai to fill up on fuel and stock up on food at Shoprite. It was then 3.5 hours of driving along the same road, passing the odd dusty, nondescript town, until reaching the quaint town of Inhabane, with it's faded Portuguese architecture harking back to colonial days. It's worth spending a couple of hours wandering around.
It was then a 1 hour drive to Paindane Beach Resort. I will perhaps never give this advice again – but follow Google Maps, NOT the road signs. We did the latter and ended up stuck in some very deep sand. Thankfully a group of local kids came to our rescue. You will pass a small garage about 3km from the resort. Stop here to let the air out of your tyres and follow the route on Google Maps (the road closest to the coastline). You will need a 4×4 for this last bit.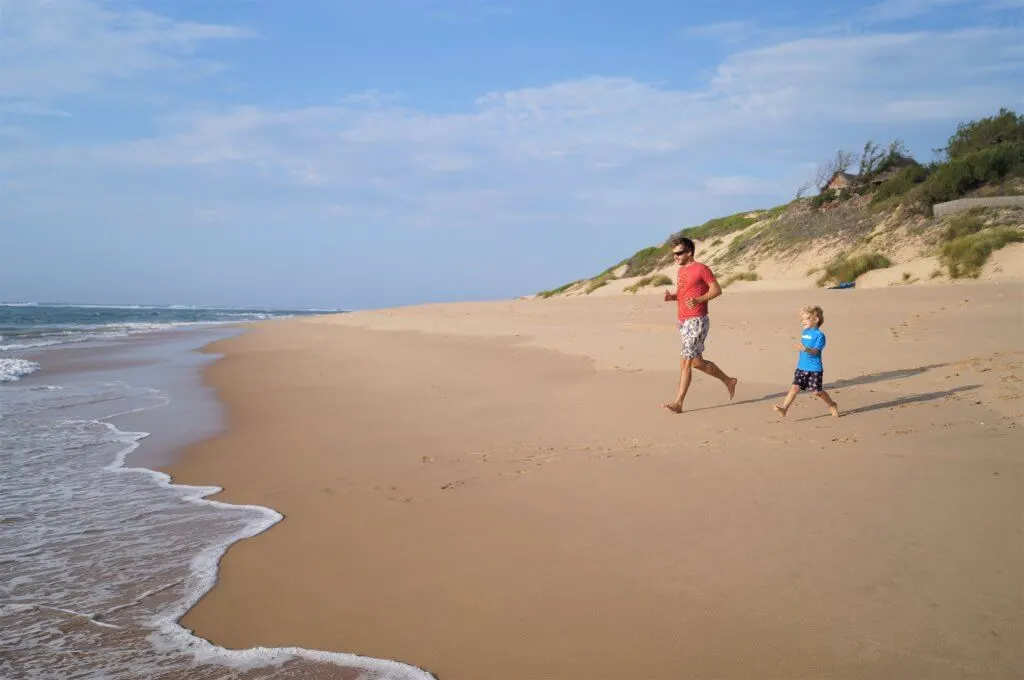 Day 13-15: Barra
Paindane Beach Resort boasts some wonderful camping facilities, with a spectacular beach below. However, we felt it to be a little too remote for travelling with such young kids and were concerned about the sandy road out. So after a morning's play on the beach, we packed up and headed to the tourist town of Tofo.
We couldn't really find any suitable camping at Tofo (although there is an unpowered sandy camping area at Fatima's Backpackers). So we headed on to the quieter town of Barra, and stumbled upon a lovely campsite (Paraiso Da Barra), which we had all to ourselves. It's right on the beach, and has great facilities including power and a washing machine. There's a small resort next door who are happy for you to use their pool if purchasing drinks and food.
Barra beach is an incredible stretch of sand with waves crashing in from the Indian Ocean. We wish we had stayed longer because the beach at the next stop didn't live up to the hype.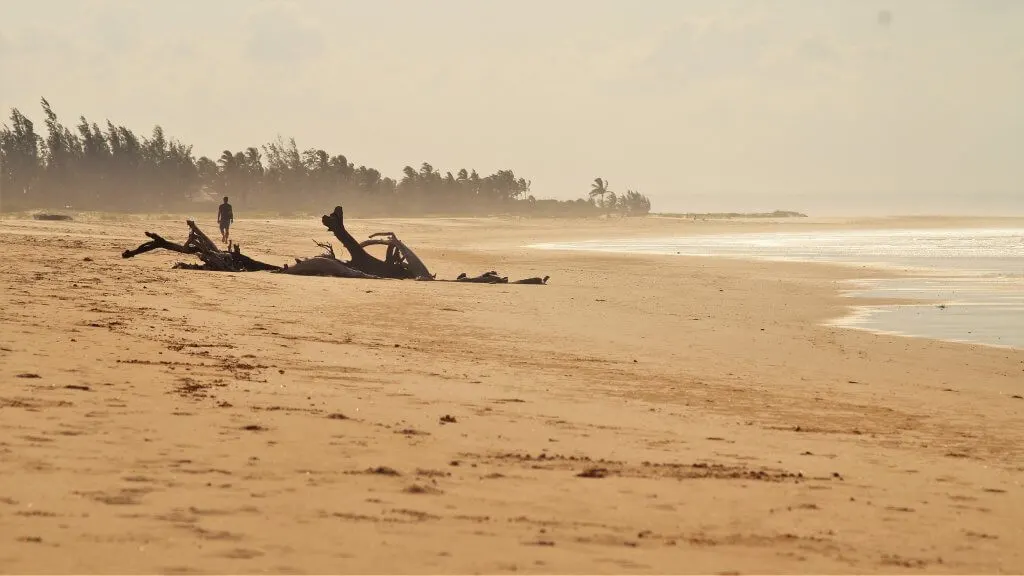 Day 16-17: Vilanculos
With direct flights from South Africa and an established tourist town, we had high hopes for Vilanculos; especially considering the incredible beaches we had experienced so far on the coastline. Huge disappointment. Very shallow tidal waters, exposing muddy sand and seaweed everywhere. We couldn't believe it! We even took a tuk-tuk over to the other side of town where the high-end resorts are located, but discovered more seaweed, making the water rather uninviting for a swim. However, if you cast you eyes up from the foreshore, the views out to the Bazaruto Archipelago are pretty awesome.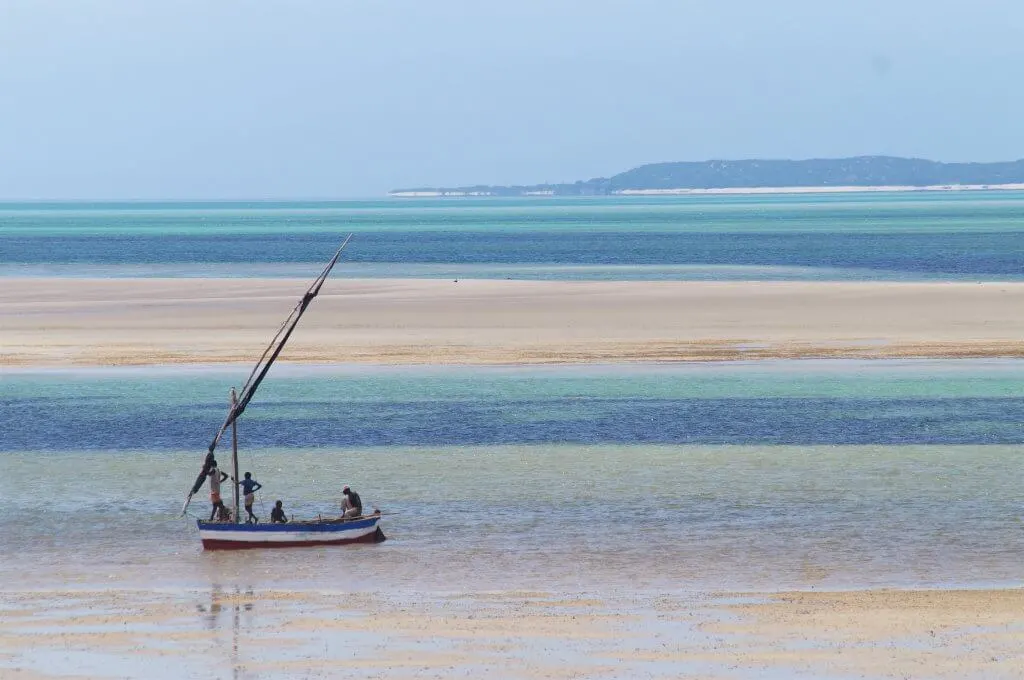 Nevertheless, with long drives over the next days to the Malawi border, we just kicked back and enjoyed the space and weather at Baobab Backpackers. Activities on offer include diving and snorkelling trips out to the islands.
Day 17-18: Ndzou Camp, Chimanimani Mountains
Once you leave the coastline and head further north, the main road deteriorates considerably. Potholes are everywhere and local kids fill them with sand in the hope that the rare passerby will give them money. It's a long slog to the border; vast distances with very little in between. So we headed towards the Chimanimani Mountains to spend a couple of nights at Ndzou Camp, a local community initiative offering basic eco-accommodation (camping and rondavels).
You can't really appreciate the mountains whilst at the camp as it's hidden amongst thick jungle, this will be had from the road. But our boys loved exploring the walking trails and it's a delightful place to relax.
Day 19: Tete
After the vast open landscapes and quiet villages experienced by most of our travels through Mozambique, the dusty bustle of Tete was a shock. However, we took advantage of the modern Shoprite supermarket and KFC! We camped the night on the banks of the Zambesi River at the lovely Bom Jesus. This is very secure site with a security guard and guard dog. There is also a small pool and braai facilities.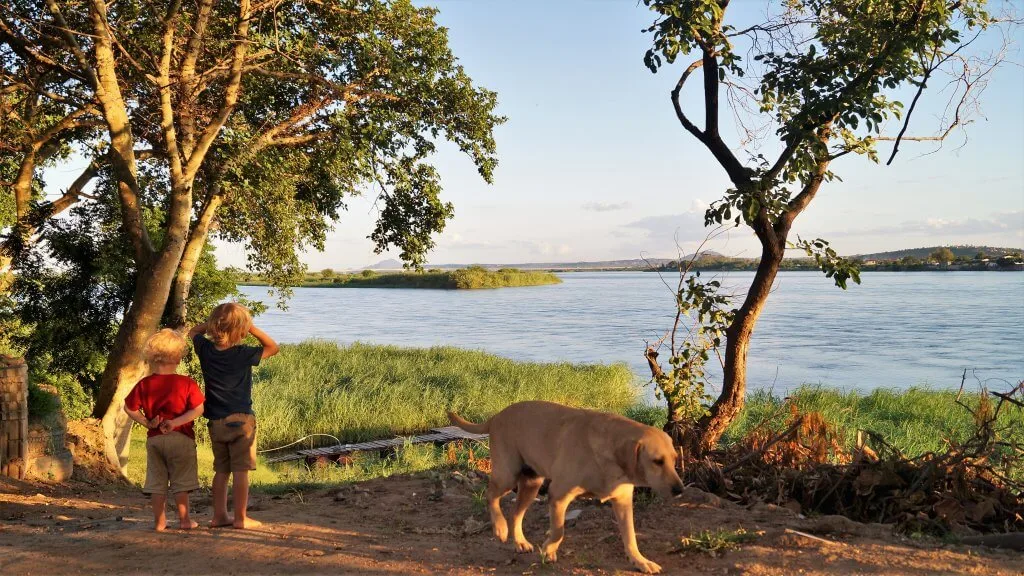 Day 20: The Malawi border
It's a two hour drive to the Malawi border at Zobue. Park right outside the immigration building, complete an exit form, get your passport stamped, and then get your Temporary Import Permit checked at customs.
Drive through the gate and then the 5km of no-mans land to the Malawi border at Mwanza. Prepare yourselves for a long wait and, if you're unlucky like us, the wrath of corrupt officials.
---
You may also like to read:
Medical kit list for families travelling Africa
We're off to Africa!
Crossing the border into Mozambique