Rightfully known as the 'warm heart of Africa', Malawi packs a lot in to its relatively small landmass; with majestic mountains rising from the tea plantations in the South, to the tropical white-crescent beaches fringing the lake, to an intimate big five safari experience. More than anything, though, it's Malawi's people and the everyday interactions full of warmth and kindness that will make your visit so memorable. It's a wonderful and accessible destination for family travel, and I hope you find this self-drive Malawi itinerary with kids a useful guide on where to go and what to see.
Disclaimer: TraveLynn Family were provided with complimentary stays at Game Haven Lodge, Zomba Forest Plateau and Chintheche Inn, in partnership with Malawi Tourism. As always, these are all my own thoughts and words.
For all your questions answered about our overland travels through sub-Saharan Africa in a Land Rover, check out our post – Overlanding Africa with kids: all you need to know.
To bear in mind…
With poor infrastructure, densely-populated towns, and omnipresent police blocks on the roads, travel here can be slow for a Lake Malawi family adventure. A seemingly short journey may perhaps take a day if the travel gods are not in your favour. Get an early start to your day and always ensure there is a plan B, just in case. If, like us, you're self-driving, you ideally need a 4×4, as most of these destinations require off-road driving, and particularly as you venture further North, fill up on fuel and stock up on food whenever you see the opportunity, as supplies cannot always guaranteed in the next town. Public transport is available, however prepare for hours of waiting, frequent break downs and very long days – This is Africa!
Is Malawi safe to visit?
Malawi is one of the safest Southern African countries to visit and most family holidays in Malawi are trouble free. But as with all travel in Africa, avoid driving at night, don't show off valuables as you walk around, and be wary of bag snatchers in towns and cities. For up to date travel safety advice on Malawi, click here.
Malawi itinerary
This three week itinerary continues from AFRICA OVERLAND Part 1: South Africa to Mozambique itinerary with kids, hence starting from Day 20. If you only have two weeks, I suggest focusing on the South and following this itinerary to Cape Maclear (the beaches further north aren't as conducive for swimming with little ones and the roads to tourist destinations deteriorate significantly). But I hope this at least gives you some inspiration for perhaps a Lake Malawi family adventure, or places to go in Malawi, or perhaps the best places to camp in Malawi.
We mostly camped our way through Malawi, staying at a few lodges along the way. We could easily have stopped off at more campsite by the lake – check out The BEST Lake Malawi camping sites.
You may also want to check out our ULTIMATE Africa packing list for overlanding Africa with kids.
Day 20: The Malawi border
We drove in to Malawi from Tete, Mozambique, and unfortunately we were confronted with a corrupt border guard who tried every means possible to get a bribe from us. We didn't pay up, which was probably why we were detained for 3 hours. But, if possible, get your visa BEFORE arriving to Malawi to avoid such frustrations. On leaving the border gates, purchase your Third Party Insurance from one of the sellers in the huts (ask to see a price list).
After Mozambique's long stretches of open landscapes, the dusty chaos as you drive the one hour to Blantyre can be quite confronting. We stayed in a very basic 3-bed 'cottage' at Doogles. There is a campsite nearby but the facilities were questionable, and after the dramas at the border, we figured we deserved a swim and burger at Doogles.
Day 21-22: Game Haven
Now THIS was the introduction to Malawi we were looking for. Just a 15min drive out of Blantyre is a fantastic kid-friendly game reserve with 3-bed cottages and family rooms available. Let the kids go crazy in the playground equipped with climbing wall, then cool off in the swimming pool. Finish the day with a sundowner in the restaurant whilst the zebras, eland and other game residents graze around you. We also thoroughly recommend a game walk (with a ranger). You may like to read our Game Haven Review.
Day 23: Majete National Park
Driving back through Blantyre, we stopped at Shoprite to stock up on groceries. It is then a 2 hour drive to the gates of Majete National Park (prepare yourselves for a bumpy, corrugated road for the last half hour). Pop for a swim at the restaurant before setting off on a late afternoon game drive to spot hippos, crocodiles, elephants, impala, warthogs and much more. The vegetation is rather thick, so drive slowly as you never know what's round the next corner! We didn't spot any lions, but we barely saw anyone else on our game drive and any encounter with wildlife felt intimate. Read: tips for a safari with kids under the age of 5
There's a great campsite with level grassy pitches and a thatched dining area (although no power). Be warned that it's not fenced and the local wildlife may wander through. We fell asleep with warthogs around the car (thankfully we sleep in roof tents)!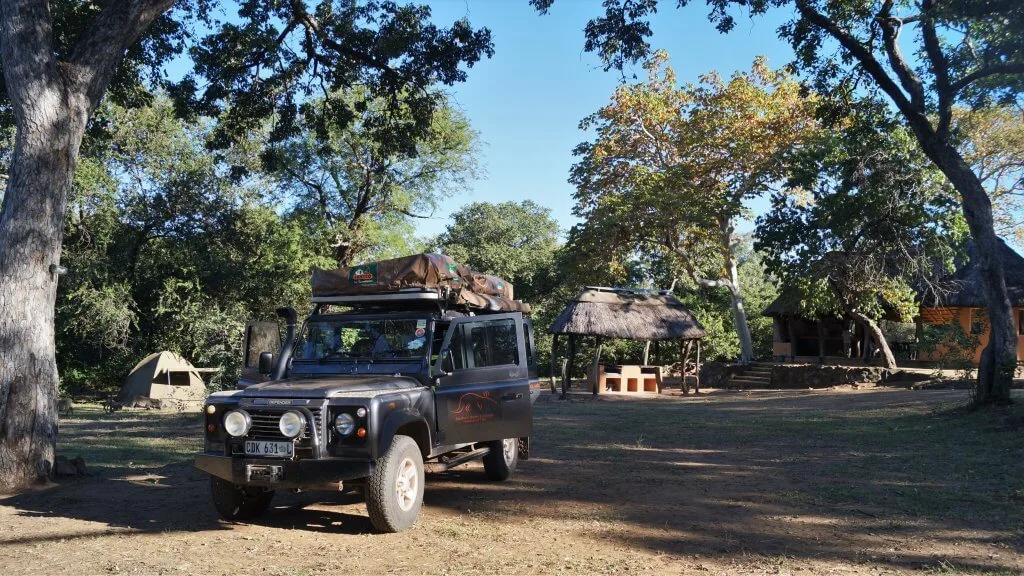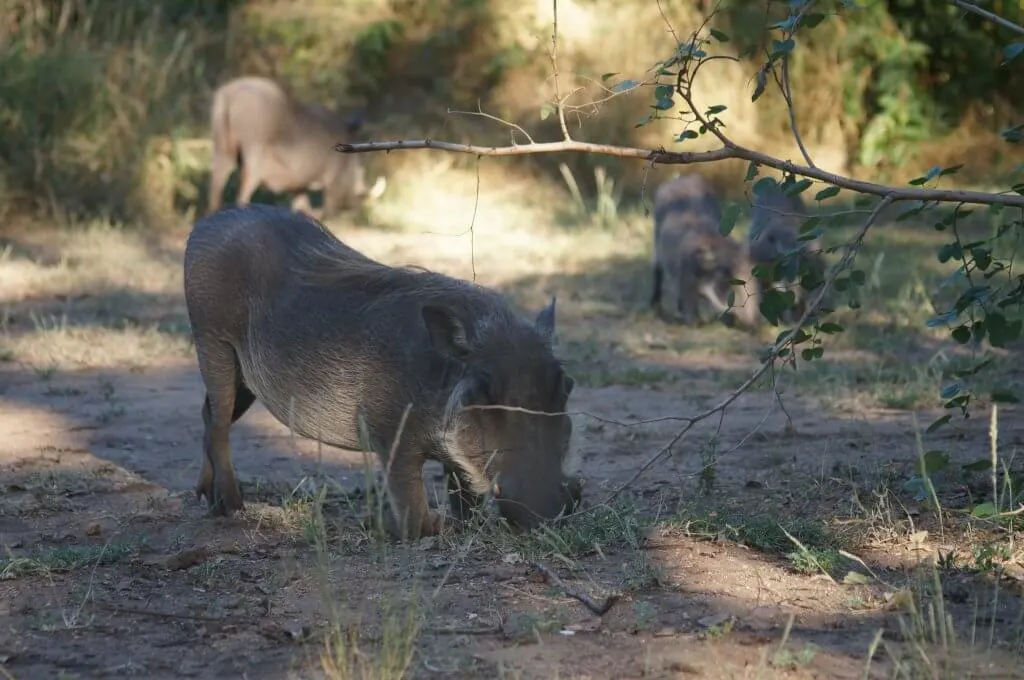 Day 24-25: Mount Mulanje
The Majete NP entrance fee includes the next day if staying overnight, so we took the opportunity for a morning game drive, before venturing over to the Mount Mulanje. Due to closed roads and impassable dirt tracks, this journey took us 6 hours, when it should have taken 3. It is best to return through the congestion of Blantyre, rather than take the the dirt-track south of the Michiru Mountain Conservatoin Area.
We stayed at CCAP campsite at Likhubala. From here there's a splendid hike up to Manchewe Waterfall on the mountain, one of the most impressive waterfalls in Africa, where you can enjoy a refreshing dip. With our 2 and 4 year old boys, the round trip took us about 3 hours. But most would do it 2 hours. Then on return, we were surprised by a performance from some local orphans, as part of Malawi Music Fund. The voices from this choir gave me goosebumps; rich tones and beautiful a capella harmonies. If you are visiting during school holidays, you will more than likely meet them as they rehearse at CCAP. Then enjoy a cold beer as you enjoy the views of the Mount Mulanje being cast aflame by the setting sun.
Day 26-27: Zomba
It's a 2 hour drive to Zomba. Before heading up to the Plateau, take the opportunity to visit a local village community arranged though Responsible Safari Company and their YODEP program. Here you can take part in maize pounding, brick making, traditional dancing or even experience a homestay.
Our visit coincided with a Sunday mass. An incredible experience. I will never forget the rich tones of the female a cappella voices harmonising, and the sheer faith of the parishioners hanging on to every word of the sermon. Do bear in mind that a full service generally last 3 hours, so you may want to arrange to visit only part of the service.
Then venture up onto Zomba Plateau to enjoy the wonderful hospitality of Zomba Forest Lodge and enjoy a forest walk to a private waterfall. You can read about our stay here.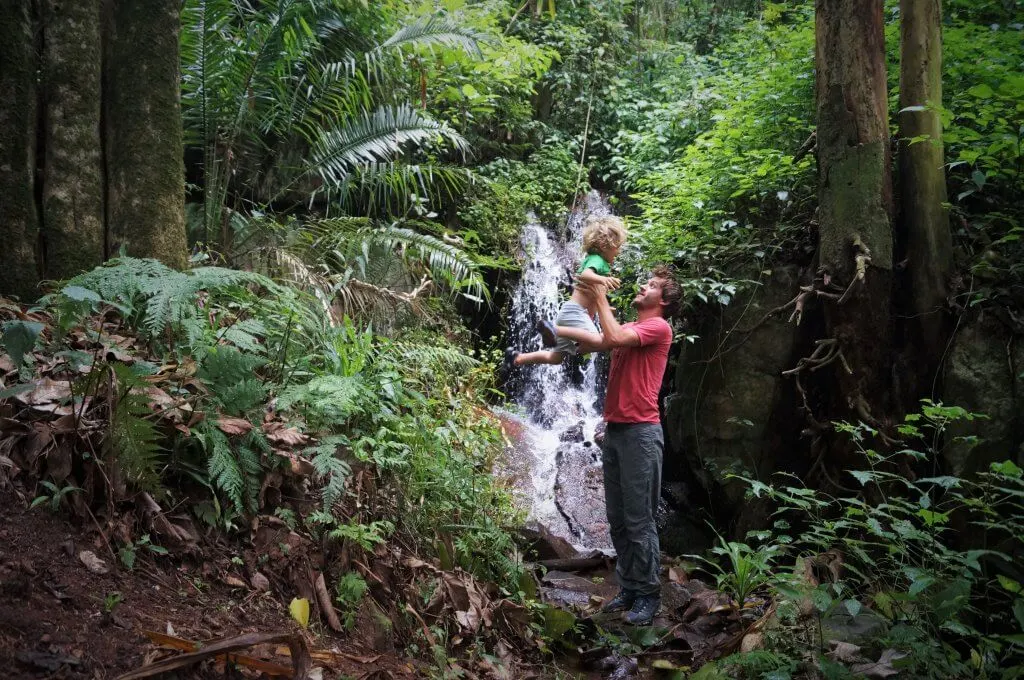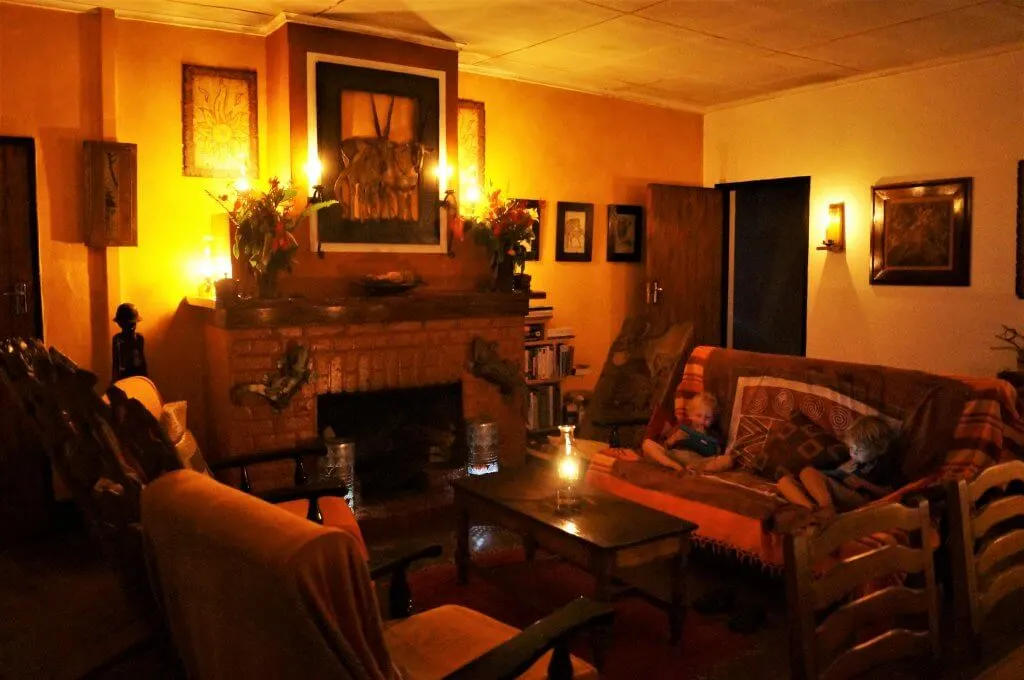 We stayed a second night on the Plateau to explore more waterfalls and views, and camped at the very basic Trout Farm (no running water or power).
Day 28: Liwonde National Park
Our plan was to enter Liwonde National Park from the South and drive to Mvuu to spend the night, after taking a boat safari to see the crocodiles and hippos. However, heavy rains meant that the road was impassable and we would be unable to get to Mvuu. Do call ahead to check. We cut our losses and headed to the beach at Nkhodzi Lodge.
However, our friends at Mini Travellers have visited Liwonde National Park and you should check out their review of Mvuu Camp.
Day 29-30 Nkhudzi
Time to slow the pace and enjoy the serenity of Lake Malawi. Nkhudzi Lodge has a small pool, bar and a shady grassy area to camp. Ensure you stock up on food (probably best in Zomba) as there are no shops nearby. However, you can purchase food from the restaurant.
Day 31-32 Cape Maclear
Take a detour via Monkey Bay to stock up on supplies (although produce choice is very limited) and follow the track to Cape Maclear – a sandy crescent, book-ended by lush mountains, and views over to Domwe Island. We stayed at Chembe Eagles Nest, which has good facilities, a bar/restaurant and sparkling water for a dip. We thoroughly recommend taking the two hour sunset catamaran cruise. We stayed three nights, but honestly wish we had stayed longer. This place was easily our favourite Lake Malawi camping site.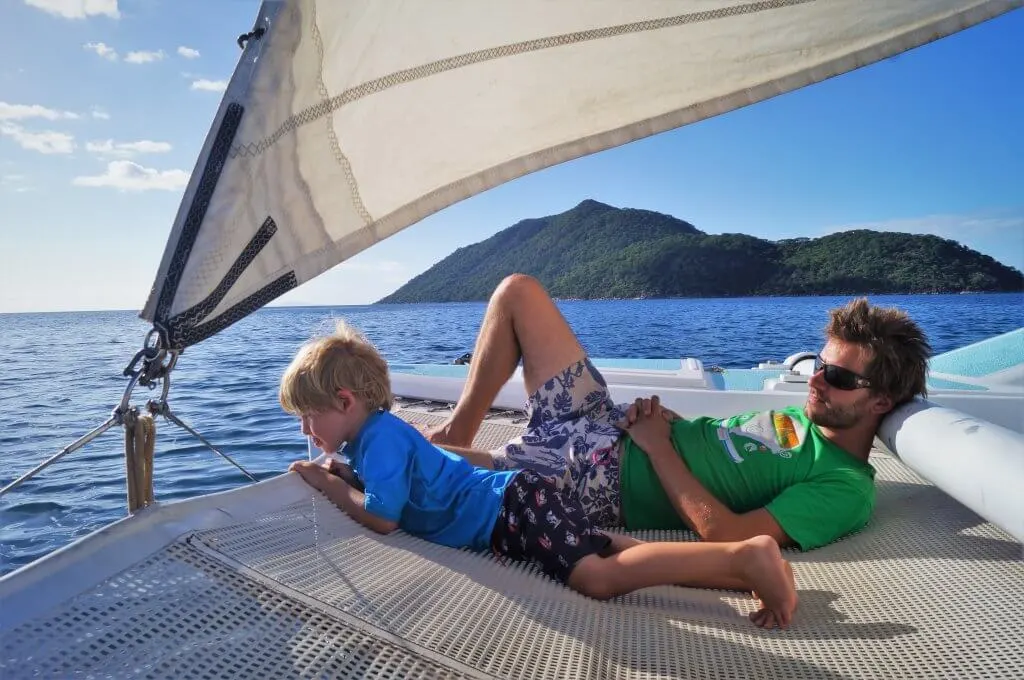 The lake here is perfect for swimming with little ones; nice temperature, clean and calm. However, bilharzia is present. If you do wish to swim, we advise purchasing bilharzia medication from the pharmacy in Monkey Bay and taking this after leaving the lake.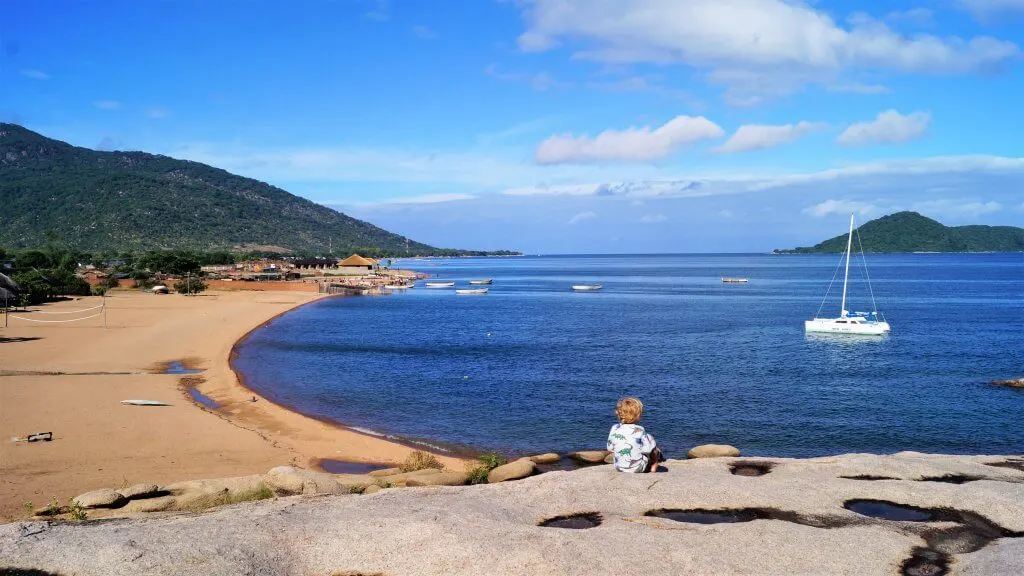 Day 33-35 Chintheche Inn
This is the perfect stopover enroute to the North of Malawi, a six hour drive from Cape Maclear. Ensure you stock up on fuel, cash and food in Salima, as you won't find much else on the road north.
At Chintheche Inn there is a fantastic campground with good facilities. However, we were invited to stay in the lovely family cottage, which opens out onto the beach. There is a clean swimming pool, small play area and lots of lush grass for running races. However, the beach here has quite a few boulders and reeds, so the water isn't quite as inviting as Cape Maclear. You can read a review of our stay here.
Day 37 – Nhkata Bay / Mzuzu
Nhkata Bay is firmly on the backpacker circuit and a place we visited pre-kids back in 2001, so were keen to return. It's a one hour drive up the coast from Chintheche, but really NOT worth staying over with young kids. There is little in the way of sandy beaches (more rocky coves), and the lodges are built up into the cliffs with rooms connected by steep steps. Plus, there are no flat campgrounds for overlanders with roof tents. However, it's worth stopping into to Mayoka Village to sample one of their delicious smoothies overlooking the lake; just hold on to your little one's hands tightly as you navigate those steep steps.
It's then a further hour's drive along a good, winding road to Mzuzu. This is the place to stock up on food at the very impressive Shoprite and buy US dollars for visas from the Bureau de Change if heading north into Tanzania. We stayed overnight at the very welcoming Umunthu Camp. There are flat, shady pitches designated for overlanders, hot showers, lovely bar and restaurant, and guinea pigs for the kids to meet in the back garden.
From Mzuzu, you could head to the magical Nyika National Park. However, especially after the rains, the road is in a bad condition and allow 6-7 hours of driving from Mzuzu. We decided against it.
Day 38-39 Livingstonia / Chitimba
It's a beautiful drive as you head further up the coast. Our intentions were to drive up to the old Scottish colonial town of Livingstonia. However, just a few minutes up the dirt track, we decided that even in our Landy, it wasn't the best idea. The road is in a seriously bad condition, especially after the wet season. Alternatively take a public pick up vehicle up the mountain (just be patient as it won't leave until 'full'), or pay a for a private 4WD (USD60), or you can walk the 20km round trip (we thought that a bit much with a 2 and 4 year old).
After a 1.5hour wait by the pick-up, we gave up and retreated to the lovely Chitimba Beach Lodge with good camping facilities. Backed by lush mountains, the beach by the lake isn't the cleanest, but the campsite is set away from the shoreline and has a clear sandy pitch to kick a ball around.
Day 40 – The Tanzania border
After an early start, stop by the dinosaur museum in Karonga (closed Sunday mornings) and then onward to the Songwe border. Ensure you have the snacks ready as it's a long wait on the Tanzanian side to get the car across.
---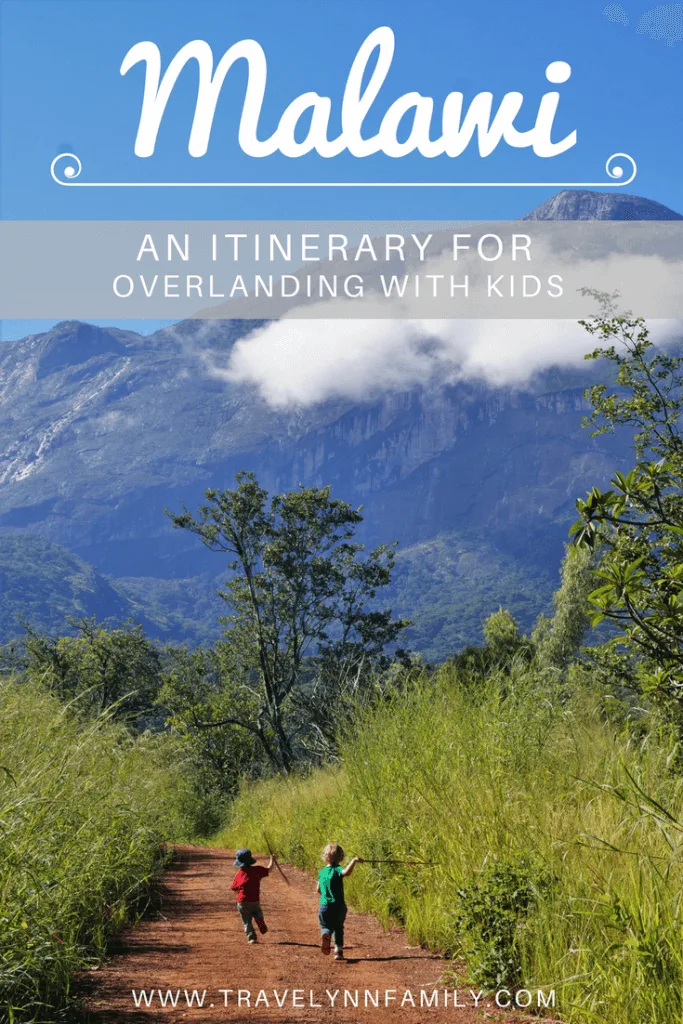 BUY: Lonely Planet Zambia, Mozambique & Malawi Lonely Planet
You may also like to read:
OVERLANDING AFRICA Part 1: South Africa and Mozambique itinerary with kids
Medical kit list for families travelling Africa
Why we swear by Essaouira with kids
For more posts on Africa, head to our AFRICA page.