Even in Africa, it's not every day you find yourself eating breakfast with a zebra for company, especially when you're only a few miles outside a major city. But Game Haven Lodge, nestled close to the southern Malawian city of Blantyre, offers all this and much more.
Set within the Private Chimwenya Game Park, this is a family-owned resort which combines up-close wild animal encounters with essentials to keep the kids happy (including a playground, swimming pool and kids menu). TraveLynn Family were invited to stay for two nights at the start of our Malawi with kids adventure. This is our Game Haven Lodge Review.
Disclaimer: TraveLynn Family were fully hosted for our stay at Game Haven Lodge, in partnership with Malawi Travel. However, these are all my own words and opinions.
Everything you need to know about our 101 days overlanding sub-Saharan Africa in a Land Rover with roof tents. This epic adventure took us through South Africa, Mozambique, Malawi, Tanzania, Zambia, and Namibia. The boys were 2 and 4 years old at the time.
READ: Overlanding Malawi with kids
Game Walk
"Poo! I see poo!" exclaimed our two year old. The two-hour guided game walk was probably the highlight for our boys (aged 2 and 4). Our ranger, Adam, was wonderfully patient pointing out the various animal dung (I take it my kids aren't the only ones fascinated by faeces?) and then spotting wild animals; including zebra, wildebeest, eland, impala and giraffe (including a baby giraffe!) Watching the boys have such close encounters with these wild animals was so very special; we were only a few metres away!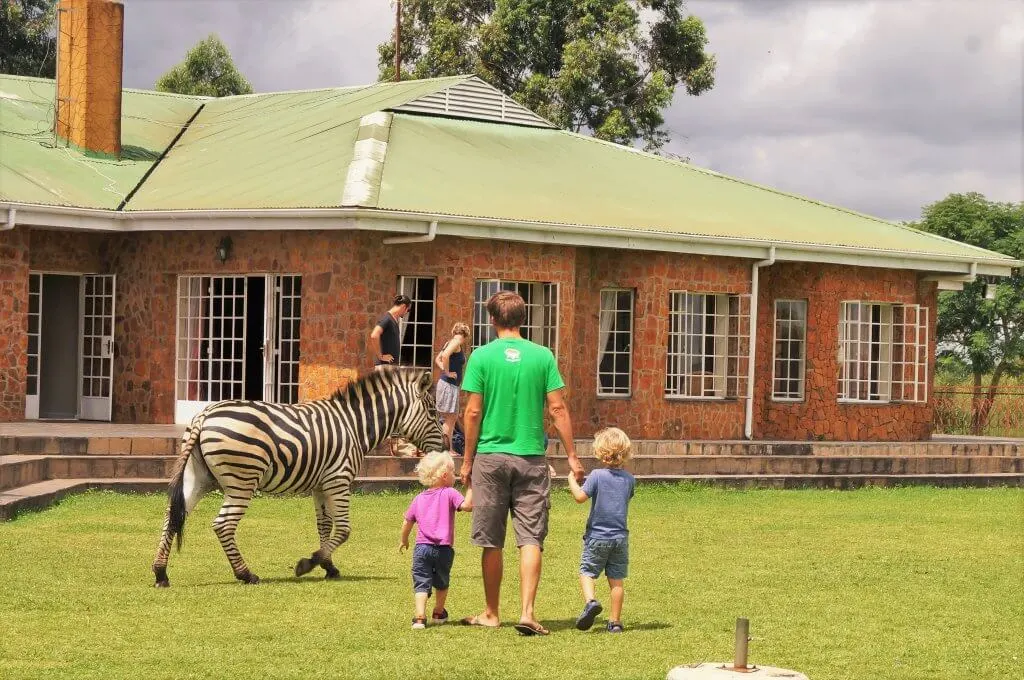 There are very few places in Africa where you can take young kids on a game walk. Thankfully, as there are no seriously dangerous animals at Game Haven Lodge (such as lions and leopards), as long as you're with a local ranger, it's perfectly safe. Plus, it was just us, no other tourists. Which not only makes it intimate, but means you don't have to worry about your little ones slowing the group down whilst they muse over every pile of dung on the footpath.
The game walk is free for all resident guests, or you may even like to take the bikes for a game cycle (although they don't have bikes for kids). Alternatively, if you want to cover more ground, you can pay to go on a game drive.
Read: Tips for a safari with young kids
The Accommodation
We were invited to stay in a Sable family room which was comfortable and spacious, with a partition separating the kids' single beds from the parents' double bed (VERY comfortable). There is a small courtyard area out the back, and in front there is space to park your car. The en-suite bathroom has a separate shower and bath, although hot water can be unreliable due to power shortages. There are also tea and coffee making facilities and a small TV.
However, if you're happy spend a little more, I suggest staying in one of the luxury cottages with stunning views overlooking the golf course and woodlands. A perfect spot for a sundowner, watching the local game from the veranda.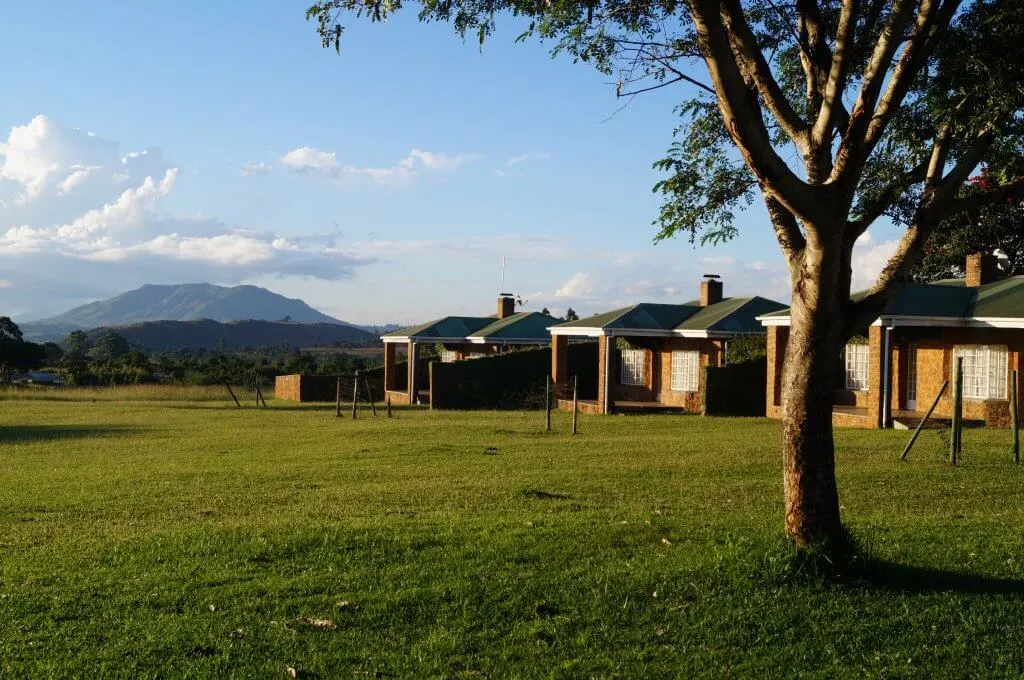 Please check the Game Haven Lodge website for details of other room types, including self-catering cottages and Nyala executive suites.
The restaurant
Opening out to expansive views over the reserve with local game residence grazing on the grass, this must be one of the most perfect settings in Southern Africa to dine. Service can be a little slow, so ensure you order a good hour in advance, and not all items on the menu are always available (this is Africa after all), but the food is great and we particularly loved the separate kids' menu including pizza, spaghetti bolognaise and chicken drumsticks.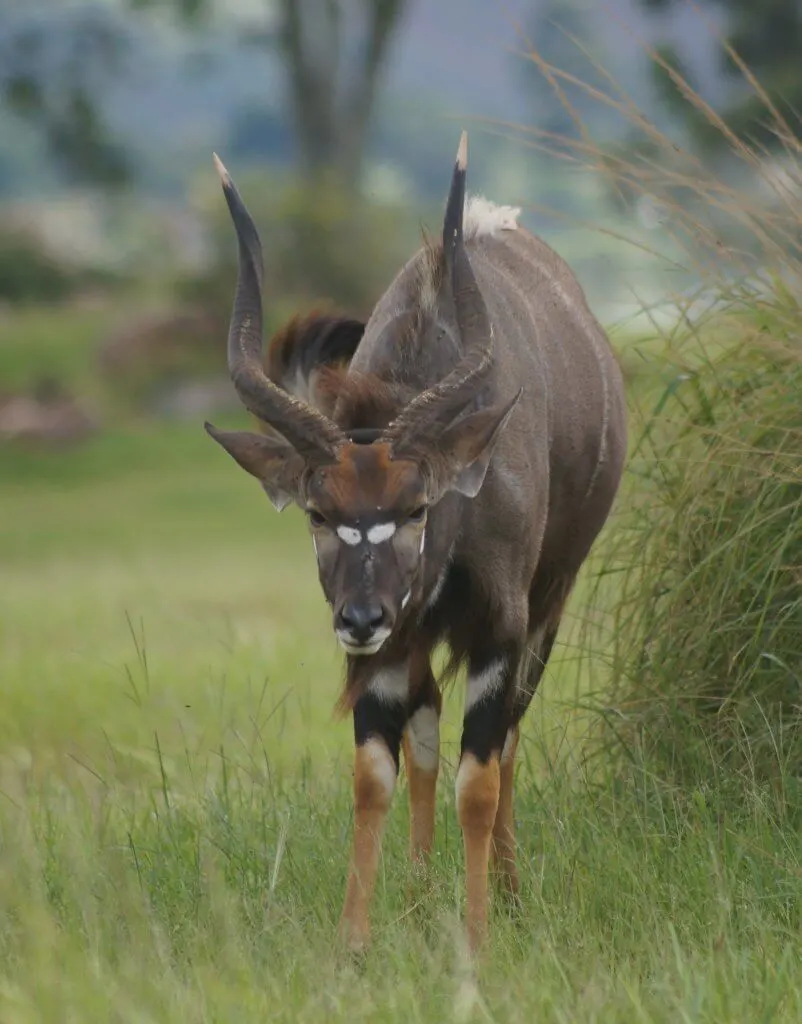 Even if you're just passing through, it's worth stopping at Game Haven Lodge for lunch. Please note that lunch is not served until 1:30pm and it may be worth phoning ahead.
It is also recommended to walk down to Nswala Malo (Giraffe Palace) on the private Lake Bvumbwe. Here there are braai/BBQ facilities and a bar, or enjoy a spot of fishing whilst you watch the local birds and animals cool down and refresh by the waters edge. Aask at the main reception for a ranger to walk you down, or you can drive the short distance; just ensure that it is open.
The facilities
The large playground was a huge hit with my boys, particularly the climbing wall. There is also a small indoor soft play area next to the playground.
The swimming pool is a rather deep for little ones and a bit on the cold side (even with wetsuits on). But my boys were still happy to jump in and splash around, using us parents as 'ferries' from one side to the other.
Fishing is also available down at Lake Bvumbwe, or take advantage of the free round of golf offered to all resident guests.
Getting to Game Haven Lodge
It's just a short 20 minute drive from the centre of Blantyre to Game Haven Lodge. This was our first stop in Malawi, as part of our overland African adventures, and the perfect introduction (we had driven up from Mozambique).
However, for those flying into Malawi, there are international flights to Blantyre and you will find Game Haven Lodge a lovely soft landing to your adventures.
---
You may also like to read:
Overlanding Mozambique with kids
Is Tanzania with kids worthwhile?
The ultimate family packing list for Africa