Travelling with kids in any country can be an expensive proposition when you factor in accommodation, food and entertainment. But what happens when you visit the most expensive city in the world? How do you manage to enjoy a cheap day in Singapore with kids when seemingly everything on offer will blow your budget?
On our 10-week adventures around Southeast Asia with kids, we tried our best to stick to a sensible budget, one that carried a balance between fun and frugality. Our biggest challenge came right at the end; the tiny city state of Singapore has wrecked many a travel budget but we were determined to enjoy our short time there without breaking the bank.
So here's a day in the life of a budget travel family in Singapore; follow this itinerary to get your own cheap day in Singapore with kids.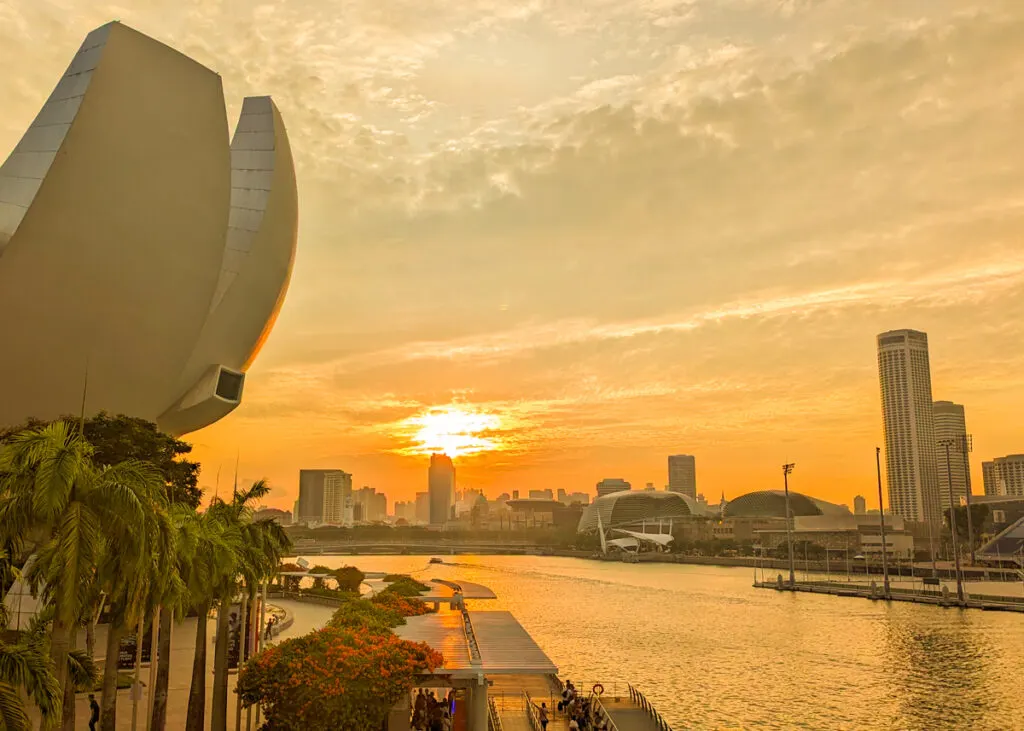 Breakfast on the go
Try to get an early start, before the heat of the day makes walking too uncomfortable. We all know how kids (and adults) need something to eat to start the day and it's the best way to ensure you enjoy the early start. If you're lucky enough to have breakfast included in your hotel rate, then of course fill your stomachs there. But, most/all of the budget accommodation in Singapore won't offer breakfast and, if it does, it'll most likely just be toast and cereal, perhaps with coffee and juice thrown in. Make sure you check this before booking, don't overpay for what might be a very basic (at best) breakfast.
As an cheaper alternative, there are lots of 7-Eleven convenience stores located around the city, a great place to head first and grab a pastry, sausage roll, or instant noodles. The prices are low and it'll provide you with fuel to start the day, as well as snacks for later.
If you follow our recommendation (see later on in this post) and stay at the Galaxy Pods Chinatown, you'll find a handily located 7-Eleven nearby at the People's Park Centre.
Get walking
The trump card you have in your budget friendly pocket is how pleasant Singapore is to just walk around. And there is no activity more easy on your pocket than walking and taking in the sights.
Head towards Clarke Quay and enjoy a leisurely stroll along Singapore River towards Marina Bay, the signature waterfronts location in Singapore.
The iconic Fullerton Hotel marks the entrance to the bay and on the other side of the bridge, you will notice tourist congregating towards the Merlion Statue, where a family selfie is a must do. Take a pew on the steps and marvel the ever-changing cityscape; it's easily one of the most impressive in the world.
From here, take a walk along the bay towards Raffles Quay. Whilst it's tempting to walk all the way around the bay to Gardens by the Bay, save that for later.
Let's do brunch
At Raffles Quay you will find Lau Pa Sat, one of the best hawker centres in Singapore.
Now Singapore can get very busy during lunchtime, with office workers and tourists converging on the food courts. Make sure you arrive here before 12pm. We recommend closer to 11am.
Set in a restored Victorian-era wet market, Lau Pa Sat has been welcoming hungry visitors for 150 years, and is now a great place to enjoy gorgeous food, right in the heart of the city.
There are scores of food stalls, taking you on a culinary spin around Southeast Asia and beyond. The prices are very reasonable, we paid about SGD6 for a vegetarian fried rice and it was the same price for Pad Thai, etc. Our youngest splashed out SGD10 on a full-English breakfast which gives an idea of the range of options. Feel free to splash out on a second helping, it's probably the cheapest food in the area, just remember to clear away your dishes afterwards; this is Singapore and it's not optional!
An afternoon on the island
After you've eaten, head over to Sentosa Island, a well-known and popular family destination in Singapore, where every inch of the island is dedicated to a fun visit. It's also a great place to enjoy some free entertainment with a surprisingly large number of activities free of charge.
Entry to Sentosa Island can be free, just as long as you enter on foot (or cycle) via the boardwalk which is a pleasant experience in itself. If you're planning to use this option, either take a Grab or public transport to VivoCity Mall / Harbourfront MRT first, from there you can either walk or cycle across.
If you'd prefer not to walk or cycle across the boardwalk, it's quite cheap to use the Sentosa Express which runs directly from the VivoCity Mall; it only costs SGD4 so it's also an affordable way to arrive.
Once you get onto the island, you can take advantage of the free public transport options, including the Sentosa Express, Sentosa Bus and the Beach Shuttle. Either one or a combination of them will take you to the sights so take your pick from any of the free activities. There is a useful information point once you get onto the island, or check out the website which has all the info you'll need.
In no particular order, we'd recommend:
Fort Siloso, Singapore's only remaining fort and a fascinating place for kids to explore which includes a free museum
Southernmost Point of Continental Asia; get the camera ready for the iconic shot of you reaching the end of the road, particularly poignant if you're at the end of a long trip
Sentosa Musical Fountain; currently still free of charge, this lightshow runs for 5 minutes in the late afternoon
Beaches; Sentosa is blessed with three beaches; Palawan (family-fun), Siloso (trendy), and Tanjong (peaceful), all with their own personality but all free of charge, the beaches are a great place to head on a hot day when you need a dip in the ocean and a relax on the beach. Palawan is the best place to head for families.
One word of caution; Universal Studios Singapore is based on Sentosa Island and it's quite difficult to avoid seeing it (or its advertising) when you arrive. Make sure you manage your kids' expectations in case they think they were in for a surprise treat. It's an incredible day, worth a full day on its own but also very, very expensive and not really something you'd be able to include if you're visiting Singapore with kids on a budget.
Before you head back into the city, it's time for dinner on the island. Some of the dining options on Sentosa Island are expensive so best left to another visit, but if you're looking for something affordable, make your way over to the Malaysian Food Street. It's not quite as authentic as other hawker centres in the city, but for tasty and affordable meals, it takes some beating. Take a stroll around first and get a feel for what's on offer and then take your pick.
Gardens by the Bay
Tiredness might be kicking in now but save some final energy for a visit to Gardens by the Bay, easily accessed by several MRT stations (Tanjong Pagar, Bayfront, or Gardens by the Bay) from the HarbourFront MRT near Sentosa Island. Alternatively, it's often easier and quicker to get another Grab taxi.
Whilst there are some paid attractions here, our favourite part was walking around the gardens, checking out the sculpture park, playing at the splash park and playgrounds, and taking in the perfect views of Marina Bay Sands and beyond.
To round off your day, hang around for the Garden Rhapsody light show, running each evening at 7:45pm and 8:45pm (head to the OCBC Skyway). With an ever-changing theme, this light and sound show is arguably the best of its kind in Southeast Asia and will be an unforgettable and emotional end to your budget day in Singapore with kids.
Calling it a night
The final sting in the tail in Singapore are the accommodation prices, by far the most expensive we encountered during our 10 week trip around Southeast Asia with kids. It felt like quite the achievement to find somewhere for £110+ for one night, but find somewhere we did.
A brand new experience for us, capsule hotels are increasingly popular in Singapore, offering non-claustrophobic families the chance to sleep cheaply in Singapore. We stayed in Galaxy Pods Chinatown.
It was a fun night in a capsule hotel located in a fantastic location. Don't expect a five-star stay, but for the price and location, it's very difficult to beat.
Getting around Singapore with kids
Grab was our default transport choice in Singapore as it was in much of Southeast Asia. You really can't beat the convenience and the price is reasonable too, especially as we'd need to buy separate public transport tickets each time.
The public transport is fantastic in Singapore though, the MRT in particular reaches most parts of the city and there is an excellent bus network, both of which are very affordable. It was the ticket buying process which slightly put us off; you can use contactless cards which is great for individual adults but harder for families. The various tourist transport passes are convenient but require you to pay a non-refundable one-off fee, and can work out more expensive if you end up taking fewer journeys, which is more likely if you're only here for one day.
We found that because we were only visiting for one day, Grab was the easiest approach and we're pretty sure it worked out cheaper than buying a transport card for the whole family, especially if you're only planning to use it for 12 hours.
Final thoughts on visiting Singapore with kids on a budget
Singapore is an amazing city with an instantly recognisable skyline which exudes money and prosperity. It's well-known as (one of) the most expensive cities in the world, perhaps more focused on finance than tourism. For a long time, we were put off from visiting as we didn't think it made financial sense to visit when there are so many other places to visit in Southeast Asia on a fraction of the budget.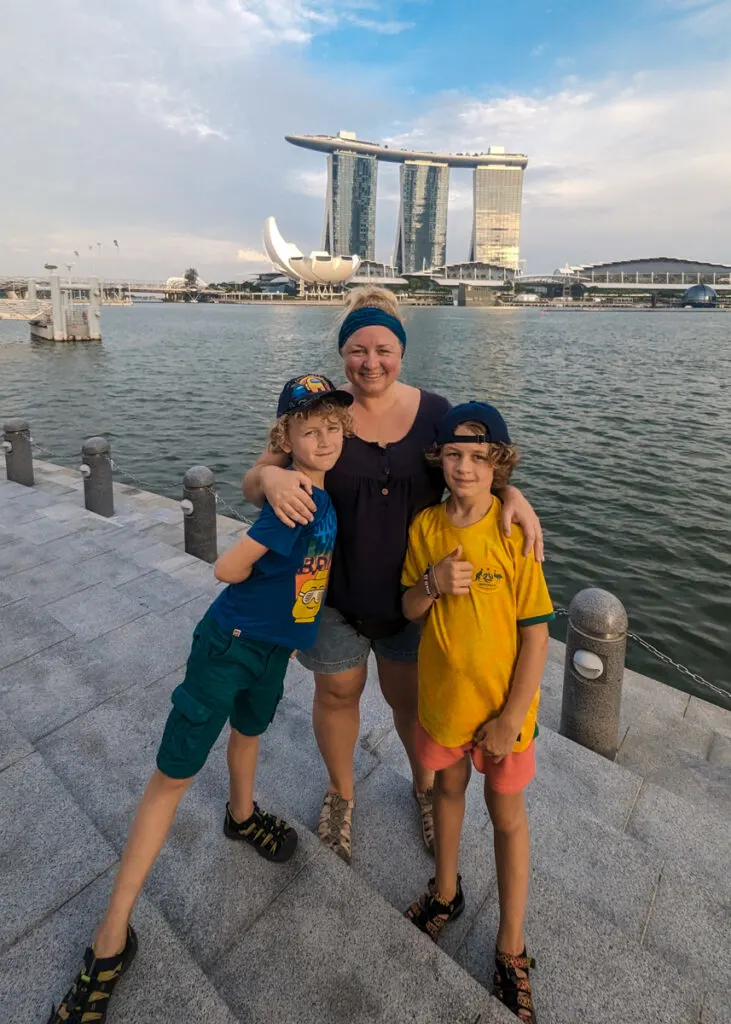 And whilst we'd not really recommend Singapore as a destination in its own right, if you're visiting for a day or so, perhaps on a stopover or the beginning/end of a long trip, you can still enjoy the city without feeling guilty about your diminishing budget.
It's a lovely city to walk around, the hawker food options are tasty and cheapish, and Sentosa Island is a cool place to visit with lots of free things to do. By the time you've arrived back to the capsule hotel via Gardens by the Bay, you'll hopefully have had a great day whilst still being on speaking terms with your credit card.
---
You may also like to read:
Things to do in Kuala Lumpur with kids
Visiting Melaka with kids
12 LEGOLAND Malaysia tips to make the most of your visit