As one of the most expensive cities in Southeast Asia, a great option to maximise your accommodation budget is to stay in a pod or capsule hotel in Singapore.
The name 'pods' can be slightly confusing though and it might be tempting to pass and select a more traditional option. But in a city as expensive as Singapore, any affordable place is worth investigating. So keep reading for our experience of Galaxy Pods Chinatown, especially if you are planning a visit to Singapore with kids on a budget.
Disclaimer: This post contains affiliate links. If you click to purchase, it is at no additional cost to you, and I receive a small commission.
Click here to check availability and prices for Galaxy Pods Chinatown
Arriving to Galaxy Pods Chinatown
The first thing which stands out is the location; right in the heart of Chinatown, walkable distance to all of the main sights in Singapore. You're also surrounded by lots of bars and restaurants, plus there is a 7-Eleven just around the corner, handy for snacks and drinks if you're trying to avoid the expensive Singapore prices.
As you'd expect from such a central location, there are a couple of MRT stations very close by (Chinatown and Telok Ayer).
Alternatively, if you've read any of our other Southeast Asia posts, you'll know how much we love Grab taxis. It's such an easy way to travel and we were dropped right outside Galaxy Pods Chinatown by our driver. The Pods are on a relatively quiet side street (Mosque St), so you'll have some time to jump out of the car and sort out your bags.
The building itself is low-key outside, just a small sign above the door with some tables and chair outside. It's a very relaxed vibe. Once inside, the check in process is smooth, the receptionist was friendly and had our booking ready for us. We were pleased to hear that the pods were ready for us, we'd intentionally arrived after 3pm but there is space to leave luggage in reception in case you arrive too early.
Once our passports were scanned, WIFI code copied, and a quick scan of the map to get our bearings, we were led thorough the door into the pod building.
Inside your capsule
It's quite exciting when the hatch is slid open and you get your first glimpse of the capsule. For the boys in particular, this was a real highlight and it certainly surpassed the usual routine of entering your hotel room for the first time.
You scan a key-card to unlock the hatch and then either climb up a small ladder to reach the top capsule, or drop down to ground level to enter the lower one. On the whole, the capsules are fairly easy to access but try to book the lower one if you find narrow ladders difficult to negotiate.
Once inside, any fears of coffin-like structures are quickly dispelled; they actually feel quite spacious with the clever lighting and mirrors making you feel quite at home. On the far wall, you'll find a small TV with a few channels, a couple of hooks, and a clever little table which is stowed on the wall; very handy but keep in mind that you're asked not to consume any food or drink within the capsule itself.
On the left-hand wall, the space-age theme continues with a panel containing various switches, headphone socket, AC plug-point, and a couple of USB slots. The switches control the lighting, door lock, and air-conditioning. It works fairly well most of the time but the USB slots were a little loose and kept getting dislodged.
The capsules aren't quite as sturdy as we expected, it's hard to forget they are made of plastic but there were no real issues with noise and, whilst not fully soundproof, it was better than some hostel rooms we've stayed in before.
We had one parent with one child and this worked really well, partly because we all had a little more space, and partly as it felt safer; I'm sure the kids could have unlocked the doors themselves if needed, but we felt happier been inside with them. Even the 6ft (1.8m) tall Dad was comfy and able to stretch out fully (just) in the beds. We had a really good night's sleep and were slightly disappointed when the alarm went off and we had to leave!
Outside your capsule
Once you step directly outside your capsule, you'll encounter the only slight weakness of the whole setup. The pods are stacked in pairs, one on top of each other but in very close proximity to the other pods. Lockers are available a few metres away, and they're very spacious (capable of fitting a 30L backpack for example) but some other guests instead left their larger backpacks and suitcases outside their pod, partly for convenience and partly because they didn't fit into the lockers. It gave a slightly untidy appearance and didn't leave much space for walking around.
In the adjacent room, there is a hot and cold water machine and they also kindly provide free tea and coffee sachets. There is a small communal fridge as well in case you need to store any food or drink but there isn't really a communal area to consume anything so it's of limited use.
In the next room, you'll find the communal shower/bathroom area with three sinks and four combined toilets and showers. As elsewhere in Southeast Asia, these are wet-rooms so they can get damp underfoot, try to bring some flip-flops or slippers if you can.
The communal area is all very well organised but does feel a little cramped. Space is at a premium in Singapore of course and if there was going to be one compromise to make the price work, this was always likely to be it. By no means did it spoil the stay though, and you always had the capsule to retreat back to if you wanted your privacy.
A good nights sleep?
We've always enjoyed cosy little self-contained rooms, it reminds us of a sleeper train carriage. After a busy day wandering around Singapore, there was something thoroughly relaxing about sliding the hatch closed and settling in for the night. At one point around 2am, some new guests arrived and made a bit of noise which was audible through the walls. Then about an hour later, the pod's control system went through a full factory reset(!), complete with lights coming on, TV on full-blast, and the AC going into overdrive. It was quite the scramble to turn everything off before the boys woke up…
The beds are very comfortable, can easily accommodate a tall(ish) adult, and worked well with an adult and child combo. The choice of lighting works well too, you have the full spectrum from surgical spotlights, all the way down to a very muted blue light above the mirror which would be ideal for young children (or adults) who might not appreciate complete darkness.
Galaxy Pods Chinatown for families
There is a slightly confusing aspect of booking the Galaxy Pods online, on the booking.com site it specifically states that children cannot be accommodated, but when we queried this they informed us that it just means anyone under 18 isn't allowed to check in alone.
Also keep in mind if you're travelling with more children than adults, one or more kids will have to sleep in a capsule on their own. This isn't necessarily a problem and will be fine for older kids, but we didn't feel entirely comfortable with the idea of ours (aged 8 and 9) being in there alone.
Aside from that, the staff were very welcoming to us as a family, and it definitely felt like a unique experience for the boys and something very different. They loved opening and closing the 'hatch', setting the lighting levels, and the feeling that they were in a spaceship. If you're travelling with much younger kids, or light-sleepers, the slight lack of complete sound-proofing could be an issue though.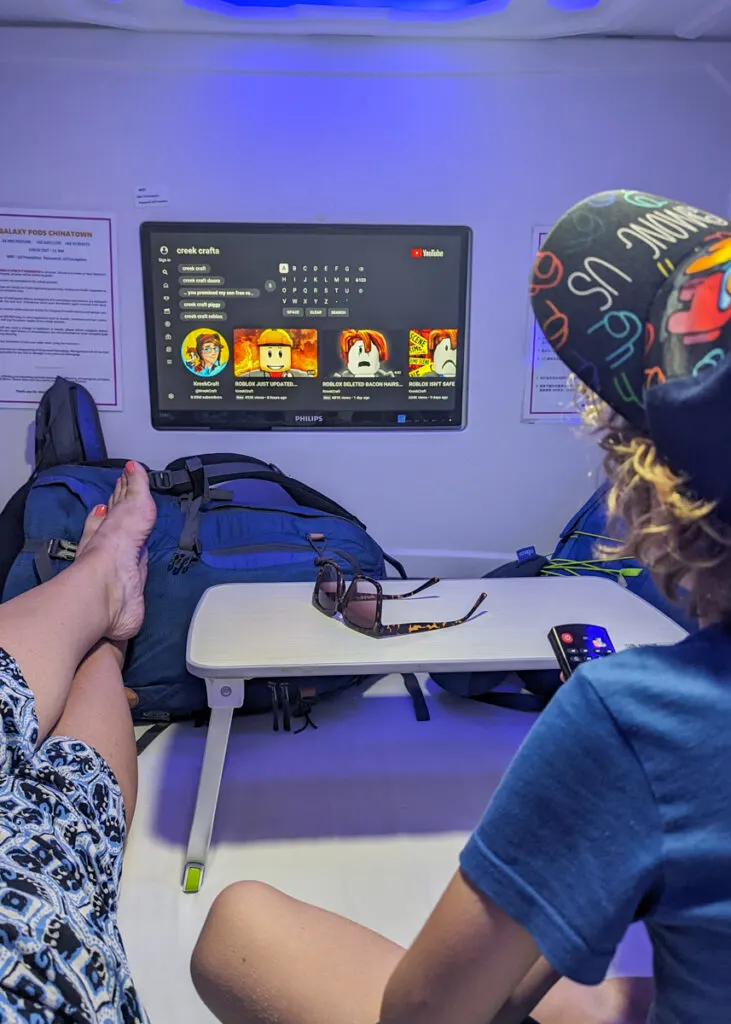 How much is a capsule hotel in Singapore and where to book?
Click here to check availability and prices for Galaxy Pods Chinatown
We paid £107 for two pods for one night. Whilst this was very expensive compared to most of our other nights in Southeast Asia, it represented an absolute steal in Singapore, especially when you factor in the fantastic location. Remember this includes free tea and coffee, which will save you a few dollars along the way.
Is this the best capsule hotel in Singapore?
Capsule hotels seem to be big business in Singapore nowadays, not surprising when you consider how expensive space is in the city. The clever design has helped bridge the gap between dorms and private rooms so it's no wonder they're ever popular.
Is this the best capsule hotel in Singapore? It's hard for us to judge as we've not visited all of them and we only stayed in Galaxy Pods Chinatown, but some other ones to consider are:
Final thoughts on Galaxy Pods Chinatown
We approached booking a place to stay in Singapore with some trepidation, from past experience we knew how expensive accommodation was but we wanted somewhere special for the last night of our big trip around Southeast Asia.
Galaxy Pods Chinatown was a huge success and we're so pleased we took the plunge and tried this new style of hotel. The location and price are unbeatable but the best part was the quirky nature of the pods, the boys said a few times how much they loved it and we were sad to slide the hatch shut for the final time.
The communal areas might not be the easiest to navigate, but that's only a small quibble. If you want a fun, cheap, and well-located capsule hotel in Singapore, Galaxy Pods Chinatown is the place to be.
---
You may also like to read:
Travelling Southeast Asia with kids
Visiting Malaysia with kids
Singapore with kids: a one day itinerary on a budget