Our Mazda Bongo 4×4 camper is part of our family, and even though he's over 20 years old, he runs pretty damn fine. We bought him in June 2020 (we're beginners!) and have just returned from a fantastic few weeks in France with no problems whatsoever.
Disclaimer: This post contains affiliate links. Should you click on a link to purchase, it is at no extra cost to you, but I receive a small commission.
But in time, we do plan to venture further than neighbouring countries and we have some epic future adventures planned for him. He's an old camper and our second home, so he needs a fair bit of TLC if he's going to last the distance.
Since buying him, I've received so many questions from people who have just bought a Mazda Bongo, or are thinking about buying one. We are in no way mechanical experts, we're learning along the way. But here are some essential tips for any beginner Bongonaut (yes, that is a word… it is the name given to a Bongo owner) to hopefully ensure an easy and long-lasting Bongo life.
1. Get an under-seal
Rust is the most common problem for Mazda Bongos. They're prone to rust as they were not designed for the wet roads of the UK, and certainly not the salt on the winter roads. In Japan, where the Bongo was manufactured, salt is not used on the roads as drivers use winter tyres.
If you buy your Bongo from a UK importer, it is likely that your Mazda Bongo will have an under-seal. However, if you buy privately (such as on eBay like us), the under-seal may not exist, or may not have been maintained. Either way, it's good to check.
We had our Bongo under-sealed professionally by Bongo Spares as soon as we bought him. Apparently there was already an under-seal there, but it needed to be patched up (this was about £200). It's worth getting the under-seal checked at every service and getting it totally refreshed every two to three years, especially if you drive your Bongo a lot in the winter months.
2. Install a coolant alarm
After getting the under-seal sorted, the next absolute must-do thing for your Bongo is to install a coolant alarm.
A coolant alarm detects when the level of water in your cooling system's expansion bottle falls below a minimum level. Bongos have a bad reputation for over heating as it's believed the temperature gauges are inaccurate and/or slow.
We have a clever Gramps in our family and he was able to fit this for us. Although this is also something any garage can do for you too. So we now have a little light next to our steering wheel that comes on in our Bongo if the water level in our cooling system drops.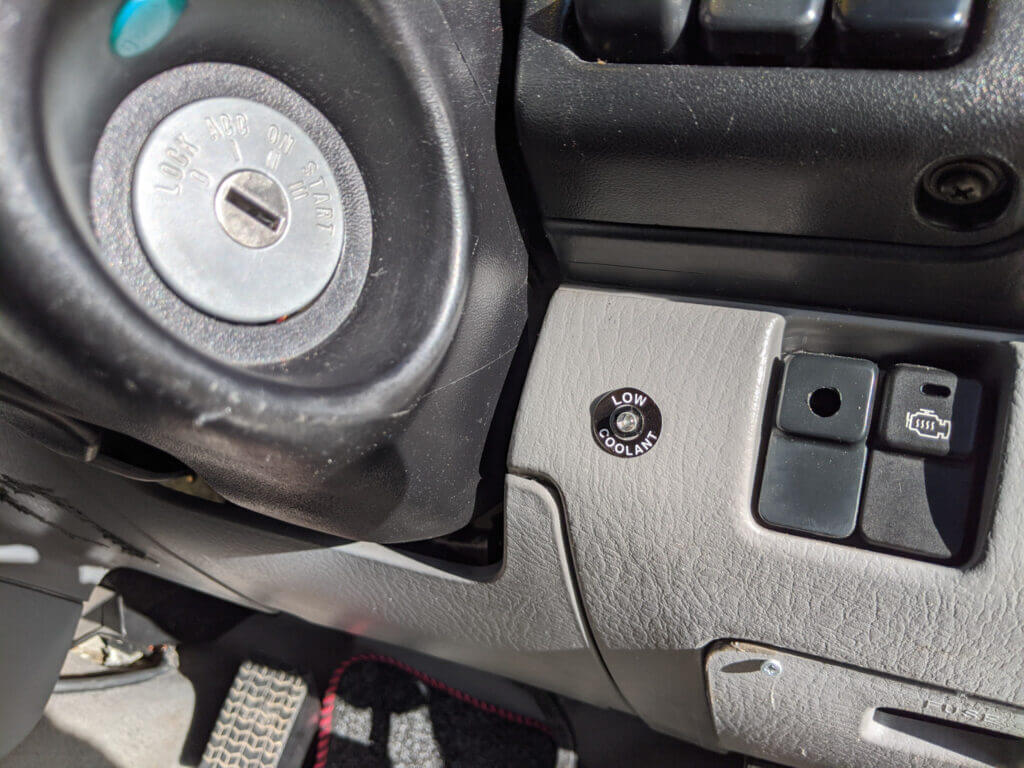 3. Regular servicing
This is pretty standard for any car you want to look after. Regular servicing means that any problems are perhaps picked up before they happen, and you have the peace of mind knowing that your Bongo is in good nick for those adventures.
You can take your Bongo to any garage really, but we take ours to Bongo Spares. It's a bit of a drive to get there (just under 2 hours along country lanes and around towns) but we like the idea of Bongo experts looking after him. They are also very good value and really friendly. We had so many questions when we first went to see them, and however stupid and inexperienced we sounded, staff were more than happy to explain things to us in the plainest terms (I've admitted many times before that we are not mechanically minded).
4. Embrace the slow lane
The Bongo is for easy going, chilled out adventures. This is not the van for speeding down the motorway or rushing on the school run. Plus, they are thirsty beasts with terrible fuel consumption. We tend to hover around 65mph and take our time. This also means you have to adjust your predicted Google Map timings from to get from A to B.
5. Don't rush your conversion
Conversions are such a personal thing. It really depends on what you want from your Bongo and how you are going to use it. Some people just have them as a day van to pop to the beach, whereas others are traversing the Australian Outback for months on end.
For us with two young kids and our love of long road trips, a side conversion was preferred. This gives us lots of storage space along the side. The kids sleep in the AFT (the Auto Free Top) and us parents sleep on the rock and roll bed (the back seats pull out flat). Whilst my 6ft hubby can stretch his legs out, our bed is rather narrow because of the side storage. This is fine for us, just a little cosy.
Alternatively, some people go for a rear conversion where the storage, cooker and fridge is at the back so you have a wider sleeping space. But this does limit your storage.
Take the time to think about what you want from your Bongo. Claire and her family from The Ladybirds Adventures have recently bought a Bongo. However, they have bought an unconverted Bongo and are doing a few camping trips to work out a layout and what they want adding. This is a great way to do it as it spreads the cost, and avoids any expensive changes further down the line.
6. Do a reccy
Don't head off on an 100 day overland adventure straight from purchase. Take the time to find out how everything works; from the indicators, to the AFT, to the leisure battery. This will hopefully save you any headaches further down the line.
We first camped out on our driveway, and the following weekend we took a trip just down the road to Hayfield campsite in the Peak District. This was also a good chance to see where everything goes and how our camping gear (such as chairs and pop-up loos) fitted in. After this trip we had a list of things extra things we wanted to sort, change and purchase.
And now we've come back from our France trip, we've got a list of some more things we want to change. Life is always evolving with a Bongo camper.
7. Pack light and embrace collapsible camping gear
We are used to travelling light having backpacked Asia with our boys. So when I saw all the possible storage space we have in our Bongo I got very excited!
However, this space quickly gets filled up with essential camping gear (plates and bowls, sleeping bags, pillows, slow cooker and bunting – yes, those last two are essential!) And whilst you may be able to squeeze in that extra bag of clothes or pile of books, doesn't mean you should. You don't want to be playing Jenga every time you reach for your toothbrush.
Be really strict with what you pack, but also be smart. Check out our Mazda Bongo packing checklist. There is an amazing amount of collapsible camping gear out there theses days. It's impressive how much space it saves! We have a collapsible:
And on our Christmas list is a collapsible waste bin, and a collapsible solar camping lantern with USB charger – oh, we do live a crazy life!
8. Keep it clean and tidy
I am not a tidy person naturally (I can hear my parents laughing in agreement as I type this), but when it comes to camping, I become a Sargent Major with organisation. Everything has its place and is put away after use.
The thing is, the actual living space in a Bongo is tiny and if you leave everything out, there's literally nowhere to sit and/or cook. Plus, if things aren't put away after use, it can take hours to pack up your site when it's time to go. That's the last thing you want on a road trip when your next destination is a 6 hour drive away that day.
I have a little dustpan and brush to sweep up the main area each day, and some campers pack a handheld vacuum (if only these were collapsible too). When you get back from your trip (or weekly when you're travelling long term), do a big clean and sweep of all your kit and inside the Bongo. Your kit and Bongo will last longer.
9. Get a bike rack
Now our kids are confident on their bikes and can cycle a fair distance we look for campsites with good bike paths nearby. This means that we don't have to pack up the Bongo to head out on an adventure from the campsite. Whilst it's good to explore what's on the doorstep of a campsite, it's always exciting to venture that little bit further too.
Having the bikes helps us embrace that slower pace of travel. We can stay a week or longer at a campsite, use the Bongo as a base, and then use the bikes to venture further afield.
But if you're a family with a Bongo and bikes, you need a bike rack. Take it from someone who tried saving some money by buying a bike rack on eBay and fitting it themselves… just buy this tow bar bike rack from Halfords and pay them the £25 for them to fit it for you.
10. Join the Mazda Bongo FB group
The Mazda Bongo Owners Club (a Facebook group) has been an invaluable source of information and it's a really friendly group too. Any questions I've had I've been able to find an answer by using the search bar, and I've picked up so many useful tips (such as the under-seal and coolant alarm) from this group – so many things I wouldn't have even thought of!
Here's to many happy years of Bongo travels ahead. Happy bongoing! (And yes, that's a word too. Time to get with the lingo?)
---
You may also like to read:
All about our Mazda Bongo 4×4 camper
Mazda Bongo interior renovations: how we made our bongo a little more 'us'
Bongo camper travels in France during COVID