The contrasting landscapes, the cultural complexities, and the mouth-wateringly incredible food, make Vietnam with kids a fascinating destination. Couple this with good transport, and the fact that it's a safe destination and the tourist dollar goes far, it's no wonder that Vietnam is suitable for families and considered one of the top destinations to visit in Southeast Asia with kids.
Check out our 10 day South Vietnam itinerary.
If you are planning a trip to Vietnam with kids, especially if you're travelling Vietnam with a toddler, our top tips are:
Book accommodation with a pool, so that the kids have somewhere to let of some energy and cool down after a morning sightseeing
Use Grab to book taxis around the main towns and cities. Just make sure you've picked up a Vietnam sim card.
Only drink filtered water and stick to fruit you can peel from markets, unless you're able to wash them prior to eating.
Trekking sandals are the best footwear for kids. We particularly like the Keen sandals.
Kids will be fine travelling and living every day in shorts and T-shirts, but also pack a light rain jacket, and of course swimmers for the beach. This goes for all the family.
Make sure you include some beach time into your itinerary.
Don't bother with a buggy, pack a carrier if travelling Vietnam with a baby or toddler.
Crossing roads, especially in cities, can be hair-raising. It may be easier to pick your child up and walk across. Otherwise, hold on to their hand tightly.
Be prepared for your children to get a lot of attention from locals, especially if they are fair. Vietnamese people love kids!
Pack good mosquito repellent with DEET.
Check out our Southeast Asia packing list for families
Do I need a visa? Please check gov.uk for up to date visa advice. If you're staying in Vietnam for longer than 15 days , make sure you first get an online visa for Vietnam. While Brits can stay in Vietnam for free for 15 days, anything longer and you'll need a visa!
So if you are wondering what there is to do in Vietnam for kids or want to know the best places to visit in Vietnam with family, here are some ideas from fellow top travel bloggers.
1. Lantern making in Hoi An
(Ania, The Travelling Twins)
We have been a travelling family for the last four years and Vietnam is one of our favourite destinations. We love it for all sorts of reasons – the food, the activities, the people and the sights. Hoi An with kids is easily one of our favourite places to visit in Vietnam with family, mostly because there are plenty of things to do with kids.
Hoi An is famous amongst other things for lanterns. We wanted to buy one, but we hesitated – worried that lanterns could get damaged in our luggage. However, once we learnt that we could make lanterns ourselves, then we knew that we had to do it. The kids could have fun and make themselves a souvenir of Vietnam too.
We found several places where you can make lanterns. Some have workshops scheduled at certain times and others respond to anyone who drops in ready to try their hand.
The bamboo lamp frames are already prepared. You choose the fabric and colours for the cover. Once you have your materials, you are shown how to stretch and glue it to the frame. My girls at that time were seven and made the lamps totally on their own. We brought them home with us, and we still have them.
The cost of the workshop is approximately 40k VND. About the same amount as you would pay for a similar lamp at the night market. I think it's fantastic value, fun for kids and providing memories and a souvenir for life.
2. Trekking in Sapa
(Sara, Wheelers on the Bus)
Sapa with kids is one of my favourite places because it felt like an undiscovered treasure. We were hosted by Ethos- Spirit of the Community who are a community enterprise offering tours around the villages of the nomadic Hill tribes of north west Vietnam. All guides have access to educational programmes and funds raised goes towards tackling human trafficking around the Chinese border.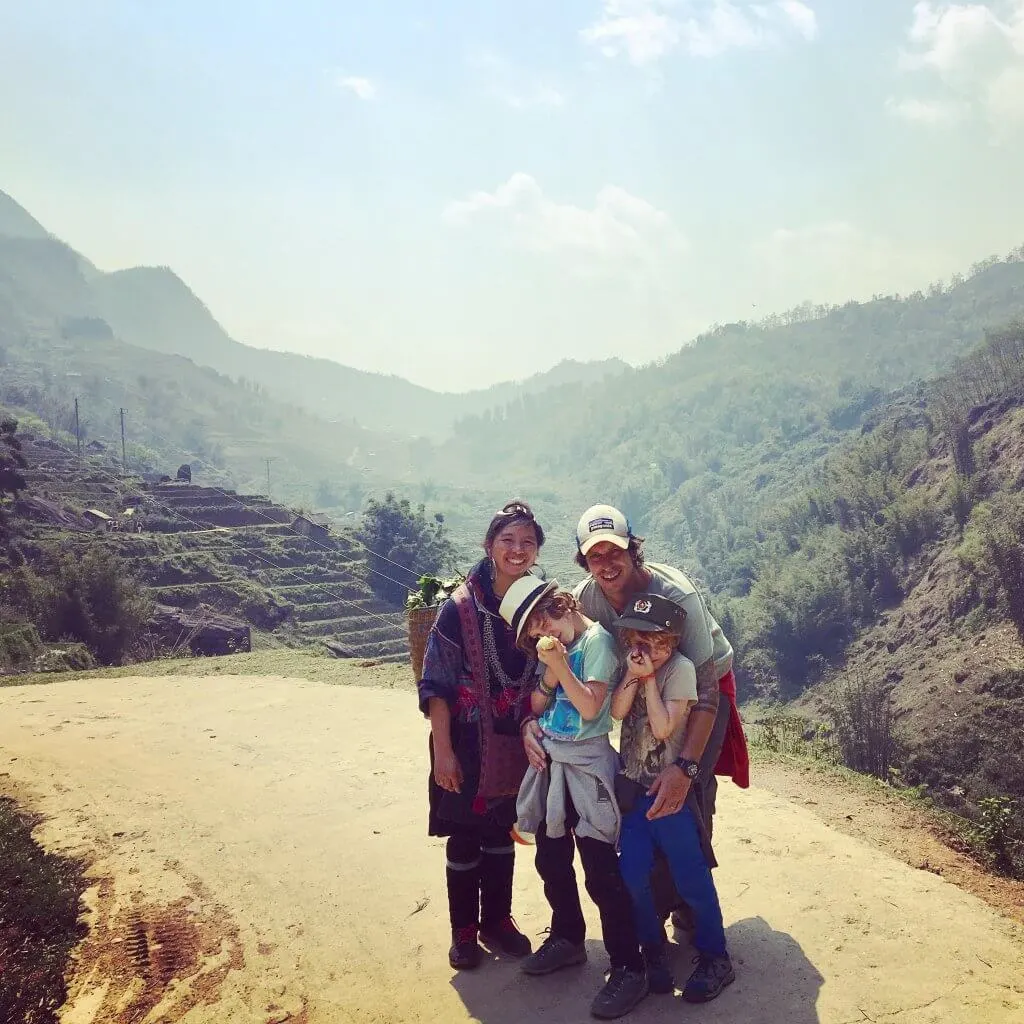 Whilst on the tour, we were taken to a market and trekked up the mountain amongst the rice paddies to get to our Guide's village. We met the family and cooked around the open fire. It is hard to explain the warmth that we felt, sharing food in the multi generational home, experiencing a taste of their life. We spent the whole day laughing together and finding out about their life, marriage, religion, children, work and life in general. We felt like we were taken into their bossom with our guide acting as translator- were gutted when it was time to leave.
We chose a tailor made trek so we knew it would be suitable for us as a family. The guide gave us all some sugar cane to ensure the children had enough energy to get up the hills and chatted and joked with the boys all along the way. They even came away at the end with a toy horse woven from reeds.
3. Kayak around Lan Ha Bay
(Cat, Walk My World)
Cat Ba Island is the launching point for some incredible activities in Vietnam and it was home to one of our favourites – kayaking around Lan Ha Bay. Whilst everyone has heard of Halong Bay, fewer venture to Lan Ha, a neighbouring collection of limestone karsts just off Cat Ba Island. This means virtually no crowds and hardly any cruise ships – a much more peaceful experience.
You'll be taken by boat into the middle of Lan Ha Bay to a floating pontoon where you'll start your adventure. Kayaking around the hundreds of islands here is a great activity for the whole family as you can hire individual kayaks or have multiple people in the same kayak and go exploring on no fixed route! We really enjoyed paddling around and taking in the incredible views as well as finding stunning white sand beaches that no one else goes to. You can them hop out the kayak and sunbathe, swim in the sheltered coves or just sit and take it all in.
If you manage to find Vanboi Resort, you can buy some freshly cooked lunch on the veranda, overlooking the sea. Hiring a kayak is pretty straightforward as you can either book through an agent in town or head to Ben Beo ferry port and haggle! The cost of the kayak is negotiable (you're likely to pay about $10 per kayak for the day) and you will also need to pay an additional $2 per person conservation fee at the harbour.
4. Shopping at the Cai Rang Floating Market
(Melissa, Thrify Family Travels)
Located in Can Tho, a large Vietnamese city, the Cai Rang floating markets are the biggest of its kind in the Mekong Delta. Visiting these markets was certainly an eye opener for my little Australian family.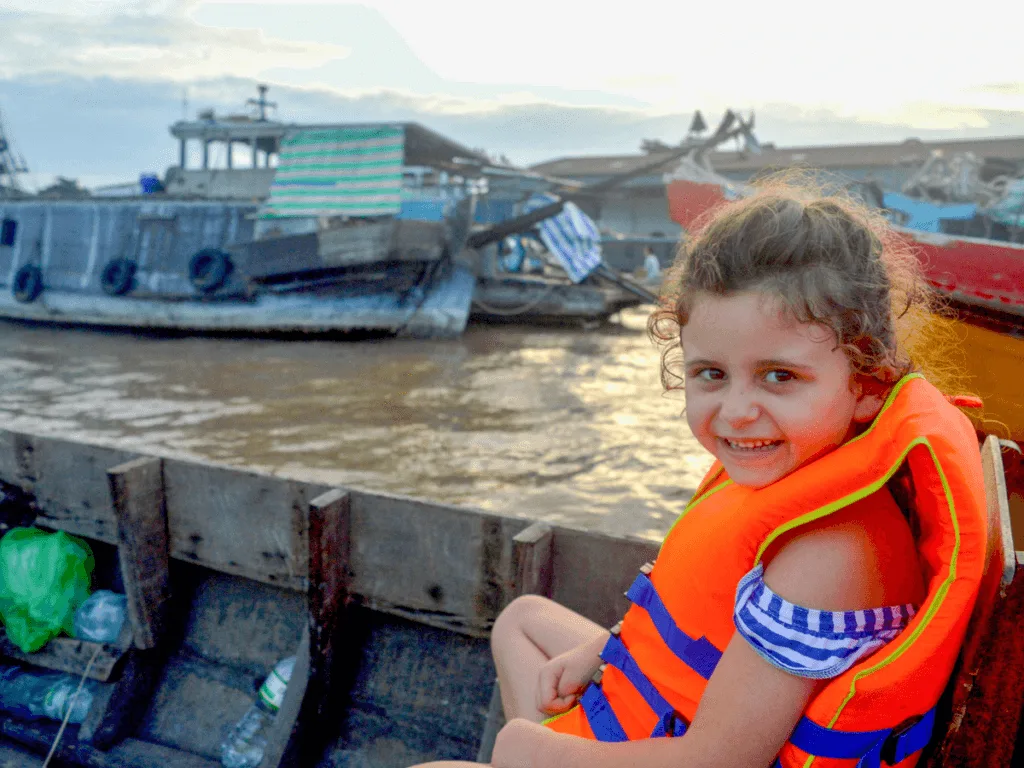 At the markets there are large boats piled high with fruits and vegetables and smaller boats pulled alongside them whilst men and women manually put their purchases into the boats. There are also ladies in smaller boats selling coffee, baguettes and drinks. There are even ladies cooking pho right there on their tiny boats, like little mobile cafes.
To arrive in time to see all the action it's best to arrive as soon as there is day light. We were staying not too far from the markets, but still had to get up well before sunrise. We then boarded a small little boat which putted along the canals which then took us to the Cai Rang floating markets. There a few different tours available, but we took one organised through our homestay which was $10 US per person.
Seeing the Cai Rang floating markets was a wonderful experience for us all and one I highly recommend for families visiting Can Tho.
5. Go bananas at the Crazy House in Da Lat
(Lee, The Travel Scribes)
Kids love weird and wonderful spaces, so the Crazy House in Da Lat, Vietnam is sure to fascinate them! The vision of Vietnamese architect, Đặng Việt Nga, the Crazy House started as a coffee shop and is now a public museum but also a fully-functioning guesthouse. After a short introduction from a friendly guide, you'll be able to escort the kids around this bizarre complex – think curving staircases, fantastical turrets, strange walkways and everything in between.
The property is full of oddly misshapen buildings, art installations and bright, popping colours: the little ones won't know where to look! And, if they get a little bored, there is a quirky café on-site where they can enjoy a cool drink, or take their ice-cream into the central gardens to relax.
One word of caution: some of the upper staircases don't have very high railings so children should definitely be supervised here!
Tickets costs 50, 000 VND (approx. 2.15 USD / 1.50 GBP) per person, and opening hours are 8:30 am to 7 pm everyday.
6. Ride the Phu Quoc Cable Car
(Soumya, Stories by Soumya)
Riding the world's longest cable car in Phu Quoc is one of the best things to do with kids in Vietnam. The journey takes place between two islands of the scenic An Thoi archipelago in south Vietnam and is extremely picturesque and thrilling.
The Phu Quoc Cable Car is nearly 8 km long, apparently the longest in the world today. It takes 15 minutes to get to the other end. This means for a whole 15 minutes, you are up in the sky in a glass car, that sometimes sways from side to side, staring below at fishing villages, turquoise waters, and hundreds of fishing boats that look like colourful pieces of paper on water. At the end of the ride, you can head to the white sand beach on the Hon Thom island and have a good time at the play area there.
Tickets to the Phu Quoc Cable Car are priced at VND 150,000 for adults and VND 100,000 for kids. You can get to the cable car station in An Thoi by bike, taxi, or a shuttle bus from the Phu Quoc city center.
7. Sail along the Tam Coc River
(Kirsty – World for a Girl)
Sailing along the calm waters on the Tam Coc river is one of the most scenic boat rides to take in Ninh Binh with kids. A three-hour cruise in a wooden rowboat takes you through three caves, past towering limestone karsts and cuts through vivid green paddy fields.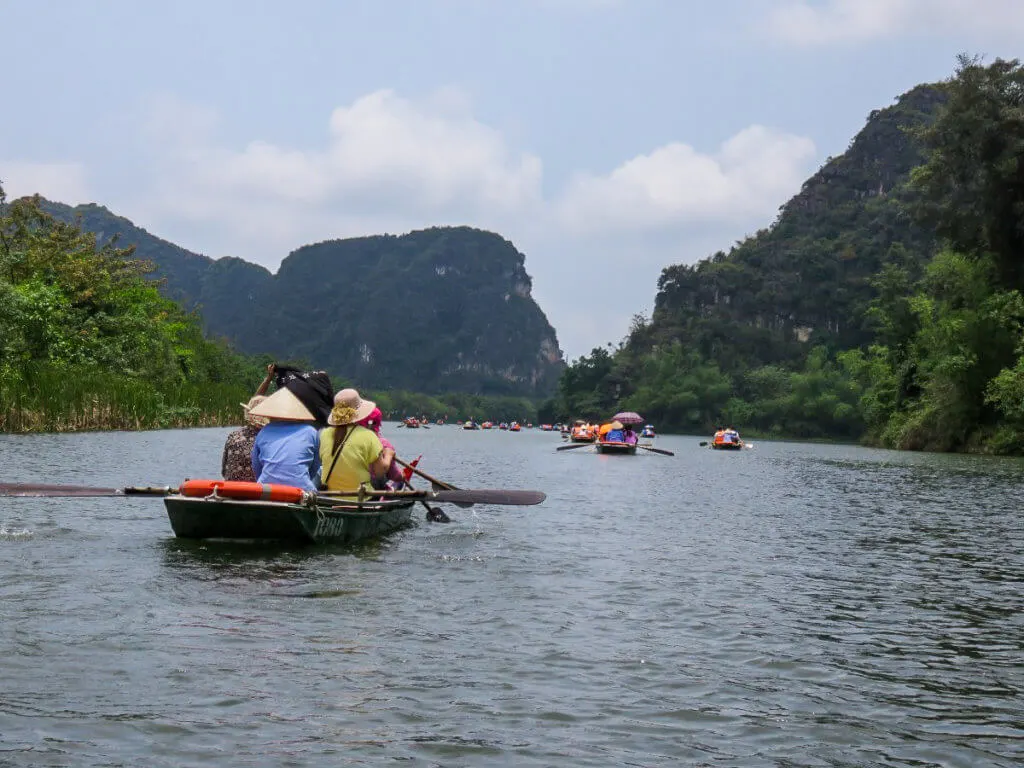 The highlight of a Tam Coc boat ride is without a doubt cruising through the narrow caves with bats hanging from the roofs whilst dodging ghostly stalactites and stalagmites. The three natural caves are called Hang Ca, Hang Hai and Hang Ba and each is remarkably different from the rest. Children will love navigating through the dark and mysterious caves.
There are plenty of stops along the way where little ones can get out of the boat and stretch their legs. The most popular shore excursions are visiting ornate waterside temples and traditional pagodas. The rowers are very accommodating towards children. Life jackets are provided for all passengers and children must wear one at all times. Most children find sailing along on the tranquil water calming so it's a great family activity.
8. Go on a night safari at Cat Tien National Park
(Mary, Move To Vietnam)
Cat Tien National Park is located two hours north-west of Ho Chi Minh City. It is perfect for family travellers who want to get away from the noise of the big city. This national park is protecting a lot of animals that are endangered in Vietnam. Cat Tien National Park offers a tour called Night Safari where all participants get on a big truck while a tour guide help you spot the stunning animals like barking deer, vivet cats, samba deer, wild pigs, porcupines, gaur, and weasels without disturbing their natural habitat.
The tour runs for an hour, the price ranges from 200.000-250.000 VND ($10-$15) per person. The national park is located 3-minute boat ride from the main island. There is no minimum age limit for the kids.
Check out these tips for doing a safari with kids under the age of 5.
I recommend you stay at Green Bamboo Lodge, they have plenty of rooms and are located with a fantastic view of Dong Nai River. It is a 4-minute walk to the Cat Tien information desk or main entrance. Visiting the national park can easily be squeezed in your 3-week trip in Vietnam either you are heading north or going toward the southern part of the country.
9. Watch a water puppet show
(Keri, Our Globetrotters)
A traditional water puppet show is an absolute must for a family trip to Vietnam. No gimmicks here, it is a genuine fun cultural event that is easily accessible to all. Despite being performed entirely in Vietnamese you get the drift of the story, either told over one long performance or several skits. Puppeteers stand behind screens while an orchestra plays along, sometimes playfully shouting at the puppets who are standing in water – to resemble a rice paddy in a tradition that dates back to the 11th century.
We have visited both the Thang Long Water Puppet Theatre in Hanoi and The Golden Dragon Water Puppet Theater in Ho Chi Minh City. Our kids were slightly different ages at each, but hands down it was their favourite part of each trip! The comedy and magic that the performers – who must have been doing the same routine for years – exuded was beautiful, you can sense their genuine joy in the performance and this really rubs off on the audience.
The show lasts about an hour which is long enough for holding the kid's attention (and sitting in the theatre can be a great way to refresh yourself from the humidity outside!) It is interactive fun – you could even get splashes in the front – and despite the language you will have a good idea what is happening and be thoroughly entertained with a great Vietnamese tradition.
10. Ice skating in Ho Chi Minh
(Lena, Four On A World Trip)
When travelling to Ho Chi Minh, Landmark 81 is probably one of of the first buildings you'll notice. It's actually impossible not to see; it's the highest building of South East Asia and at 461 metres, it's the 14th tallest building of the world.
Kids will love visiting the observation desk to take in the amazing view. However, do visit the ground floor as well! You'll be amazed to find an actual ice skating rink!
It's open every day from 9:30 to 22:00, and you can borrow ice skates and skating aids; protections and helmets are also available. They also offer daily ice skating classes, if you feel you want to up your game. But either way, it's so much fun skating around to blasting disco sounds.
A day pass costs 5€ for kids and 7€ for adults, skates included. If you are not up for ice skating but you're kids are, don't worry! There is a food court just next to it with free WiFi and a gallery facing the ice skating rink.
11. Ride the alpine coaster to Dasara Waterfall
(Jackie and Justin, Life Of Doing)
Visiting Bao Loc is not on the typical Vietnam travel route, yet it is a good place to stop in the Central Highlands if you're headed to or from Dalat. One of the top things to do in Bao Loc is to visit Dambri Waterfall and Tourist Area. It's a fun place for families to spend the day.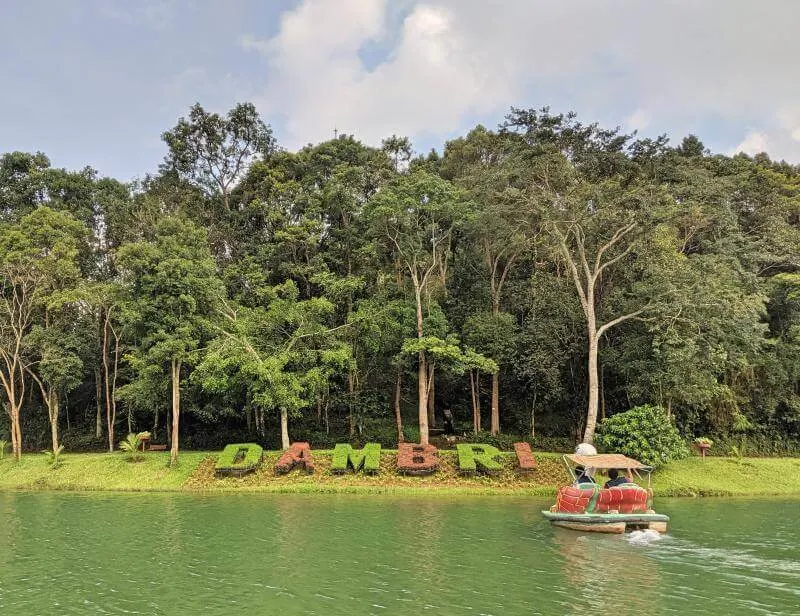 Dambri and Dasara Waterfalls are the main highlights of the area. Dambri is mesmerizing to see due to its height at 70 meters (230 feet) high and its powerful cascades. The nearby Dasara Waterfall has calmer cascades and is very beautiful with the surrounding forest area. A unique way to get to Dasara is by riding the alpine coaster to the base of the waterfall. Two people share a bobsled cart and control the speed with the hand lever. It's great for the thrill-seekers as you can go fast down the mountain!
Other activities include riding a Ferris wheel, paddling a swan boat, and trying traditional Vietnamese games such as balancing on the beam or going across the monkey bars. There is a children's area with rides, but they're old and worn down. A better experience is to enjoy your time in the small swimming pool as there is a water slide.
The cost is 200,000 VND ($8.60 USD) for adults and 120,000 VND ($5.15 USD) for children.
12. Cooking class in Hoi An
(Emily, Wander-Lush)
Hoi An, is the perfect place to try a Vietnamese cooking class. The Old City and surrounding countryside is home to dozens of cooking schools, most of which welcome kids from age 5 and up with open arms.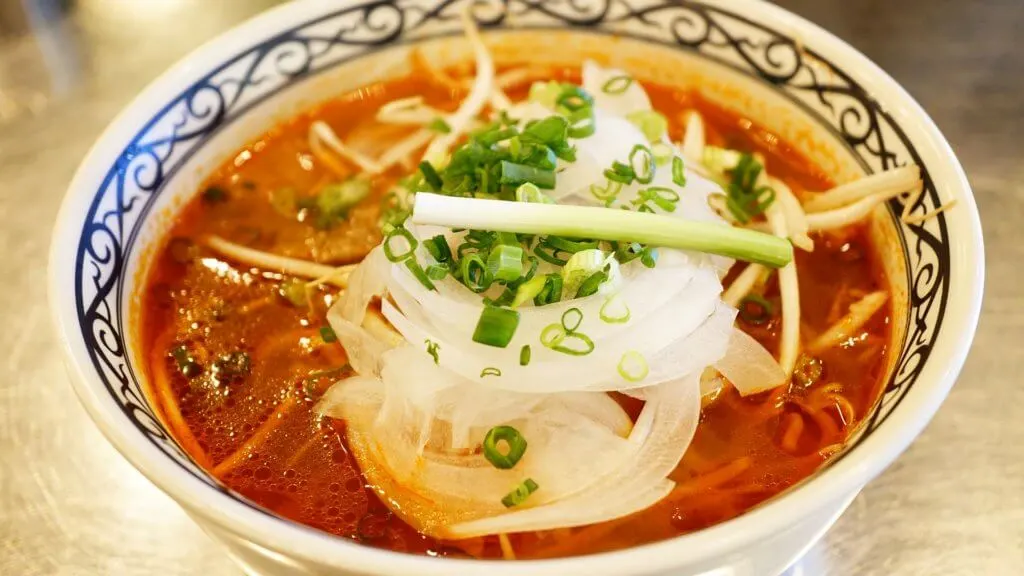 A cooking class in Hoi An typically starts with a visit to the local market. This is a fantastic hands-on way for kids to learn more about fresh produce. After you've picked up the ingredients you need, it's time to step into the kitchen. Participants' level of involvement differs between cooking schools, but in most cases, you can expect to help with chopping, grinding spices, mixing sauces, and barbecuing. Some schools give you the option of choosing a menu in advance. Fresh rice paper rolls and other dishes that don't require much cooking would be ideal for kids.
I also recommend choosing a cooking school that incorporates other activities outside of the kitchen. My Grandma's Home Cooking is set inside a local home on a river island. There's a beautiful garden on the property where little ones can play if they get bored. At Tra Que Water Wheel, participants also help plant rice and prepare sheets of rice paper. There's even a water buffalo ride at the end. Hoi An Family Tours tailors classes for kids of all ages and include a paddle on the river in a coracle (traditional round boat) as part of the experience.
Prices vary from school to school, but you can expect to pay between $35 and $55 US for a full-day cooking class. At the popular Red Bridge Cooking School, children under 7 can join the tour free of charge.
13. Boat along the Perfume River
(Nicole, The Passport Kids)
One of our favourite activities that we did as a family in Vietnam was going on a half-day tour along the Perfume River in Hue! Hire a traditional Vietnamese boat right from the city centre of Hue and it will take you all along the river with stops at Thien Mu Pagoda and Citadel (Imperial City). The boat will stop at each of these places and you can hop out and explore while the boat waits for you to return to go to the next place.
Super easy for a family to relax on the river and visit these places all while seeing Hue from the water. Most boats can be hired directly along the river with the drivers, but we arranged it with our hotel and it cost us only about USD 35 for our family of four. For us, knowing that we would have a boat waiting for us on a specific day and time was worth a few extra dollars for convenience.
14. Cruise Halong Bay
(Nicky, Go Live Young)
Halong Bay, in northeast Vietnam, is known for its emerald waters and thousands of towering limestone islands topped by rainforests. No visit to northern Vietnam is complete without a trip to Halong Bay.
The unique beauty of the bay, with its towering limestone karsts, make this a natural wonder of the world and a UNESCO World Heritage site. The best way to enjoy Halong Bay is on a three day/two night cruise, giving you plenty of time to enjoy the Bay. There are numerous cruise operators to choose from, with most including transport between Hanoi and Halong Bay. It is important to know that this is a four hour journey and must too far for a day trip.
We opted for Galaxy Premium Cruises and were delighted with our choice. We spent our days admiring the stunning scenery, kayaking and swimming in the Bay, and eating wonderful sea food. The accommodation on board was very clean and comfortable and we loved sitting on the top deck, particularly at sunset. Day two was our highlight when we left the other boats far behind and spent the day swimming and kayaking among the tremendous scenery, almost by ourselves!
15. Enjoy the rides and games at Sun World Ba Na Hills
(Nick, Wandering Wheatleys)
Sun World Ba Na Hills has achieved quite a bit of fame recently for it's photogenic "Golden Hand Bridge". Practically built for Instagram, this golden bridge is held aloft by two giant stone hands that appear to spring straight out of the mountain below. What most people don't realise, however, is that this bridge is just a single attraction in a sprawling theme park built in the mountains outside of Danang.
Sun World Ba Na Hills is built to resemble a European village or rather a mashup of several villages. It's a bit like the Vietnamese version of Epcot. You can visit a German-style beer garden, tour a French Chateau complete with it's owns wine cellar, or wander through an ornate gothic cathedral.
For kids, there are endless activities at Sun World Ba Na Hills. The park is connected via a series of cable cars which kids will love riding. The streets of the European village are full of performers and live shows. And there is an enormous, three-story fantasy park full of arcade games and interactive rides including an alpine slide and rock climbing wall. The best part is all of the games and rides are included in the cost of your admission to the theme park so your kids can play for hours at no extra cost.
Sun World Ba Na Hills is located about an hour outside of the city of Danang which makes it about 1.5 hours from the popular tourist town of Hoi An. Tickets are 750,000 VND (~$32) for adults and 600,000 VND (~$26) for children over 1 meter tall. Children under 1 meter tall are free.
16. Chill at the beach
(Jenny, TraveLynn Family)
With more than 2000 miles of coastline, Vietnam brims with secluded coves, white sands and waters fit for snorkelling. No trip to Vietnam with kids is complete without some downtime at the beach, and makes for the perfect end to a family trip to Vietnam.
Na Trang, Mui Ne and An Bang are popular beach destinations, although my vote goes to the beaches of Phu Quoc, an island right in the South of Vietnam. Slip into a low gear, and find a good resort to base yourselves at.
We stayed at Green Bay Resort, which is wonderful for kids, especially if you're visiting Vietnam with a toddler. There are bungalows set into the rainforest for varying budgets, a kids swimming pool, and staff are exceptionally welcoming to families. But the best bit for kids is the warm, shallow waters off the private sandy beach, and the free kayaks to paddle the shores.
17. Cu Chi Tunnels
(Sally, OUR3KIDSVTHEWORLD)
Cu Chi Tunnels is an attraction that isn't perhaps one of the more obvious things to do with kids in Vietnam and might not be right for everyone's kids. Its a personal choice as to what you feel comfortable with exposing your kids to and from what age. I chose not to take my kids at the time to the War Remnants Museum in HCMC, but I felt comfortable taking them to Cu Chi Tunnels. I had previously visited both places and knew what to expect, the kids at the time were 10, 8 and 6 yrs old.
The Cu Chi Tunnels are part of a much larger network of tunnels that the VietCong soldiers used to win the Vietnam War; it was their operations base during combat utilised for communication, supply route, hospitals and living quarters. There are stories of some soldiers living underground in the tunnel network for 4 years during the war.
When you visit the Cu Chi Tunnels there is part of the tunnel that you can go down into and experience what it was like during the war. There is a 50m and 100m tunnel which has been expanded to allow for westerns to enter. I did it on my first visit in 2003 and only managed to complete the 50m, I sent the kids through in 2015, they weren't big fans.
Also on display are traps the Vietnamese used during the war and there is a shooting range were you can fire weaponry used during the war. The firing range is unbelievably loud so be prepared. There are also a number of US tanks that were abandoned when the American's were defeated.
18. Go on a street food walking tour
(Jessica, Unearth The Voyage)
One of the best things to do in Vietnam with kids is to go on a street food walking tour, especially if you are visiting Hanoi.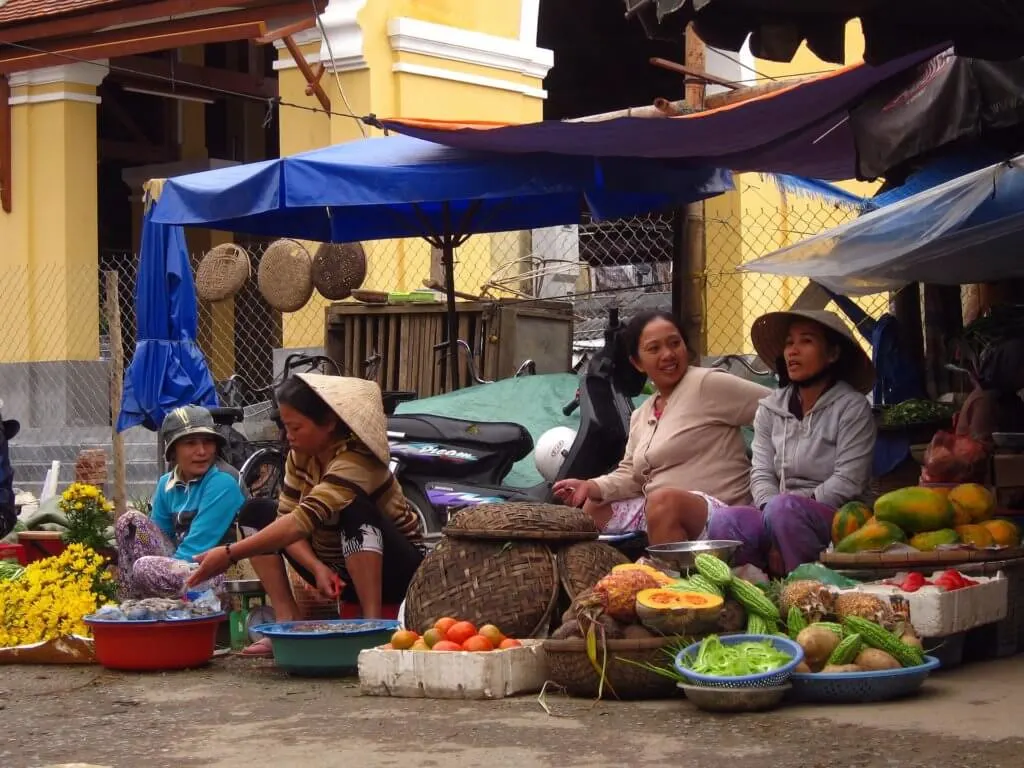 Street food tours are one of our favourite things to do when we first visit a new country because it gives you the opportunity to try foods that are local to that country in a cheap way. It is also very common for locals in a lot of countries to eat a lot of their meals from street food vendors- so it gives you an insight into what it is like to be a local in that country!
One of our favourite companies to go through for tours in Southeast Asia is Backstreet Academy. The cost of a street food walking tour is around USD 20 per person. If you have little ones along, we suggest booking a private tour so you can go at your own pace and have the kids interact with your tour guide a bit more than if you were in a big group!
19. The War Remnants Museum in HCMC
(Bec, Wyld Family Travel)
The War Remnants Museum in Ho Chi Minh City is a place where you learn so much and your heart will hurt like you never thought it ever could. It is place where young kids may not understand the full extent of what is being showed there and a place where older kids may have many questions.
Taking kids to a place like the war Remnant Museum in Ho Chi Minh City is a hotly debated topic for many families and if you do decide to take your kids there there are things you need to consider. The displays are graphic and they explain situations in the Vietnam War that may not be what you have learnt in your history lessons. This is a side that many do not know about, as there are always 2-3 sides to every story.
The outside area of the museum is filled with old Army tanks, helicopters and and some old bombs. This is a place where younger kids may find very interesting as you can get up close to them and really see what they looked like. There is also the jail there that does have some extremely graphic images and descriptions of the start and lead up to that war in Vietnam.
Inside the museum is where your kids may struggle with the information that is displayed. It covers all areas from bombing to Agent Orange as well. Our daughters are older and they were able to self regulate what they wanted to see and read but one of us always checked a room before they entered to give them a brief over view of what was in there. There are seats on the outside of the rooms where they waited for us if they did not want to enter. There were other kids there too and they always found someone to talk to or help with their English.
---
You may also like to read:
Travelling Southeast Asia with kids
10 day South Vietnam itinerary
Cambodia with kids