With all the hiking, travelling and exploring we do with our boys, I always make sure that they have quality footwear with good grip, waterproof material, and can last a year (well, until they grow out of them). I recently wrote about the importance of good hiking boots for helping little legs walk further. It's all about being comfortable and supported, and a pair of wellies just won't do it. Similarly, when it comes to the summer, a pair of flip flops or poorly fitted sandals is not going to do them any good if you want them to go the distance.
Disclaimer: TraveLynn Family were sent two pairs of Keen Newport Neo H2 in exchange for an honest review and coverage on my social media. As always, these are all my own words.
Now that we're coming into the summer, I've been on the look out for good hiking sandals for the boys. Their hiking boots are great, but with the warmer weather I want their feet to be able to breathe whilst we're hiking up Thorpe Cloud or exploring The Roaches at home in the Peak District.
We're actually headed to the Dordogne in France next week and I needed to find the boys some new sandals before we left, as obviously they've grown out of last year's! Just in time, Keen got in contact with us and gifted the boys each a pair of Newport Neo H2 Keen Kids Sandals in exchange for an honest review. Ezra picked a red pair, and Arthur a blue pair.
What I love is that the Newport Neo H2 kids sandals are designed and developed for travel and exploration. Well that ticks our boxes! I know that these sandals are going to end up splashing through rivers, climbing rocks, leaping off walls and running down hills.
On initial inspection, they seem to have excellent grip and I love the simple bungee cord design in the place of laces – even three year old Ezra was able to get them on himself quite easily. The toe is protected, which is perfect for rock climbing and there's good cushioning of the sole for protection when leaping from great heights.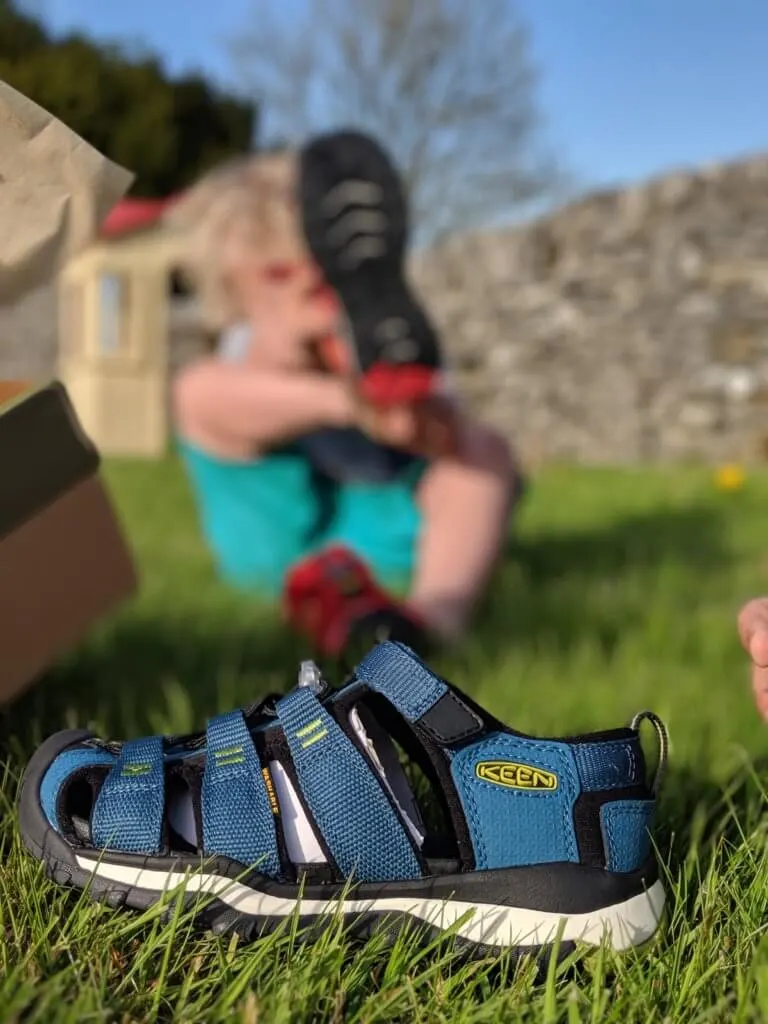 And I don't know about you, but my boys sandals usually get so stinky in the summer! Thankfully all Keen sandals are machine washable, so I can hopefully curb the stinks to a degree! Apparently the 'chemical free Cleansport NXTTM treatment' (whatever that is) will help with that too.
This is the info from the Keen website:
FEATURES
Durable synthetic overlays
Secure-fit lace-capture system
Adjustable hook-and-loop closure
ESS shank offers lightweight support
PFC-free durable water repellent
Cleansport NXT™ for natural odor control
MATERIAL
Washable polyester webbing upper
Non-marking rubber outsole leaves no trace
Lightweight EVA midsole for cushioning
Quick-dry lining for active use
Metatomical EVA footbed for cushioning
CARE
All KEEN water sandals are machine washable. Use a small amount of detergent, wash on gentle cycle and air dry.
All sounds pretty good, doesn't it? Well there are some impressive technological words in there. But for me the test of time will tell. I'll report back at the end of the summer and let you know how we go with them.
Who else gives the Keen sandals the thumbs up?
A very good sign is that our friends over at Mini Travellers are big fans of Keen footwear. Their girls first wore them to Rwanda in 2017, and loved them so much, they got them again for their Malawi trip (where we met them) last year! Check out their review of Keen Newport Sandals for kids.
Juanne from 4 Sticks in a Bundle is also huge fans of Keen sandals:
"Keen shoes have been a staple summer purchase since we moved to Europe. They are perfect for the playground and Kindergarten, a hike in Schwarzwald, or a splash in a river. Comfortable for kids and easy to clean for mom. The durable toe cap keeps my energetic son's feet safe while the adorable ballerina design ensures my daughter has suitable outdoor shoes that cater to her girly needs. We've never regretted a Keen shoes purchase!"
As is Jurga from Full Suitcase:
"Keen sandals are probably the most versatile summer shoes you can buy for kids. They're comfortable and suitable for so many different occasions – school, theme park visits, beach vacation, city trips, and of course also for outdoor activities like easy hiking or kayaking. Not only are they sturdy and have a good grip, but they are also washable and dry fast. In fact, we're just about to buy three new pairs for our kids for the upcoming summer."
And also Bronwyn from Smiths Holiday Road:
"We have been using Keen sandals are the past 5 years and mine are still going strong. The kids of course growing as they do have had a few pairs each. I love that you can wear them in the water Keeping feet safe and just wandering around town. Perfect to slip on and off when visiting temples plus they come in cool colours! Because they wear them everyday especially while travelling a drop of lavender keeps them fresh too!"
Where to buy Keen Sandals
You can find out more information and order online at: https://www.keenfootwear.com/en-gb/.
---
You may also like to read:
Short walks in the Peak District with kids
Africa packing list: the ultimate packing list for overlanding Africa
The BEST children's walking boots