The Dordogne is arguably the prettiest region of France, and whilst you may dream of spending your days wandering quaint medieval towns and enjoying outstanding haute cuisine, if you're visiting the Dordogne with kids, your priorities lie elsewhere.
Disclaimer: This post contains affiliate links. If you click to purchase, it is at no additional cost to you, and I receive a small commission.
Situated towards the south of France, we have been returning to the Dordogne time and time again with our boys; first when Ez was just 3 months old, most recently in our Mazda Bongo staying at Le Moulin de Paulhiac Campsite, which is one of our favourite family campsites in France. It's possible to drive down in a day from one of the ferry ports in the north of France (thus saving on flights), and warm sunny days can be expected from early May through to October; although due bare in mind that even in August, temperatures plummet to single digits at night.
Plus, there are some fantastic things to do in the Dordogne with kids.
1. Canoe or kayak down the river
Drift down the Dordogne or Vézère rivers in a canoe. You can rent family ones that fit four. Although do note that unfortunately kids have to be over the age of 5.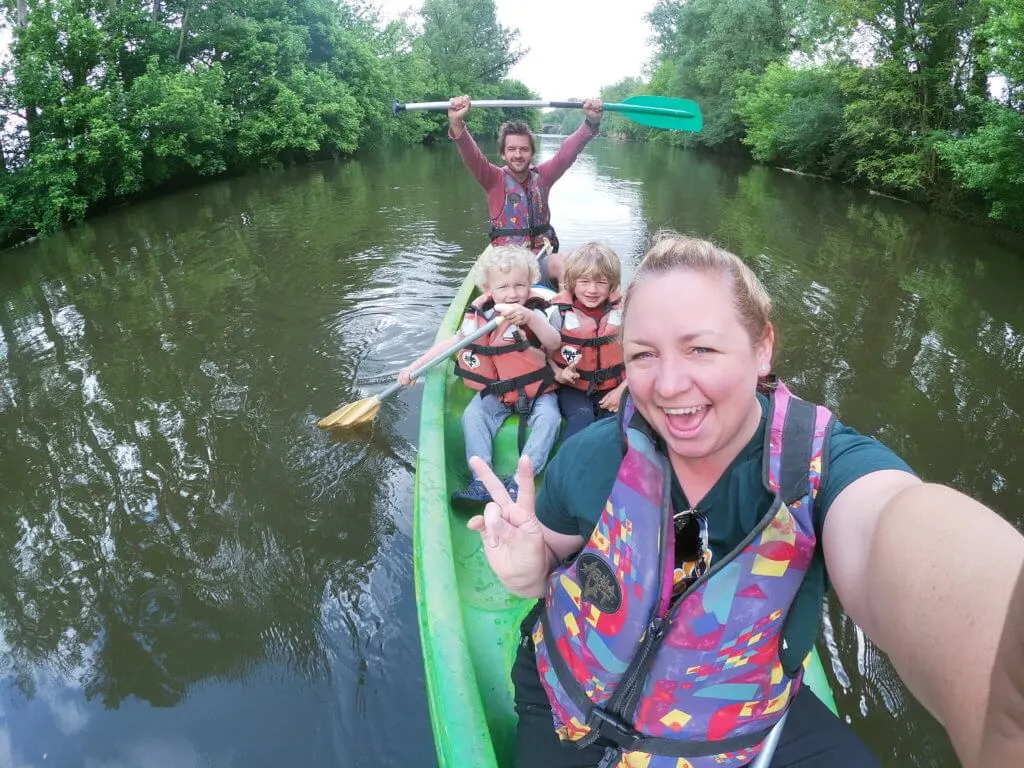 The current has a nice flow, meaning you don't have to paddle much to get going and can leave it to the kids. If your arms need a break, beach up for a relax or picnic. You will find canoe hire locations all along the river where you can book direct. Otherwise, chat to your accommodation hosts for recommendations.
2. Go wild swimming
With crystal clear waters and small beaches, the rivers of the Dordogne are also a fantastic spot to cool down with some wild swimming. It's rather fun to wade in to just above your knees, then lift your feet and lay back as the current drifts you along.
The water can be a little chilly though, so I put our boys in wetsuits and they also wear Keen sandals to protect their feet from the stony riverbed.
3. Play in the Gardens of Limeuil
Situated on the hill top above the medieval town of Limeuil, these magical gardens seem to be off the radar for so many visitors to the region and we had the place to ourselves when we last visited.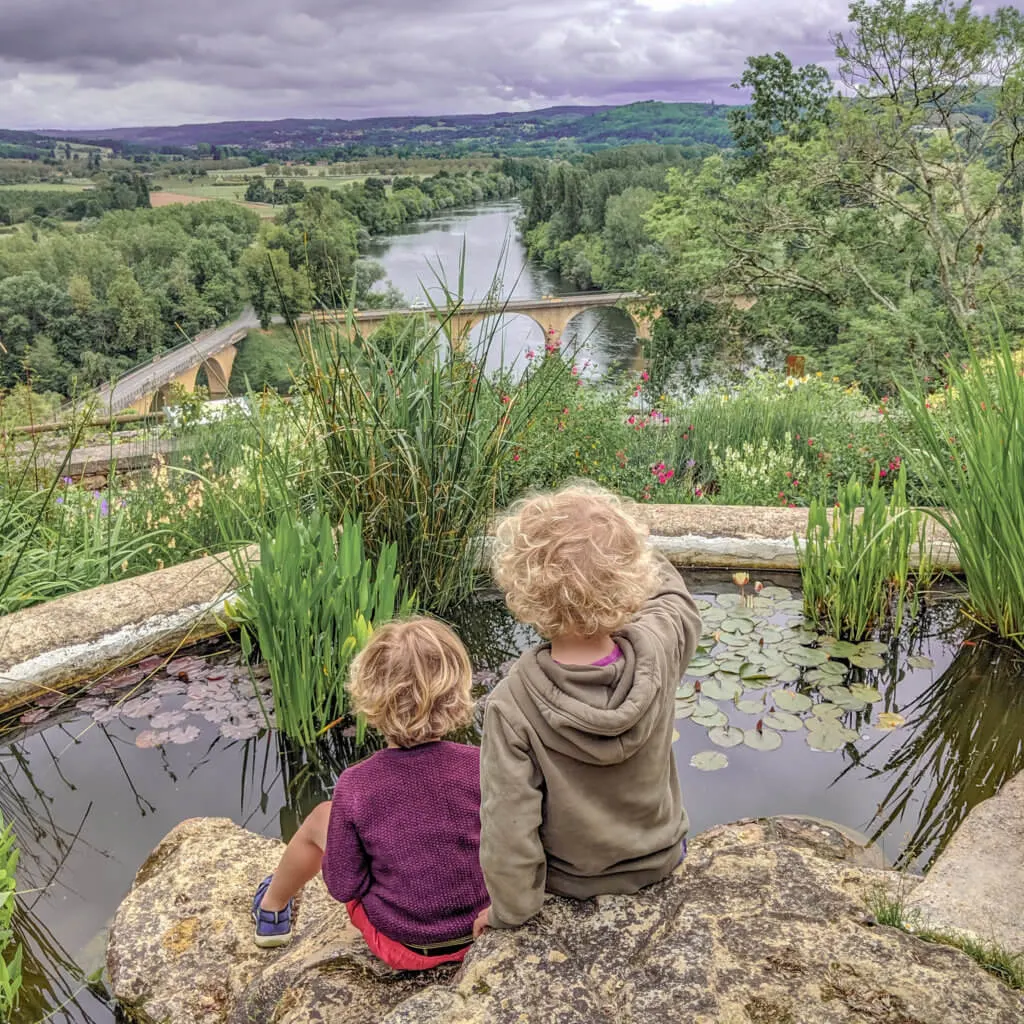 The gardens are beautifully laid out, with lots for kids to do along the way – yoga stretches, watching bees in hives, quizzes, potion making – and the views over the surrounding countryside are stunning. Visit the Panoramic Gardens of Limeuil website for opening times and ticket prices.
4. Play games at Chateau Bridoire
This beautiful chateau is wonderful for kids of all ages. Play on the medieval style games spread across the shady lawn, and follow the clues in the 'Mysterious Valley'. There are picnic tables available, so bring a packed lunch. Then treat yourselves to a home-made ice-cream in the café.
The inside of the chateau is also kid-friendly with more games dotted around, as well as the stables where you will find horses and rabbits.
Another chateau that's good to visit with kids is Mareuil Chateau. Jenni, who lives in the Dorodgne and runs Chilling with Lucas, recommends this one in her guide to Days out around in the North Dordogne.
5. Explore the prehistoric settlement of Roque Saint-Christophe
Set high in the limestone rock, this open cave has been a settlement for people since the Ice Age. Some of the ancient buildings remain, whilst others have been reconstructed. It's fascinating to learn how people lived and how this site developed through the ages, and the sheer scale is impressive (it's 1km long!)
It's cleverly laid out and our boys loved all the little figures that popped up, in particular the lifesize bear attack display. The views are also stunning. Check the website for opening times and ticket prices.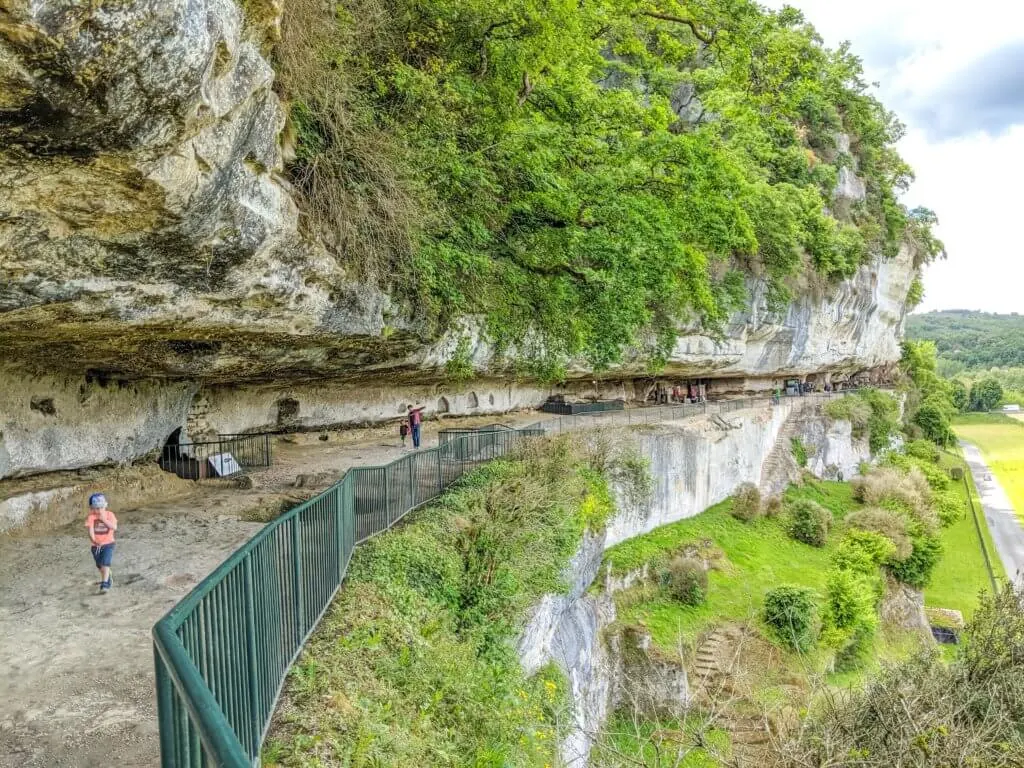 Whilst you're in the area, make sure you check out the beautiful town of Saint Léon-sur-Vézère. Préhisto Parc is also nearby, which on passing looks perfect for kids, but the prehistoric models along the short forest walk aren't really worth the entry fee.
6. Whizz down the slides at Quercyland Waterpark
This fun-filled park offers huge waterslides (including a Kamikaze, and a toddler splash pool) and an outdoor play area with inflatable castles, pedal karts, trampolines, paddle boats, and a picnic area. Pay extra to go into the Fun Zone with high ropes, zorbing, and zip lines.
Check website for opening times and entry fees.
7. Do a family cooking class
Learn the traditional Perigordian dishes and cooking methods in a family cooking class. The half day course with Cookery Course Dordogne has been recommended to me by another family. It's "a hands-on session preparing, cooking and tasting a range of delicious, exciting and surprisingly simple dishes that chefs of all ages can recreate at home". Children under 12 years are welcome, but need to be accompanied by an adult.
8. Eat ice-cream and ride the train in Domme
If you had to pick just one town for an afternoon meander in the Dordogne with kids, I would recommend Domme. Perched high above the river, this medieval town boasts lovely views across the surrounding landscape and retains part of its original fortified walls and gateways.
But the best bit for kids? Riding the Domme tourist train (which is a good way to get to the town if using one of the out of town carparks) and then grabbing an ice-cream from a restaurant in the main square. Do arrive early if visiting in the summer months as it gets very busy.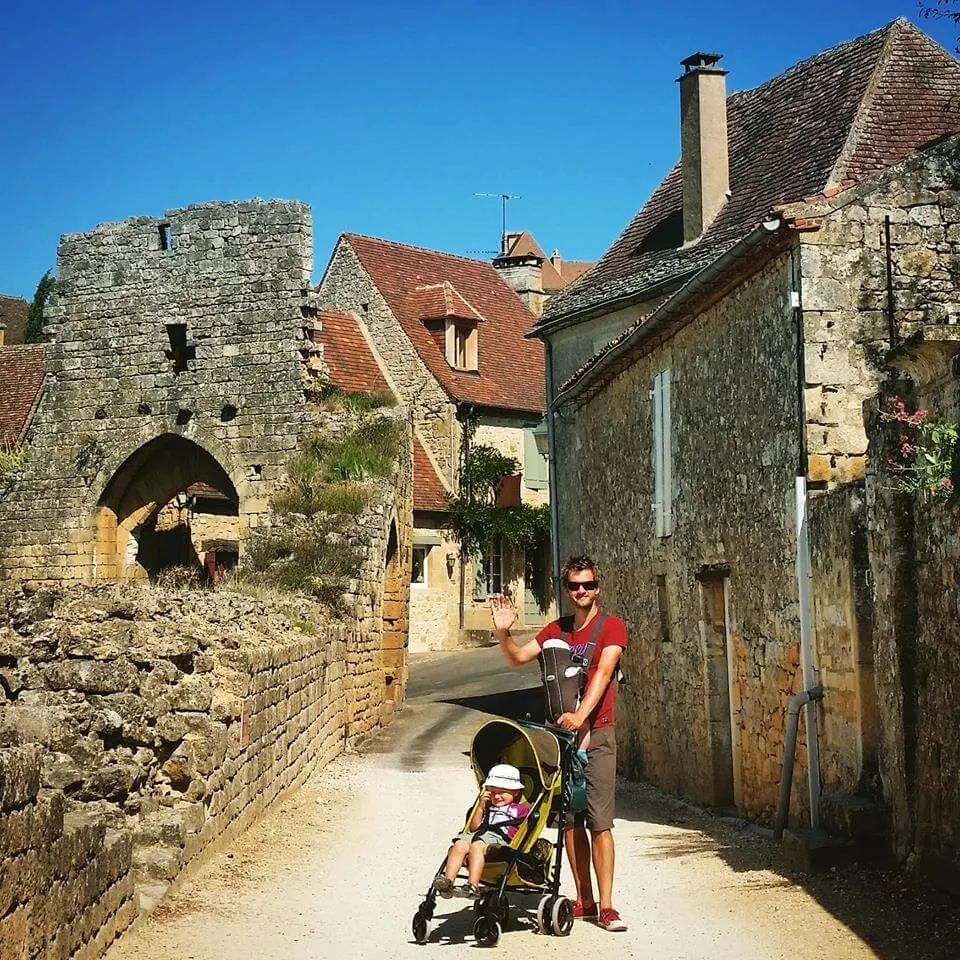 9. Travel back in time to see ancient rock art
There are a number of caves dotted around the Dordogne where you can see ancient rock art. As this art is thousands of years old not all of the caves and open to the public, and if you are visiting the Dordogne with kids and want to see some rock art, it's all about visiting the right cave to curtail boredom.
Whilst the caves at Lascaux are world famous, Archaeology Travel recommends visiting Grotte de Rouffignac with younger children. This is still one of the larger caves, and kids will love riding the electric train deep in to the cave system (this last about on hour). Not only will you see lots of rock paintings, particularly of mammoths, but there are also ancient bear pits, where bears hibernated over winter.
Tickets are sold on a first come first served basis on entry to the cave. You can not book them online, although do visit the website for opening times and ticket pricing. If you are visiting in July or August, arrive before 10:30am to secure tickets.
How to get to the Dordogne
Bergerac and Limoges are the best airports for the Dordogne. Check Skycanner for the best deal on all flights from all UK and worldwide airports.
However, we prefer to catch the ferry from Dover to Calais and drive the 8 hours to the Dordogne with either DFDS or P&O Ferries. If you wish to break up the journey on the way down, a stop in the Loire Valley in a good option.
Alternatively it's a 6 hour drive from Caen ferry port, and a 7 hour drive from Cherbourg ferry port.
Where to stay in the Dordogne with kids
We have always selected small Eurocamp parcs to stay in the Dordogne, either in pre-erected tents or static mobile homes. These all have playgrounds, a swimming pool with kids pool, and onsite bakery for warm croissants in the morning.
We've stayed at Le Port de Limeuil Campsite, Le Paradis, Camping Soleil Plage (now operated by Canvas Holidays), and Le Moulin de Paulhiac Campsite in the past. The latter is probably our favourite!
All these sites are also great options if you are travelling with your own tent or caravan, and perhaps doing a France road trip with kids.
Another one to add to the list for campers is Camping le Capeyrou recommended by This Bristol Brood (check out the drone footage below).
If you do plan on camping in the Dordogne with kids, make sure you read our camping with kids checklist.
If you have older kids or are perhaps just looking for a bigger parc with waterslides, check our Otis & Us' review of St Avit Loisirs.
Alternatively, if you prefer a self-catering gite (cottage), check out these accommodation reviews from fellow family travel bloggers:
---
You may also like to read:
France road trip itinerary for a summer of family camping fun
Best Châteaux to visit in the Loire Valley with kids
Eurocamp in the Dordogne: Camping Le Port des Limeuil REVIEW