This is a paid promotion. As always, these are all my own words and opinions. This post also contains affiliate links. Should you click to purchase, it is at no additional cost to you, but I receive a small commission.
The DFDS ferry crossing between Dover and Calais/Dunkirk has bookended countless adventures for our family over the years. Our regular readers and followers over on Instagram will know that we venture over to France at least once per year (often more!) in our Bongo campervan, whether it's to one of the many family friendly campsites in France over the warmer months, or for a European city break or a family ski trip in the colder months.
We have always favoured the shorter ferry crossing between England and France as it's not only significantly cheaper, but as we have family in Kent, it gives us the opportunity to pop in and say hello. Also, there's less chance of sea sickness on the short crossing (1.5 hours for Dover to Calais, 2 hours for Dover to Dunkirk). After a terrible experience of sea sickness one Christmas on the 32 hour Portsmouth to Santander ferry, which crosses the notorious Bay of Biscay, we are all very wary of doing longer ferry trips.
Plus, there's something very special about ferry travel that evokes a sense of adventure. We have a long standing tradition where I drag the kids out on deck in all weathers to wave goodbye to the country we're departing. That fresh sea air always blows the cobwebs off, and being able to have a walk around and enjoy a hearty meal means we're all ready for the long journey ahead the other side. When the boys were younger, the onboard soft play was an absolute godsend to let them burn some energy before the drive.
I really have lost count of the number of times we've taken the Dover to Calais/Dunkirk crossing, and as I grew up in Kent, just a 30 minute drive from the Port of Dover, I also used to take this crossing regularly as a child (it was a thing in the 80s and 90s for people to head over on non-lander tickets to stock up on booze and cigarettes – times have changed a bit since then!)
So here I share our top ten tips for taking the ferry from Dover to Calais/Dunkirk. I focus on the DFDS ferry as this is the company we have used most regularly over recent years.
1. Book an early crossing
Especially if you're travelling during school holidays, it's worthwhile booking onto a ferry earlier rather than later in the day. Delays do happen and as the day goes on, delays are more likely; once one ferry is delayed, there's often a knock on affect throughout the day. By booking onto an earlier crossing, the chances of delay are minimised.
Plus, as you 'lose' an hour on arrival to France with the time difference, it's nice to get an early start if you've got a long drive ahead, whether it's to the Loire, Dordogne, or further afield.
Click here to check prices and book your DFDS ferry crossing.
2. Check port updates before you leave
Check DFDS updates on Twitter to find out if there are any delays or problems at the ports, so you can plan accordingly. This is an excellent free service that has regular updates every day. Note that this is the DFDS UK Updates profile, not the generic DFDS UK profile on Twitter. You don't need a Twitter account to view this; you can also view them here on the DFDS website.
You are advised to allow 90 minutes before boarding. But on busy days (such as bank holidays and summer holidays) it's best to err on the side of caution and arrive 2 hours prior to departure. The ferry usually starts boarding 30 minutes before departure.
3. Be flexible between arriving to Calais or Dunkirk
The Dover to Dunkirk crossing is 30 minutes longer than the Dover to Calais crossing, which is 1.5 hours. The driving distance between Calais and Dunkirk ferry terminals is 30 minutes.
Choosing whether you take the ferry to Calais or Dunkirk will depend on your destination and/or cost (sometimes the less popular Dunkirk crossing offers cheaper fares).
However, there have been occasions when we have booked onto the Calais crossing, and changed to the Dunkirk crossing at the last minute. Either we have managed to get through passport control and customs at Dover quickly to find that we could board the Dunkirk ferry sooner and save waiting time at Dover, or we have found that the peak season queues at Calais are painfully long, so have DM'd DFDS on Twitter and asked to be moved to the Dunkirk crossing.
4. Make sure you have a European Driving kit
For any European road trip you need to ensure you have the right kit with you. Otherwise you risk a fine for not carrying something as simple as a warning triangle or reflective jacket. These rules are subject to change and differ between European countries, so it's worth keeping up to date with exactly what you need here on the AA website.
For France you are required to have:
UK sticker (GB stickers are no longer applicable)
warning triangle
reflective jacket/waistcoat
headlamp adjustment
breathalyser
For ease, it's best to purchase these items before you travel. This GALANE European driving kit has everything you need.
However if you forget or don't have time, you can purchase these items on the ferry. As the headlamp adjustments (beam reflectors) never last more than one trip (they stick onto your headlamps) we always buy these on the ferry. Although it is actually cheaper to purchase before you leave.
5. Upgrade to Premium Lounge for an affordable treat
For just £15 per person, you can upgrade to the Premium Lounge. This includes:
access to a comfortable lounge with sofas to relax on
all soft drinks included (hot and cold), as well as an array of snacks (crisps, fruits, pastries)
priority boarding
Premium lounges can differ between ferries. We have only experienced the Premium Lounge on a return crossing in Dec '22 / Jan '22 to visit Luxembourg City, and we found that the Premium Lounge on the Calais crossing was significantly bigger than the Premium Lounge on the Dunkirk crossing. The below photos are from the Premium Lounge we experienced on the Calais crossing.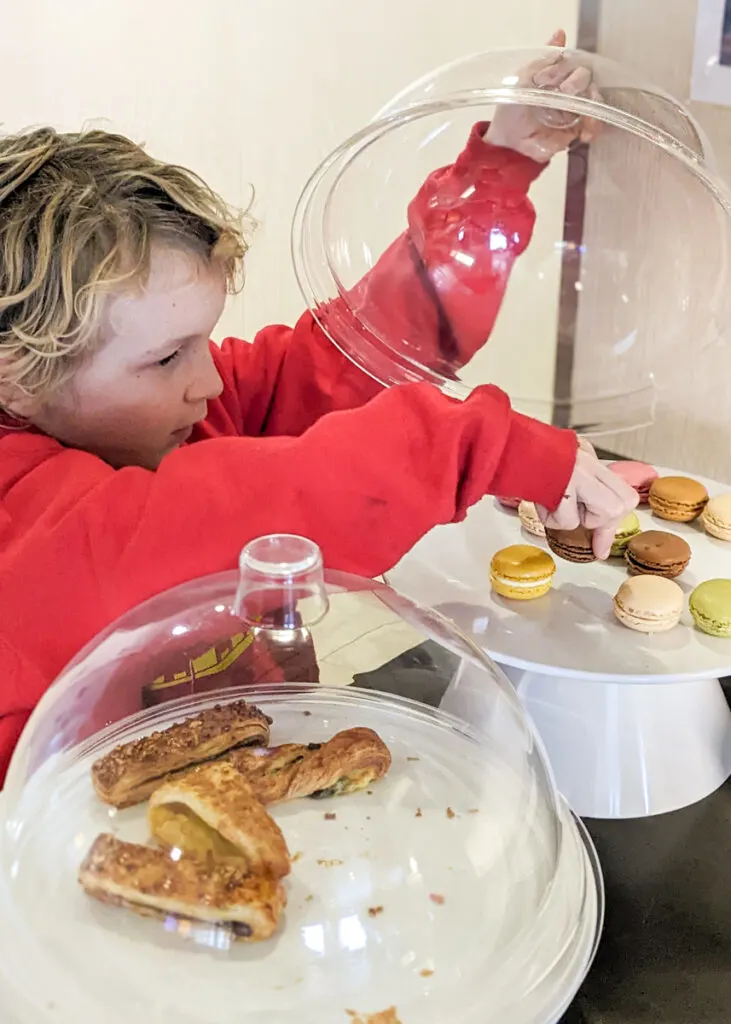 If you are not planning on having a meal onboard, the Premium Lounge is excellent value, especially considering that all the snacks and drinks are included. However, if you are planning on having a meal, you may not reap the benefits of the Premium Lounge on the short crossing, although you can ask to eat your meal in the Premium Lounge rather than the restaurant.
6. Breathe in the fresh sea air
Nothing quite blasts off the cobwebs like a gust of fresh sea air. For any ferry crossing it is an absolute must to go out on deck and take in the view, whatever the weather. On a calm, sunny day, the White Cliffs of Dover look especially impressive (cue Vera Lynn).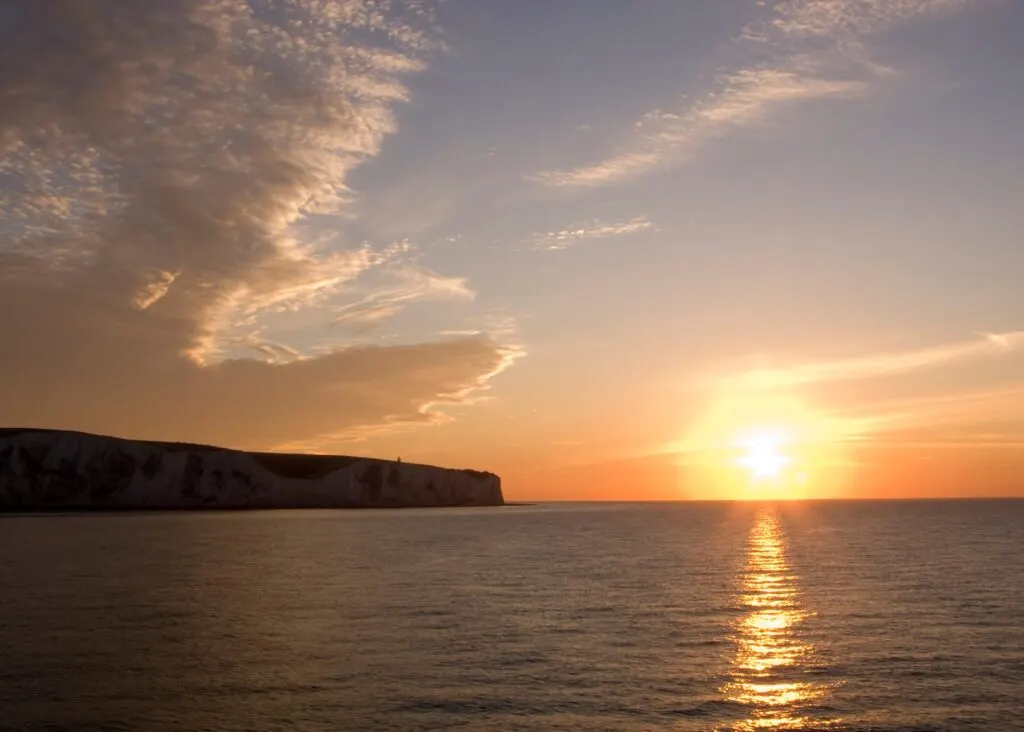 7. Enjoy a meal on board
If you have a long drive ahead of you once you reach land, it's worthwhile visiting the restaurant and enjoying a big meal onboard to save you from stopping at a service station. That is unless you're one of these super organised people who have a picnic at the ready (one day I will be this person!)
The queue for the restaurant is always longest when the ferry first departs for the crossing. Enjoy the views out on deck and have a walk around before you head to the restaurant; you have time.
The restaurant is set up as a canteen. So collect a tray, chose your meal from the menu (there's a kids menu too, as well as one vegetarian option), and your meal will be dished up for you to put on your tray and carry to the payment desk (this can always be a tad tricky when you have multiple kids).
8. Have sea sickness tablets handy, just in case
Being such a short crossing the chances of sea sickness are low. However, if it's a particularly gusty day with a big swell, you will be grateful for your foresight.
In the past on longer crossings we have worn these patches and these travel bands, and taken Sea-Band Nausea Relief. However, we have never actually used them on the Dover to Calais / Dunkirk crossing and travelled in all seasons. Although I've always had them packed in our medical kit, just in case.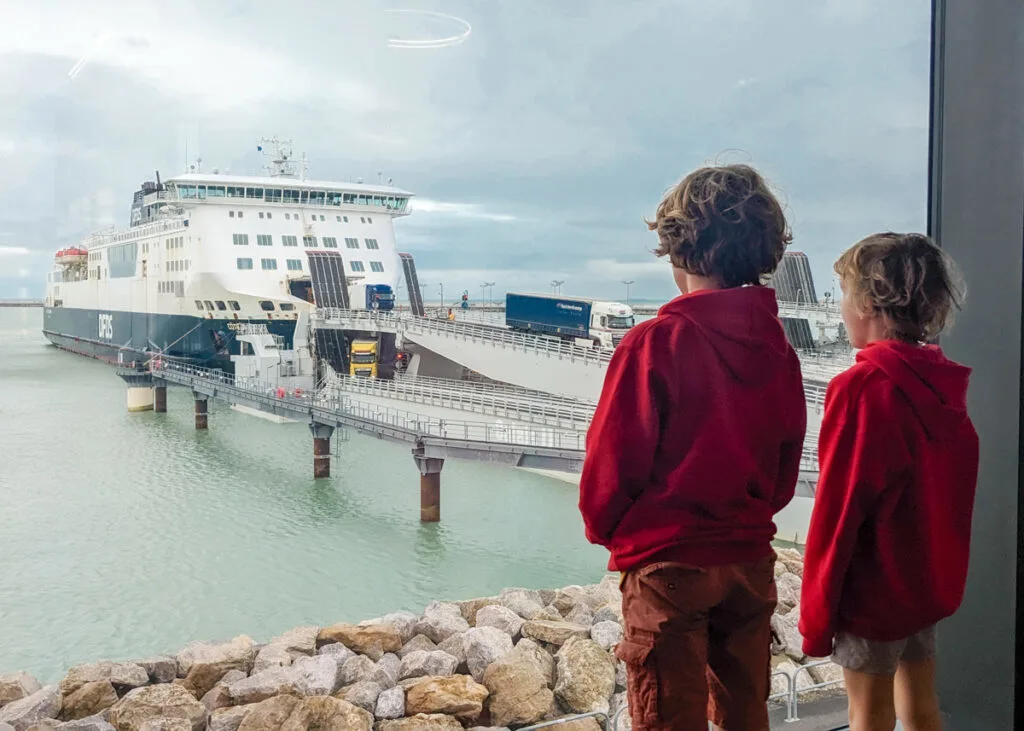 9. Have an offline Google map ready for the French side
WIFI is available onboard (and is very good if you're in the Premium Lounge). However, it's worth turning off your mobile data for the crossing in case your mobile provider adds extra charges.
To save faffing with your data and connecting to internet as you disembark the ferry in France, ensure you have an offline Google map to follow, just to get you on your way.
Our mobile provider is GiffGaff in the UK and post-Brexit we have limited EU data per month. So when this runs out, we use Smarty where we can load on data to use in the EU as and when we need it.
10. Do you duty free shopping portside in Calais/Dunkirk before your board your ferry
One of the huge advantages of ferry travel over air travel is the unlimited baggage allowance! So it's worthwhile taking advantage of the duty free shopping onboard or portside if you want to stock up on alcohol or gifts.
Personally we prefer the duty free shops portside as they offer a much wider choice. Indeed the Calais duty free shop is spread across two floors and is huge! There's not just duty free alcohol and perfumes, but also a huge LEGO section (plus a LEGO play area!) So rather than waiting in your car with the kids before boarding, head over to the LEGO section with them for a play.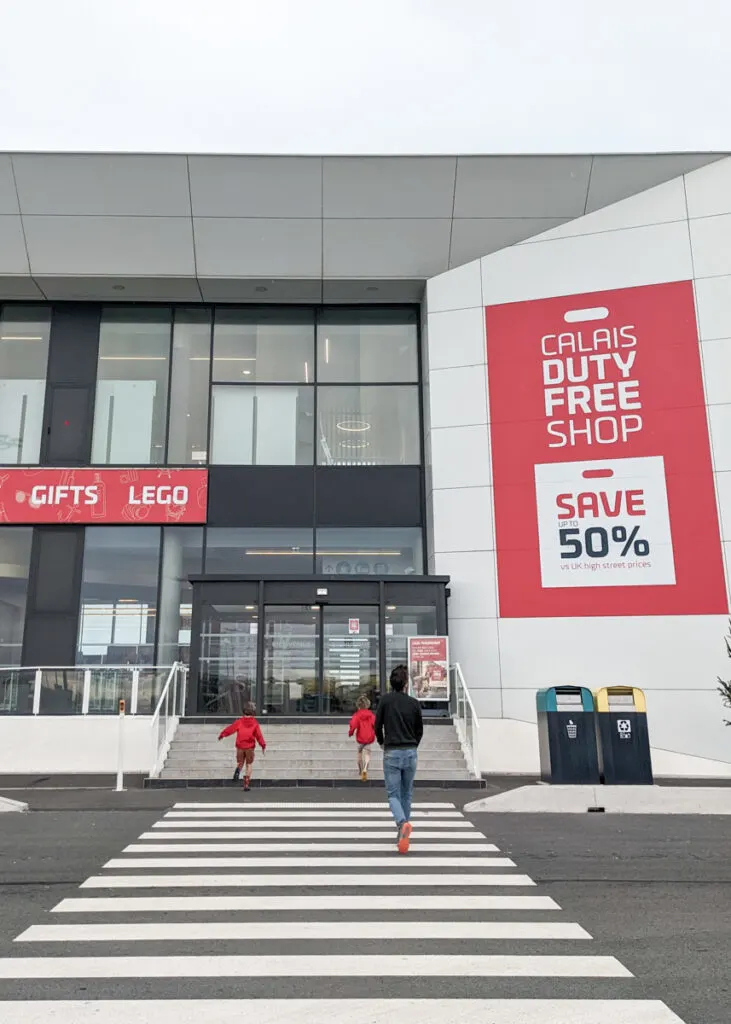 If you do pop into the duty free portside, ensure you have enough time to get back to your vehicle. Ferries tend to board 30 minute before departure. Also, ensure you have your booking reference number with you at duty free as this is required to purchase items.
---
You may also like to read:
Essential tips for taking the ferry to Spain from the UK
Best family campsites in France
Best ALTERNATIVE European city breaks with kids