From over a decade's experience of family camping in France, whether it be in a tent, campervan on lodge, here we share our pick of the best campsites in France for families.
Whether we're camping in a tent or in our Mazda Bongo camper, we're huge fans of the French campsites; spacious pitches, fun swimming pools, fresh croissants every morning from the bakery, a bar and restaurant on site, and fantastic cycle tracks. When it comes to families especially, France really does have some of the best family campsites in the world.
Often taking the Dover ferry to Calais, we have travelled to France almost every year since the boys have be born (including a month long road trip from Calais to the Pyrenees and back and a 6 week France road trip with Eurocamp Independent).
All in all, we've stayed in dozens of campsites in France, in fact, we may be nearing 40! So it's got to be a good one to be included in our list of best French campsites for families.
Although I would like to give a mention to one French family campsite that didn't quite make the list as the facilities aren't up to scratch – Camping Parc des Roches. If you are looking for a campsite near Paris with pool, then this is a great choice as it's only 50 minutes on the train into Paris for the day. It also works well as a stopover enroute to the family campsites in the south of France. Make sure you check out our 'unplanned' guide to visiting Paris with kids if you do want to head into the capital to see the sights.
Read on for our list of the best campsites in France for families!
Where are the best family campsites in France?
1. Camping Château des Marais, Loire Valley
Great for: family friendly cycle paths to Chateau Chambord and superb swimming pool
Set in the heart of the picturesque Loire Valley of France, Camping Château des Marais is a fantastic kid-friendly campsite that we have returned to time and time again. We first started visiting by booking through Canvas Holidays and staying in one of their pre-erected tents on site. But since returned independently in our Mazda Bongo camper.
The reason we keep returning is that firstly it's only a four hour drive from Calais. But mainly this site has a fantastic pool for younger kids; it's not too big and the five slides and lazy river keep them happy for hours. There's also a covered pool which is heated for those cooler, drizzly days. Plus, there are no less than three playgrounds, a bouncy castle (next to the bar!) and kids' entertainment. You can see why we had to include it in our best campsites in France for families!
This isn't a huge site, so we can allow our boys (age 5 and 6 on our most recent visit) some independence, and I personally love the morning walk to the onsite bakery every day to pick up our fresh croissants for breakfast.
Sites are shady and not too packed in. EHU is provided and each pitch has access to water. The wash facilities are never too far away, are cleaned regularly and in good condition. If you don't fancy cooking there is a restaurant and take-away on site.
From the campsite there are a number of designated cycle tracks (pick up a cycle map from reception). It's a 9km cycle to Chateau Chambord along the River Loire following the cycle tracks. Do stop off an Saint-Dyé-sur-Loire enroute. There are a couple of bars next to the church that welcome kids.
2. Camping la Rencontre du Soleil, The Alps
Great for: super chilled site and flat cycle paths with snow-capped Alpine views
Click here to read full review
Surrounded by 3000+ metre jagged peaks, in the heart of The Alps, a stay at the quiet Camping la Rencontre du Soleil is all about the views. The local village of Le Bourge-d'Oisans and the challenging switchbacks up to Alpe d'Huez often feature on the Tour de France, and during the winter, this is a premier skiing destination. This site was the perfect start to our 2021 summer France road trip in our Mazda Bongo camper.
Does this mean you need to be a super fit mountain biker to fully appreciate these views? Not at all. Directly from the campsite are traffic-free, flat, cycle paths along the Romanche river that are perfect for kids, affording absolutely jaw-dropping views with snow capped peaks even in the height of summer.
Or if you want to experience some altitude hiking without an epic uphill struggle, drive the 25 minutes up to the cable car station at Alpe d'Huez and ride up to the summit of Pic Blanc at 3330 metres. Just incredible.
Camping la Rencontre du Soleil is a small, quiet campsite, and the perfect base for adventure loving families. Onsite there is a small swimming pool (no slides), a ball court, a restaurant (also serving takeaways, including amazing pizzas), small playground and a kids club. It's one of most the perfect campsites in France for families who are looking for a quiet spot in the mountains.
There is no bakery onsite, but you can order your croissants and baguettes for the next day from reception, and they will be waiting for your from 8am (cash only).
Pitches are average size compared to what we've experienced elsewhere in France. The hedges around each pitch provide privacy and there are lots of trees providing shade; even though this is The Alps, it still gets very hot (30°C) in the summer.
3. Camping de la Plage, Languedoc-Roussillon
Great for: the best Kids Club we've ever been to, fantastic beach.
Click here to read full review
With the name Camping de la Plage, you can take a reasonable guess that this campsite is right on the beach. And what a beach it is; an endless stretch of sand hugs the gently lapping Mediterranean shoreline, backed by swaying palm trees, and views of the Pyrenees marking the Spanish border in the distance. Plage de Sainte-Marie is accessed directly through a security gate from the campsite, and further along to the right are a selection of beach bars and restaurants radiating that holiday in the sun vibe.
The campsite itself continues the chilled out vibes from the beach. It's a medium sized site, and in places it does feel rather dated, although this fits with it's laidback charm. We found the staff here particularly friendly.
Onsite there is the usual bar / restaurant / takeaway, swimming pool, campsite shop (selling fresh baguettes and croissants each morning), and a laundrette. Do note the the restaurant doesn't start serving until 7pm, though the snack bar is open all afternoon.
We found the swimming pool to be perfect. It's a spacious area with a large swimming pool and two slides. Due to the size, you can always keep an eye on the kids, but the slides, along with the jets and bubbles in the main pool, provide enough extra interest for the kids.
The Kids Club here (Mini Club) is absolutely brilliant and is the main reason we can to include it in our round up of the best French campsites for families. Aimed at kids aged 5-12, it runs 10am-12pm and 3pm-5pm Monday to Friday, as well as evening entertainment. I really cannot speak highly enough of the staff at the Kids Club. Our boys (age 6 and 7 at the time) were the only English speaking kids there, so I wasn't too sure that they would enjoy it. But the staff went out of their way to include them in all activities (even sending me audio clips of the French songs they were learning to help the boys) and they absolutely loved it! They started out with just morning sessions, and as the week went on they wanted to go to every session possible. Both boys even ended up being in the mid-week show, dancing and singing French songs on stage!
4. Le Mouline de Paulhiac Campsite, Dordogne
Great for: big grassy pitches, river swimming, traffic-free cycling to Castelnaud.
Click here to read full review
Set in a quiet Dordogne valley along the meandering River Céou, Le Mouline de Paulhiac Campsite is a medium/small site and one of our favourite family campsites in France. It offers a relaxed pace, large and shady pitches, and a lovely sized swimming pool with water slides and splash park. There's a restaurant onsite that overlooks the playground (very hand for parents wanting an extra drink in peace) and the river is a fantastic place to take your inflatable and slowly float down the river from one end of the campsite to the other.
This is a very relaxed site geared to younger families (kids aged 8 and under) where your days are spent lounging by the pool or on the river, and visiting quaint local towns and villages.
The actual pitch is perhaps one of the loveliest pitches we've camped at in France. Pitches are large, grassy and shady. Plus due to the hedgerows on three sides, there is lots of privacy. Even in the height of summer, the ground was soft enough to get tent pegs in easily. We had a pitch on the edge of the site and had open fields to look out onto.
Make sure you bring your bikes to enjoy the cycle path alongside the river to Castelnaud (pick up a cycle map from reception).
5. Les Alicourts, Loire Valley
Great for: superb waterpark, fantastic kids club, water activities on the inland lake.
Click here to read full review
Les Alicourts to the East of the Loire Valley has it all. If you are camping in France with kids and want to pitch up and not move for a couple of weeks, this is the place to come as there is everything you need on site; a supermarket, restaurant, take away, bar, kids clubs, water sports, playgrounds, a massive water park, and a stunning lake as the focal point of the resort.
This isn't usually our style of camping, but after a month long road trip around France it was just what we needed; with so much on offer, there is plenty to keep the kids busy.
The landscaping and design around the site is beautiful, the grand reception entrance alone is very impressive. Although this is a big site to get around, so we advise taking scooters or bikes. There are plenty of tent pitches, but if you rather a bit more comfort, you can book a fully furnished mobile home with Canvas Holidays.
The waterpark is the main reason to stay here. It's free entry for all those staying on the resort and we visited every single day. There are slides galore, a sunken pirate ship, an outdoor wave pool, and heated indoor pool. However, in peak season it does get rather busy, so try and visit early in the day.
6. Sandaya Le Litterol, Vendée
Great for: fun swimming pool, good cycle routes to fantastic beaches.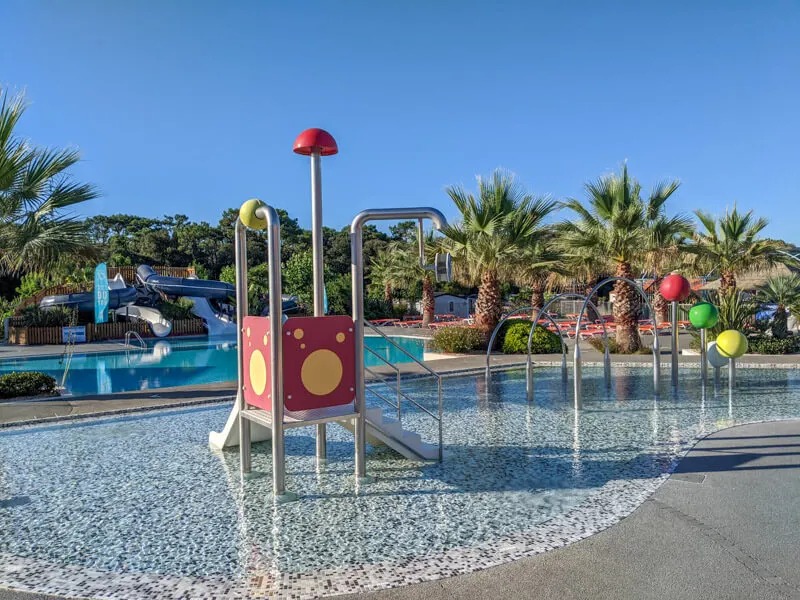 Whilst the pitches here are a little on the small side and offer little shade, the facilities for kids more than makes up for it. The swimming pool complex has both and indoor and outdoor section, handy for those cooler days, and there are water slides and even a water factory. The playground is large and sandy, with a huge climbing frame, and footballers will be in their element on the football court.
A small rock cove is just a 100 metre walk from the edge of the campsite. This is a lovely spot to watch the sunset.
From this well-situated French campsite for kids there are cycle tracks that lead you along the coast. The seaside town of Les Sables-d'Olonne is a 10km bike ride one way, and the sandy swath of La Plage Du Veillon (easily the most impressive beach in the region) is 5km the other way. Head a little further down the coast and Plage des Conches is a great place for kids to take surfing lessons with Manu Surf; our youngest was just 5 years old when he tool his first surf lesson here.
7. Domaine d'Oléron, Ile d'Oléron
Great for: superb playground, centrally located on the island, super-friendly site.
Click here to read full review.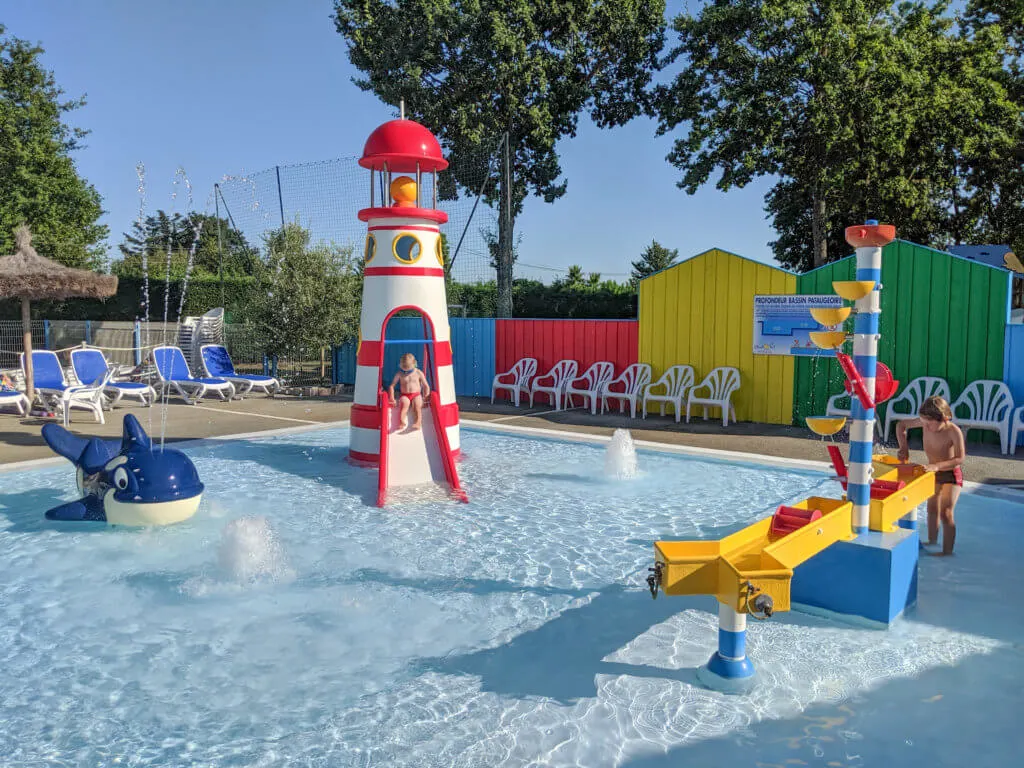 Situated on the island of Oléron, accessible via a toll-free bridge from the mainland, this Domaine d'Oléron has a great family atmosphere featuring a fantastic swimming pool and playground.
The swimming pool at Camping Domaine d'Oléron was a huge hit with our boys, and they will tell you that it was the best swimming pool out of all the campsites we had visited on our summer road trip through France and Spain. The playground is also not your standard playground and will keep your little ones entertained for hours. Indeed it is the swimming pool and playground that really make this campsite.
There are also Canvas and Eurocamp accommodations on site, so it's very popular with British tourists, and does somewhat lack a French flavour. But if you can tear your kids away from the waterslides, there are whitewashed villages to meander and Atlanitic beaches that feel tropical on a summers day.
The island is much more understated than neighbouring and fashionable Île de Ré and boasts much better beaches. Having now visited both islands, we prefer Île d'Oléron. There are bike tracks criss-crossing the island, but it's easy to drive around and find parking.
8. Camping le Haras, Western Mediterranean
Great for: Catalan vibes, excellent restaurant, lovely vibe.
Click here to read full review.
Swaying to the rhythmic guitar at the Camping le Haras restaurant, sipping a local vin blanc, and watching the boys smother ice-cream around their mouths; we were in true holiday mode and drinking in those Catalan summer vibes. This lovely small-scale camping site is a shady oasis with distinct Catalan architecture, has a superb swimming pool, friendly staff, and is just a short stroll from the centre of understated Palau del Vidra, which specialises in glass blowing.
The camping area is compact, but there is a wonderfully friendly vibe on site and the towering trees offer shady respite from the harsh midday sun. Due to the arid climate, the ground is very hard. Tent pegs therefore need more than a gentle persuasion and even hardy campers may need to ditch the thermorest for a blow up mattress or raised camp bed.
All pitches come with power, although ensure you have a long extension lead as it is sometimes a little way to the nearest electrical point.
Whilst the swimming pool and playground were a huge hit with our boys, their highlight was the pony ride, which is complimentary to all children staying at the campsite and held on a Monday morning. What a fantastic thing to offer for family camping in France.
9. Camping Vaubarlet, Ardeche
Great for: river swimming and getting away from it all.
Click here to read full review.
Camping Vaubarlet is a small campsite nestled in a verdant valley of the French Auvergne, 1.5 hours south west of Lyon. Tall pines trees offer welcome shade from the midday summer sun, and alongside the campsite flows a gentle stream, shallow and safe for little ones to wade in. Summer days can be very hot, but the temperature drops at night time, so pack warm sleeping bags. It's an incredibly beautiful location, suited to nature-loving families looking for a quieter site, and is very popular with Dutch families.
At this site there is a small swimming pool, playground kids club, and bouncy castle. There are some cycling and hiking tracks around, but this is is the place to sit back at relax and let the kids have fun.
The campsite is in the depths of the forest and there are no nearby villages within walking distance, although there is a lovely walk through the forest trails that you can follow (pick up a map from reception). You will need a car to get anywhere and no public transport passes by. This is very much one of those campsites in France for families to get away from it all.
10. Les Sablons, Languedoc-Roussillon
Great for: superb facilities private washrooms for each pitch, direct beach access
Click here to read full review.
Situated on the sun-drenched south coast of France's Rousillon, close to the historical city of Béziers, Les Sablons is more of a village in its own right, than a campsite. There is everything you need on site to never have to leave, from a well stocked SPAR supermarket, a bar and restaurant, a swimming pool complex with waterslides, a huge play area and direct access to the beach. There is also an abundance of activities laid on throughout the day to keep all ages busy.
But if you can tear yourselves away from the onsite facilities, there is a fantastic cycle path (flat and traffic-free) along the Canal du Midi, which is easily accessed from Les Sablons. Stop at the locks along the canal to watch the boats passing through, pop into the quiet and pretty village of Portiragnes, or cycle the 14km all the way to Béziers.
The private washblocks to each pitch are a brilliant extra touch! On the corner of our spacious pitch we had a shower, toilet, large fridge-freezer and wash basin ALL TO OURSELVES! This is the absolute height of Bongo camper luxury, and something we've only experienced before in camping in Namibia; although after posting this Instagram post, it sounds like many more sites in France (and particularly Australia) are starting to offer these facilities. In a COVID world, they are definitely a safer option.
However, this even though this is one of the best campsites in France for families, it is a very busy site, especially in the height of summer. We didn't feel comfortable letting our boys go off to the playground on their own (like we do at smaller sites) as; 1: they would probably get lost finding their way back, and 2: there always seemed to be a lot of unsupervised older kids at the playground somewhat enjoying their freedom. Plus we learnt early on to visit the pool earlier in the day; 3-6pm was always the busiest time. The beach too was always busy, but it was easy enough to find our own patch to play.
11. Camping Cote D'Argent, Atlantic Coast
Great for: pirate waterpark, close to an incredible stretch of beach and surf schools, traffic free cycle tracks to an inland lake through pine trees.
Hidden beneath the pine trees on France's Atlantic coast, Camping Cote D'Argent is a five star campsite with great family facilities and tons to do in the surrounding area.
It's a popular site thanks to its proximity (300 metres) to the seemingly-endless stretch of beach that lures surfers, as well as France's biggest natural lake (4km) whose calm waters and sandy shores are perfect for littles ones.
The site features in the Eurostar portfolio and is readily geared up for kids of all ages, with onsite playgrounds, volleyball courts, kids clubs, daily activities, a fantastic swimming complex (basically a mini waterpark) and evening performances. There's also a bar, restaurant (serving takeaway pizzas), wine cellar and onsite shop, although venturing into town for a bite to eat or saucisson selection on market days is an easy stroll away.
Outdoor-loving families will love the range of activities on offer (for example, 100km of excellently-maintained cycle paths lead off from the campsite) and being able to mix up days between ocean, lake and forest, adventure-seeking or simply lolling on the beach.
Pitch quality does vary, if it's space and privacy you're after, opt for one on the outer ring.
12. Château de Chanteloup, Loire Valley
Great for: it's idyllic setting, spacious pitches
Click here to read full review
Suggested by Jacquie from Flashpacking Family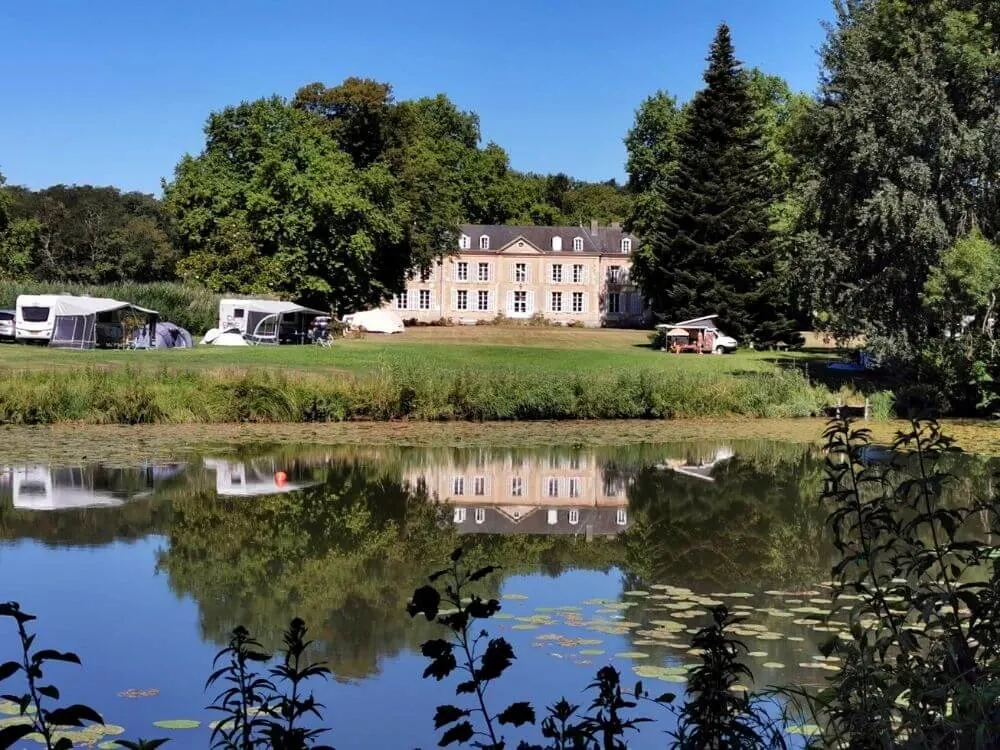 The Château de Chanteloup campsite is located near the little town of Sillé-le-Philippe in the Pays-de-la-Loire region, 17km north-east of Le Mans, and is the most idyllic of the family campsites in France recommended here.
It is part of the Les Castels campsites association which is known for their beautiful campsites in the grounds of French châteaux with family-friendly facilities. It offers pitches for tents and motorhomes with EHU as well as a few glamping tents and apartments.
There is a lovely pool area surrounded by greenery with a main pool and a separate pool for small children. Next to the pool area there is an excellent wooden playground and even a mini village with several wooden playhouses. For older kids, there are sporting facilities including football pitches and volleyball courts as well as an outdoor gym. If the weather isn't great, there is a beautiful games room inside the château and a separate reading room.
All of the sanitary facilities are spotless, and the onsite restaurant offers a great choice of meals in a lovely setting or there is a takeaway pizza kiosk.
The grounds are extensive so you will never feel like the campsite is busy. You are encouraged to explore the grounds (there are 21 hectares to explore!), either by taking walks in the woods, boating on the lake or biking.
13. Camping Sandaya Séquoia Parc, Atlantic Coast
Great for: superb facilities, large pitches, amazing swimming pool
Click here to read full review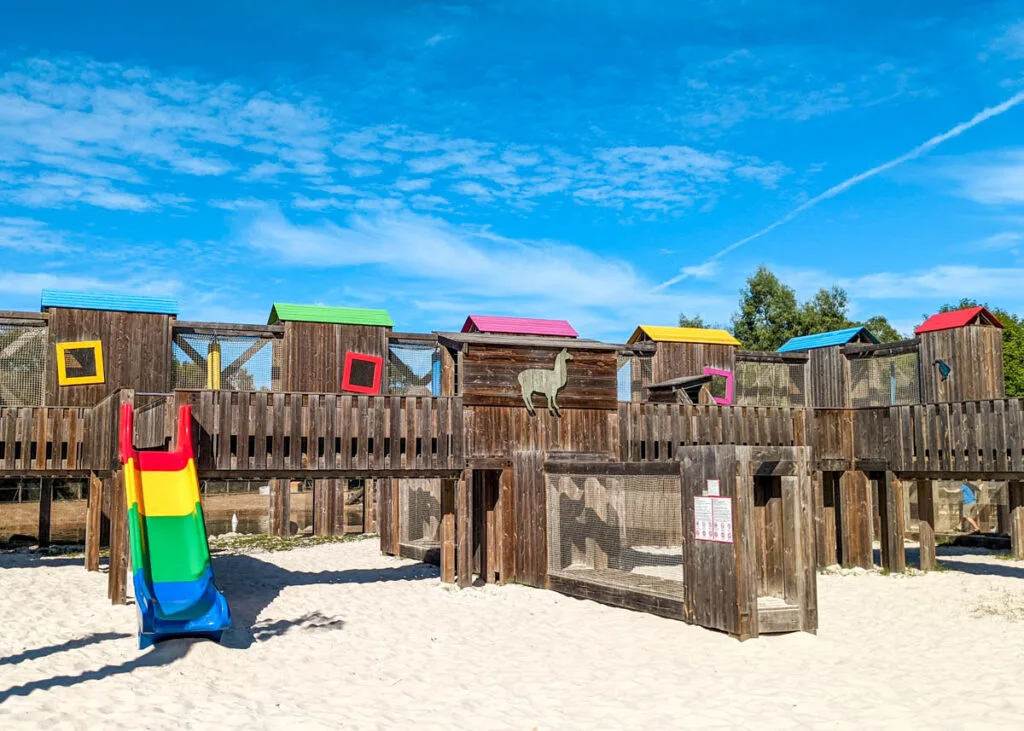 Camping Sandaya Séquoia Parc on the Atlantic coast of France, just south of La Rochelle, is one of the large family campsites in France, and we had a brilliant week camping here at the end of the 2022 summer season in our Bongo campervan. The facilities are excellent, with one of the best swimming pool complexes we've seen at a French campsite, superb play areas, a brilliant Kids Club, and even an onsite petting farm, which younger guests will love
This is a fantastic parc to keep the kids entertained with minimal effort from the parents, allowing you to relax and perhaps even read a book (or two). Our boys say it's one of the best campsites in France that they've been too, and this is down to the superb facilities.
However, it's not the prettiest region of France; the landscape is flat and dotted with salt marshes, and it's a bit of an effort to get to a big sweeping beach, and you do need to be prepared for the mossies. But, there's still charm in the local villages and gems to explore. One of my favourite days was cycling from the campsite to the church at Marennes, onto Ronce-les-Bain for lunch, and then stopping back in Marennes for a swim in the lagoon (a 35km bike ride in total). It's also a good base for exploring Île D'oléron, and if you love shellfish, you'll be in heaven.
14. Sandaya Camping Le Col Vert
Great for: holiday vibe, lakeside camping, cycling, beaches
Click here to read full review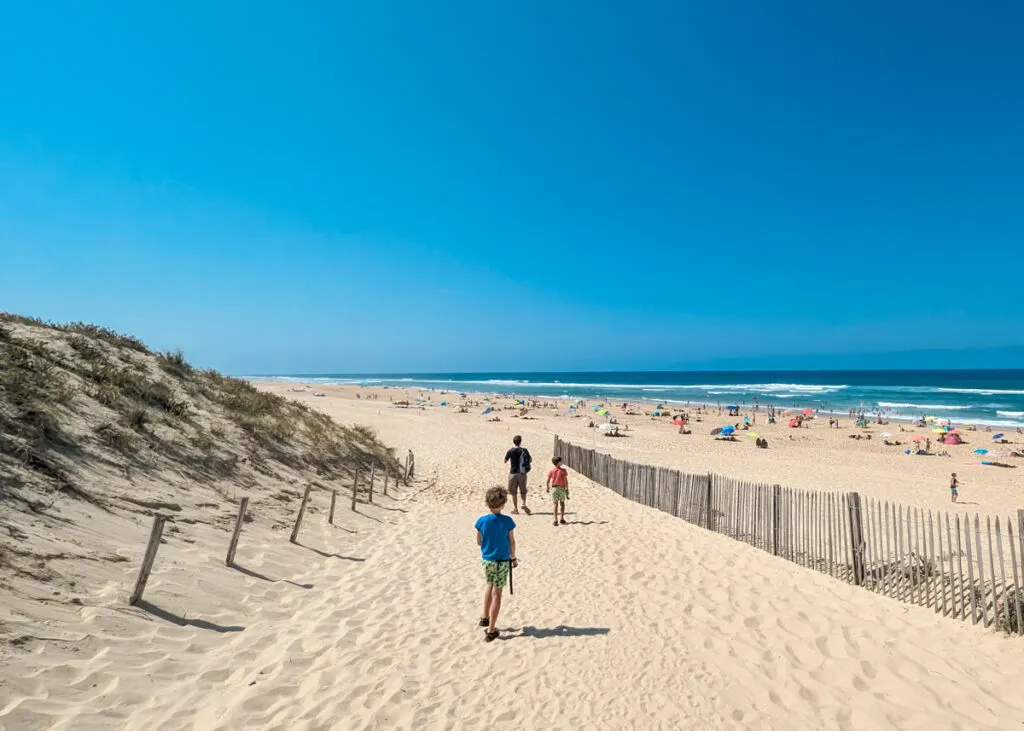 Sat on the shore of Étang de Léon in the southwest corner of France, Sandaya Camping Le Col Vert is perhaps a trek to get to from the UK by road, but absolutely worth it. There's a fabulous holiday vibe here, the lake is divine for a morning dip, and traffic-free cycle paths through the pine trees lead you direct from the campsite to one of the most stunning stretches of coastline in the world with a very impressive surf.
However, this is a big campsite. In fact Camping Le Col Vert is a village in it's own right with a bar, restaurant, kids clubs, playground, bakery, shop, and lots more. Some may feel that they never need leave, and who blames them with those stunning lakeside views? And for others it may not be their cup of tea. But after years of trying out a range of family campsites in France with our boys over the years, we've come to realise that the bigger campsites with their fantastic facilities are what really works for our family; the boys have endless entertainment on offer and happy kids, means happy parents. The kids club is excellent here and our boys had a blast!
This is one French family campsite that we will definitely return to.
15. Moulin de la Pique, Dordogne
Great for: large pitches, superb swimming pool, great facilities.
Suggested by Cosette from KarsTravels
Moulin de la Pique is a 5-star campsite in Pays de Belvѐs in the Dordogne region. Enjoy the romantic atmosphere of the Dordogne on this historic estate.
There are numerous facilities on the campsite. For the kids: playgrounds, a play attic, a kidsclub, treasure hunt and an entertainment team. In the sports category there's a jeu-de-boules track, ping pong tables, soccer field, tennis court, mini golf, volley-ball-field and a recreational lake for fishing. Enough to get out that energy and stay moving. The campsite organises kayak tours.
Other facilities are a campingstore, laundry facility, restaurant with terrace , a snackbar, wifi, library and they offer fridges for rent on your pitch.
Best of all there's an outdoor aquaparc with 4 swimming pools and 3 slides: a 4 double slide, the rainbow splash and a 45 meter long slide. Enough for hours of fun.
The pitches are large, comfortable and luxurious with EHU. They also rent out mobile homes, bungalow tents, safarilodges, maisons and coco sweets.
Close to the campsite is the medieval town of Beynac, where you stroll around town, take a ride on a Gabarre or go kayaking on the Dordogne river.
A final note
As we visit France once or twice a year, we keep this list of best campsites in France for families updated regularly. If you have stayed at any of these sites, we'd loved to know what you thought! Happy camping 😀,
---
You may also like to read:
One month camping road trip in France
All about our Mazda Bongo
Top 10 tips for taking the DFDS ferry from Dover to Calais/Dunkirk