Namibia has some of the best campsites we have ever stayed in, in the world. Seriously. On our three week Namibia road trip we even stayed in some where there was an en-suite bathroom and private kitchen area! Admittedly, you pay a little bit more for them in comparison to other campsites in Africa. But generally, they are around USD25-30 per family per night (under 4's free) and totally worth it. And as Namibia campsites are generally very safe and have excellent facilities, camping is a great option if visiting Namibia with kids!
But where are the best campsites in Namibia? I've included here some personal recommendations as well as some from fellow travel bloggers who have camped in Namibia.
TOP TIP: Try and book campsites in advance, particularly if travelling through the high season (May to September). However, we travelled through Namibia in June and never booked any campsites; although we did snag the last spot on more than one occasion!
Join our Travel Africa with kids Facebook Group
1. Garas Park Rest Camp
Garas Park Rest Camp was the quirkiest and most memorable campsite on our Namibia road trip. This Keetmanshoop camping site (well 20km away from Keetmanshoop) nicely breaks up the journey between Sossussvlei and Johannesburg.
You know something different is on the cards when, as soon as you turn off the road, a 6ft tall metal human statue greats you, pointing to a distant collection of metal shelters and structures a few hundred metres into the desert. As you drive into camp your met my more characters, dotted amongst the quiver trees (indigenous to this part of the world).
There is no set structure to this campsite, and the two times we've stayed here we've been the only ones. Standard facilities are available (toilet, wash block, and shower) and you really are in the middle of nowhere, so ensure you're stocked up on food and drink.
Make sure you head out on a walk amongst the quiver trees at sunset, it's truly magical!
2. Cape Cross Campsite
On the West coast of Namibia, a 1.5 hour drive north of Swakopmund, lies Cape Cross Seal Reserve. Here, more than 100,000 Cape fur seals and their pups come to bathe on the shoreline of the Atlantic Ocean and feed on the rich concentrations of fish in the cold Benguela Current, making it one of the largest seal colonies in the world.
Most visitors only make a short stop to snap a few photos of the jostling seals arguing over space, before jumping back in to their vehicle to their next stop. But just a short walk around the corner from the seals (and away from the smell) is Cape Cross Campsite – a beautifully remote campsite within the seal reserve and another favourite our favourites on our self-drive Namibia itinerary.
Do note there are two campsites in the area. We stayed at the campsite inside the seal reserve – Cape Cross Seal Reserve Campsite, just 1.7km before the seal colony, on the waters edge. You can also camp outside the Seal Reserve at Cape Cross Lodge, where each site has a wash basin with cold running water and an alfresco kitchen, as well as a toilet block. The campsite in the reserve is basic, but far more idyllic. Camping at Cape Cross Seal Reserve
Basic pitches separated by wooden fences overlook the ocean. There are only six pitches in total and each has a seating area, bin and braai. There are two communal long drop toilets set back from the site (bring your own toilet roll). Campsite is only allowed from November to July, and on a first come first served basis (you cannot book online).
There is no running water or electricity, and ensure you are stocked up on food as the nearest shop is in Henties Bay. There are no cafes or restaurants in the reserve, although you could walk up to the restaurant at Cape Cross Lodge.
Don't leave any food out overnight as there are lots of jackels around; you'll see their footprints on the beach in the morning.
3. Alte Brücke Swakopmund
We only planned to stop in Swakopmund for a day or so, but that seaside holiday vibe seized us, and we were still milling along its promenade and dining on fresh breads from the bakeries almost a week later. One of the main reasons for hitting the pause button was our stay at Alte Brücke, perhaps the most luxurious campsite we've stayed at (that's not glamping!)
There are 36 fully lawned camp sites. Each camp site has its own private bathroom (with powerful shower), a built braai, 220V power point and wash basin. Wifi is also available at the camp site. It's like your own little home and has everything you need. It's just a 3 minute stroll to the beach and a 15 minute walk to the well-stocked Pick 'n' Pay in town.
Booking is advisable, especially in peak season. If you've come down from the Skeleton Coast it will be quite a surprise to see so many people again!
4. Sossus Oasis Campsite
The striking crimson sand dunes of Soussusvlei cast against the stark blue sky are Namibia's premier tourist attraction. Our boys loved climbing, running down them, and then doing it all over again. We stayed at the fantastically appointed Sossus Oasis Campsite (ensure you pre-book), offering spacious individual sites with own bathroom, kitchen and braii, situated outside the park gates at Sesriem.
The campsites are all places around the edge of a circle, so you feel you have lots of space. In the middle is a small and VERY COLD swimming pool.
A fuel and service station, tyre workshop, stocked utility shop and Internet café is available at the adjacent Sossus Oasis Service Station. This is also where you go to check into the campsite.
5. Okonjima Omboroko Campsite
Claudia My Adventures Across The World
Okonjima is where the Africat Foundation is located. Once a cattle farm that often lost calves to leopards, Okonjima became home to the African Foundation in 1991 with the aim of rescuing large carnivores that had been trapped by farmers. Since 2010 Africat and the Okonjima Nature Reserve have become education and research centres and a rehabilitation centre for carnivores.
Okonjima is home to one of the nicest campsites in Namibia. To be fair, there is a wide range of accommodation options inside the park, but Okonjima Omboroko Campsite is the most convenient one (the other are lodges) at $35 USD per person per night.
There are various areas where you can pitch your tent. Each area is provided with an open air shower (which has hot water), a flush toilet, a scullery and dining area, a spotlight and electrical socket. Guests also have access to a pool.
The views at the camp are simply stunning: at night you will have the chance of spotting the most amazing starry sky. Sunset views are breathtaking. Animals roam free at Okonjima so you may hear leopards calling and other animals going about the bush. This is what makes the place truly special!
6. Namutoni (Etosha National Park)
Stuart from Just Travelling Through
One of the most popular locations in Namibia is Etosha National Park. The wildlife heavy park is one of the best places in the world to see animals in their natural environment and the campsites are well catered for visitors. Depending on where you enter the park, Namutoni, located very close to the eastern entrance, is a great place to spend a night or two.
The site offers both camping and chalets, with prices for camping starting at N$333 per person. There are a couple of restaurants, an on-site shop and even a swimming pool where you can enjoy a relaxing dip to avoid the heat of the day. However, the best feature of Namutoni is the viewing area. The large space allows visitors to peacefully observe the animals at a nearby watering hole. What better way to enjoy an evening camping than by sitting and watching a family of elephants as they come for a drink. You may even spot a lion or two.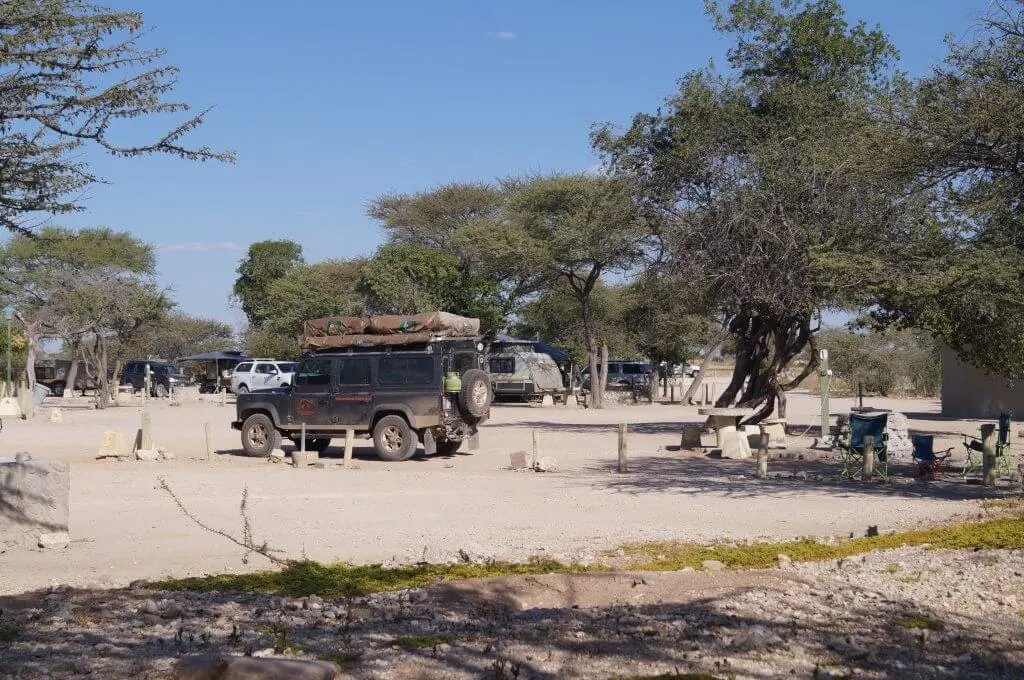 7. Okaukuejo (Etosha National Park)
Emma from Wanderlust and Wetwipes
Okaukuejo in Etosha National Park is one of Namibia's bigger and busier campsites with a high turnover of visitors. The sites are also not as secluded as found elsewhere. However, it has great facilities – a nice pool, a little tower to climb, a restaurant (with AC!), a shop, an NWT counter for booking private game drives, and clean, shared bathrooms.
But the real jewel in the Okaukuejo crown (and the main reason for anyone stopping there) is that it is on the edge of a watering hole. The watering hole attracts wildlife from far and wide and is the most tranquil place to sit and watch them – there is seating around the edge (above a wall and behind some barbed wire!). It is floodlit at night which is also amazing.
8. Ngepi Camp, Caprivi Strip
Campbell & Alya from Stingy Nomads
The Caprivi Strip is a unique area in the north of Namibia, a narrow stretch squeezed between Angola, Botswana, and Zambia. Caprivi is very different from the rest of the country, it's wet and humid, with lush green forest, and many rivers.
Ngepi Camp is an ideal place to stop for a couple of days and to explore the area. The campsite is located in the unspoiled Okavango Delta in the heart of Caprivi. Everything here has a personal touch from open-air jungle toilets and bucket showers to the cage swimming pool and the humorous signs indicating the way to the campsite. The camping spots are spacious and grassy, located at the riverbank in the shade of big trees.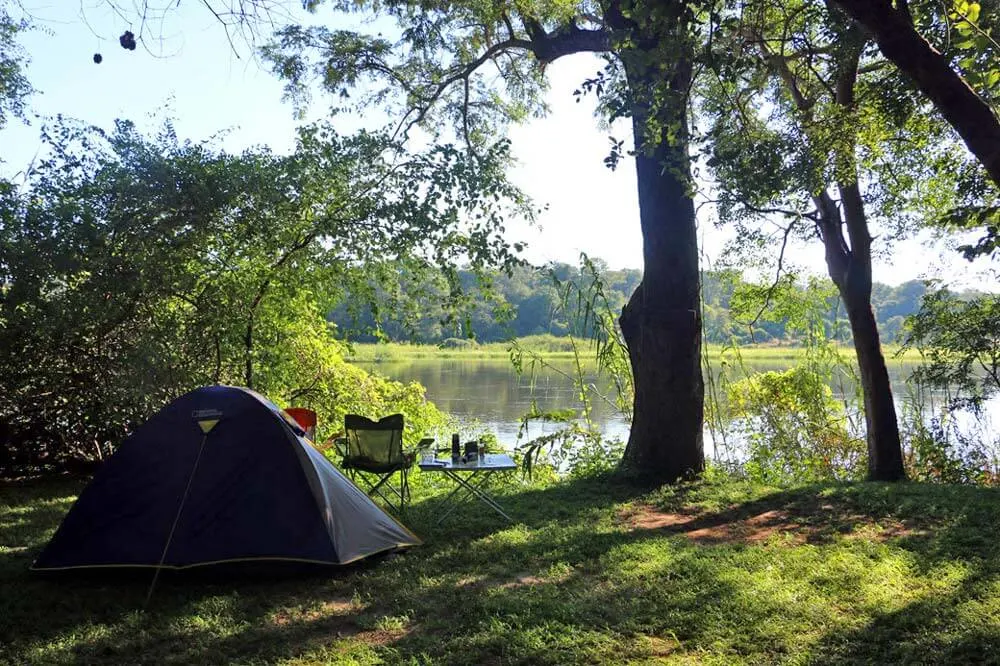 Visitors can see hippos, otters, crocodiles and river birds sitting next to their tent or on one of the wooden terraces. No need to worry wooden poles along the riverbank protect the campsite from hippos and other predators. There are many activities to do at the campsite like a sunrise river cruise, boat safari, fishing, nature walks, birdwatching or just chilling in a hammock with a cold beer. Nighttime is the best time at Ngepi sitting at a fire sharing travel stories and anecdotes and enjoying delicious local food, looking at millions of stars and listening to hundreds of different sounds. Ngepi Camp is the kind of place where you come for one day and end up staying for a week wishing you could stay even longer.
---
You may also want to read:
Overlanding Africa with kids: everything you need to know
Namibia overland itinerary
Essential first aid kit for travelling Africa