Yes you can take young kids on safari and Etosha has to be the best African safari for kids! You may also want to read: The TRUTH about doing an African safari with kids
During our 4 months overlanding Africa with kids (aged 3 and 4) we went on A LOT of safaris (also known as game drives). We always choose to self-drive on safari as it means we can be flexible and self-contained in our own space (indeed most game parks have a minimum age of 6, sometime 12, for group tours).
Ethosa is not technically a malaria free safari. There appears to be on-going online debate as to the risk of malaria, and Etosha is actually in the high risk zone on the Fit For Travel malaria map. However, the general consensus would seem to agree that although using some form of repellent is always wise, the winter months are entirely malaria-free. After all, malaria mosquitoes need water to breed, and you certainly won't see much water around during Etosha's bone dry winters.
Out of all the National Parks we have visited, Etosha National Park in Namibia gets our vote for the best African safari for families, especially those with young kids. Here's why…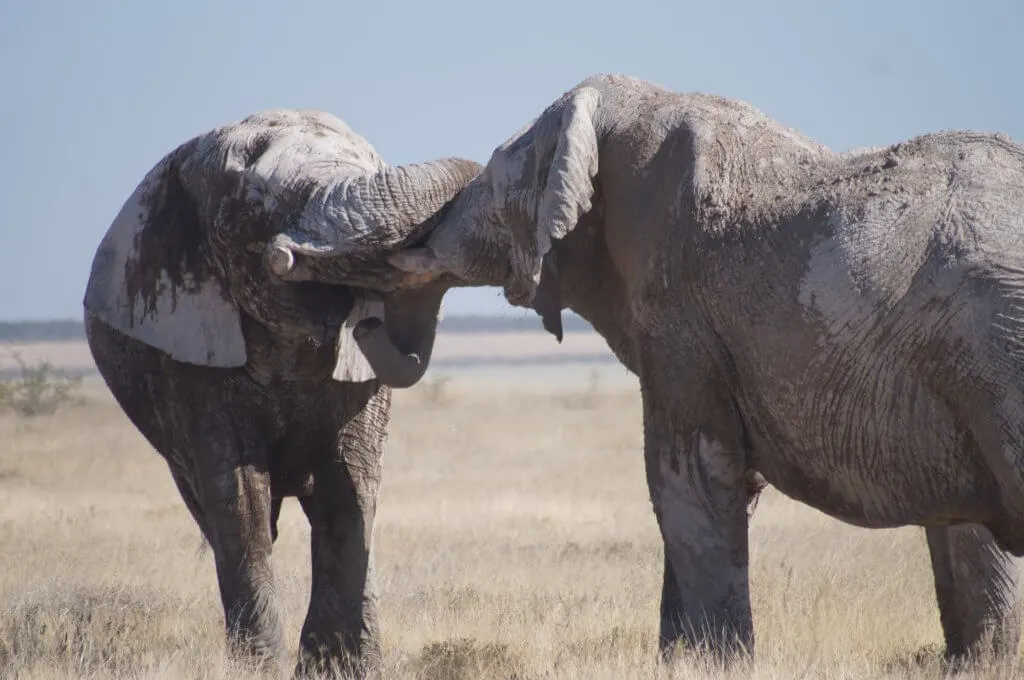 Affordability
Africa can be expensive and park fees in some countries are extremely high. However, Etosha is VERY affordable. Day entry for foreign adults is N$80 (£4.50) – cheaper if you're a Namibian resident, N$10 per standard vehicle (£0.57) and children under 16 are FREE! Do check the Ethosha National Park website for up-to-date entrance fees and opening times (which change weekly according to sunrise and sunset). A one-day entry pass lasts for 24 hours. So if you enter the park at 11am on day 1 and pay for two days, you have until 11am on day 3. We found this to be the perfect length of time with young kids.
Campsites are N$280, plus N$170 per adult. Children under the age of 6 stay free, children between the ages of 6-12 are half price. So for our family of 2 adults and 2 children (aged 3 and 4) the campsite cost was N$620 per night (£35.12 at time of visit). If camping isn't your thing, you can upgrade to stay in rooms and chalets. All accommodation can be booked through Namibia Wildlife Resorts.
Easy game viewing
The low-growing vegetation over flat open plains promotes the best conditions for spotting the abundant wildlife. You can literally see for miles! There is only the grass for animals to hide in, therefore spotting of elephants, giraffe, zebras and even rhinos is pretty much guaranteed. You may have to look a little harder for lions or leopards (although you'll probably spot the cars before the animals). We unfortunately didn't spot a leopard, although we spent a fantastic morning watching a pride of lions.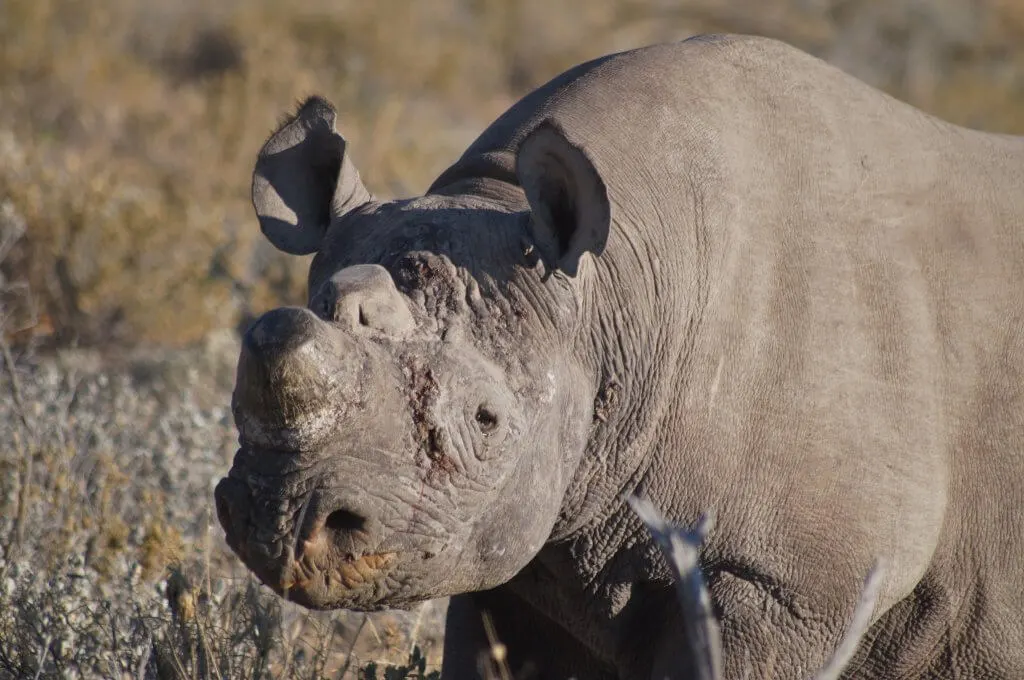 Watering holes
There are many watering holes dotted across the park, accessible by good roads and well signposted. These are the perfect spots to park up and watch the local wildlife come to drink and socialise. We would often have these as snack stops (although you must stay in your car).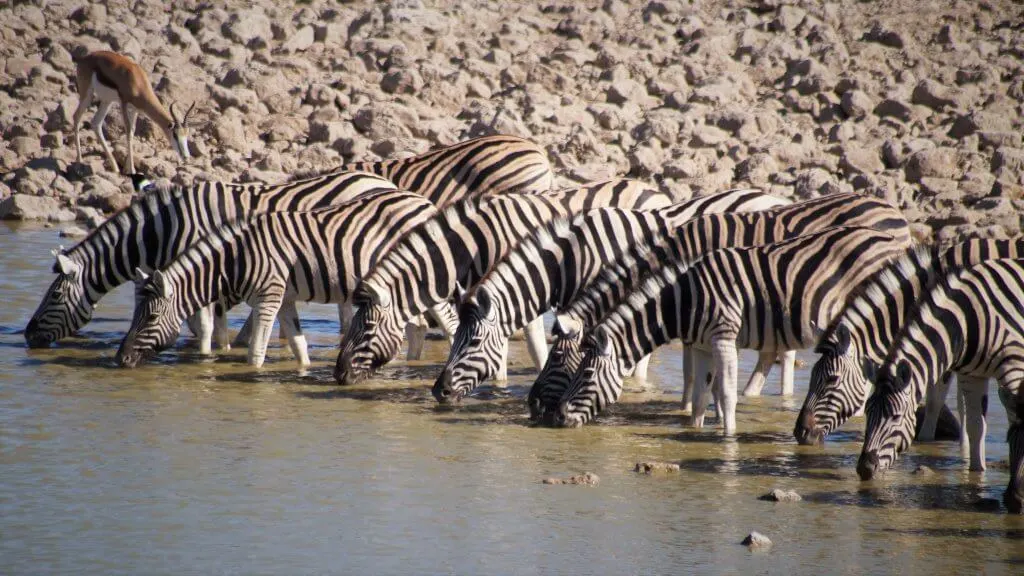 There are also watering holes at each of the campsites with a viewing/seating area. They are the perfect spot to watch the sun set. Absolute silence is expected, which we found rather stressful with our 3 year old who needed to release energy after sitting in the car a few hours. Our 4 year old however, was totally engaged (helped by his camera and binoculars).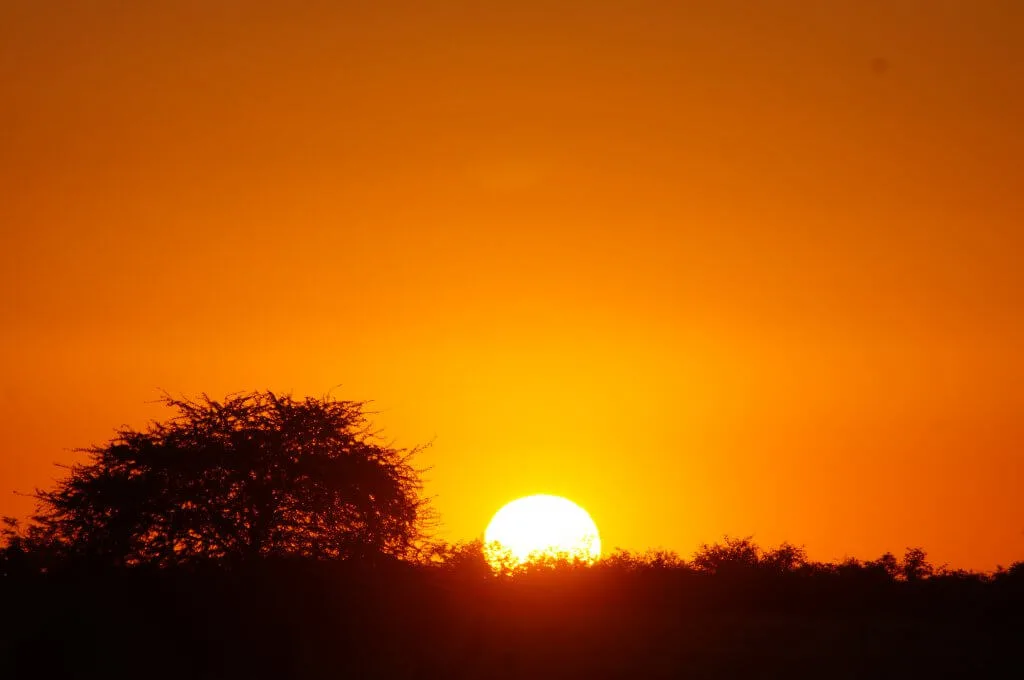 We found it far more relaxing for us parents to visit the watering holes in turn, once the boys were asleep in their rooftents. The watering holes are floodlit for night-time viewing. On one of my watches, I spotted a family of rhinos bathing, followed by a thirsty lion!
Campsites with swimming pools
Ensure you book campsites in advance, especially in the high season (June to October). We stayed our first night at Halai Rest Camp and the second at Okaukuejo Rest Camp. We tried to stay a third night at Olifantsrus Rest Camp, but is was completely booked out; there is a cramped overflow camping available although no power, or braii. They aren't the most appealing sites as they are rather open and lack privacy, but they all have power, braii pits and hot showers. And they all have a swimming pool! The perfect activity for kids after a morning game drive. The pools are a little on the chilly side, so pack wetsuits rather than swimsuits.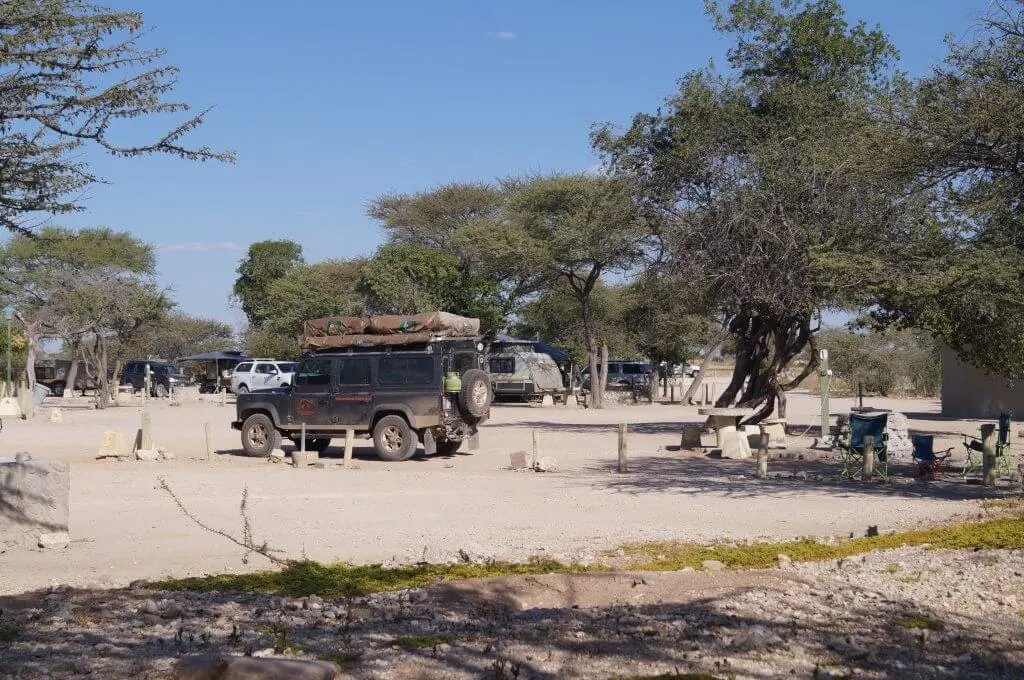 Plus, as mentioned above, the campsites are all situated next to a watering hole, which means they're included in our list of top campsites in Namibia. So once the kids are asleep, parents can take it in turns to visit the watering hole (we suggest taking a beer or wine!)
Well-maintained roads
Most of the roads throughout the park are suitable for 2WD. It's only to the Western side of the park that a 4WD is required. This means easy driving for parents who need to multi-task with attending to demands of little ones and spotting wildlife.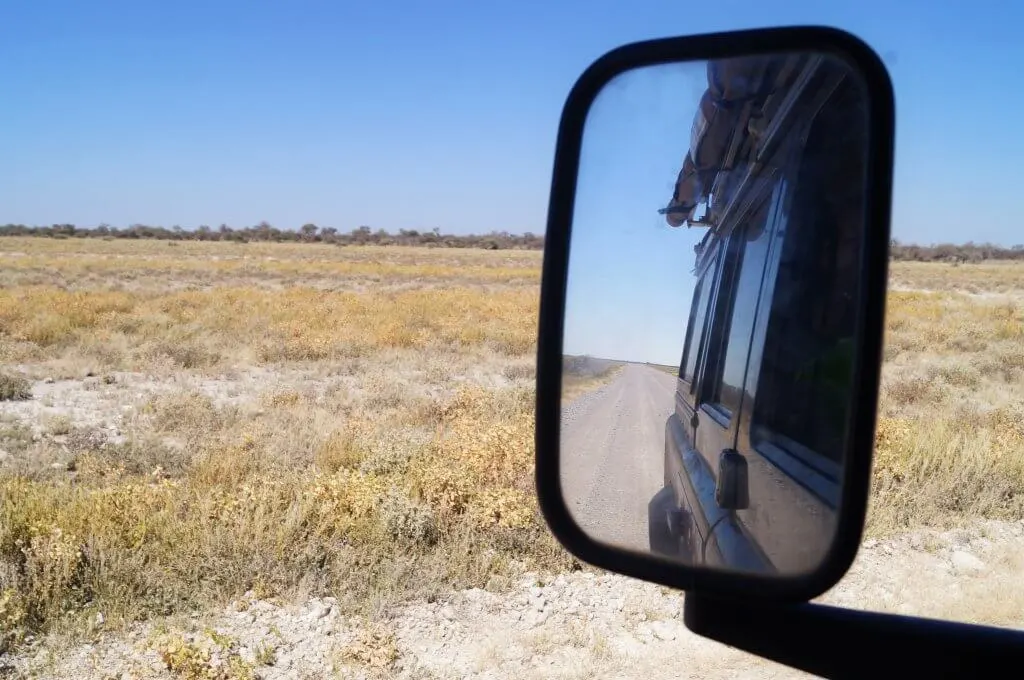 We entered through the East (Von Lindquist Gate) and exited through the South (Andersson Gate).
Animal identification check-list
Pick up a map of the park at any one of the entry gate shops. Inside are drawings of all the animals you can identify in the park. This was a great animal check list for the boys and helped us parents in identifying between kudus, springboks and impalas. Once we left Etosha, the boys then cut out their favourite animals to make a collage.
Toilet stops
There are well-marked toilet stops around the park. However, we take a potty for those times when our little darlings just have to go NOW!
Salt pan family shot
Right in the middle of the park is a massive salt pan. If anything, this is a great spot for a family photo with the camera sat on the bonnet and set with the timer.
---
You may also like to read:
Swakopmund with kids: 10 FREE and cheap things to do
AFRICA OVERLAND Part 4: Zambia itinerary with kids
Medical kit list for families travelling Africa